The best dogs and most happy campers are the ones that get to enjoy life to the fullest with their families. Add a few nights under the stars to your summer bucket list, and let your pup pull up alongside the fire with you on your next camping trip! You'll love having them with you and sharing the experience together on your next outdoor adventure.
Before we dive in, here's a quick packing checklist for camping with dogs.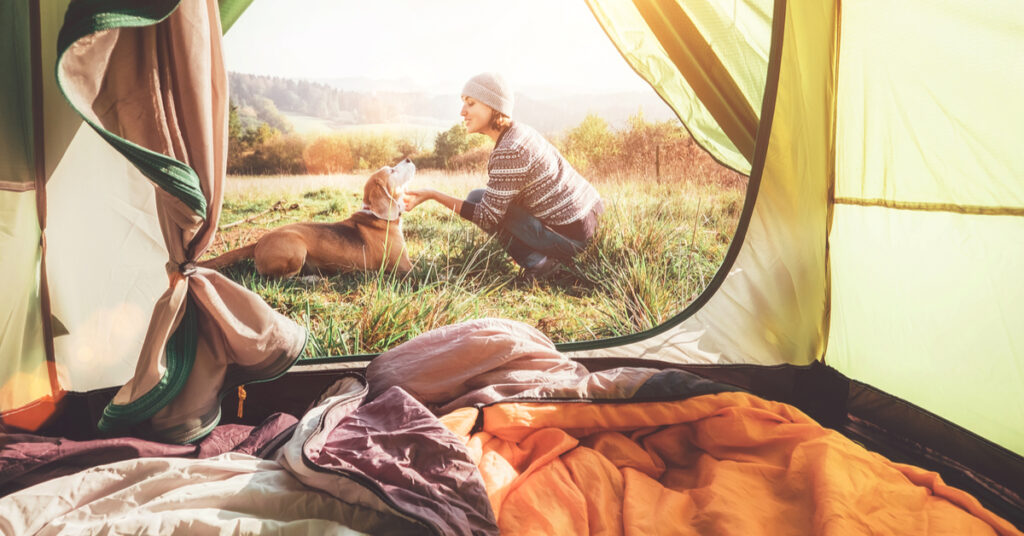 Essential Camping Gear For Dogs
Collapsible dog bowl
Dog leash
Rechargeable glowing safety necklace, to see them in the dark!
Dog harness
Washable dog bed
Dog food and dog treats
Waste bags for dog poop
Pet safe insect and tick repellent
Pet first aid kit
Your dog's ID tag
Tips For Tent Camping With Dogs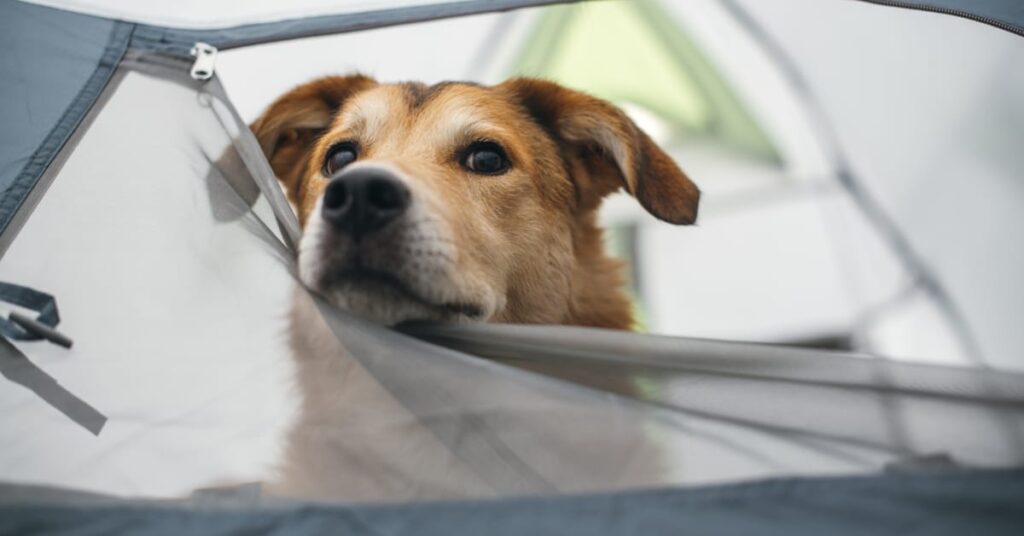 1. Research Dog-Friendly Campgrounds
When you finally hit the road to go camping with your dog for the first time, the last thing you want is to arrive at your campsite and find that the facility isn't a dog-friendly campsite.
While there are some campgrounds that don't allow pets, there are plenty of others across the country that welcome your furry friend with open arms. Many camping areas have different regulations for dogs, and some even change with the season.
Some national parks are pet-friendly but may require dogs to be leashed at all times during peak season. They often allow more off-leash opportunities during the off-season. Make sure you check online or call ahead when making camping arrangements to be sure you and your pooch are able to accommodate the rules.
Cherry Creek State Park
Golden Eagle RV Park & Campground
Aspen Acres Campground
Highline State Park
Saddlehorn Campground
2. Know Your Dog and Their Limits When It Comes To Camping
Not every doggy is a social butterfly, and sometimes campgrounds can be pretty social places. If you think the number of people enjoying the outdoors in a shared space may be overwhelming for your dog, a private campsite or backcountry excursion may be a better fit with fewer people.
Some dogs are more nervous than others when it comes to being outside and being away from home. If you don't think of your dog as outdoorsy, it's okay to be honest with yourself and choose a less extreme adventure for your first major outing.
3. Hope For The Best, But Prepare For Everything!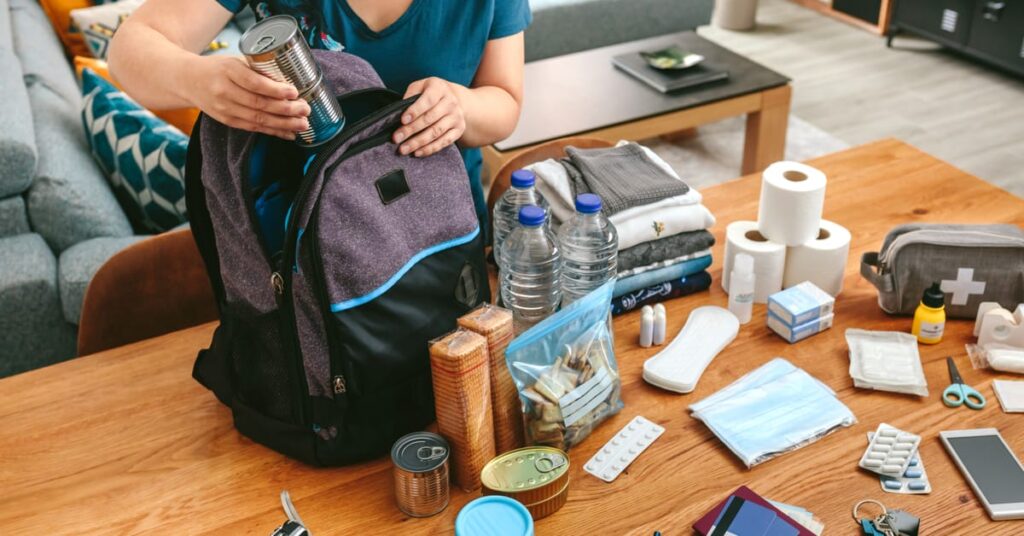 If you're prepared for camping with dogs, chances are you won't have any issues on your adventure. Making sure your dog is healthy, up to date on their shots, and has their registration and tags secured to their dog collar are excellent steps to be prepared for camping and staying away from home.
Having a carry-size water-resistant card with your dog's identification and vaccine information will also come in handy if they were ever to become lost, injured, or have an unpleasant interaction with wildlife. Always keep a first aid kit on hand for possible accidents or injuries.
4. Always Keep Your Dog With You While Camping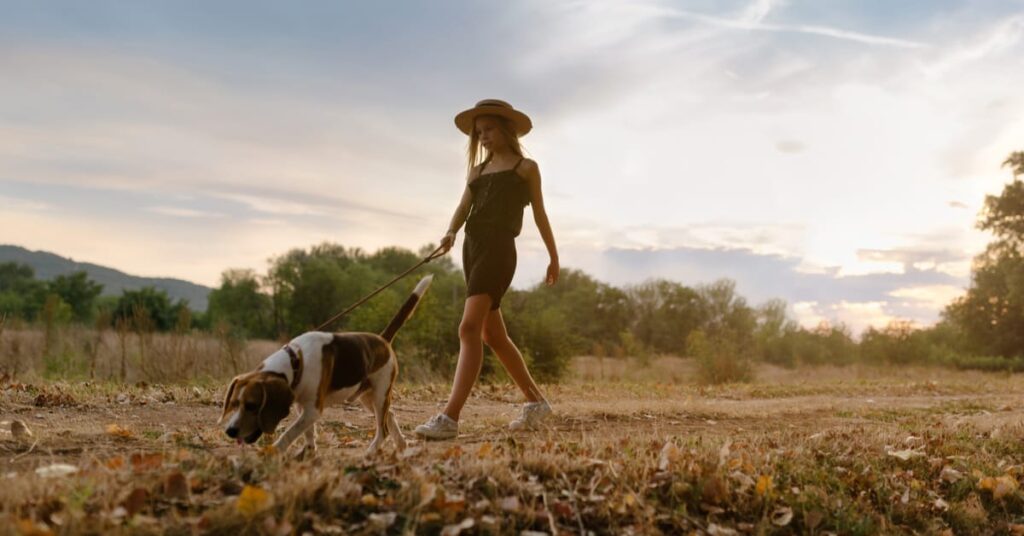 The great outdoors does feel a lot like freedom, but it's best not to let your pooch wander or allow too much room for them to react to something unexpected, like a fellow camper strolling by or a chipmunk up a tree.
Check campground regulations about leashes and restraining your dog, but at the very least you should have good verbal control of your dog while camping.
When it comes to sleeping arrangements, most campground and backcountry regulations require that your dog sleeps with you in your tent, camper, or RV. Make a space for them and their dog bed where you plan to lay your head. Not only will you have a camping cuddle buddy for the night, but you won't have to worry about your furry friend running into wildlife or barking during quiet hours
5. Review Training With Campground Etiquette In Mind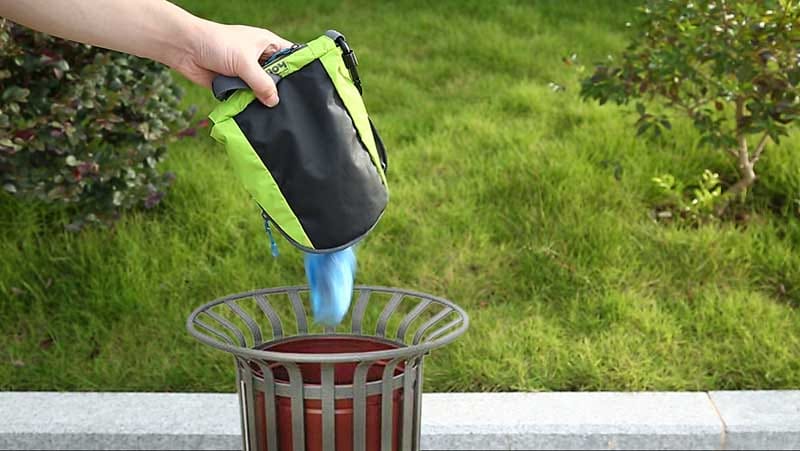 Wherever your camping adventure takes you, your dog is going to need to have a solid recall command in order to keep them safe and follow the rules.
Your dog should also have a good sense of the "leave it" command for anything that might come along, whether it's waste, wildlife, or other campers who may not want the company of a pup (we know, hard to imagine, but there are some).
Other etiquette items to keep in mind when camping with dogs:
Always pick up your dog's waste and dispose of poop bags properly
Keep your dog on a leash while at camp
Never leave your dog unattended at your campsite (this is usually a regulation, too)
Store dog food and dog treats properly—especially in backcountry settings. You don't want wild animals visiting for a midnight snack.
Hiking Gear For Dogs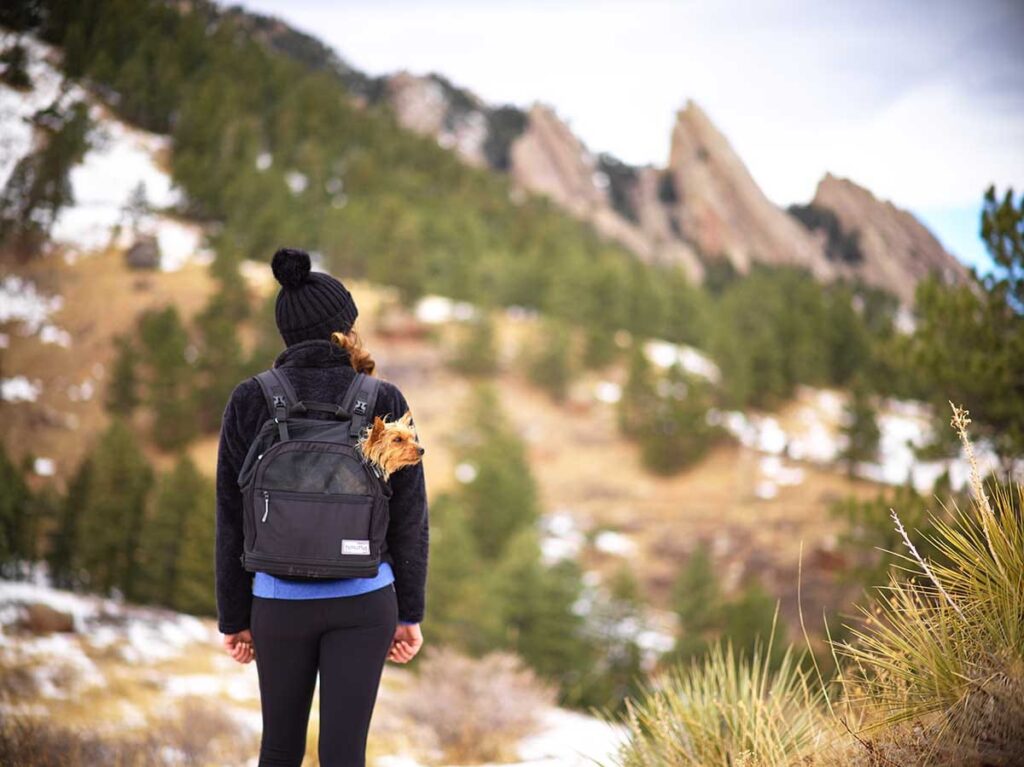 If your camping adventure includes backpacking or tenting in the backcountry, you may want to consider a saddlebag-style dog backpack for your pup to carry some of their own gear.
Keeping a spare water bottle or jug specifically for dog water makes it easy to keep your dog a hydrated and happy camper while enjoying the great outdoors, and with their own pack they can carry it!
Even if you're only planning to take your dog hiking for the day, there are a few pieces of hiking gear for dogs you may want for your adventure. Here are some essential items for day hiking with your pup:
Water & collapsible bowl
Dog treats or kibble
Day pack
Dog cooling vest
Waste bags
First aid kit
Hands-free leash
If you have a small dog, a dog backpack carrier (pictured above) is another good idea for long treks that tire out their little legs.
$43.99
The DayPak is a saddlebag-style dog backpack that allows your pup to comfortably carry extra gear and essentials while on-the-go! A light-capacity pack constructed with breathable mesh and adjustable straps to keep your dog comfortable and cool on the trail. Bright colors and reflective piping make it easy to spot your dog if they roam too far. Enjoy the convenience and storage space of 4 expandable…
Other Adventure and Dog Camping Gear to Love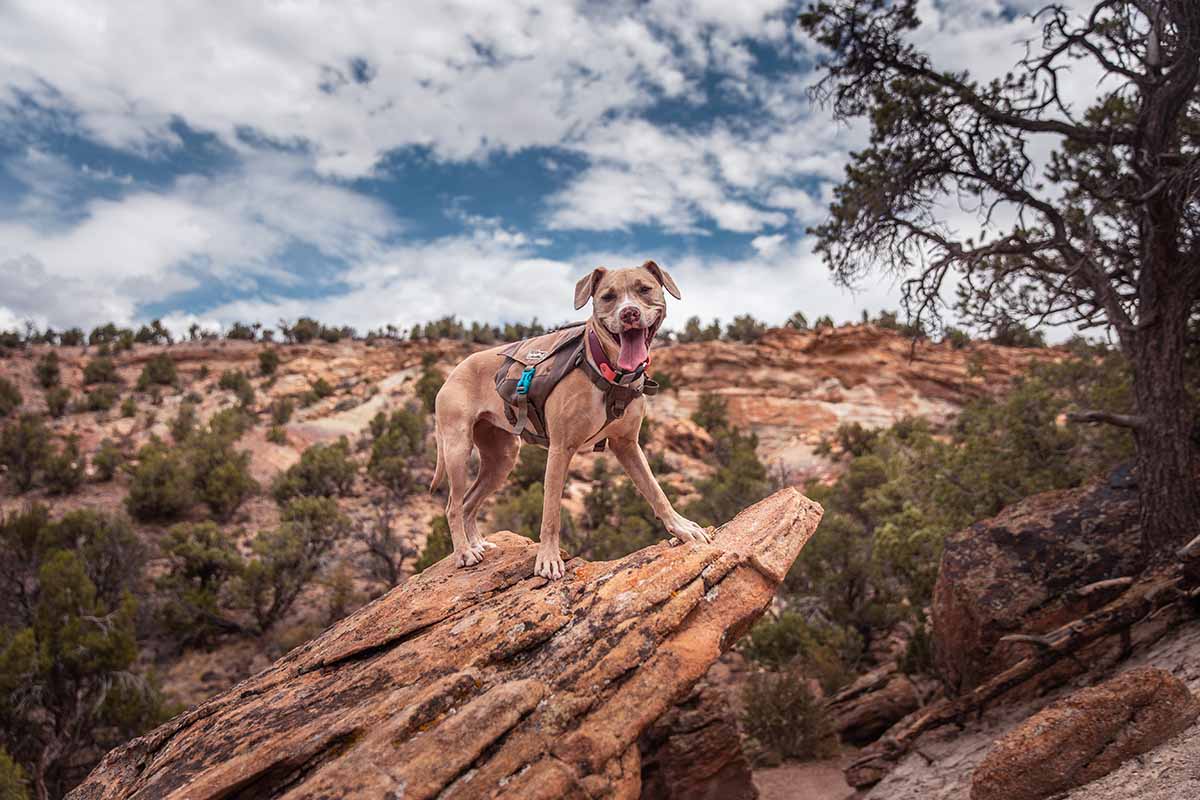 Dog Boots
While lots of dog owners think of dog booties for winter hiking only, dog boots can be a huge benefit to your dog's paws if the ground is especially hot or particularly rough. Throwing a set of booties into your camping gear is a great option to keep your pup's paw pads protected from the elements while camping.
Dog Life Jackets & Goggles
$65.99 $30.00
The Outward Hound Dawson Dog Life Jacket is a high-performance dog flotation device for boating, water sports, the beach, the pool, and other water adventures with dogs. Designed with novice swimmers in mind, the neoprene side panels of this dog life vest will keep your dog safe by providing them with comfortable buoyancy and thermal insulation for chilly days on the water. A front neck float adds extra…
If your camping adventure includes watersports or boating activities that you plan to bring your pup on, a dog life jacket is an essential safety item to have. Dog goggles are also a good solution to keep the sun out of their eyes while out on the water.
Dog Sleeping Bag
Dogs are pretty good at self-regulating body temperature when there aren't too many extremes, but if you're thinking of cold weather camping adventures in spring, fall, and winter, a dog sleeping bag on top of a self-warming bed will be the perfect solution to keep your best friend warm throughout the night.
Water Bowls
$7.49 $6.49
The collapsible Port-A-Bowl from Outward Hound was designed for easy hydration and snacks on-the-go. This brightly colored dog bowl fits 48 oz and folds flat to easily tuck into a backpack, pocket, or purse, providing an accessible and convenient option while travelling or exploring the outdoors! It's lightweight, easy to carry, and even fits in our Outward Hound dog backpacks. Note: The Port-A-Bowl is…
Stainless steel is durable and great for at home, but something a little lighter can be better for hiking and camping with dogs. A collapsible water bowl is lightweight, packable, and takes up very little space.
Pet First Aid Kit
Adventure medical kits aren't just for humans. Anytime your pup is along for the adventure a dog first aid kit is essential to have on hand. Make sure your pet first aid kit is up to date.
If Fido goes No. 2, don't forget to clean up!