Hiking With Dogs: Tips & Tricks for the Trails
Hiking with your dog can be a lot of fun for both of you. Not only does your dog get physical exercise, but they also get plenty of valuable mental stimulation from all the new smells to explore in nature!
As the weather turns warmer and more people hit the trails with their dogs, here are some tips and tricks to make the best of your hike with your pooch!
How to Find and Prep for Dog-Friendly Hiking Trails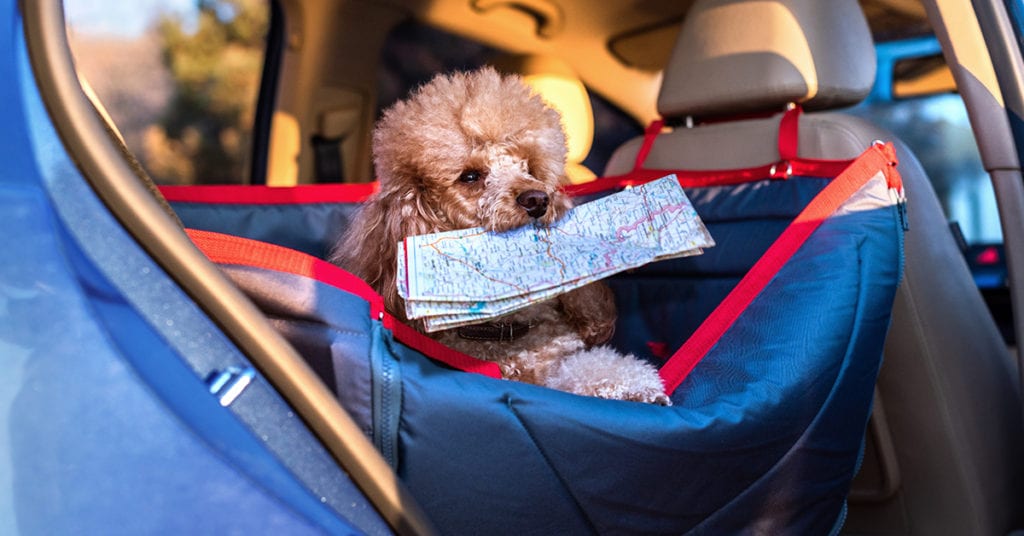 Apps like BringFido and AllTrails help you find dog-friendly trails, state parks, and national parks. Some require dogs to be leashed and others allow off-leash if your dog can follow voice commands and has a solid recall.
It may be important to brush up on obedience training before heading out. Working on recall specifically will help with keeping your pup away from dangerous thickets of foxtails. 
If planning for a backpacking trip or long hike with your dog, you may want to consider building up your pup's stamina before your trip as well. You'll want your dog's paws in tip-top shape for the jaunt. 
Last but not least, make sure your pup is up-to-date on his vaccinations. The last thing you want is for your best bud to catch an illness like Lyme disease.
Hiking With Dogs Packing List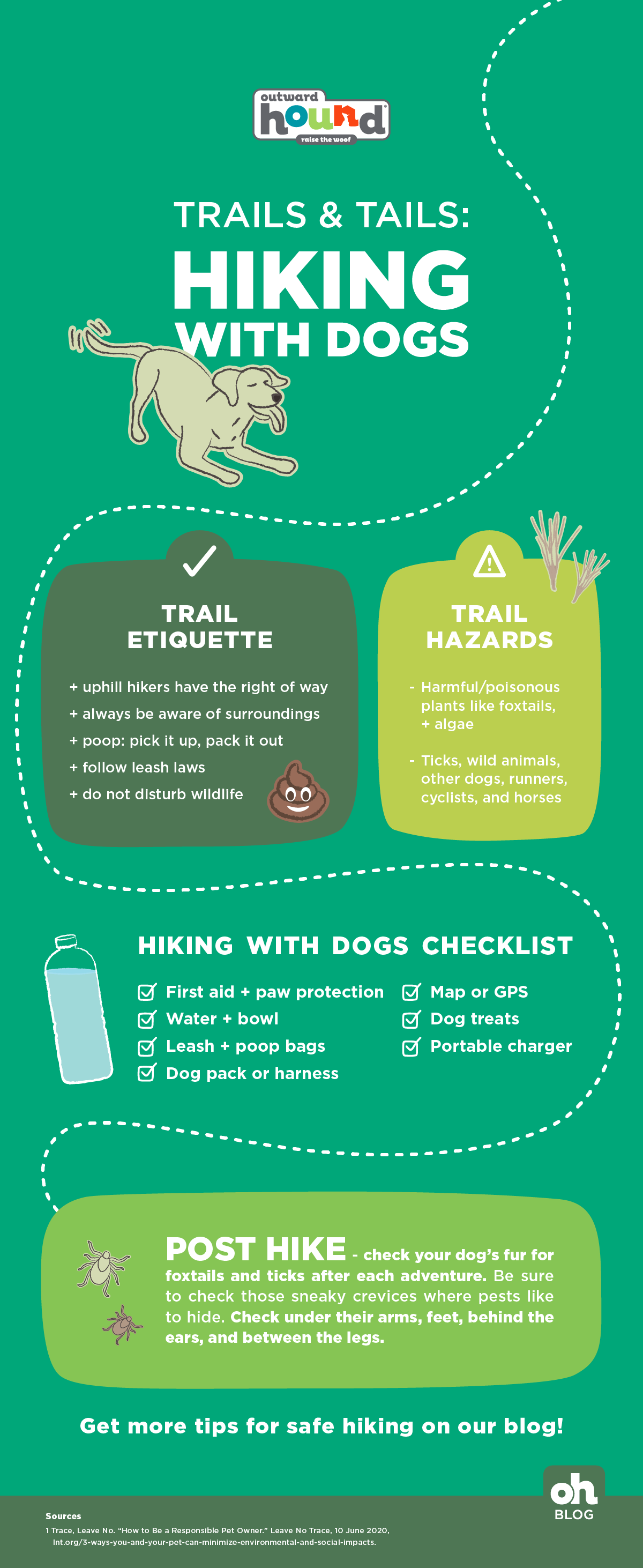 Bring a map, GPS, or use your phone to screenshot a picture of the trail to ensure you do not get lost.
Plenty of drinking water for you and your pup. Don't forget a portable water bowl for the dog water.
Healthy dog treats so your pup can properly refuel during the hike to keep his energy levels up. Baggies of dog food if you're doing an overnight.
Leash and harness: Follow local leash laws. We recommend attaching your dog's leash to a harness or backpack for dogs to prevent them from pulling on their neck. Don't forget his ID tags!
Poop bags — keep our trails clean! Leave no trace of your dog's waste 💩.
First aid kit as a preventative measure for you and your dog. You might want to include something like a Tick Twister or tweezers. Do you think your dog needs his medication on the trail? Pack that in your pet first aid kit too. Your pooch can carry it in his dog pack!
Paw protection: if going on a longer day hike or backpacking trip your dog could benefit from paw wax or dog booties to protect your dog's paw pads from rough terrain.
Dog-safe sunscreen: dogs with lighter-colored coats will need this.
A camera for capturing those super "Instagram-able" moments of your doggie on the trail!
What to Watch Out for When Hiking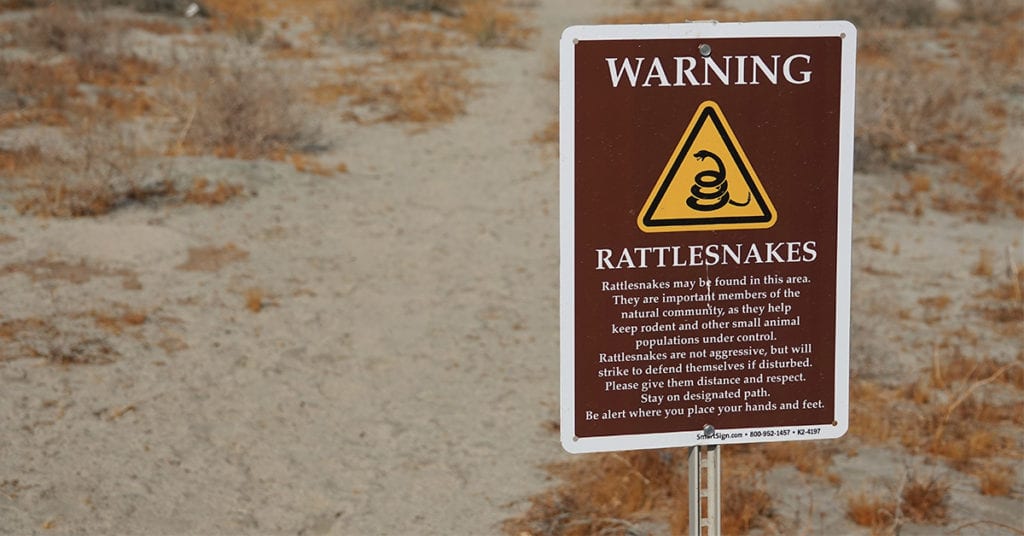 Though hiking with your furry friend may seem like a simple activity (how hard can walking in nature be?), there are some dangers that you should be aware of.
Dog owners can keep their dog safe by looking out for the below when hiking with dogs:
Other trail users: you may run into other hikers, cyclists, or horseback riders on the trail. Be aware of trail etiquette and make sure your dog is comfortable in those situations. If unleashed, clip the leash on when passing others. Some humans might not be comfortable around animals.
Wild animals: It's possible you may run into other wildlife on the trail like deer, birds, rabbits, snakes, insects, or even coyotes. Some are more dangerous than others. Be sure to stay on the trail and have control of your dog to keep them from chasing any critters. This is for the safety of the other wildlife as well as your dog.
Wild plants: Just like there can be dangerous wildlife, there can be dangerous plants like poison ivy, burrs, and foxtails. Make sure your dog stays on the trail and doesn't lick or eat any plants.
Dog exhaustion & injuries: Dogs may not know their limits and can over-do it on hikes, especially if you're going long distances. Look out for the signs of exhaustion and heat stroke in your pup.
Natural water sources: Though many dogs LOVE playing in lakes, streams, and the like, on outdoor adventures, some natural water is dangerous. They should not drink it either. Natural water can have parasites like giardia or blue/green algae that can very harmful to dogs. 
Dog Hiking Products for a Seamless Outdoor Adventure
Now that we have covered all the things to bring with you and be aware of when hiking with dogs, it's time to look into some top-notch hiking gear.
Here are a few products for hiking with dogs that put the "fun" in fun-ctional!
Port-A-Bowl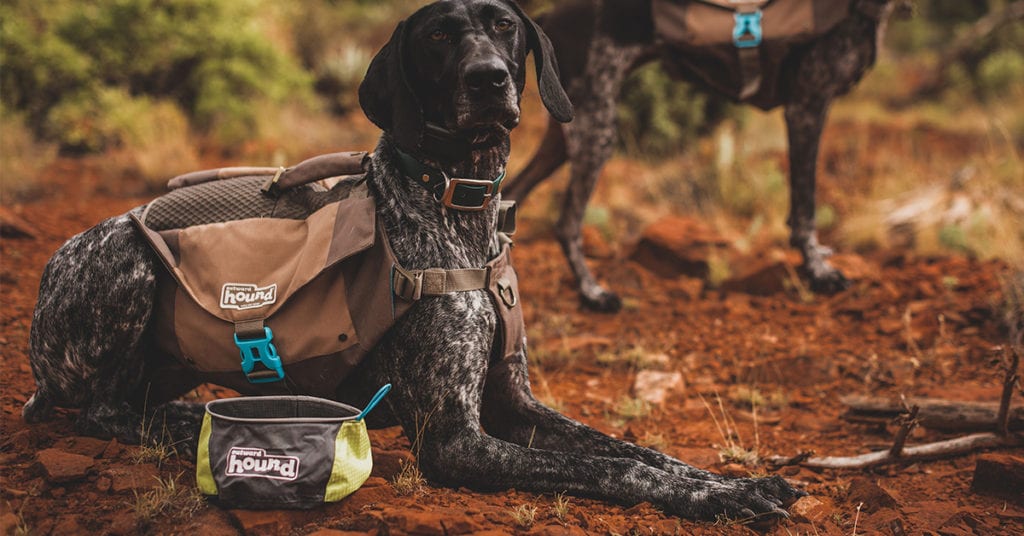 The Port-A-Bowl is a great on-the-go bowl to bring with you when hiking with your dog. We love it because it is made out of a durable soft-sided material and can fold flat or be crinkled up into a tiny ball. It takes up minimal room in your pack (or your dog's pack). It is also extremely lightweight, which is a major plus when hiking or backpacking! This bowl can hold food or water and the seams are taped so there should be no leaking. Plus, it dries quickly!
Daypack Dog Hiking Pack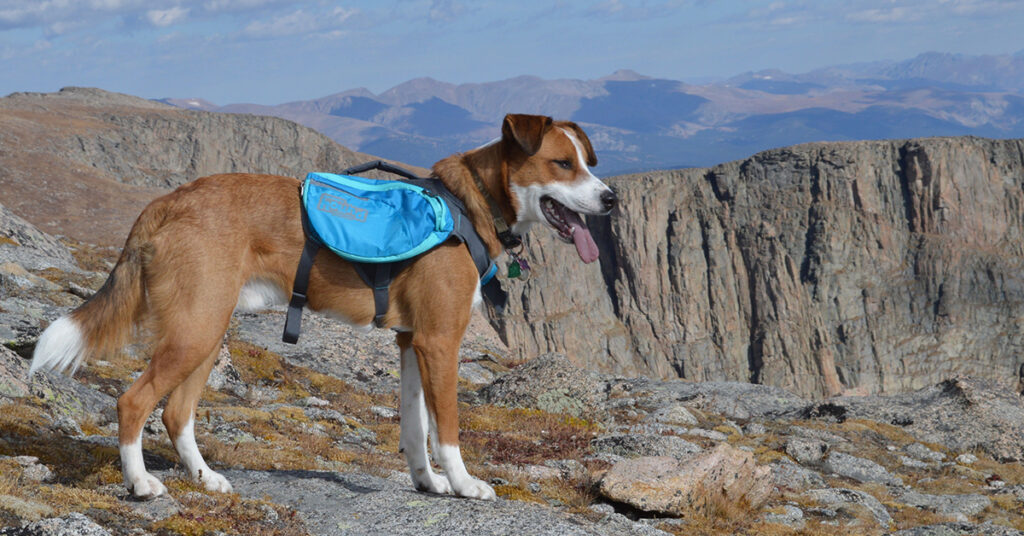 We recommend the DayPak backpack for dogs because it allows you to focus less on loose items and more on the fun with your dog! This pack is a saddlebag design with a harness fit and a D ring you can attach your leash to. It comes in two high visibility colors and has reflective accents to keep your pup safe. 
You can use the four storage pockets to hold things like your keys, dog treats, poop bags, water bowl, etc. We suggest only allow your dog to carry up to 20% of their body weight. Make sure the weight is evenly distributed in each pocket between both sides of the dog.
To keep your dog cool the bag has breathable mesh panels along the back. This pack also comes in multiple sizes and has adjustable straps so you can find the most comfortable fit for your pup!
Pooch Pouch Dog Backpack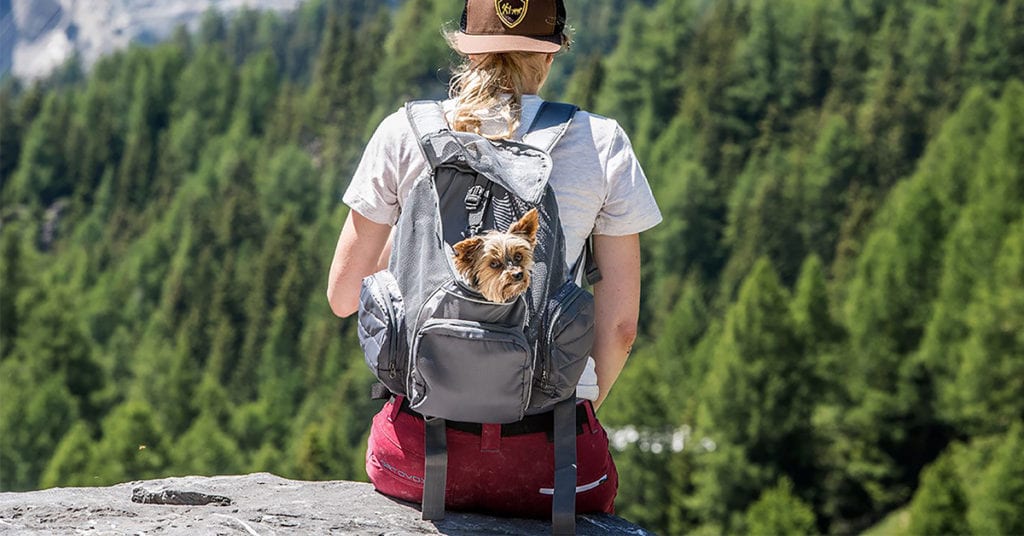 Don't think just because your dog is a puppy, older, injured, or on the smaller side that it can't join you for hikes! The Pooch Pouch carriers are great for dogs or puppies up to 20 lbs that may need some help on long treks. There are multiple styles that allow you to carry your pup on your front or back. 
All styles have mesh panels to keep your dog from getting too hot. They include an interior safety harness that comfortably clips to your dog's collar to keep them safe and secure. There are also storage pockets to help hold your keys, treats, poop bags, water, and other items.
Healthy, Limited-Ingredient Dog Treats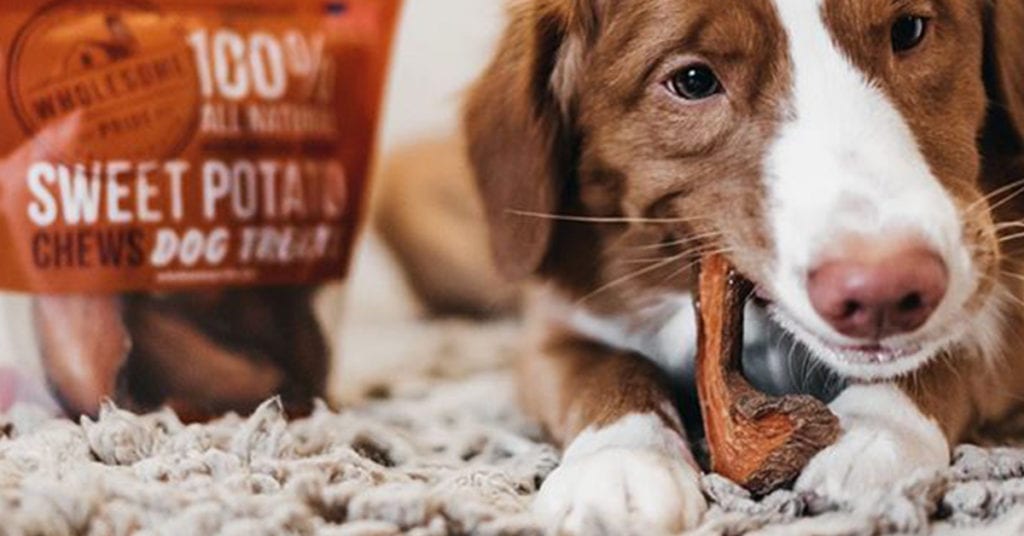 As mentioned earlier — we highly recommend bringing HEALTHY treats for your dog with you while out hiking. Wholesome Pride sweet potato, pumpkin, mango, apple, or carrot treats would all be good choices to bring with you. These flavors are 100% natural, single-ingredient treats that are free of fillers and full of fuel and flavor for your pup!
After the Hike
Don't forget to check your dog's fur for foxtails and ticks after each adventure. Be sure to check those sneaky crevices where pests like to hide like under the arms, behind the ears, and between the legs.
Now go out and have a safe hike!
Editor's note: This article has been updated as of September 2021 to reflect the most pup-to-date information.