German shepherd dogs (GSDs) regularly make the AKC's list of the most popular dog breeds. They are loyal, courageous, smart, and very protective of their human friends. They are herding dogs that bond strongly with their human companions.
You'll fall in love with this dog breed, and you'll want to make sure he leads a happy, healthy, and fun life that includes lots of toys!
As German shepherd owners know, GSDs are large dogs that require virtually indestructible everything! They are aggressive chewers with lots of energy so finding the right durable toys is important.
As a large breed dog, the German shepherd requires lots of playtime and some high-quality, long-lasting toys to keep his attention. German shepherd puppies may turn to destructive behavior if they don't have some durable puppy toys that keep them occupied while their human friends are away.
German Shepherd Exercise Needs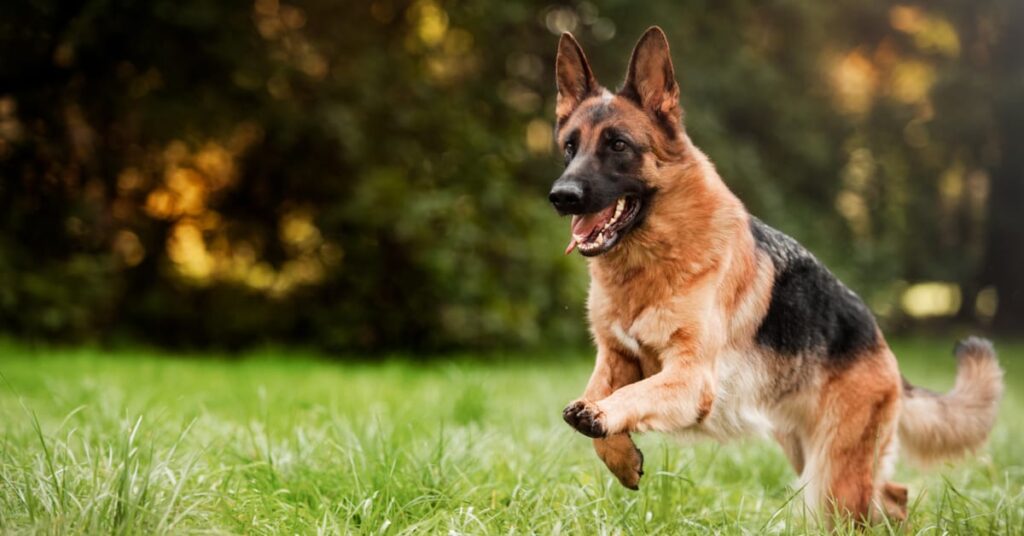 While we're on the subject of dog toys for your German shepherd, it's important to know a little about their exercise needs. German shepherds are extremely active large dogs. They need a lot of exercise to stay happy and prevent boredom.
They have a reputation for being somewhat high-strung, and without plenty of activity to keep them occupied, they might resort to destructive behavior to get your attention. That's why you'll want to make sure you've got lots of fun toys to occupy your GSD's time.
Your German shepherd dog will need a minimum of 2 hours of exercise each day. Ideally, that includes some walks around the neighborhood or out in nature. It's good for your both.
You also want to provide some off-leash exercise time within a safe area. As with all large breeds, it's a good idea to engage them in obedience training, and you might want to provide them with some specialized training as can be done with the obstacle course toy we've highlighted below.
Many veterinarians also recommend that you don't do the two hours of exercise all at once. Rather, it's a good idea to spread that out over the course of the day.
Your German shepherd will be a loyal friend who will just love spending lots of time with you exploring and playing. The toys we've highlighted above are an excellent way to engage your best friend in some quality playtime.
The Best Toys for German Shepherds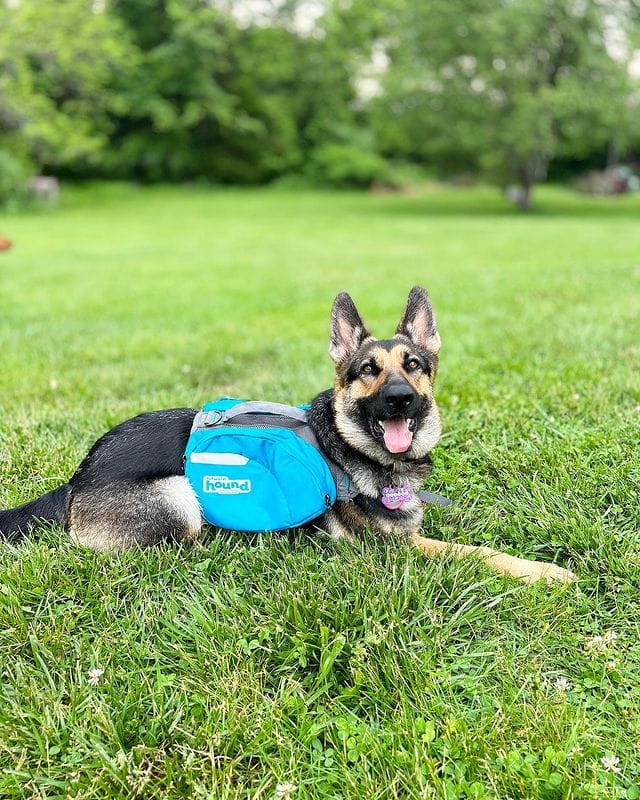 So what are the German shepherd toys? Here are our top picks for some of the toughest toys for large-size dogs:
Orka Bone Dog Chew Toy
Naturals Jute Puzzle Rope Dog Toy
Let's take a look at each of these great toys for your GSD.
1. Best Chew Toys for German Shepherds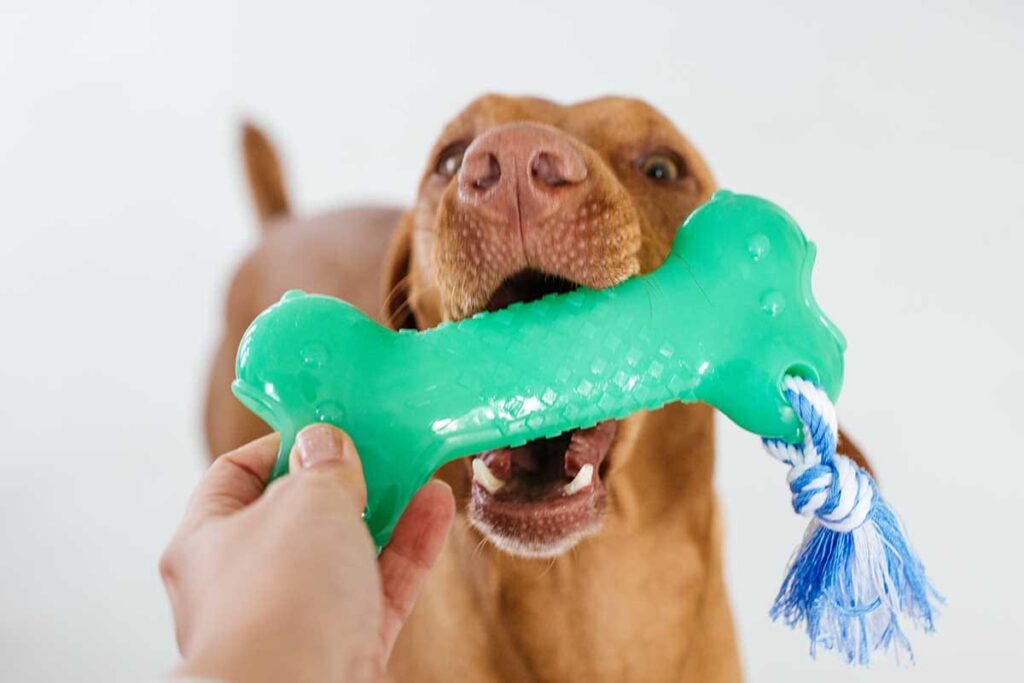 Large breed dogs like the German shepherd can be heavy chewers, and you need some durable toys that can withstand those powerful jaws. If your German shepherd is a puppy, you'll also want chew toys that are good for your dog's teeth. So what are the best chew toys for these power chewers? Here are two we think are top of the line.
Orka Bone Dog Chew Toy
Orka Alternative Dog Chew Toy, Bone
The Petstages Orka Mini Bone dog chew toy provides your pup with an appropriate option for instinctual satisfaction, while helping to reduce boredom and destructive behavior. The unique Orka TPE rubber material keeps these toys lasting through tough chewing while keeping dogs interested. The flat shape of the Orka Mini Bone helps exercise jaw muscles while rope pieces support good dental hygiene by…
This is a great chew toy for your GSD. It is soft and durable, and it has multiple textures to satisfy your dog's urge to chew. It has a rope running down the middle with knots at each end. This works well to clean your dog's teeth. You can use it as a tug toy, toss it for a fun game of fetch, or just let your pooch enjoy chewing it. It comes in different sizes, so you can get one for your puppy or adult dog. It's one of the all-around best dog toys available.
Naturals Jute Puzzle Rope Dog Toy
Ropiez Dragon Rope Dog Toy, Multi, Large
The Outward Hound Ropiez Dragon is guaranteed to keep your dog entertained. Featuring squeak and crinkle sounds dogs love, rope handle and ultra durable material, these plush toys stand up to tough tugging play.SUPER DURABLE: 1 continuous rope throughout toy for durable tugging fun.REINFORCED SEAMS: Made with reinforced seamz and nylon fused backing for longer-lasting play.GREAT FOR TUG OF WAR: Made for…
If you're looking for a great rope toy for your German shepherd dog, you don't need to look any further. This eco-friendly rope Outward Hound tug toy is made of jute rope and durable rubber rings.
It also doubles as a puzzle toy since your dog works to figure out how to remove the rings. Once he does, you can put them back on to keep the game going. It's also perfect for a game of tug of war!
This is a great toy for those tough chewers who really like their toys chewy, and it will leave your best buddy with clean teeth too!
2. Best Interactive Toys for German Shepherds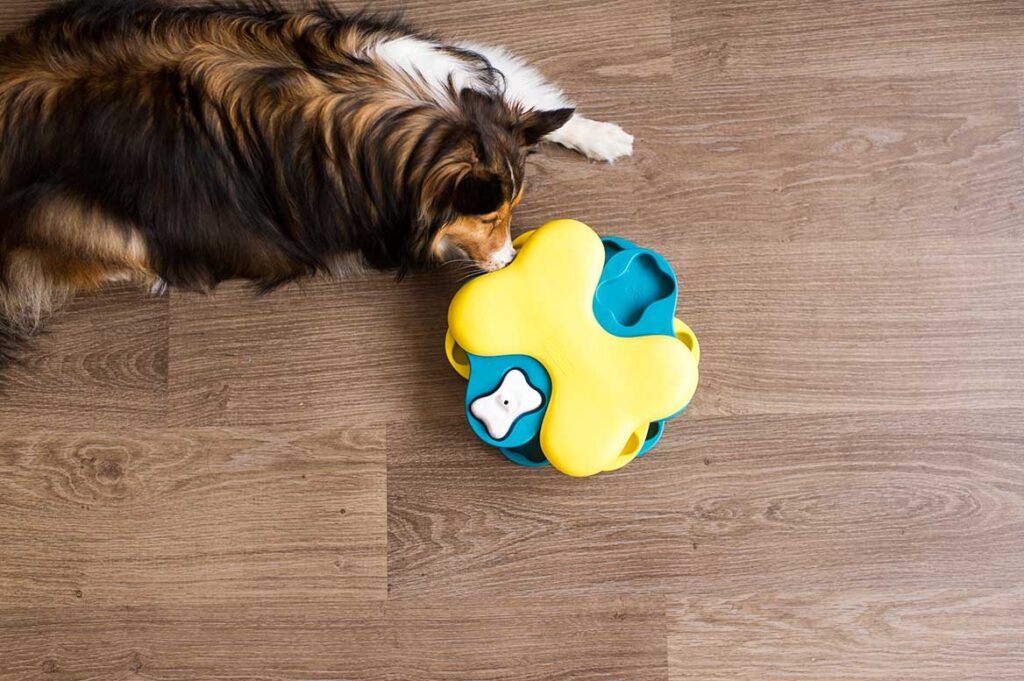 German shepherd dogs are intelligent dogs, and because of that, they need toys that provide them with hours of mental stimulation. Here are some of the best toys that are great for those intelligent dog breeds like the German shepherd.
Tennis Maze Craze Dog Puzzle Toy
Tennis Maze Craze Dog Puzzle Toy, Blue
Keep boredom at bay with Outward Hound's Tennis Maze Craze puzzle toy! The tennis ball and multi-sized openings are sure to keep your pup mentally engaged for hours of play! This puzzle will put your dog's problem-solving skills to work. Can your pup figure out which two tunnels let the ball out? You can even add treats inside for an extra tasty challenge. Once they get the ball out, it's time for…
This great toy combines two fun games in one! First, it's a squeaker toy that is also a puzzle toy. Your dog will learn how to get the ball out, and after that, it's time for a fun game of fetch with durable tennis balls. But there's more.
You can also put tasty treats like kibble or other types of dog food inside the tunnels so your dog will also be treated to a delicious reward. What's more, after hours of fun, the toy is washable so clean-up is a snap.
Dog Tornado Interactive Treat Puzzle Dog Toy
Dog Tornado Interactive Treat Puzzle Dog Toy, Blue
The Dog Tornado level 2 interactive dog puzzle from Nina Ottosson is the ideal toy for bored dogs and will keep them occupied for hours! This intermediate level toy features three tiers with twelve compartments for dog snacks or kibble. This mentally stimulating and entertaining dog game encourages your pup to spin the interactive puzzle tiers to reveal the rewards – three bone shaped covers can be used…
Once your dog gets used to an easier challenge, it's time for the next level. The Dog Tornado is a level 2 interactive toy that will keep boredom at bay for hours. It's a fun treat-dispenser that gives your active German shepherd dog both physical and mental challenges. Stuff it with treats or even peanut butter.
It's made of safe BPA, PVC, and phthalate-free materials, and it's washable too! It's a safe way to provide your puppy or adult dog with hours of fun!
3. Best Fun in the Sun Toys for German Shepherds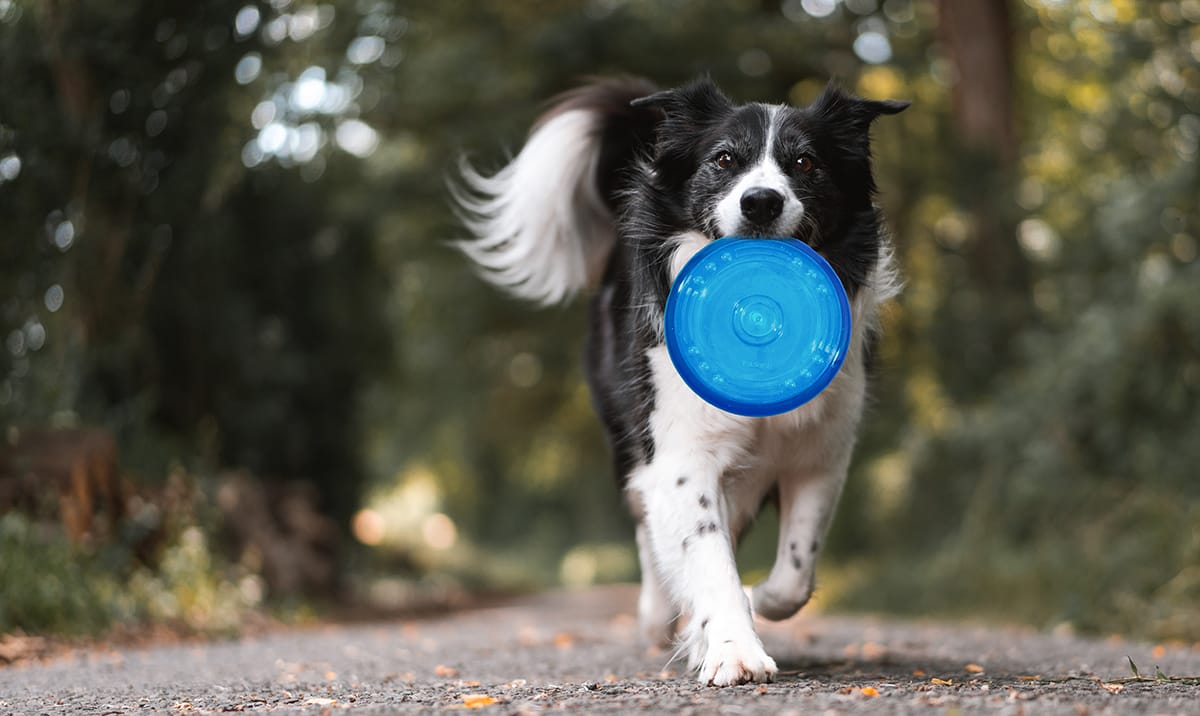 German shepherds need lots of exercise and fun in the sun. Some of them grow up to be working dogs too so they need to get out and about a lot! Here are some great toys to help them do just that.
Orka Flyer
Orka Flyer Flying Disc Dog Toy, Blue
The Petstages Orka Flyer Disc is a tough, ergonomically designed dog toy for interactive play with your pup. This durable fetch toy has a thick rim that doubles as an easy grip for you and a tough chew for your dog. Made from TPE material and reinforced with inner ribs and raised textures that feel satisfying to chew while being gentle on teeth and gums. The Orka Flyer bounces and floats so you can take…
This is a great dog toy for your pooch. Unlike hard frisbees, this toy is made of flexible Orka material that won't damage those delicate puppy teeth! This fun fetch toy can soar and it also floats, making it a great water toy.
Zip & Zoom Outdoor Dog Agility Training Kit for Dogs
Zip & Zoom Outdoor Dog Agility Training Kit for Dogs, Multi
The Zip & Zoom Outdoor Agility kit challenges your dog's I.Q. and provides physical exercise with fun! This set is great for training your dog to learn new tricks or commands with an easy to set up obstacle course. This outdoor training set features one circular collapsible tunnel, six weave poles, and an adjustable jump with hoop that come in a slim carry case.OUTDOOR PHYSICAL EXERCISE: This Zip & Zoom…
This is truly a toy for the working dog. It challenges your dog's intelligence, and it gives him hours of fun exercise. You can teach him new tricks and commands with this easy-to-set-up obstacle course. He actually has a real hoop to jump through!
The kit comes with 1 circular, collapsible tunnel, 6 weave poles, and that adjustable hoop. It's lightweight and easy to store so you don't have to be weighed down when you take it out to play or worry about where to put it.
It will provide you and your dog with hours of fun, mentally stimulating exercise. It's great for those working dogs that are at the beginning of their career.
4. Best Squeaky Toys for German Shepherds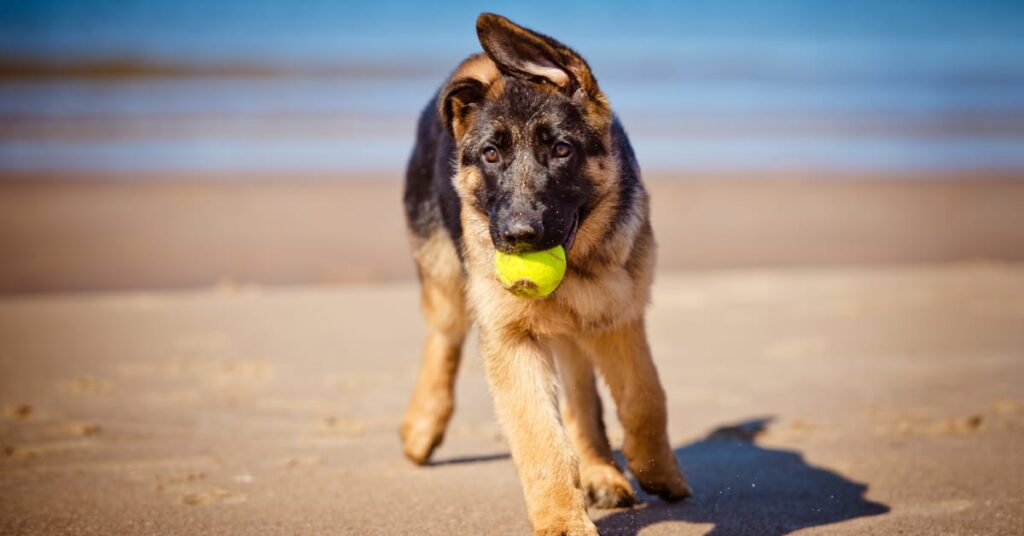 Finally, there's nothing like a few squeaky plush toys to give your best friend hours of fun. Here are a couple of great toys that offer a new twist on the classic tennis ball.
Squeaker Ballz Squeaky Tennis Balls, Large
Squeaker Ballz Squeaky Tennis Balls, Large
Outward Hound Squeaker Ballz are a new twist on the classic tennis ball! These brightly colored, multi-sized balls are made with premium rubber so that the bounce doesn't end before the games are done. Your pup will love fetching this squeaky tennis ball whether playing indoors or enjoying the great outdoors. Squeaker Ballz come in multi-packs of 2,4,6,& 8 making them a great addition to families with one…
These are bright, multi-colored rubber balls that come in different sizes. They are made of durable, natural rubber so that you can be certain the bounce won't end until you and your pooch are done playing.
As far as rubber toys go, these are top-of-the-line! They can be used indoors or out, and they are made with high-quality rubber to ensure they will last a long time. There's also the squeaker toy inside to keep your pup engaged for hours! Be sure to order GSD-sized balls. Balls that are too small can present a choking hazard.
Tennis Max Ball
Tennis Max Ball
The Tennis Max Ball from Outward Hound is a new and improved version of the classic tennis ball dogs love. These bright and bouncy dog toys are encased in a rubber phthalate-free and lead-free shell that increases the toy's longevity and prevents dogs from damaging the squeaker easily. Each dog toy comes with our signature Outward Hound squeaky tennis ball that's made of pet-safe felt for fetching,…
This is Outward Hound's new and improved version of the tennis ball. It has the classic rubber ball enclosed in a durable rubber phthalate-free and lead-free shell that helps it last longer. It also keeps your formidable chewer from damaging the squeaker as easily as with other toys.
The outer natural rubber shell not only protects the rubber ball but also gives your dog another fun texture to work with. You'll also love this toy since the shell prevents slobber from sticking to the ball and getting on your hands. What more can you ask for?
Final Thoughts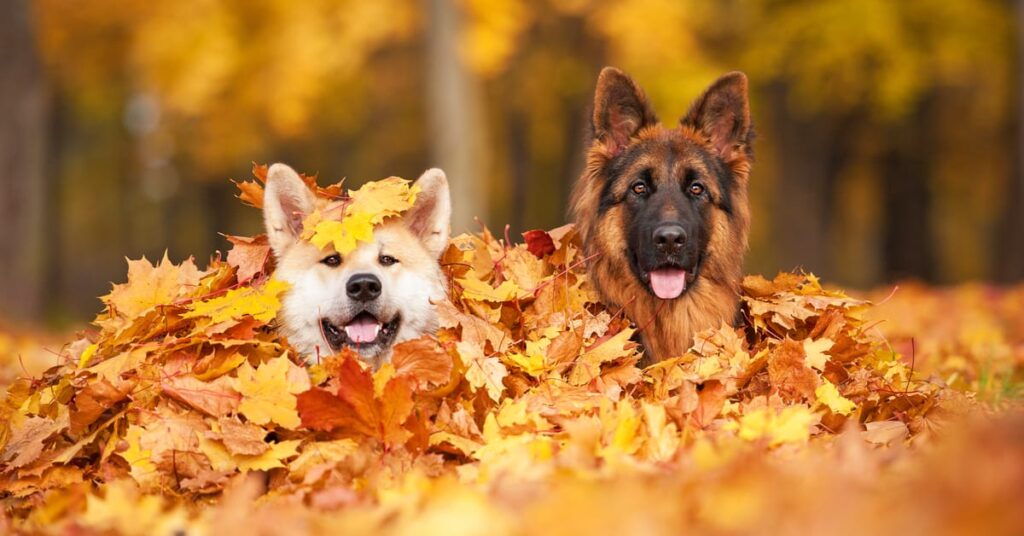 German shepherds are a popular dog breed that will be a loyal best friend for many years. As a good dog owner, you'll want to make sure he has lots of exercise and fun toys to engage his intelligent mind. There are also some fun toys on our list for you to enjoy with your buddy too!
This post contains affiliate links. If you make a purchase after clicking one, Outward Hound may receive a small commission.