Planning a beach vacation for the whole family, or heading to the shore for a day of fun? There's nothing like enjoying a day of sunshine and swimming with your dog by your side, but is your furry friend ready for a beach trip? Before you hit the waves, make sure you and your pup are prepared for a day in the sand with the following beach must haves for dogs!
Tips For Hitting The Beach With Your Pooch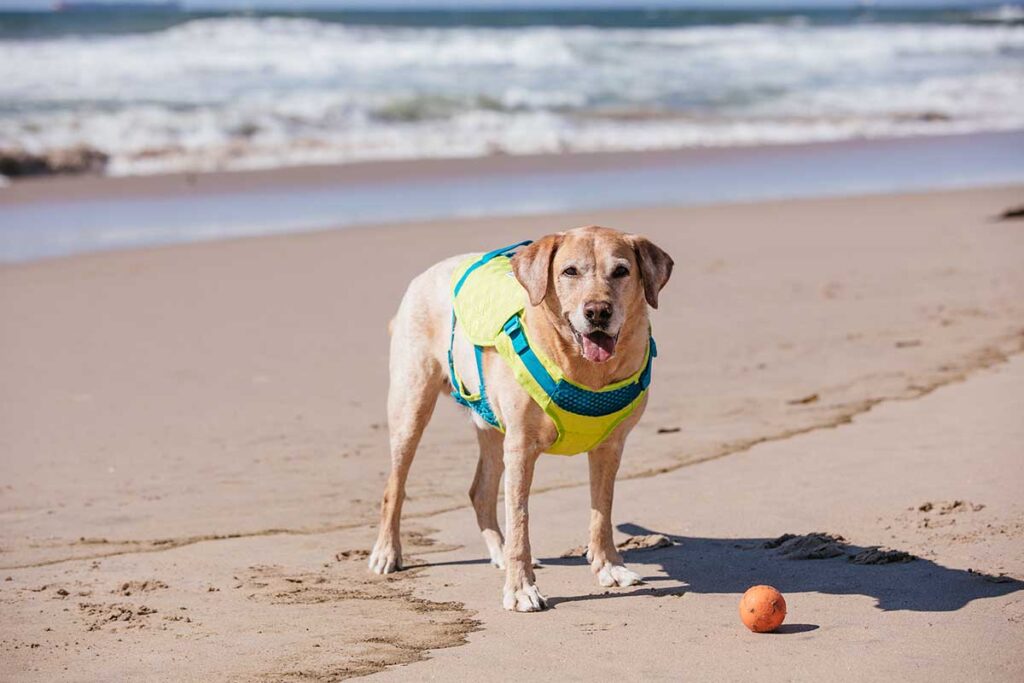 It's important to have the right safety gear, snacks, water, and essential commands nailed down before the trip.
1. Make Sure Your Dog Is Ready For The Beach
Not all dog breeds are fabulous swimmers, so don't assume your pup will be a natural beach bum. Find time to introduce your dog to the beach slowly, practice swimming in a dog life jacket, and start training to get used to proper beach etiquette.
2. Choose a Dog-Friendly Beach Destination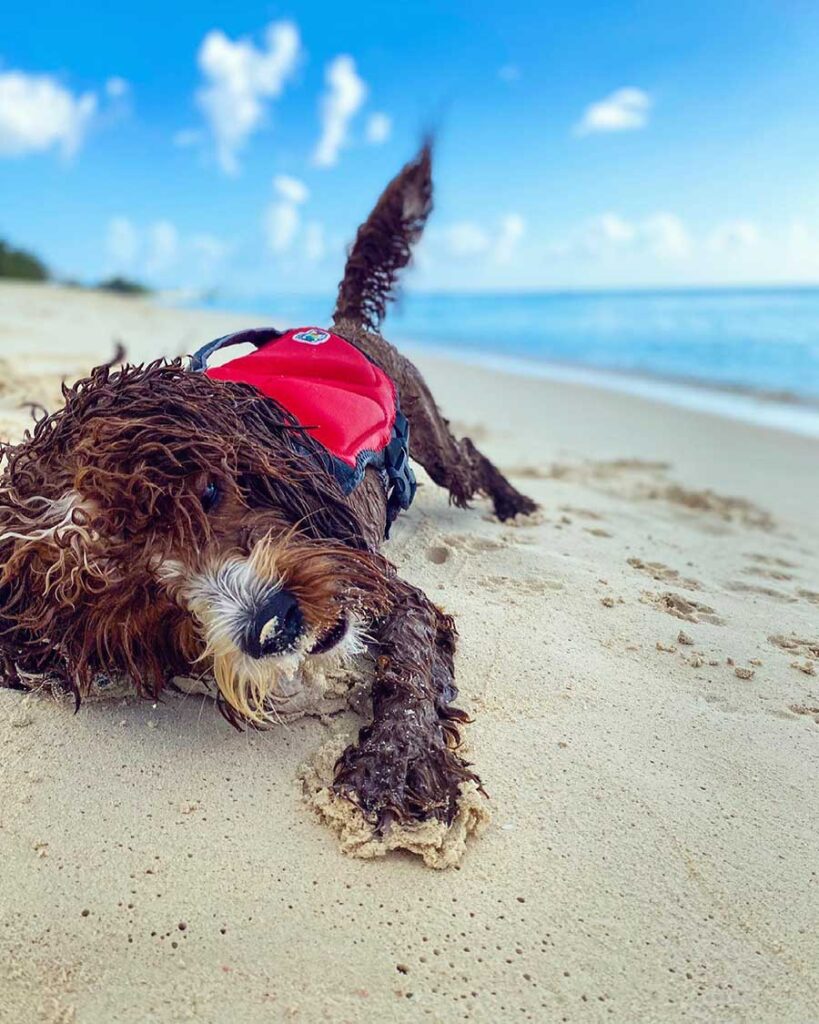 Some beaches get much too crowded for dogs in the summer. Even if they are allowed on the beach during the off-season, regulations often change in the summer months to make more room for human swimmers.
👆 Check the rules for any beach you plan to attend with your doggy, including whether they're allowed off-leash or not allowed in the water.
3. Bring ALL The Beach Essentials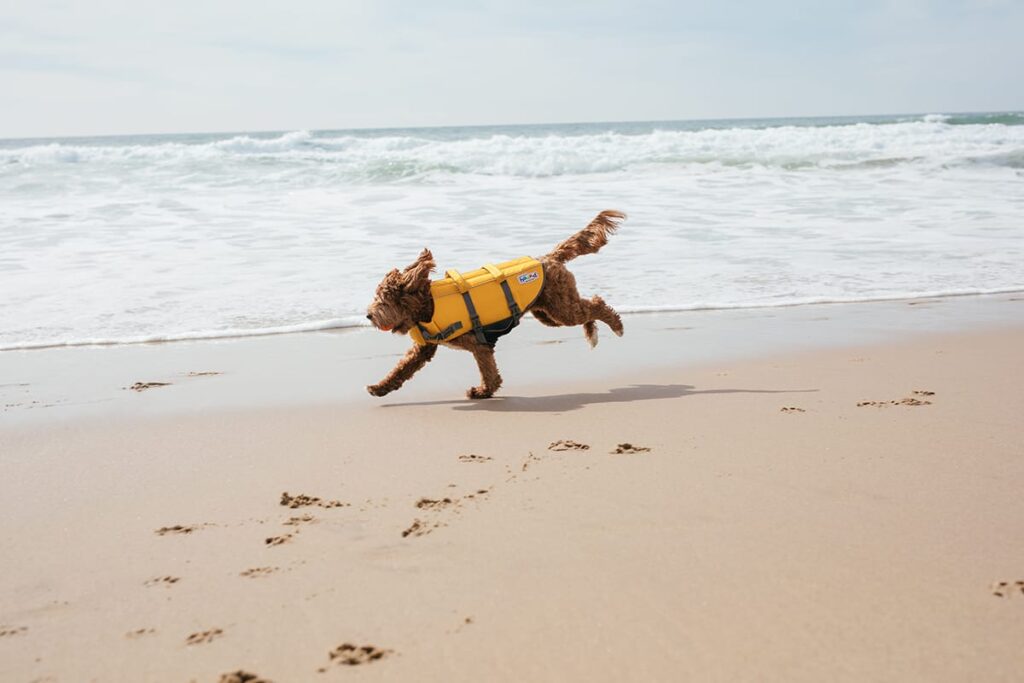 If you're spending the day at the beach, you're going to need all the goods! Don't forget these must-have dog beach accessories.
Quick-drying beach towels, like microfiber or absorbent cotton
Dog booties to protect your dog's paws from the hot sand
A beach umbrella to get some relief from the sun
A dog leash, a dog harness, and poop bags to obey regulations on the beach
Dog life vest to keep your dog safe on the water
Dog sunscreen to protect them from those UV rays (yes, dogs can get sunburn!)
Some dog toys for a good time, like tennis balls, frisbees, and floating toys
Collapsible dog bowl and a water bottle of clean, fresh water (don't let them drink the salt!)
Dog First Aid Kit with emergency supplies to deal with any scrape or scratch that pops up
$64.99 $32.50
The Standley Sport Performance Dog Life Jacket by Outward Hound is a high-performance dog flotation device perfect for boating, swimming, and other water sport adventures with your pup. While it's designed for experienced swimmers in mind, this dog life vest is suitable for all levels. Sizes XS-small have one top grab handle for easy retrieval, while sizes medium-XL have a dual rescue handle design to…
$38.49
The Outward Hound Granby Dog Life Jacket is a high-performance dog flotation device for boating, water sports, the beach, the pool, and other water adventures with dogs. A front neck float adds extra support to help them keep their head above water. Top grab handles provide an easy way to retrieve your dog in an emergency. Adjustable straps keep them secure both in and out of water. For small dogs, sizes…
$65.99 $30.00
The Outward Hound Dawson Dog Life Jacket is a high-performance dog flotation device for boating, water sports, the beach, the pool, and other water adventures with dogs. Designed with novice swimmers in mind, the neoprene side panels of this dog life vest will keep your dog safe by providing them with comfortable buoyancy and thermal insulation for chilly days on the water. A front neck float adds extra…
$7.99
The Outward Hound Floatiez are a line of sea-inspired creatures for all types of aquatic fun! Made from quick drying fabric, tennis ball, and noodle foam material inside for maximum buoyancy. Floatiez are also unique in that they float upright making it easier for your pup to find and retrieve during games of fetch toss or training. Each brightly colored sea creature features a unique squeaker sound to…
4. Invest in a Dog Car Seat Cover – Trust Us!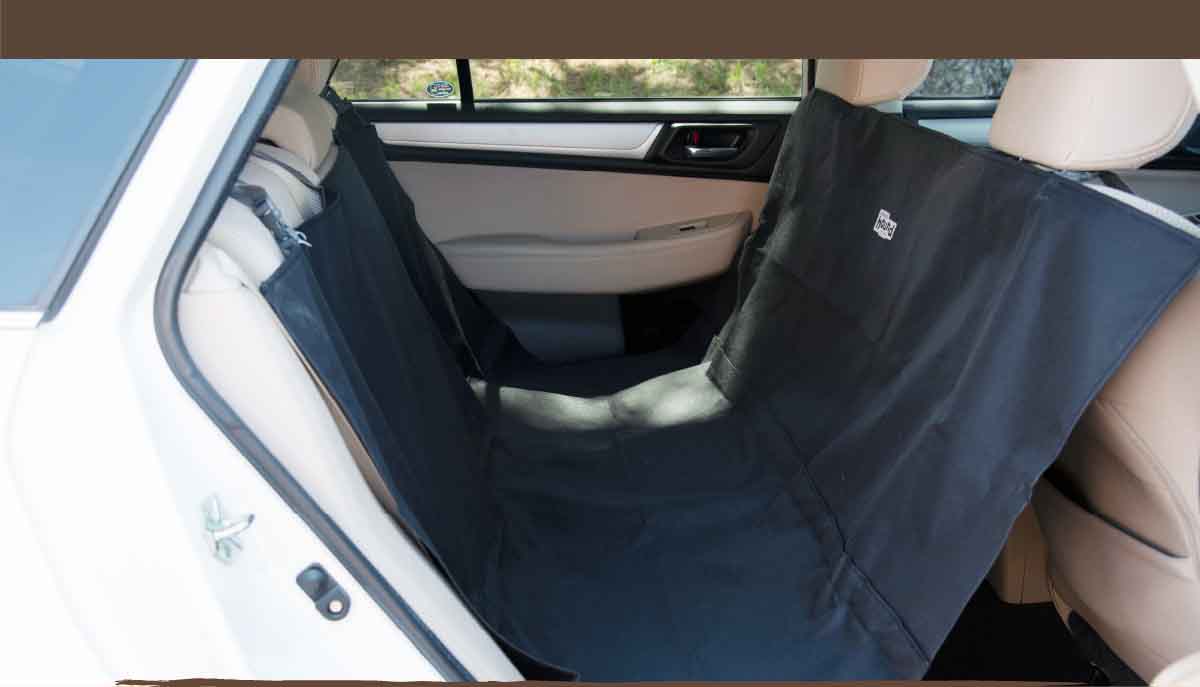 Depending on their breed your dog's coat might hold a LOT of water and sand, and they're bringing all that fun home from the beach with them!
Leather seats in your vehicle are a good idea too, but if you don't have them, you really need a car seat cover for a beach trip with your dog.
$32.99
Keep your pup safe, and your car's seats clean, with the Outward Hound PupShield Hammock. This doggy seat protector keeps your dog safely in the back seat during drives. Doing double duty, this car accessory also protects your vehicle's seats from hair and muddy paws! Explore new ground with Outward Hound Gear! Our high-quality performance gear will keep your pup safely equipped for every new…
5. Rinse Your Dog's Coat After Getting Wet And Wild
Saltwater can dry out your dog's skin, especially if it clings to their coat. Freshwater lakes, ponds, or rivers can contain algae or bacteria that you don't want your pup carrying around. Give a quick rinse in the outdoor shower or with the garden hose to keep your dog's coat clean and healthy.
The 8 Commands Your Dog Needs For the Beach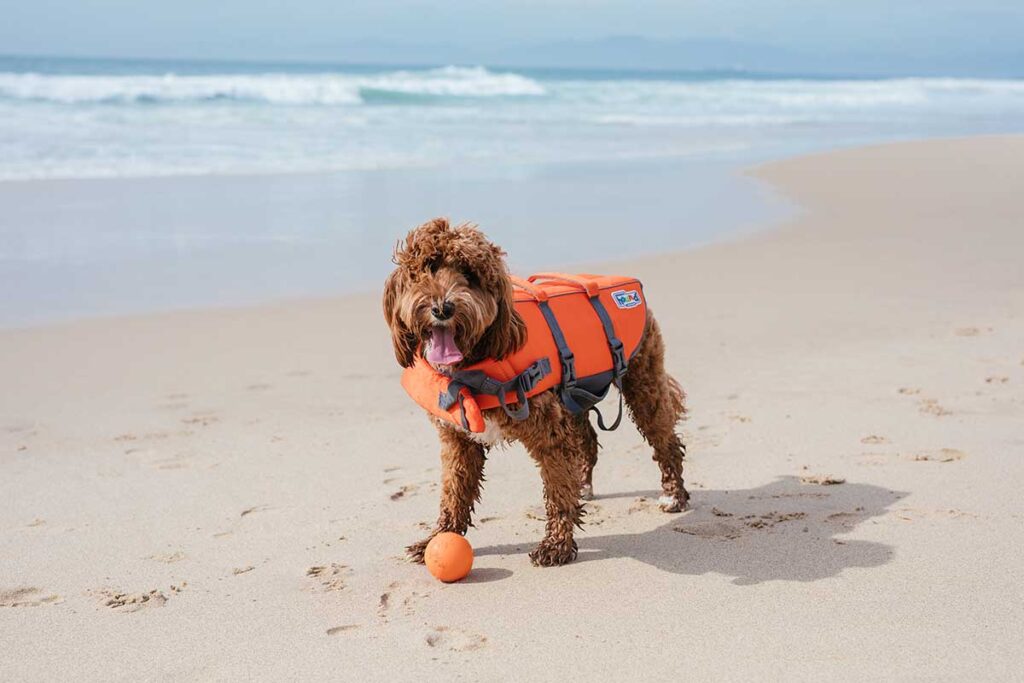 1. Wait
"Wait" is a good command to have down to have your dog stay put for a brief moment until you tell them what's next. It comes in handy when getting your dog out of the car, putting on their leash or life vest, or getting on and off the boat.
2. Leave It
"Leave It" is essential for any time you bring your dog around things that are tempting, like other people's toys or lunches. Keep your pup from sniffing around anyone's lunch or getting curious about what's in their beach bag by making sure they know when to leave something alone.
3. With Me
"With me" is the perfect transition command and signal for your dog to walk close to you. It's good for going from one place to the next with your dog off-leash, or even if you just want to keep them focused and walking alongside you without getting distracted while on-leash.
4. Sit
"Sit" is an important command for when you reach your beach spot and are ready to relax. Ideally, when you give this command your dog won't move from the sitting position, and won't engage in behaviors like jumping or going after anything exciting—like toys, food, or other pups.
5. Stay
"Stay" is a command that takes consistent practice, even on a daily basis for really energetic dogs. Telling your dog to stay indicates that they need to remain in place for a longer period of time. The more you repeat the command and reward the expected behavior for "stay," the better self-control your dog will have at the beach.
6. Come (or another recall cue)
"Come" also takes some special consideration to master, and should always be rewarded with positive reinforcement. You want your dog to want to come to you!
This command is useful in bringing your dog back in all kinds of situations but important for keeping your dog safe in the sand and waves.
7. Place or Bed
"Place" makes it clear to your dog that they'd better get comfortable. If you're going to use this command away from home or their regular place, try to use a consistent item like a blanket or dog bed you can take with you. Your dog will know their smell and feel comfortable posting up in their designated spot for a beach day.
8. No
"No" is a universal command and fast, clear way of letting your dog know to stop what they're doing. It's also a good cue to cut it out before behavior becomes an issue, like if you notice your dog taking an interest in wildlife or someone else's beach snacks. Be sure to also pair the word "yes" with positive affection when your pup does a good job!
Beach Must Haves for Dogs 101: Safety First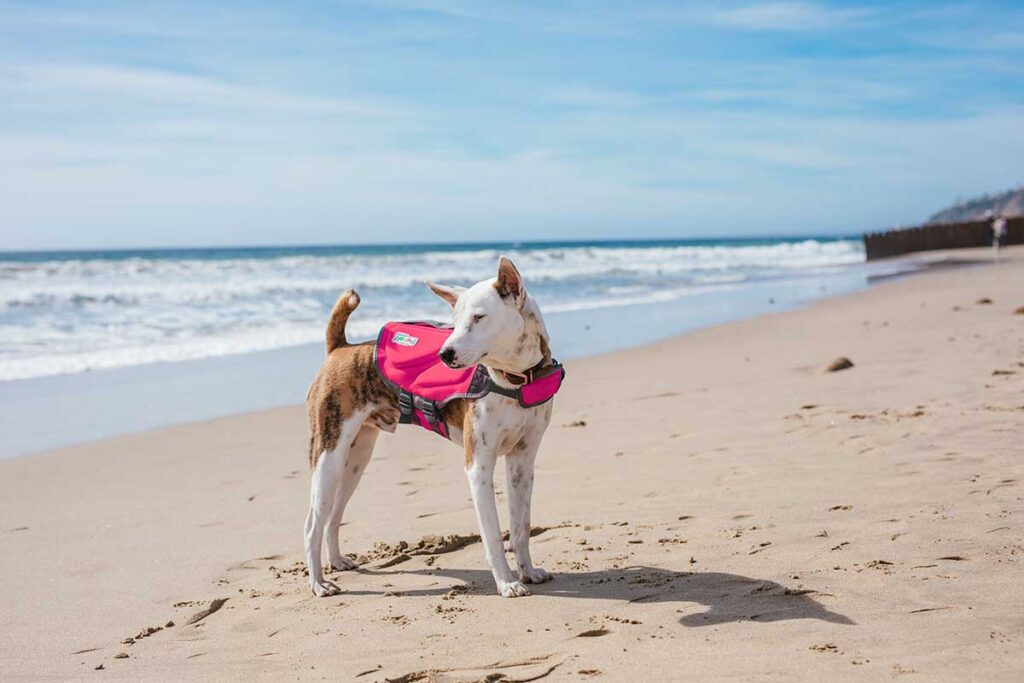 A day at the beach with your dog can be a different ball game than a typical day at the dog park. Planning ahead and making sure both you and your four-legged friend are prepared for the experience is the best way to have the BEST beach day possible!
Remember to be patient and have FUN, especially if your pup is still learning the ways of the beach. Reward your dog for good behavior and following commands with extra treats and lots of playtime.
Pack up and head out, you're bound for a paw-some day at the beach!