If there was an emergency and you had to evacuate your home, would you know how to care for your dog? If the last two years have taught us anything, it's that you never know what could happen next.
Part of being a responsible pet owner means being prepared with plans for our dogs in case of an emergency. From power outages and natural disasters to you becoming sick or injured and needing someone to step in and care for your dog, emergency kits can help make sure your pet has everything they need in the most stressful of situations.
Read on to ensure your dog's emergency kit (also known as a "go bag" or "bug out bag") contains all of the necessities.
Emergency Supplies to Keep in Your Dog's Go Bag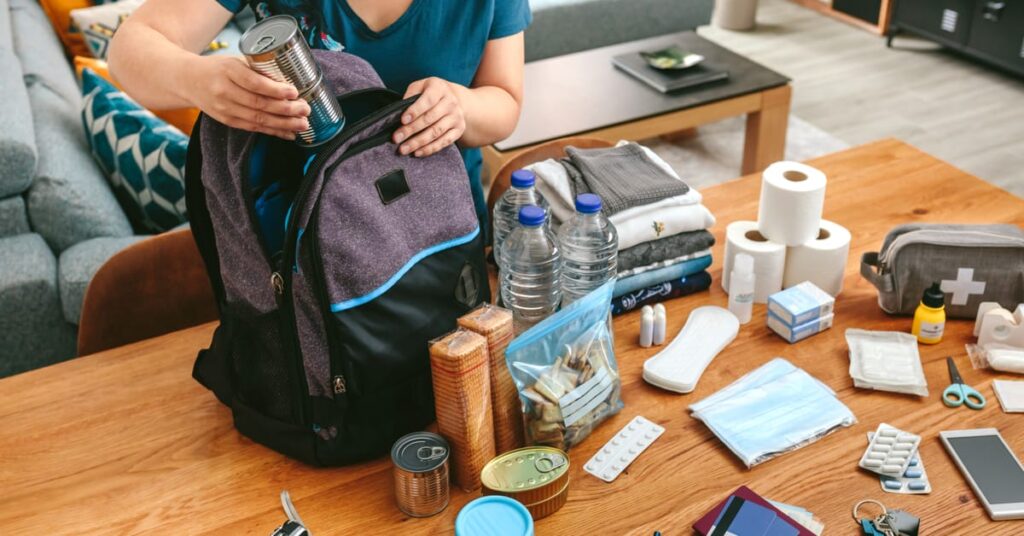 Doggie bug out bag checklist:
Paperwork (vaccination history, registration, proof of ownership, etc.)
Prescriptions
1-2 weeks worth of pet food and water
Supplements
Pet first aid kit
Blanket or towel
Pet carrier (if you have a small dog)
Dog life vest (if you live in a flood-risk area)
Dog leash, extra collar, harness
Comfort items like a favorite toy
Chew toy
ID tag
Muzzle
Collapsible bowl
Flea and tick medication
Poop bags
Paper towels
Optional: dog booties
Dog Bug Out Bag Necessity: Paperwork
When creating an emergency kit you'll want to have copies of any important paperwork you have for your dog. If possible, it's helpful to have these papers not only in a physical folder, but also saved digitally on your phone, easily accessible online in your email, or in a cloud storage location.
Paperwork to have immediate access to includes:
updated medical records
your vet's contact information
emergency contact should something happen to you
vaccination records
photo of you and your dog
In your best friend's emergency bag include any documents you have that prove "ownership." Although most of us think of our dogs as members of our family, according to the law they are property.
Documents to have on hand that can help you to prove that your dog is yours include records from your city or county showing that your dog is licensed/registered and belongs to you. Other helpful paperwork to have on hand would be a contract from your dog's rescue organization, shelter, or breeder. If you have an American Kennel Club (AKC) registration include that as well.
It's also a good idea to have photos of your dog to not only prove ownership but in case you are separated.
Prescriptions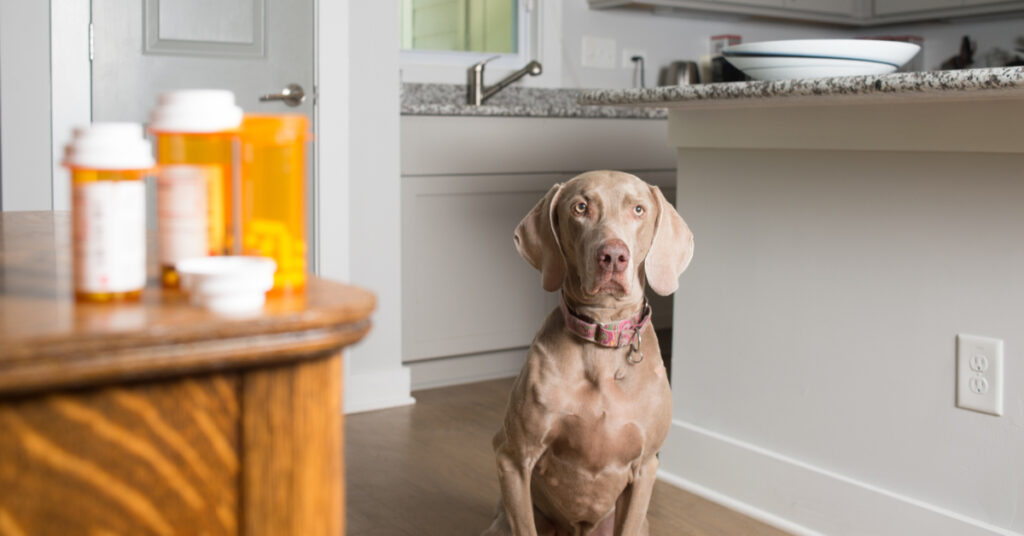 When creating a dog go-bag don't forget to stock up on any prescriptions that your dog takes. This might include:
monthly flea/tick and heartworm prevention
joint supplements
as-needed medication like anti-inflammatories for arthritis
anti-anxiety medication for stressful events like fireworks and thunderstorms
Talk with your vet about having extra medication on hand. In the event of an emergency, you might not be able to get to the vet to pick up more medication. Having it in your emergency kit means you'll have it on you if you and your dog need to evacuate your house quickly.
Be sure to note any expiration dates on the medication and cycle those meds in and out regularly so that you don't end up having expired medication in your emergency kit.
Food & Water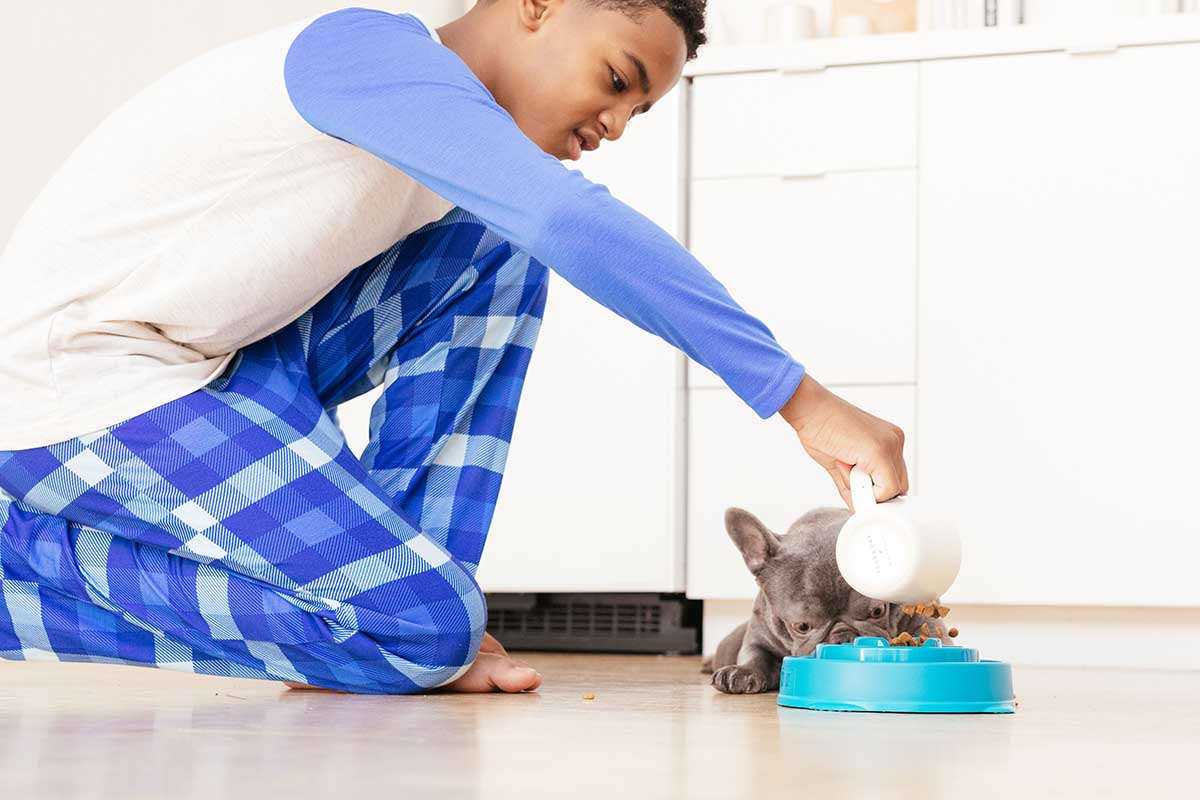 When putting together a pet go bag, have several days (or ideally a weeks') worth of food and water for your dog. Water bottles with water that is clean and safe for your dog to drink will be important to have on hand.
If your dog eats wet food instead of dry food, include a can opener in the emergency go-bag.
When putting emergency food together an easy way to organize it is to use resealable plastic or silicone bags to portion out the right amount per meal. This will make it easy for you to see exactly how much food you have, and in the event of an emergency make it easier for you to feed your dog.
It's also a good idea to have collapsible food and water bowls to use in case you need to evacuate your home.
In the event of a natural disaster or another emergency, it might be challenging to find the food your dog is used to eating. Changing your dog's diet suddenly can lead to stomach upsets, so it's best to avoid if possible, especially during an already stressful situation.
When stocking up on dry dog food to have in your emergency kit don't forget to include a supply of treats, especially treats that are of high value to your dog.
In a stressful situation, you will want to have access to high-value treats to help your dog cope.
A compact puzzle toy that can be filled with kibble and treats is also nice to have on hand to provide stress relief and enrichment if you aren't able to get your dog out for walks or more active play.
Disaster Preparedness Essential: First Aid Kit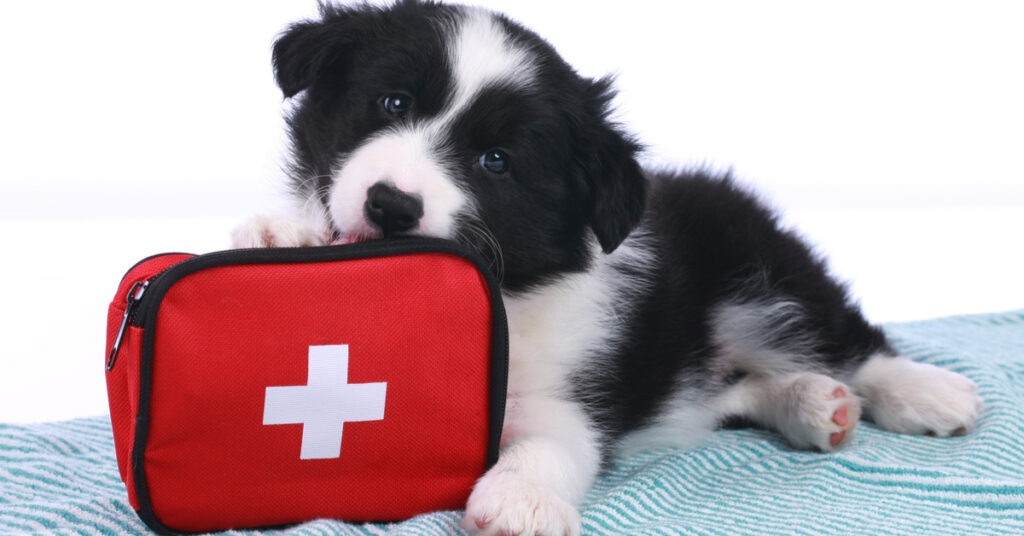 Emergency survival isn't easy without a proper first aid kit. Your pet's first aid supplies should include:
Gauze
Non-stick bandages (sometimes called vet wrap)
Cotton balls
Adhesive tape
Styptic powder to stop bleeding
Anti-itch spray
Antiseptic
Thermometer
Tweezers
Tick remover
Flashlight
Muzzle – even the sweetest dogs can bite when in pain after being injured. Be sure to introduce your dog to the muzzle in advance.
In addition, if you live in an area prone to hurricanes or flooding, it's a good idea to have life jackets appropriately sized for each of your dogs.
Ask your veterinarian if there are any other supplies you should consider having on hand in a first aid kit for your dog. Ask them how best to use those supplies in the event of an emergency.
You can also get trained and certified in canine CPR. Local humane societies often have pet CPR classes. The American Red Cross also has an online training option for learning pet first aid.
Training for a Bug Out Situation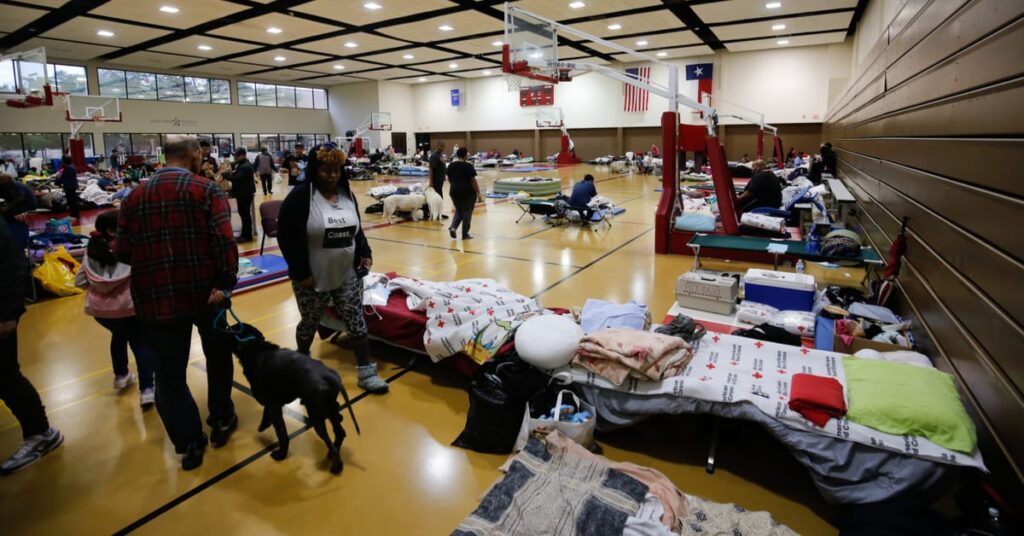 Training is another component of helping your dog prepare for an emergency survival situation. For example, working with your dog to be comfortable being handled or accompanied by strangers can be helpful for an emergency.
In case of an evacuation if you had to stay in a shelter your dog might be required to be crated. If your dog isn't comfortable being crated that's ok, it just might mean more stress for you (and your dog) as you find places where you and your dog can stay.
Slowly introduce your dog to a muzzle and crate train ahead of time. And make sure your dog has a solid recall. These are helpful skills for dogs to have in advance of emergency situations.
What Kind of Bag Should I Use for My Dog?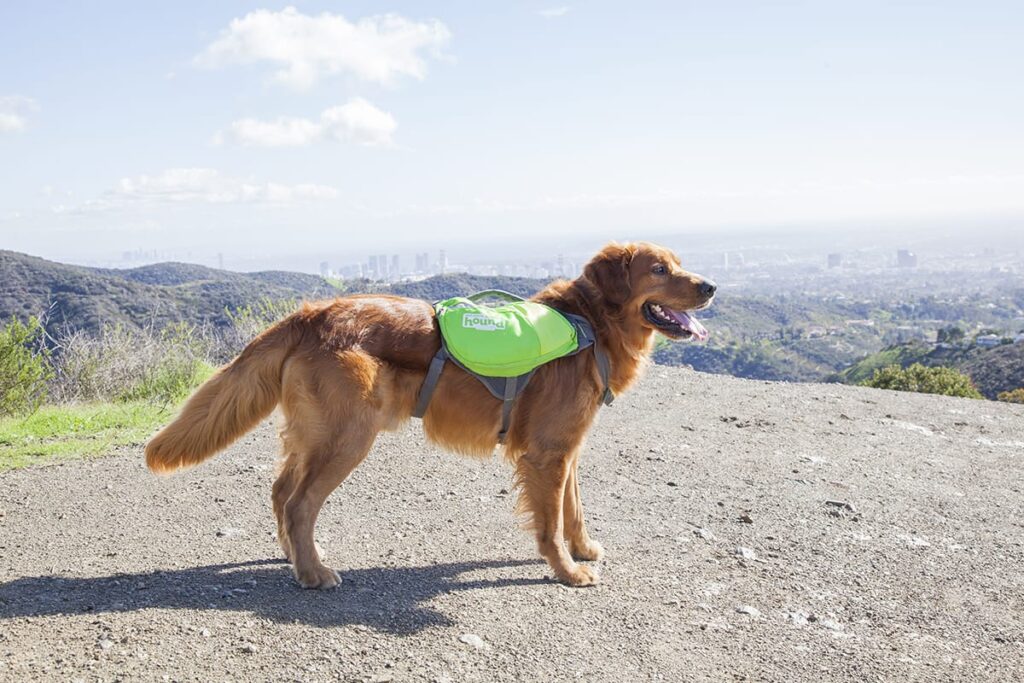 You can use a backpack or tote to store your pup's survival kit/go-bag items. You can also put them in your own bug-out bag if you have enough space amongst your own supplies.
Another good idea is to store it in a saddlebag that your dog can wear. Keep a dog backpack on hand you can easily grab, put on your dog, and get going.
Most dog packs you can find on Amazon can fit a lot of contents, just be mindful of how much weight your dog will have to carry and don't over-stuff it. Depending on your dog's size, they will not be able to handle the extra weight.
$43.99 $20.00
The DayPak is a saddlebag-style dog backpack that allows your pup to comfortably carry extra gear and essentials while on-the-go! A light-capacity pack constructed with breathable mesh and adjustable straps to keep your dog comfortable and cool on the trail. Bright colors and reflective piping make it easy to spot your dog if they roam too far. Enjoy the convenience and storage space of 4 expandable…
$43.99 $28.99
The DayPak is a saddlebag-style dog backpack that allows your pup to comfortably carry extra gear and essentials while on-the-go! A light-capacity pack constructed with breathable mesh and adjustable straps to keep your dog comfortable and cool on the trail. Bright colors and reflective piping make it easy to spot your dog if they roam too far. Enjoy the convenience and storage space of 4 expandable…
$59.99 $32.99
Keep your pup safe and comfortable with the Outward Hound PoochPouch Backpack. This pup pack makes carrying your dog safe, comfortable & easy when you're on the go! Explore new ground with Outward Hound Gear! Our high-quality performance gear will keep your pup safely equipped for every new adventure!HANDS-FREE, PADDED STRAP PET CARRIER: The PoochPouch Backpack is ideal for carrying smaller pups under 20…
Make a Bug Out Plan: Prepping for Potential Emergencies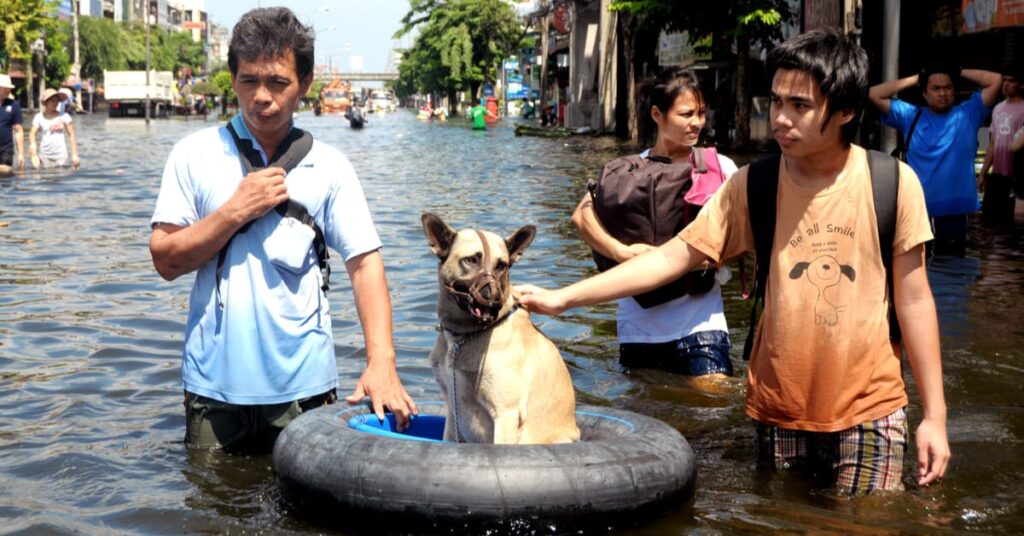 It's impossible to make plans that would cover every scenario, but it's useful to create a basic emergency plan for yourself and man's best friend.
Natural disasters can strike anywhere. If you live in high-risk areas prone to wildfires, hurricanes, or tornadoes, it's especially important to plan ahead. Follow the area's natural disaster protocols.
Consider options for where you might be able to evacuate. This could look like dog-friendly hotels or the homes of friends, loved ones, and family members who live outside of your local area and are less likely to be impacted by that emergency.
If you are injured, incapacitated, or unable to care for your dog, make arrangements with a close friend, family member, or trusted pet sitter. Give them a key to your house so they are able to access your dog if they need to.
Tip: It can be helpful to have a keychain and/or a card in your wallet for emergency personnel that lets them know you have a dog home alone. Include your address, vet's number, and an emergency contact of someone who can care for your dog.
It's OK to Be Over-Prepared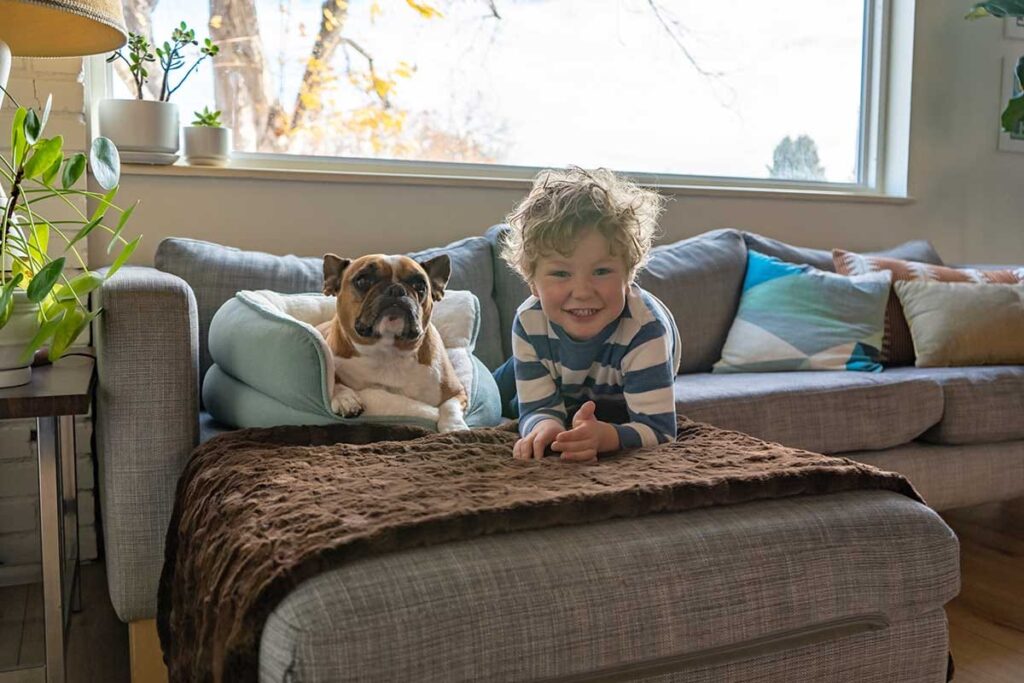 There's nothing wrong with being a prepper. The more that you can prepare for a possible emergency, the less stressful it will be in the future. Emergency kits can be used if you need to evacuate, or even just if you have a power outage.
Keep your dog's emergency kit updated anytime your dog starts a new medication or has a change in food. Don't forget to regularly cycle certain items in and out of the emergency kit to make sure nothing has expired.
Useful Items to Have in Your Dog's Bug Out Bag
$7.49 $6.49
The collapsible Port-A-Bowl from Outward Hound was designed for easy hydration and snacks on-the-go. This brightly colored dog bowl fits 48 oz and folds flat to easily tuck into a backpack, pocket, or purse, providing an accessible and convenient option while travelling or exploring the outdoors! It's lightweight, easy to carry, and even fits in our Outward Hound dog backpacks. Note: The Port-A-Bowl is…
$7.99 $8.99
The Nina Ottosson by Outward Hound Treat Tumble is a perfect puzzle ball for any pup! A level 1 treat-dispensing dog puzzle, the Treat Tumbler will keep your dog intrigued as they roll the ball and sniff around to find ways to release the reward. Easy to fill with two treat-dispensing holes. Made with food safe BPA-free plastic that is easy to wipe clean for outdoor and indoor fun!BEGINNER'S PUZZLE…
$65.99 $30.00
The Outward Hound Dawson Dog Life Jacket is a high-performance dog flotation device for boating, water sports, the beach, the pool, and other water adventures with dogs. Designed with novice swimmers in mind, the neoprene side panels of this dog life vest will keep your dog safe by providing them with comfortable buoyancy and thermal insulation for chilly days on the water. A front neck float adds extra…
$14.49
At Wholesome Pride, our mission is to create a better, healthier, treat—using 100% real ingredients. That's why we work with farmers in the US and around the world to sustainably source and produce delicious and nutrient-rich treats made with farm fresh ingredients. We don't use any artificial or unnatural preservatives, artificial colors, or fillers in our dog treats, which make them a perfect snack for…
$12.49
At Wholesome Pride, our mission is to create a better, healthier, treat—using 100% real ingredients. That's why we work with farmers in the US and around the world to sustainably source and produce delicious and nutrient-rich treats made with farm fresh ingredients. We don't use any artificial or unnatural preservatives, artificial colors, or fillers in our dog treats, which make them a perfect snack for…
$16.49 $12.99
Wholesome Pride Functional Calming Support Jerky Bites support everyday stress relief for dogs that get environmentally-induced stress from traveling, hospitalizations, moving, or other situations that may cause anxiousness. Active ingredients like L-Theanine, chamomille, and passion flower work to help keep your pet calm and relaxed in stressful situations. Our turkey recipe calming dog treats are made…