Are you one of those people who has a bucket list goal of visiting all 5(1)* states? If your dog is coming along for the ride, this list of dog-friendly breweries, wineries, cafes, parks, hotels, and more is for you.
Some of the spots on this list feature truly unique experiences. You can take your dog on a scenic train ride through the Poconos, a water park in North Carolina, a shrimp boat outing on the Mississippi Sound, a drive-in movie theater, and even the world's largest reptile zoo. Heck, you and your dog can even stay in a dog-friendly, dog-themed Airbnb that is literally shaped like a dog.
Wherever the great American roads take you, your best friend doesn't have to miss out on the fun.
The criteria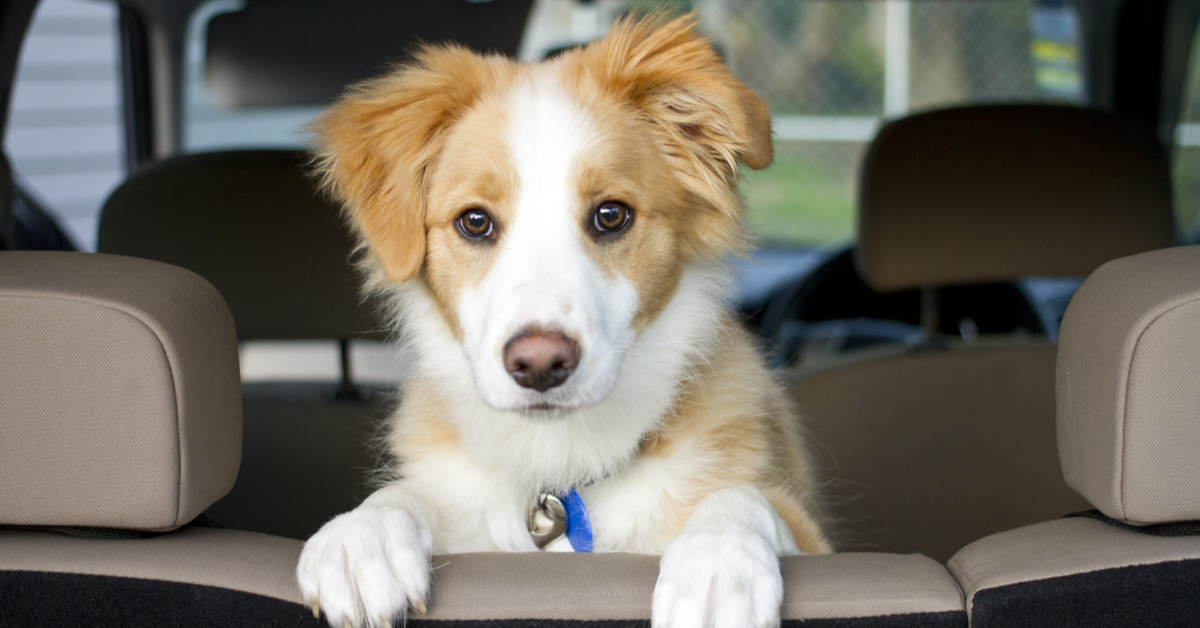 Locating the most dog-friendly breweries, wineries, distilleries, outdoor beer gardens, brewpubs, parks, hotels, and bars in every single state is no small feat. For this ~very important~ research, each chosen establishment had to meet specific criteria in order to be considered.
Each one of these spaces:
✔️ Does not have any breed-discriminatory policies
✔️ Does not have a weight limit
✔️ If local health codes permit, is 100% pet-friendly, meaning they allow dogs both indoors and outdoors
Before embarking on your great American road trip, however, double-check with each destination about their policies. You don't want to run into any surprises.
Some things to consider while traveling:
Confirm destinations along the way are pet-friendly
Check to see if there is a pet fee
Have copies of your pet's vaccination records
Clean up after your pet
Abide by the rules
Practice common sense
Each establishment is different, but it doesn't hurt to be mindful of possible rules or regulations.
Mark your map, grab your face mask, and get ready to check some of these top dog-friendly spots off your list. There's nothing like exploring the United States of America with your four-legged best friend!
1. Alabama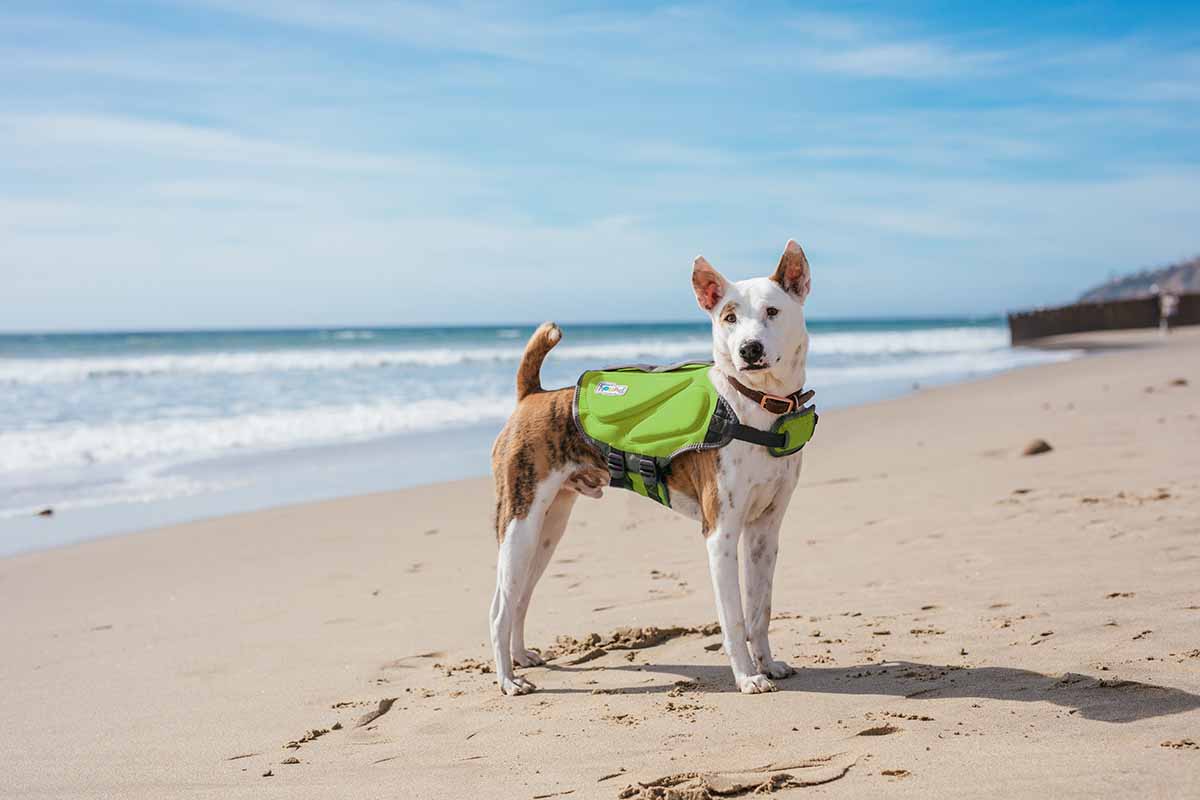 Gulf Shores has tons of dog-friendly beaches, restaurants with outdoor seating, and even kayaking adventures. Don't forget to pack a dog life jacket!
2. Alaska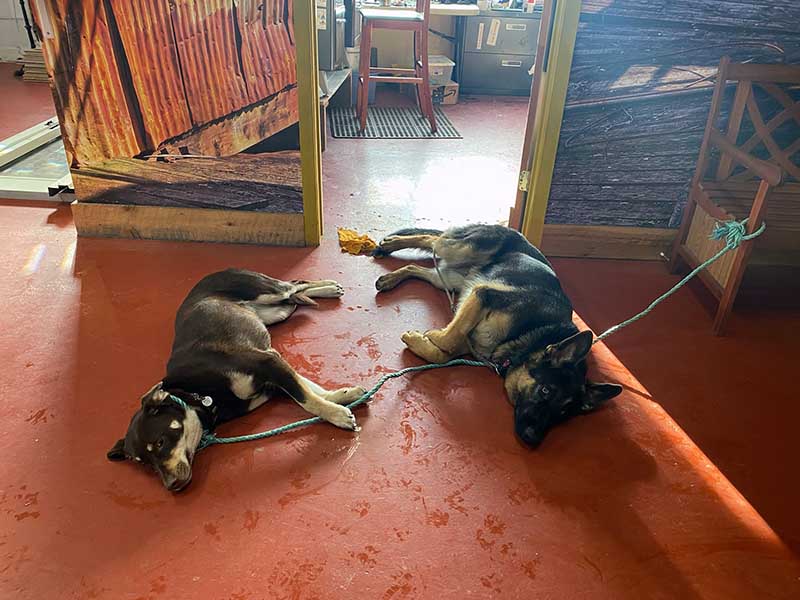 A favorite among locals, web reviews rave about the great atmosphere and the fact that this brewery is family-friendly. Kids and fur-kids (on leash) welcome inside!
3. Arizona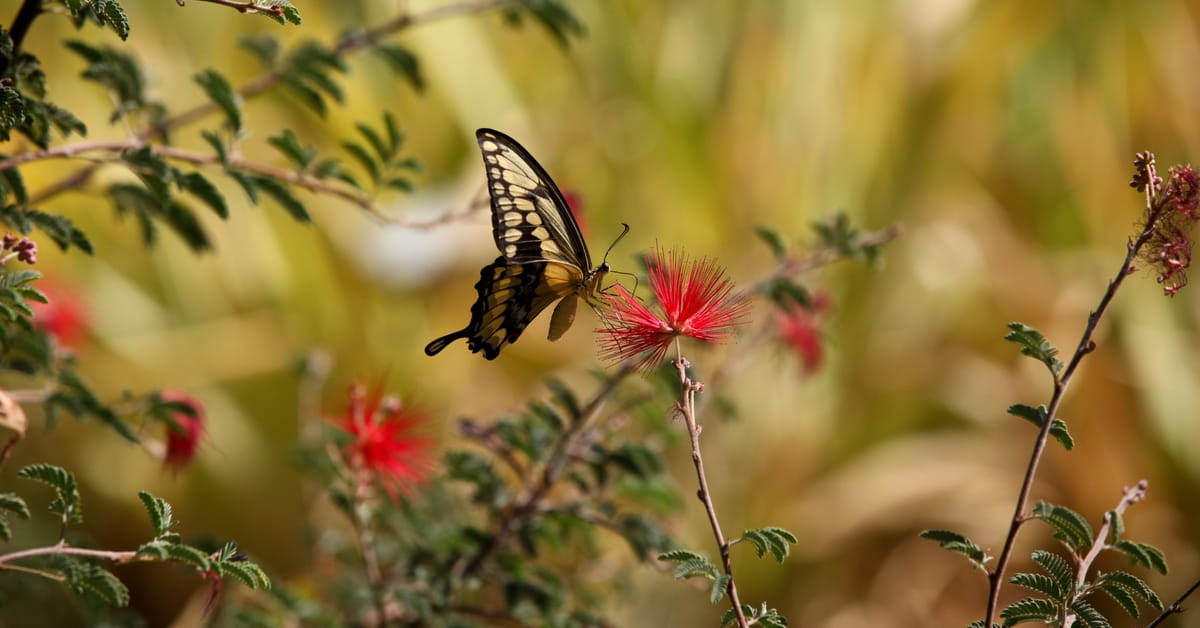 Dogs are allowed all over the garden's 5.5 acres June-September. The Tuscon Botanical Gardens sell dog memberships that give your pup unlimited admission during dog-friendly months. They'll even get their own personalized dog tag!
Dog bowls and cleanup stations are provided throughout, and your furry friend is even allowed at the garden's restaurant, Edna's Eatery, which has its own menu for dogs!
4. Arkansas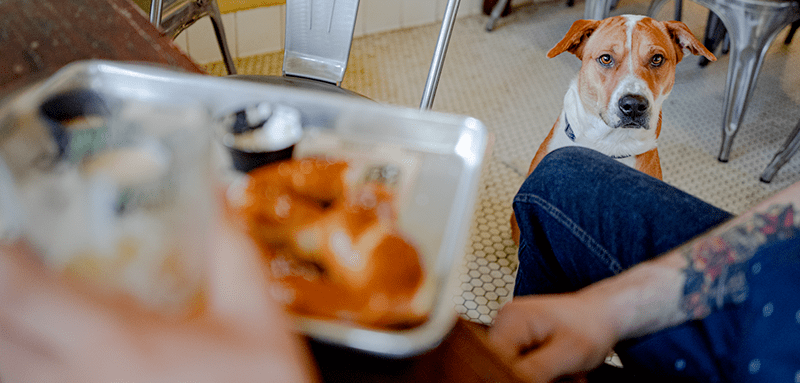 Arkansas (aka Barkansas) is a dog lovers paradise. It was even named one of the most dog-friendly states in the country by the American Veterinary Medical Association (AVMA). There are way too many dog-friendly places to choose from (seriously, Google it). But that's a good problem to have, right?
Make a pit-stop at Superior Bathhouse Brewery after adventuring in Hot Springs National Park. It's the only brewery inside of a U.S. National Park and the only brewery in the world to use thermal spring water in their beer. Dogs welcome inside!
5. California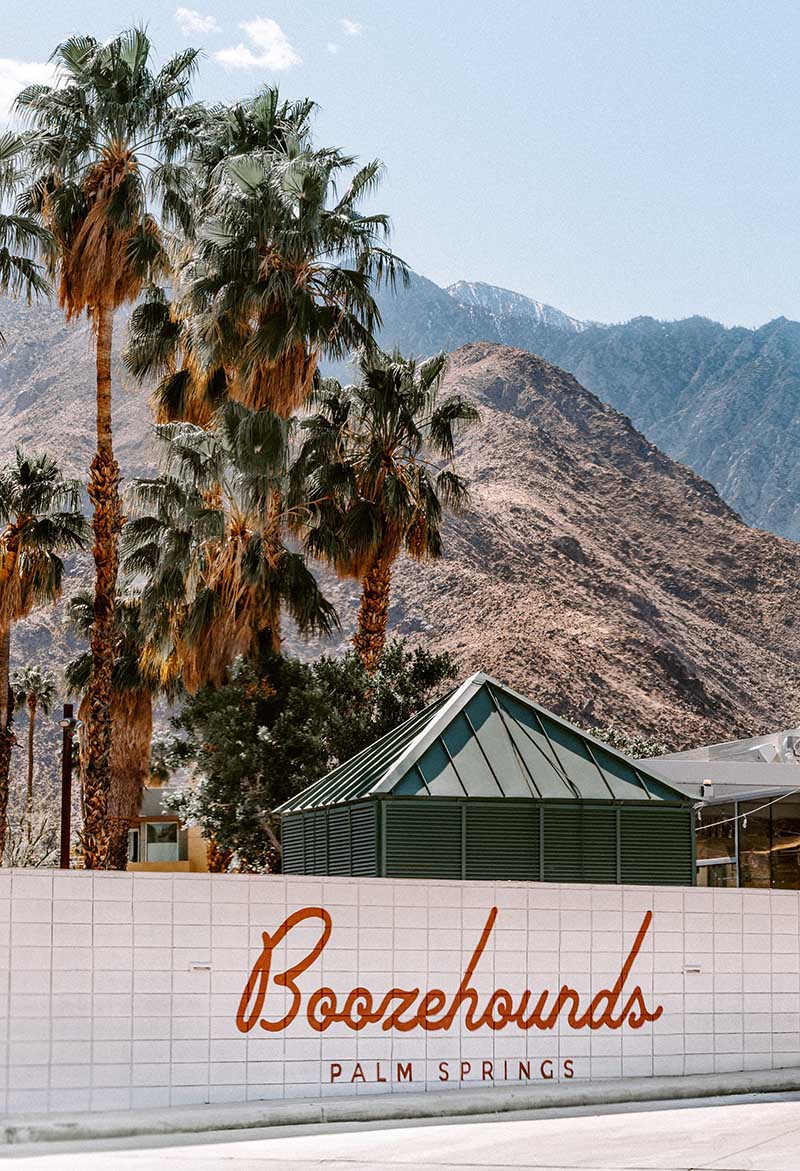 California is also known for being an ultra dog-friendly state. One especially dog-centric spot is Boozehounds in Palm Springs, "where dogs bring their humans." It features a huge outdoor patio and atrium as well as a dog menu. Stop by for a drink, brunch, or picturesque dinner. With approximately 2,800 sq ft of dog-friendly areas, there's more than enough room for Fido. They're even opening a dog run and daycare on the premises soon.
6. Colorado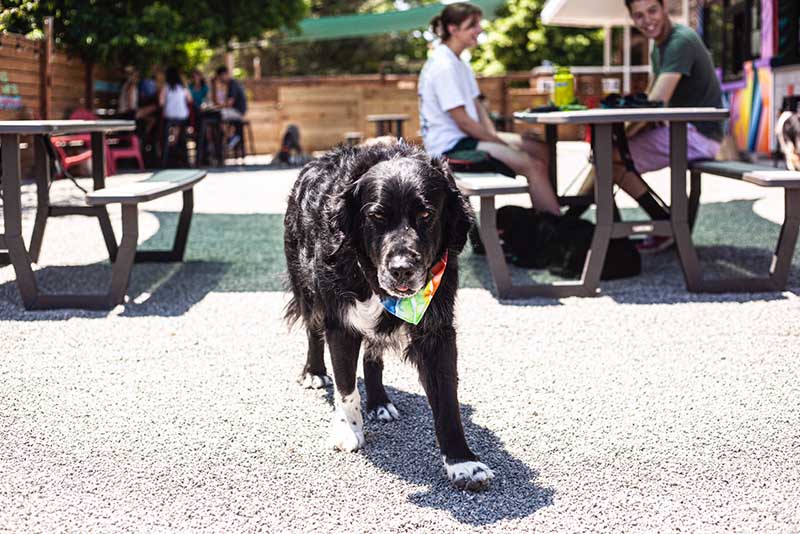 This spot welcomes on-leash dogs in their covered pavilion area which opens up for the summer and stays temperature-controlled in the winter. Its outdoor biergarten area admits dogs off-leash that are pre-registered with proof of vaccination, are spayed/neutered and have a day pass. After kicking back with a craft brew, cider, or mead, be sure to stop by one of their rotating food trucks and pop-ups or nearby family-owned restaurants for everything from gourmet grilled cheese to authentic Thai food for some nosh.
Please note this establishment is for patrons aged 16+.
7. Connecticut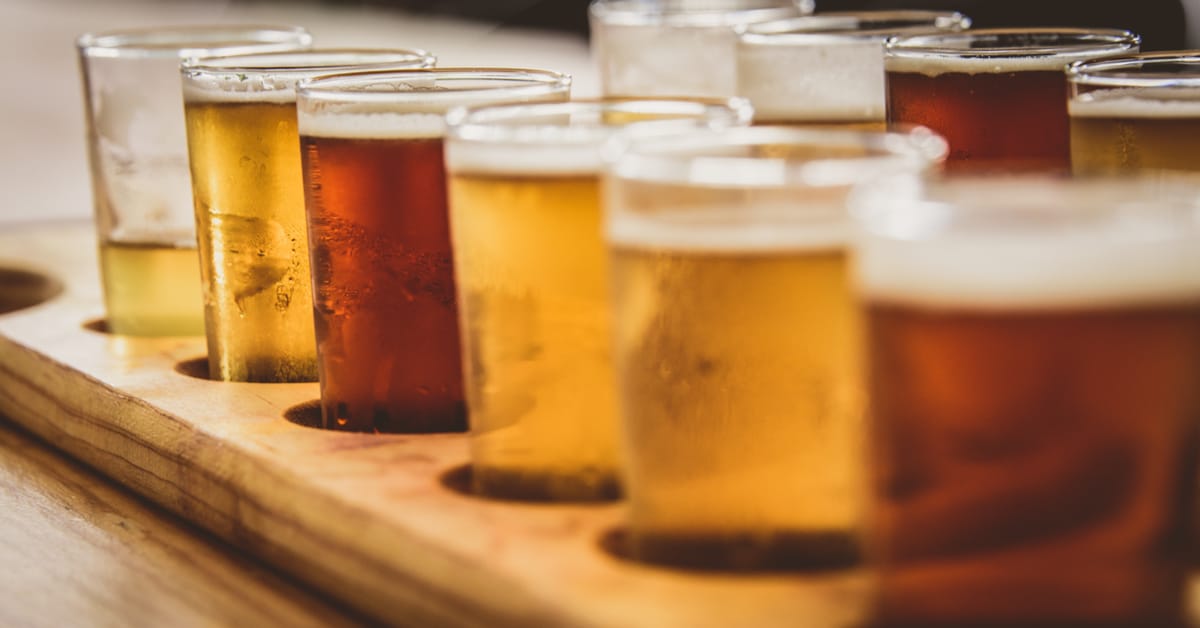 There are very few, if any dog-friendly indoor areas in Connecticut, so keep an eye on the weather when you plan your visit.
Dogs are allowed in the outdoor seating area at their Oxford craft brewery location. Food truck options rotate weekly.
8. Delaware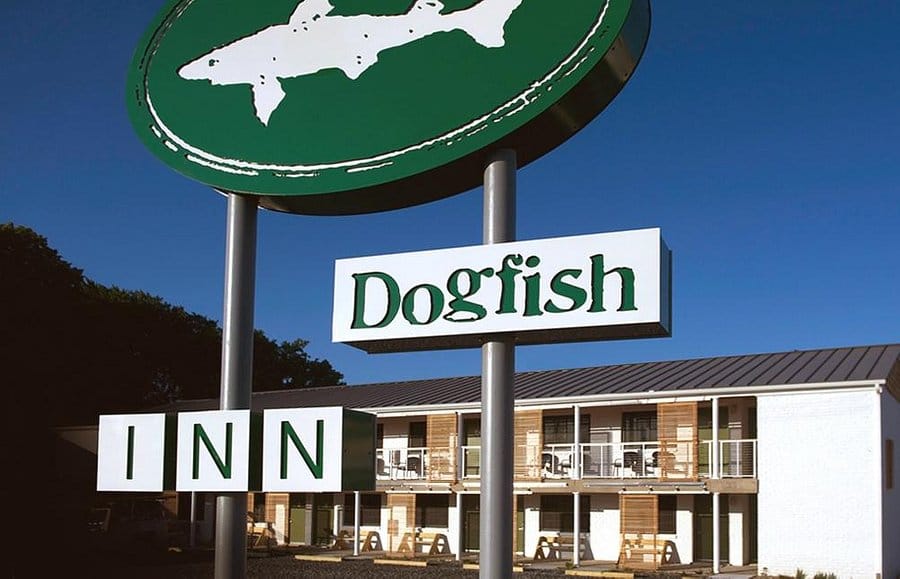 This craft beer behemoth not only allows Fido inside and outside at their brewery's tasting room but at their inn as well. IPAs not your thing? They have several cocktail alternatives from their distillery.
9. Florida
View this post on Instagram
This spot is a sports bar/dog park hybrid. It has a 4,500 square foot astroturf dog park and offers doggie birthday party packages. It's dog heaven.
Before you head over, visit their membership page to make sure your dog meets all of their vaccination and spay/neuter requirements.
10. Georgia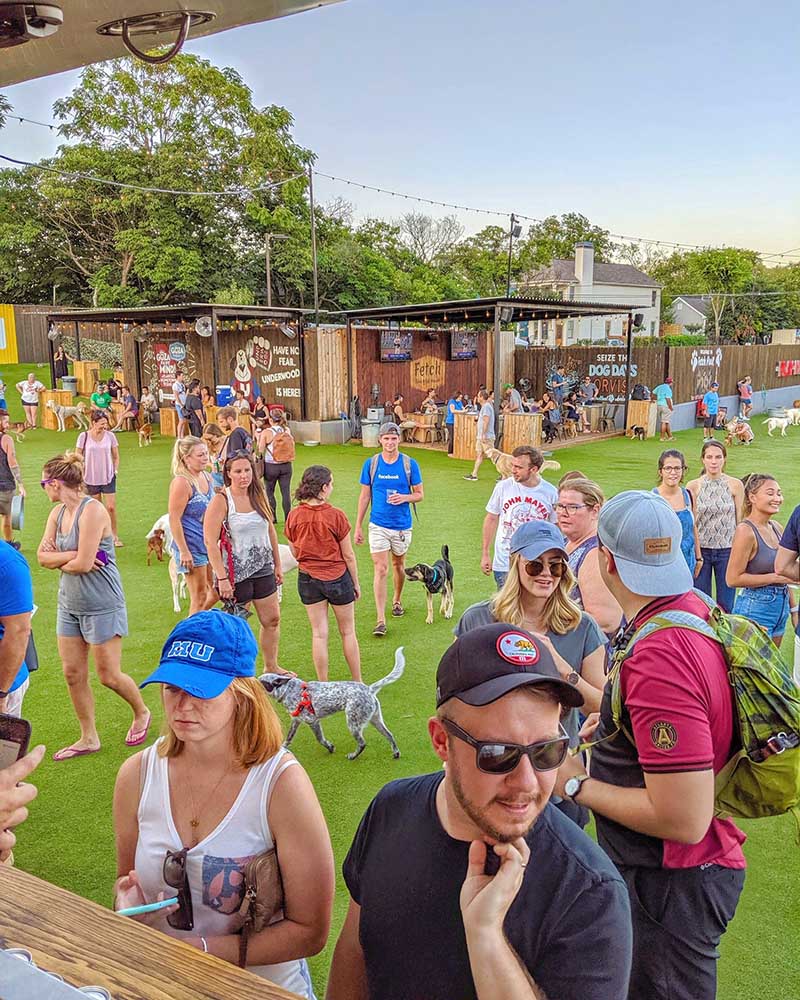 This bar/dog park has "Bark Rangers" that will supervise your dog at the park while you order a drink. You can purchase a membership or a day pass if you're just visiting. They have three locations in the state.
11. Hawaii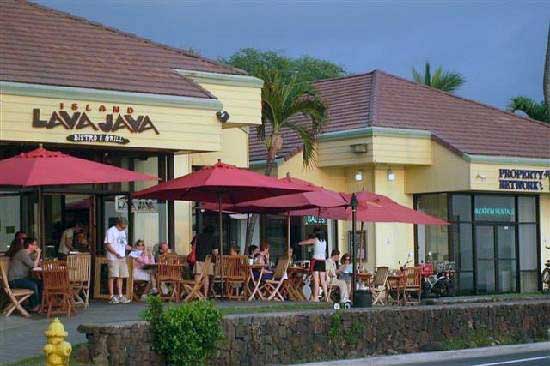 After a jaunt at the dog beach, enjoy a cup of Kona coffee, lunch, craft cocktails, and more with an ocean view!
12. Idaho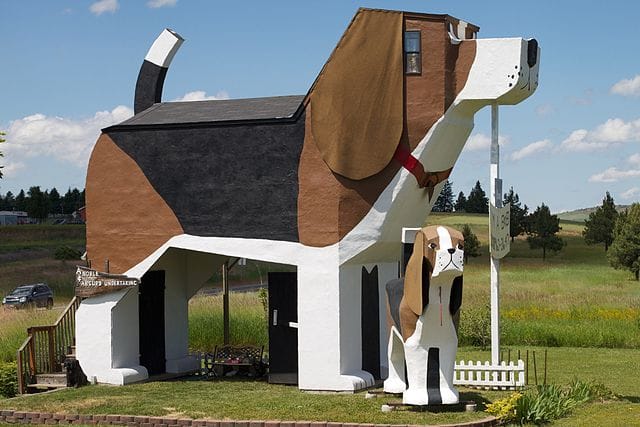 Why stay at a dog-friendly hotel or B&B when you can stay at a dog-shaped inn? At the Dog Bark Park Inn, you sleep in the doghouse — literally. The accommodations sleep four inside of the "World's Biggest Beagle." For just $158 a night, you get breakfast, too!
13. Illinois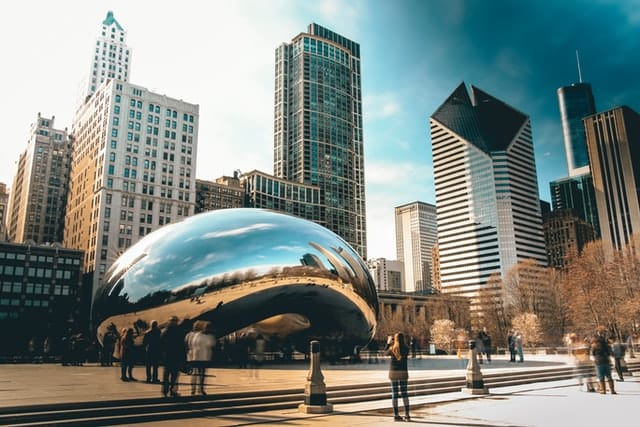 This French Chicago restaurant allows dogs in their large outdoor space. Check their events calendar to find out when you can attend dog-friendly yoga classes (aka Doga).
14. Indiana
View this post on Instagram
This dog-friendly spot with a heated patio made Travel + Leisures list of "Best French Restaurants in the US".
15. Iowa
View this post on Instagram
Catch a show with your pooch at Lefty's, a music venue named after the owner's resident dog Lefty. Be sure to bring ear protection for your pup!
16. Kansas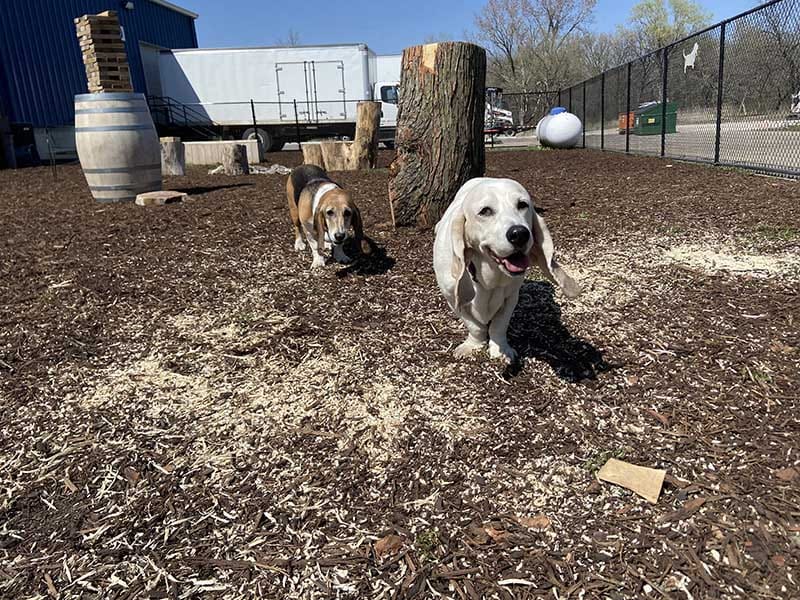 A brewing company named after a dog breed is naturally going to be a dog-friendly brewery. The brewers love dogs at Happy Basset so much that they just opened their very own off-leash dog park at their 49th street location. In addition to great beers, lagers, belgians, Happy Basset serves cocktails and wines. They also host trivia and bingo nights.
17. Kentucky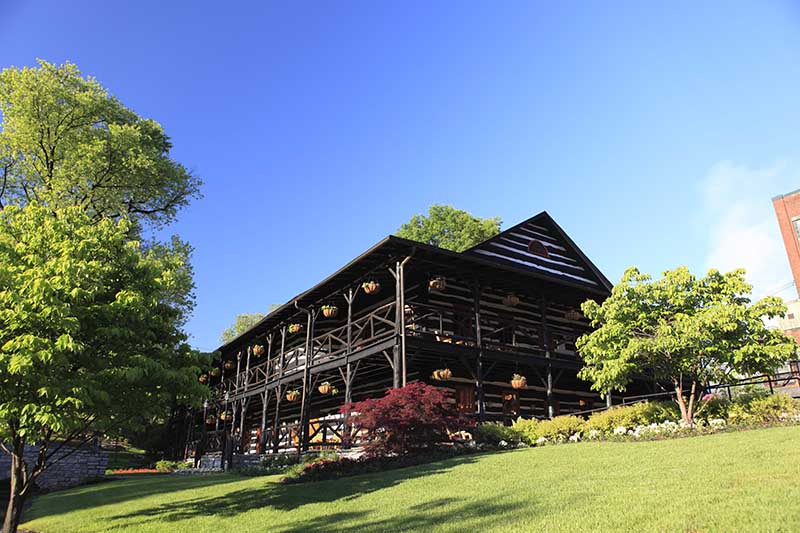 Not only is this bourbon whiskey distillery dog-friendly, but several of their tastings and tours are, too! It's a very cool historic property great for exploring.
18. Louisiana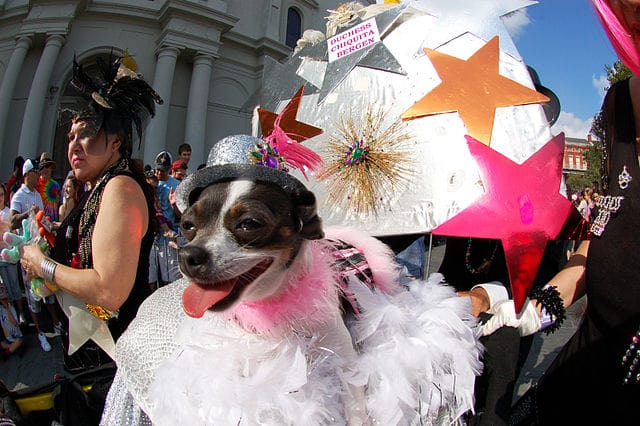 If you're in town for Mardi Gras, don't miss the dog parade. Since 1992, humans escort their dogs in the French Quarter on Mardis Gras dressed in fabulous costumes. After the parade, catch a bite or grab a drink at one of the many dog-friendly restaurants and bar patios.
19. Maine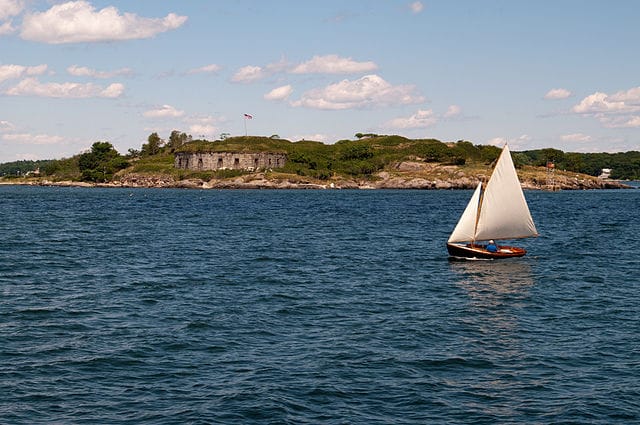 Casco Bay Island
Hop on the ferry to one of Maine's popular islands and make a day of it with your pup at one of the many dog-friendly outdoor patios. There's even a dog-friendly lighthouse cruise.
20. Maryland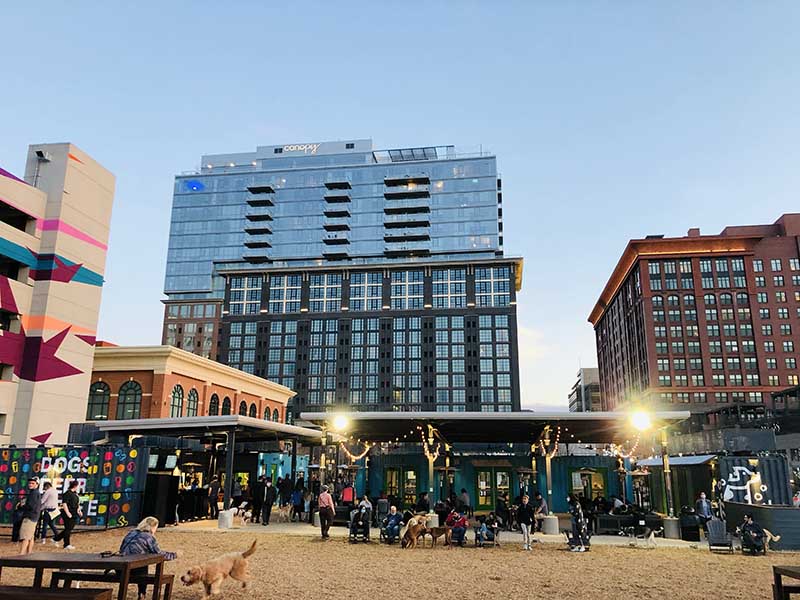 Bark Social is a relatively new coffee bar/beer garden/dog park in Rockville, MD. Yappy hour is every Monday-Thursday from 11 a.m.-6 p.m. with 20% wine, frozen drinks, and cocktails.
All dogs must be current on vaccinations with uploaded vaccination records posted online via their Membership Portal prior to arrival. Dogs with contagious health conditions are not permitted in the park. All dogs must be flea and tick-free.
All dogs over 8 months of age must be spayed or neutered, dependent on your vet's recommendation.

21. Massachusetts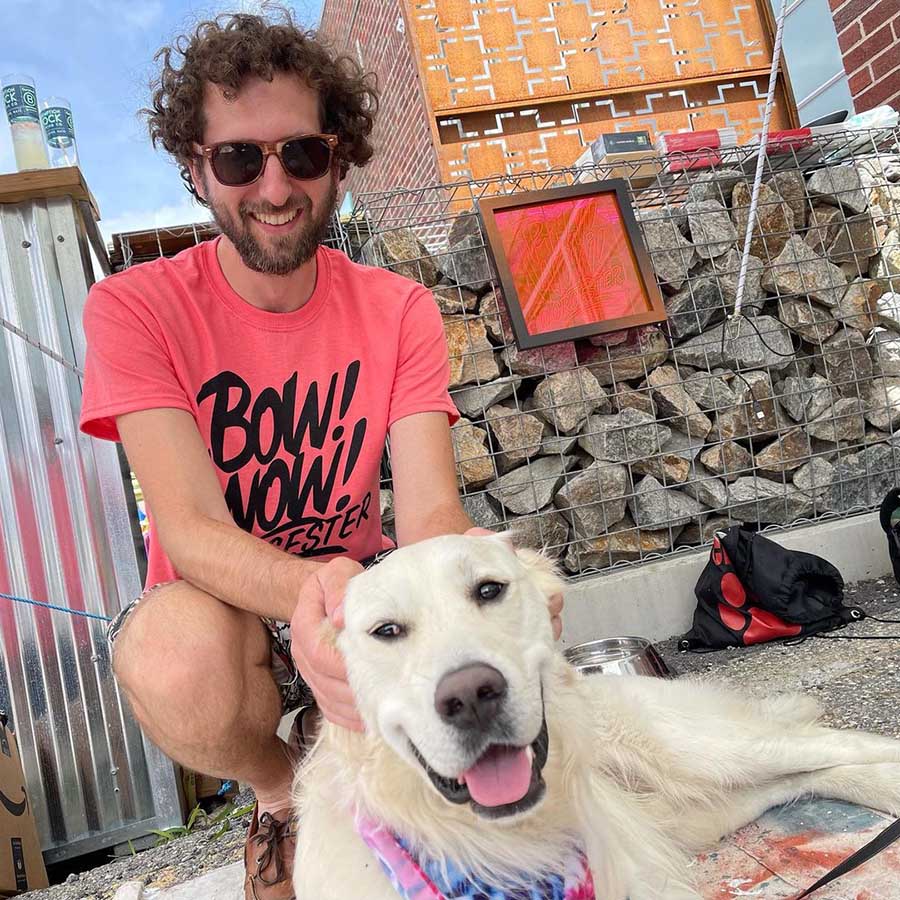 There are many dog-friendly breweries in Massachusetts. This Worcester beer co allows dogs both in the taproom and outdoor patio. In addition to beer, they have a café food menu that includes cheese & charcuterie boards, giant soft pretzels, pastries, potato chips, and more. They host many dog events throughout the year.
22. Michigan
View this post on Instagram
Dogs are allowed on the outdoor patio, lawn, and vineyard tours! They even have a friendly winery mascot dog, Lucy.
When you order a glass of the "Winston" – a half-Cabernet-Sauvignon-half-Merlot – part of your purchase will be donated to the Cherryland Humane Society to support dogs and cats awaiting adoption.
23. Minnesota
View this post on Instagram
Unleashed is an indoor/outdoor dog park, bar, and eatery. While there are many combination bar/dog parks, few have a dog park indoors like Unleashed does, making it a great spot for those cold winter months in Minnesota!
24. Mississippi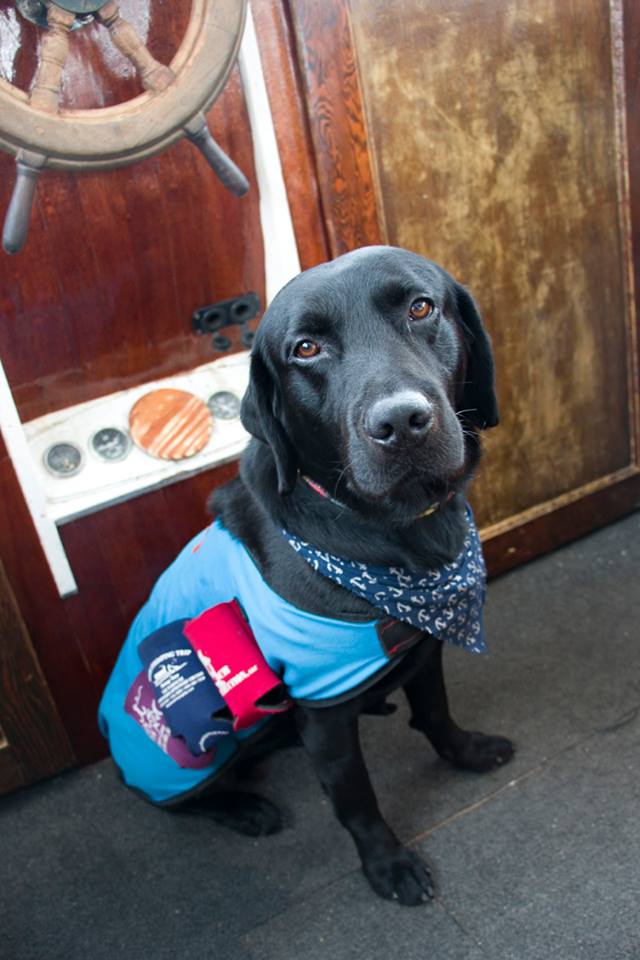 For a truly unique activity to enjoy with your dog in Mississippi, try the Biloxi Shrimping Trip. Dogs are welcome aboard the boat and can even socialize with TJ the boat dog, the captain's pup. TJ can be found wandering the boat's two levels selling drinks he carries around in a little vest. TJ is a very good boi.
25. Missouri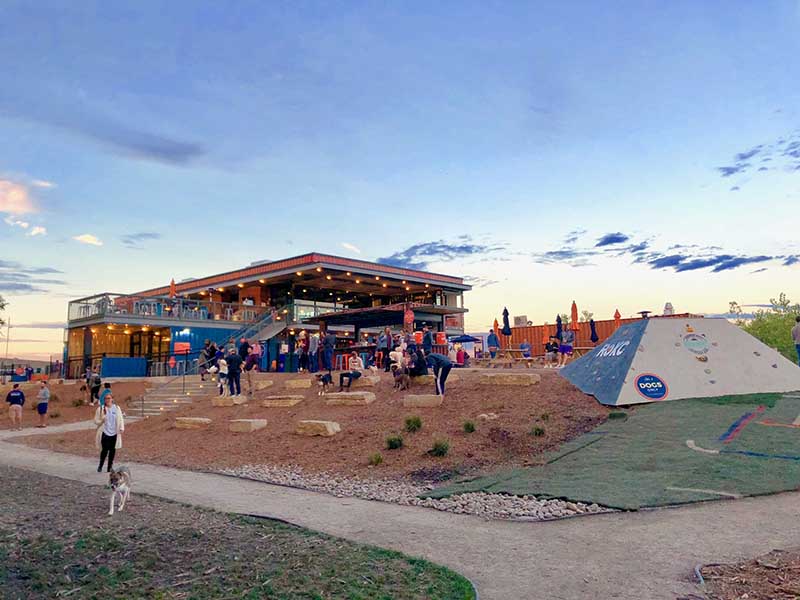 This is a fully-staffed dog park, bar, restaurant, and event space with three locations. They have multiple spacious dogs parks for both large and small dogs, all supervised by trained "Dogtenders."
26. Montana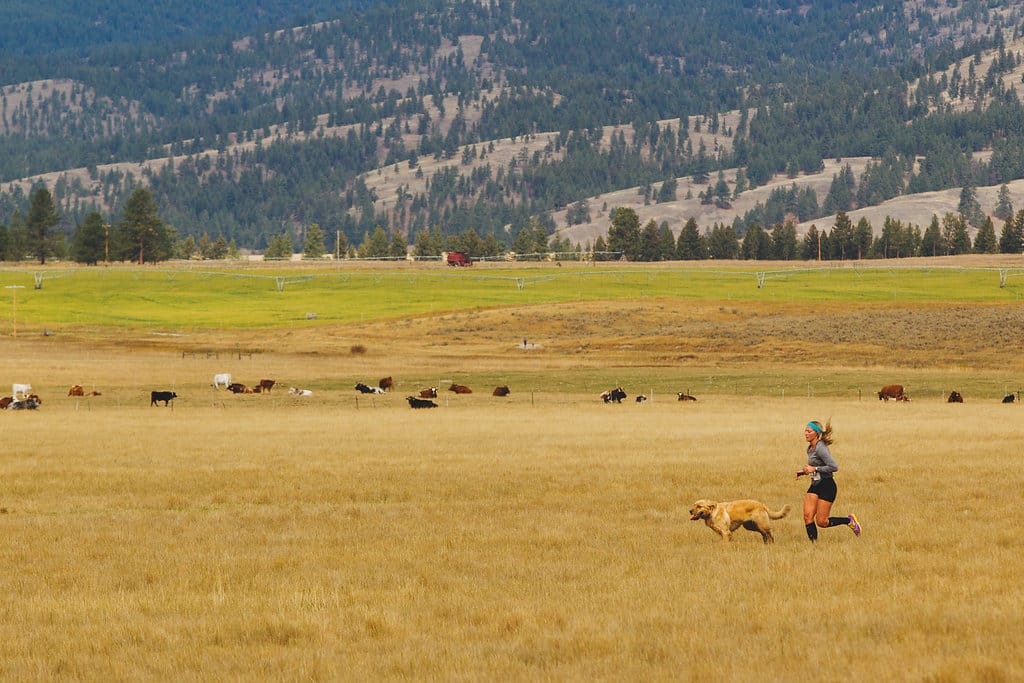 If the name is any indication, this stunning ranch resort welcomes your dog with locally-made treats, a dog bed, hiking trail map, tennis balls, and a welcome card from the owner's dog, Coco.
27. Nebraska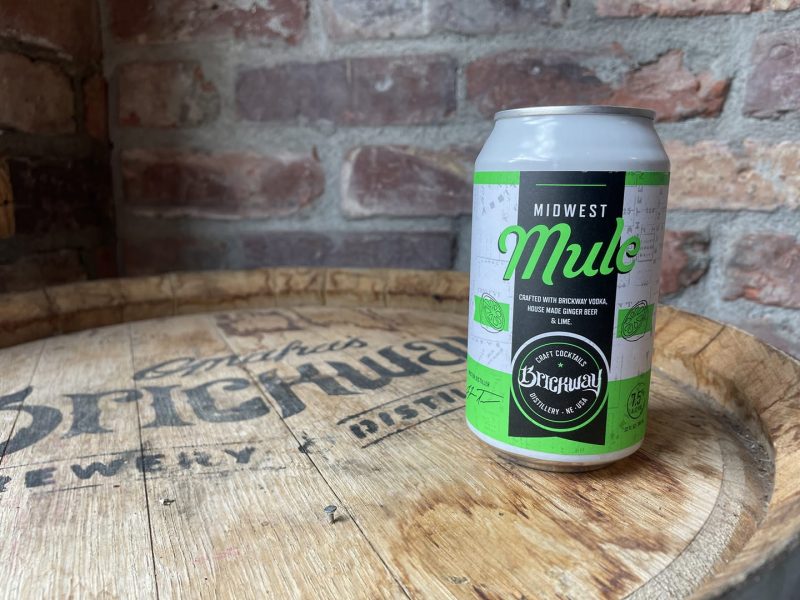 This Omaha brewery and distillery welcomes dogs on their front patio.
28. Nevada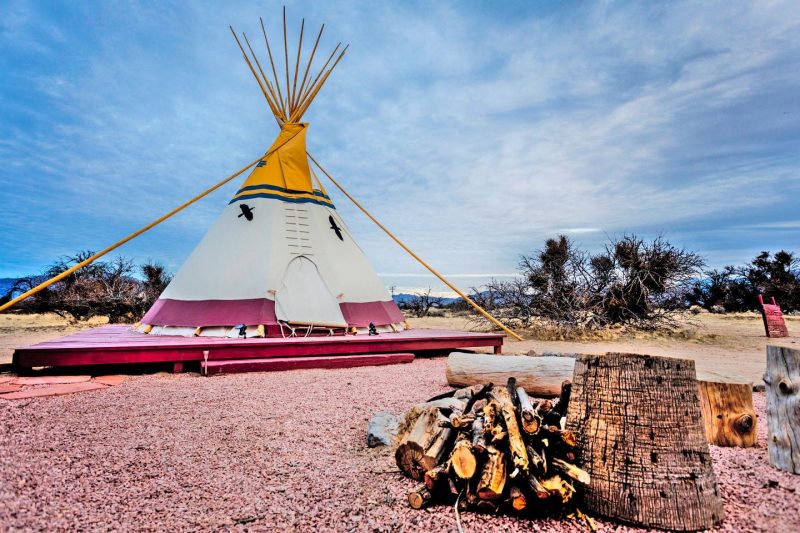 Go glamping in a tipi! This pet-friendly glamping experience is on a working ranch just outside of Las Vegas.
29. New Hampshire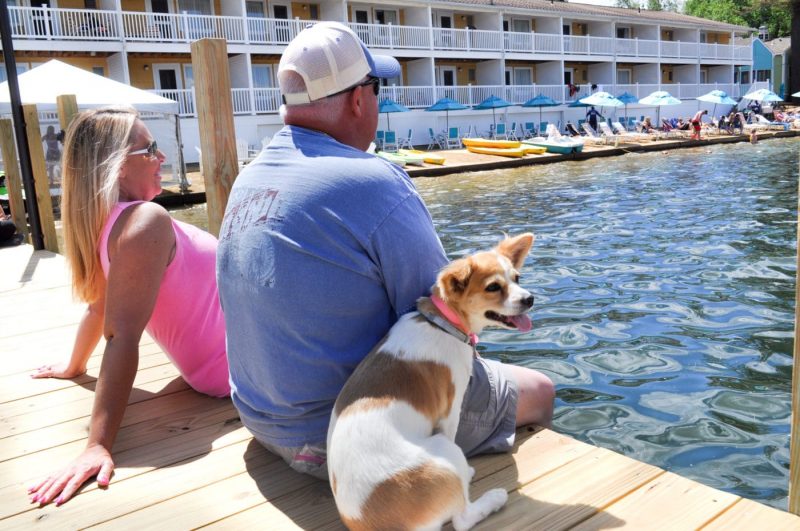 Doggy guests will receive a Welcome Kit that comes with a listing of pet services in the local area, treats, and dog toys. Dog beds, bowls, and poop bags are provided in pet-friendly rooms.
30. New Jersey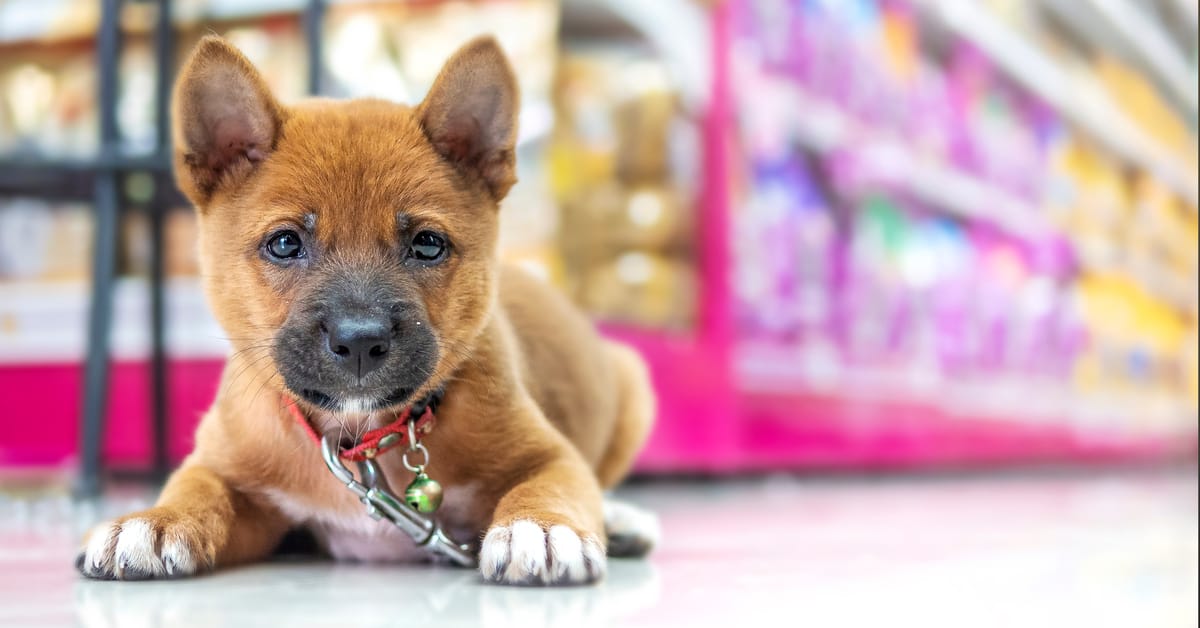 Located in Edgewater, New Jersey, this shopping mecca allows pets to join their humans to shop 'til they drop. Most dining allows dogs in their outdoor seating areas.
31. New Mexico
View this post on Instagram
This shopping mall comes with its own dog park right by the northeast "barking" lot. It has agility courses, small dog and large dog areas, and single dog runs.
32. New York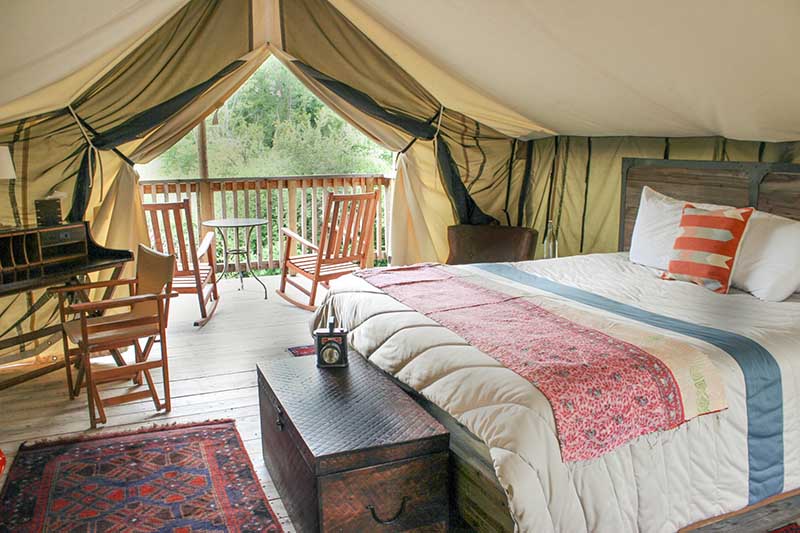 This pet-friendly glamping hub in Ithaca near Finger Lakes includes locally sourced breakfast every morning, bathhouses, fire pits, and a bar. Plus, all 16 wineries on the nearby Cayuga Wine Trail are dog-friendly.
33. North Carolina
View this post on Instagram
This is not your average dog park. In fact, calling it a "dog park" seems plain wrong. If Six Flags, a water park, a dog park, and a country club had a baby, you'd have DogWorld.
This park features an Olympic-sized swimming pool, an 18-hole training course, over 12 acres of fenced-in areas, a creek, two water slides, ball pits, and concessions for humans and pets.
34. North Dakota
View this post on Instagram
Bully Brew was inspired by the owner's two bulldogs, Elvis and Izzie. Get your caffeine buzz on while your pup indulges in his own puppachino.
35. Ohio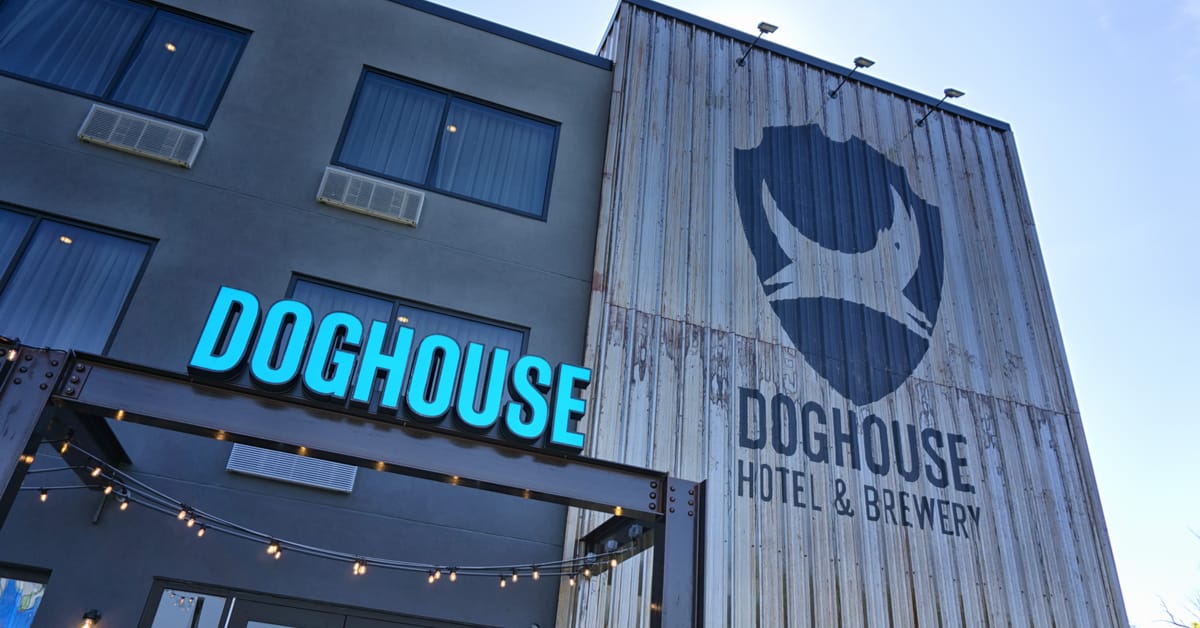 Brewdog isn't just a brewery. It's also a hotel complete with shower beers in your very own shower beer fridge. It's a dog-loving, craft beer connoisseur's fantasy come to life. They can also accommodate dog parties and wedding events at their bar, DogTap.
36. Oklahoma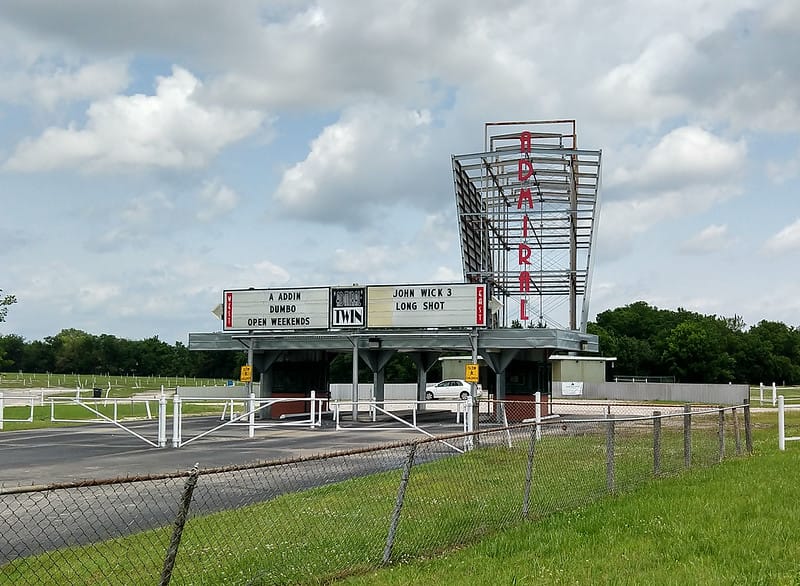 Take your pup to the movies! Have time to kill before showtime? Take a stroll through nearby Norvell Park.
37. Oregon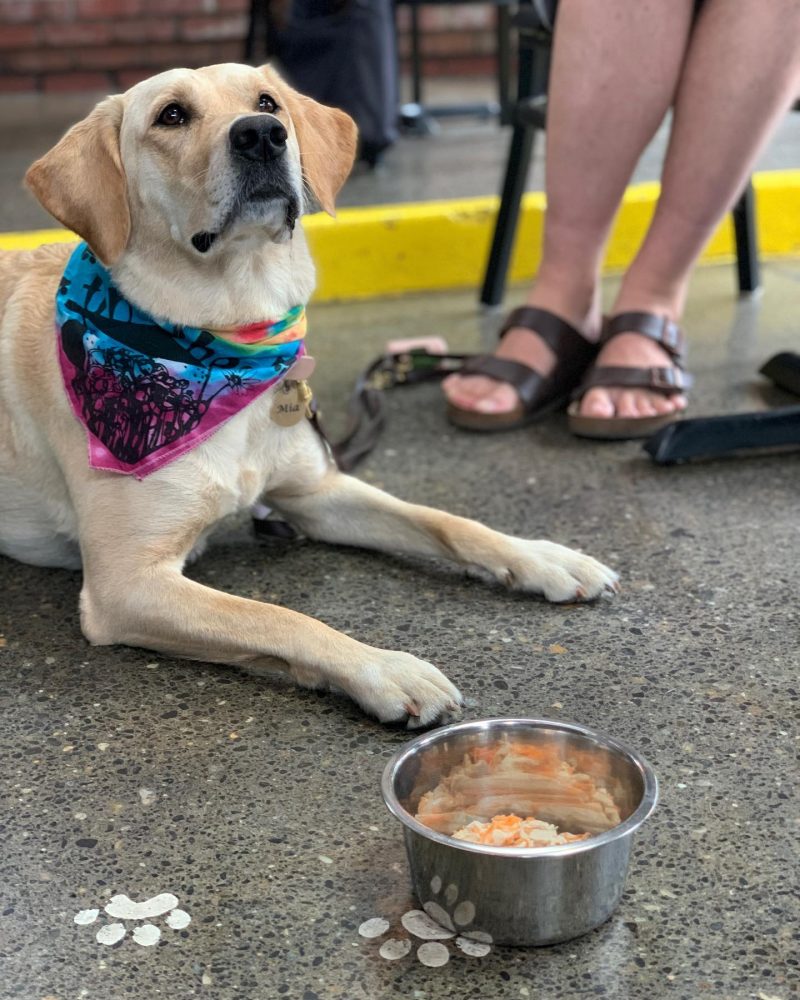 Oregon is a super pet-friendly state, but not all of them serve doggie meals AND doggie desserts. And if you purchase a Tin Shed bandana, all proceeds go to a rescue organization. To top it off, if your dog wears that bandana to the cafe, they get half off their meal!
38. Pennsylvania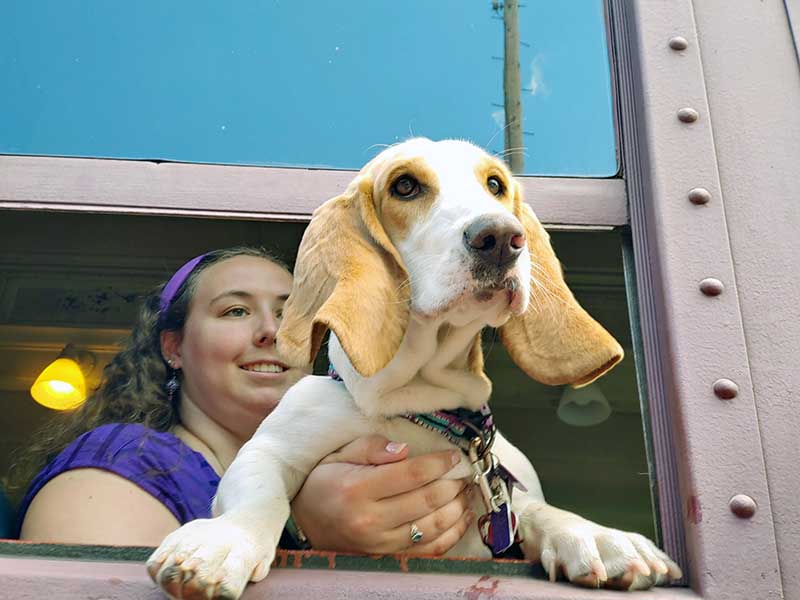 If you're passing through Jim Thorpe, PA, a ride on the Lehigh Gorge Scenic Railway is a must. Plus, pups ride for free and get their very own special ticket! When you're done taking in the sights on the vintage coach, stop by Molly Maguire's Pub for a pint and a bite to eat. Their dog-friendly deck is the largest outdoor eating space in the county.
39. Rhode Island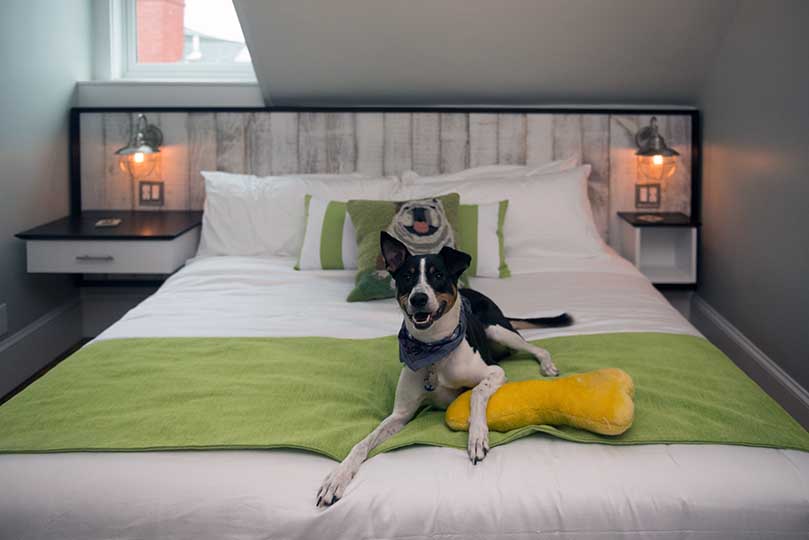 This one is arguably the most dog-friendly spot in all of New England. If you're visiting Newport's dog-friendly beaches and parks, definitely book a night at this inn.
Bonus points for no pet fee! There is a two-dog limit per room (sorry, no cats allowed).
40. South Carolina
View this post on Instagram
This place is for dog people, by dog people. They have an off-leash dog park, a rotating beer list, and also offer wine, seltzer, and non-alcoholic beverages.
41. South Dakota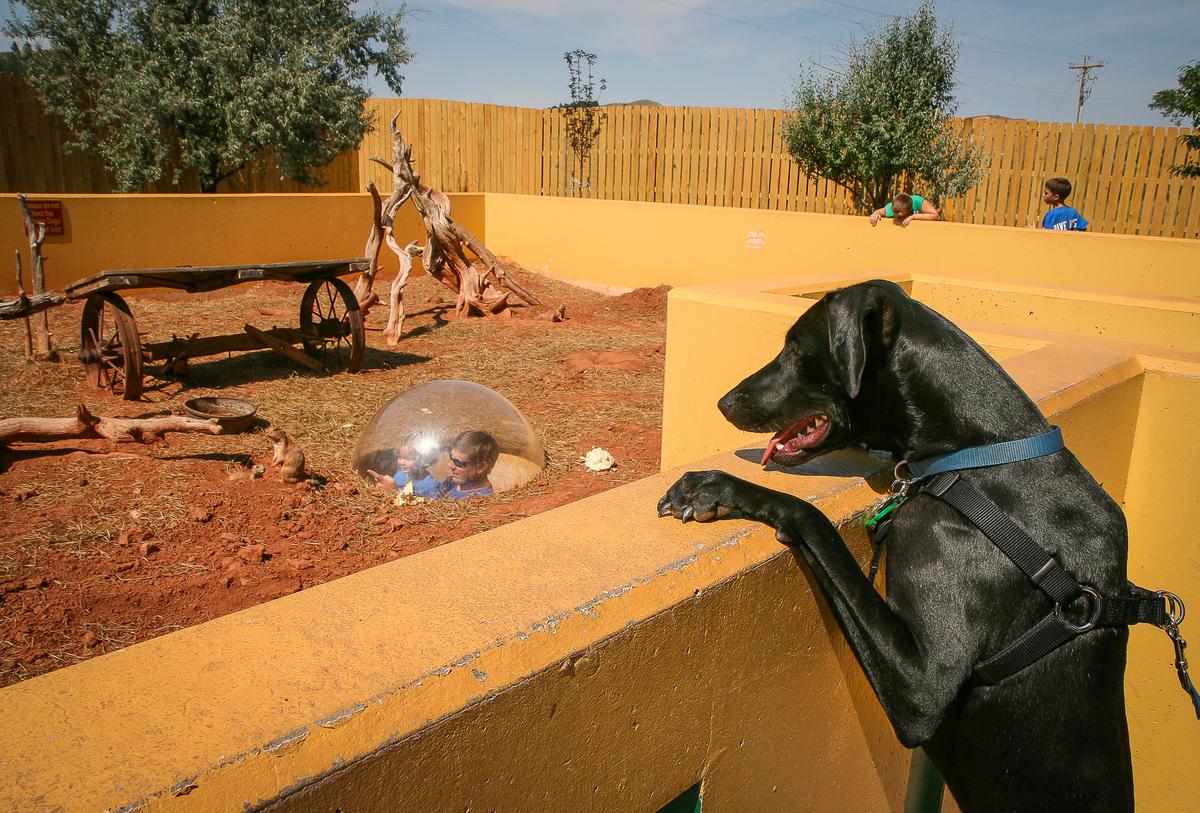 This is one of the most unique dog-friendly places we came across. Reptile Gardens is the world's largest reptile zoo, and when they say it's a great place for the WHOLE family, they mean the whole family. Dogs are allowed anywhere inside the park except for the three areas where some zoo animals roam freely.
42. Tennessee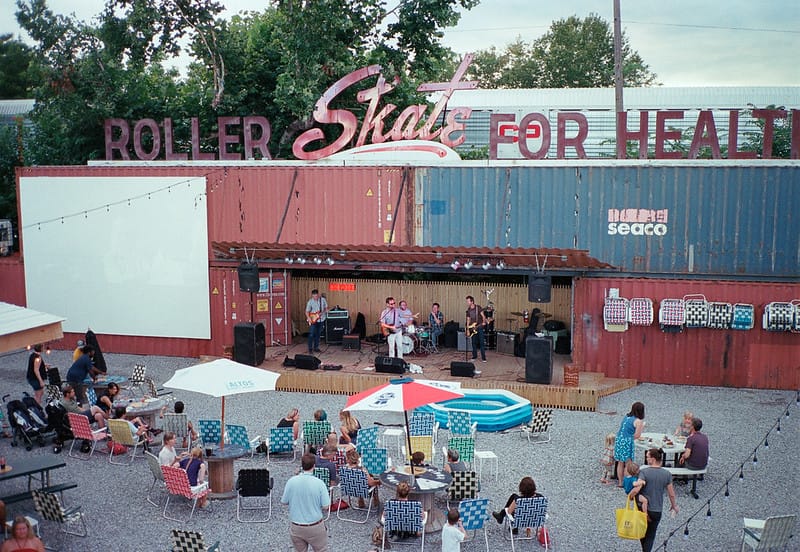 Railgarten in Memphis welcomes leashed dogs in all outdoor spaces on its 1.5 acres. This place has a little bit of everything: Food, beer, cocktails, wine, games, an old rail yard, live music, a diner, a tiki bar, and an ice cream parlor.
43. Texas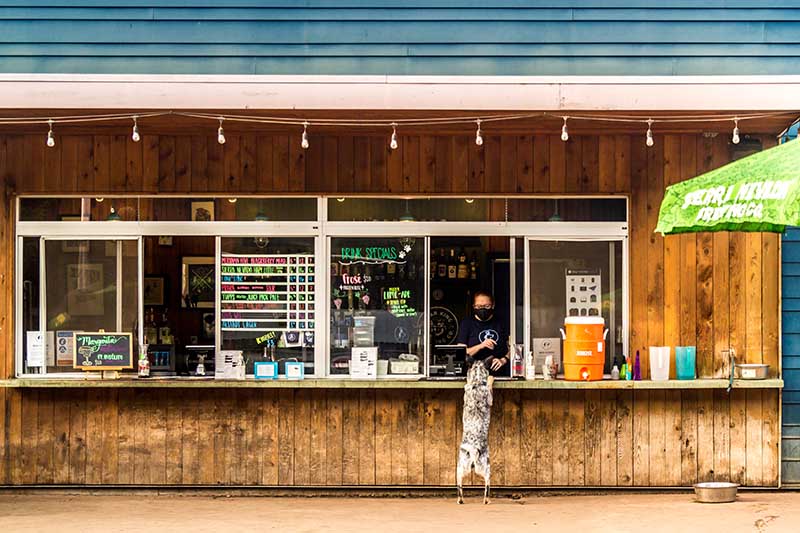 Austin's Yard Bar is another bar/coffee house/dog park. You can purchase a monthly or yearly membership to the dog park. If you are just visiting, a day pass costs $9.
44. Utah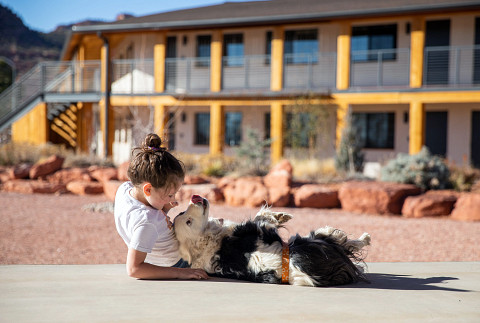 Adventuring in Utah with your dog is not complete without a trip to Kanab. BFAS's Roadhouse offers everything a dog (or dog parent) could ever want, including self-serve pet washing facilities, a fenced park with a splash water feature, and built-in cubbies and snuggling areas. Bringing your kitty along? Cats are just as welcome here, too.
45. Vermont
View this post on Instagram
Dog Mountain is a celebration of dogs' roles in our lives. There's a monument to dogs, a chapel, an art gallery, and a public park all for the love of dogs. There are tons of hiking trails and ponds for you and your pup to explore.
46. Virginia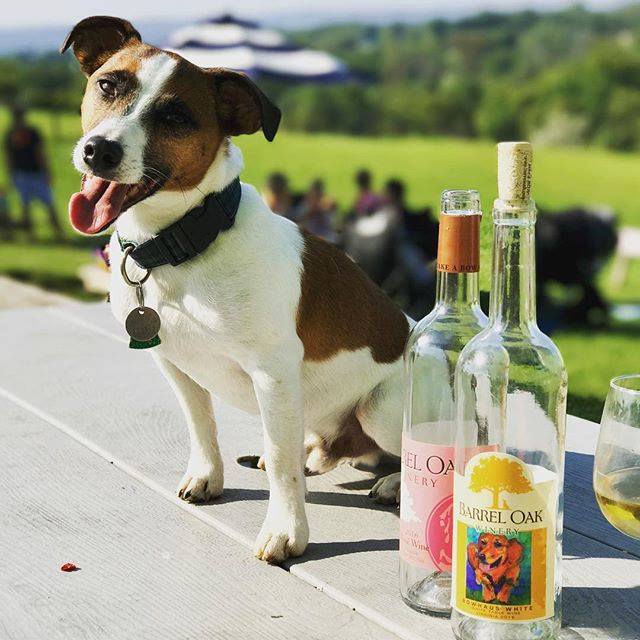 Dogs are allowed inside and outside at this Virginia favorite. Pack a picnic and make a day of it! People and their dogs can settle in for a full day of fun and relaxation complete with beautiful countryside views.
47. Washington
View this post on Instagram
Norm's Eatery and Alehouse is dog-friendly both inside and outside. The dog menu features handcrafted dog treats by The Seattle Bakery and includes turkey nuggets, a "Bow Wow Bowl," a bacon pupcake, marrow bones, and more.
48. West Virginia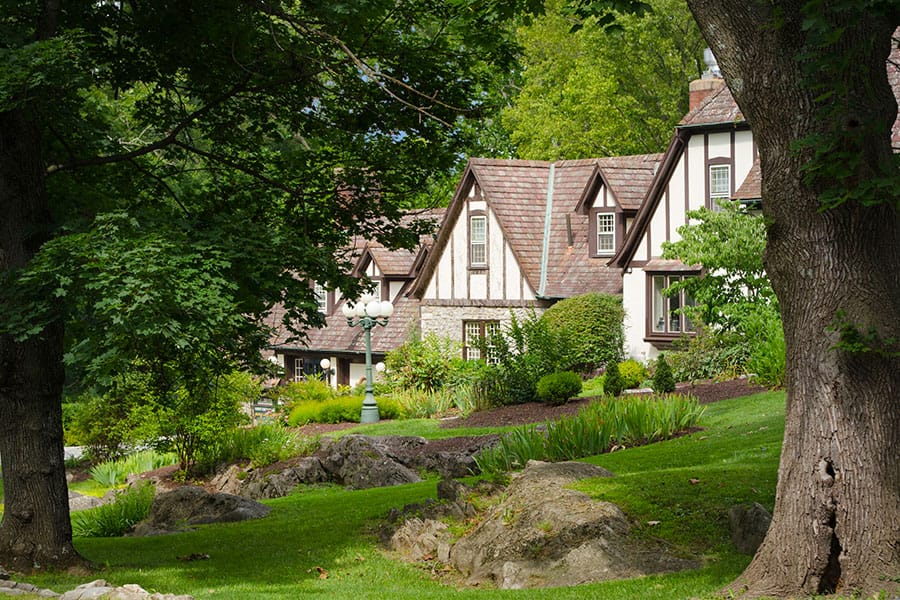 Stay the night at this pet-friendly inn after a long day of hiking in West Virginia's mountains. Four-legged guests will receive a doggy bag with a puppy paws towel, poop bags, and treats. They will even provide extra towels if your dog chooses to take a dip in their on-site pond.
49. Wisconsin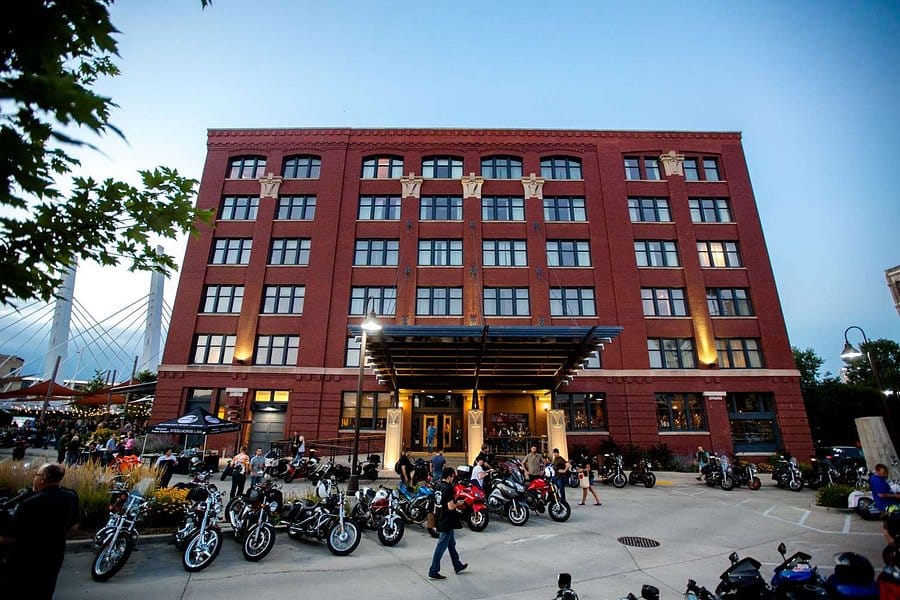 You don't have to stay overnight to enjoy the pup-friendly atmosphere of this motorcycle-themed hotel. Everyone is welcome at the bar for Yappy Hour.
If you do choose to book a room, their "Big Dog" add-on comes with a plush pet pillow, food and water bowls, dog treats in a pint glass, and a doggy scarf and toy. Plus, your pup's name gets an honorary spot on their welcome board. A portion of the proceeds from this package goes to Milwaukee animal rescue groups, too!
50. Wyoming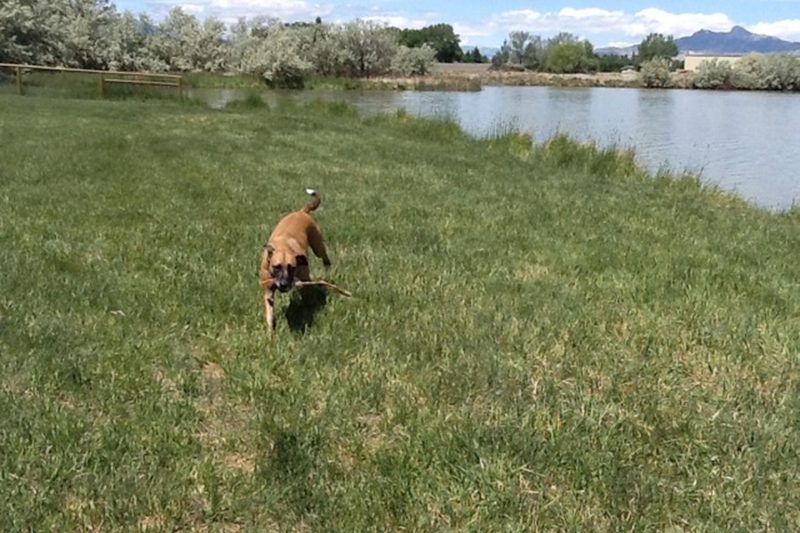 This dog park in Cody has a large dog area and a small dog area. There is also a section with fenced access to Beck Lake so your pup can go swimming.
Note: Always keep your dog on the leash in this state, especially in national parks like Yellowstone. Many off-leash pets have met tragic ends by disturbing the wildlife.
51. District of Columbia
View this post on Instagram
This is one of the only D.C. breweries where dogs are allowed both in the taproom and the outdoor picnic table area, making it ideal for dog parents looking for a pint during crummy weather. It's also 100% solar-powered!
Before you hit the road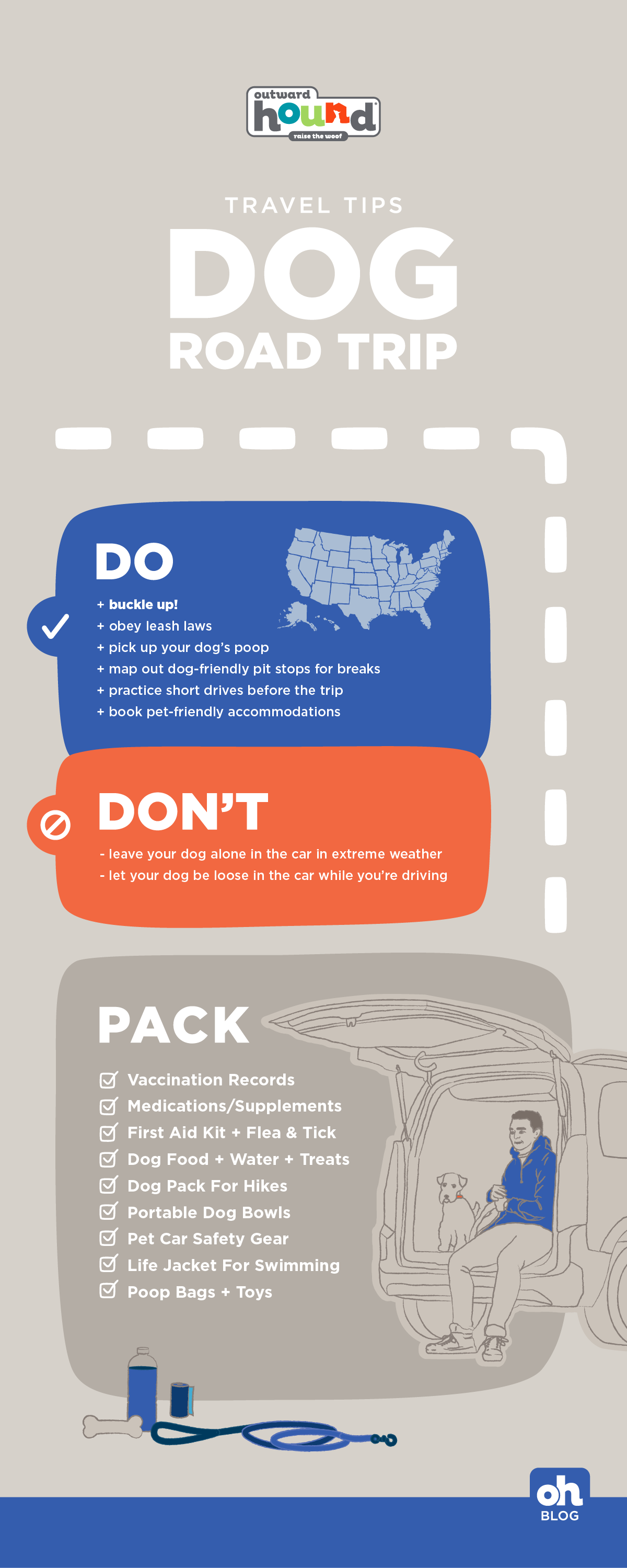 Don't forget to make sure your pup is up-to-date on all of their vaccinations before traveling. It's a good idea to keep a pet first-aid kit or dog bin in your car that includes their records.
Make note of where the local veterinarian locations are during your travels in case of an emergency, and get your pet microchipped should they get lost.
Here are some helpful articles about preparing for a road trip with your dog:
5 On-the-Go Dog Essentials to Keep in Your Car
The Ultimate Dog Road Trip Planner
14 Essential Items to Bring on Your Next Road Trip with Your Dog
Did we miss anything? If you know of a dog-friendly spot that should have been on this list, let us know in the comments!
*Why 51? Aren't there 50 states? Yes (for now), but the author is a D.C.-native, and taxation without representation isn't cool.