Best Friends By Sheri
the original calming dog bed
Best Friends by Sheri is home of the Original Calming Donut Cuddler pet bed. Our calming dog beds, cat beds, faux fur donut beds, and pet huts are designed to mimic the anxiety-easing security of a mother's fur coat. These pet beds contain fibers that maintain loft for up to 3x longer than regular dog beds, providing optimal joint, muscle, and neck support. Best Friends machine-washable dog beds are available in multiple sizes and colors that match any home's decor!
replacement
covers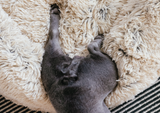 Calming donut bed replacement covers
Keep an extra cover on hand so your furry pals never go without a clean bed. Refresh your pet's bed seasonally. It's just like new!
Order Now
Shop All
Best Friends By Sheri