Cat owners: treat your feline friend to a new bed they can't resist! All of the following best cat beds are comfy, high quality, machine washable, and designed with self-warming properties for the best rest of their lives. All of these beds also adhere to their natural instinct to hide in small, enclosed spaces.
Whether your cat prefers a cat cave bed, a round bed, or a deluxe lounger-type bed, pet parents have a large variety to choose from!
All are minimalist stylish pet beds that won't clash with your modern home decor, either. Read on for a breakdown of each type of luxury cat bed.
Best Friends by Sheri OrthoComfort Deep Dish Cuddler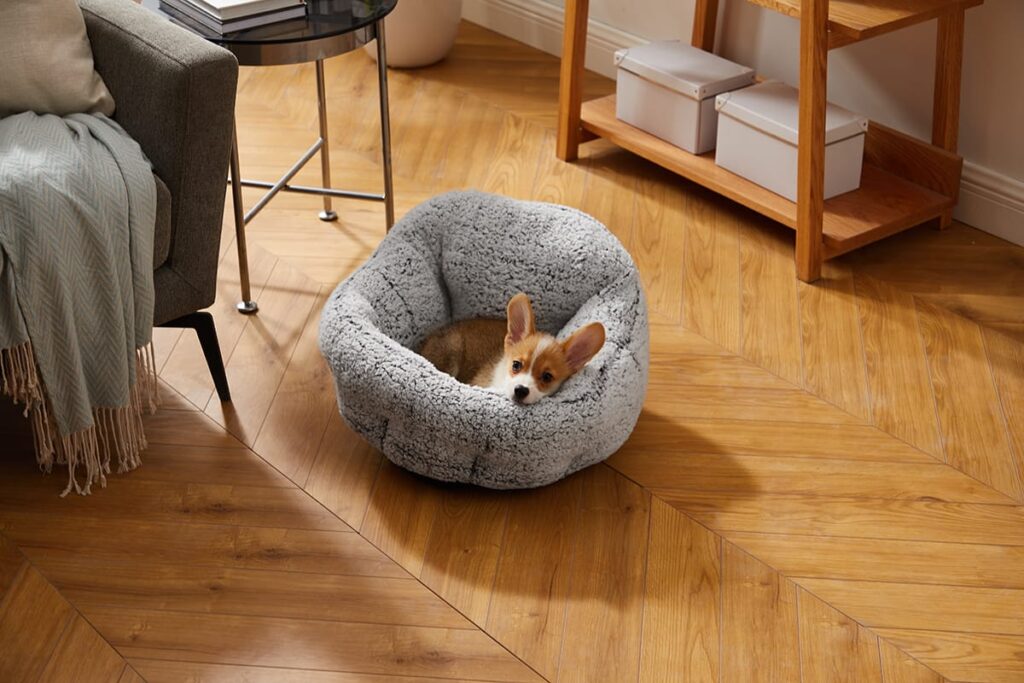 Larger cats, older cats, and small dogs love the sherpa orthopedic Deep Dish self-warming bed. This type of bed uses your cat's body temperature and enclosed high walls to create a self-warming effect.
New York Times' Wirecutter editors ranked this pet bed the best bed for large cats. Here's why:
We picked the Best Friends by Sheri OrthoComfort Deep Dish Cuddler because it's incredibly cozy and supportive and it's easy to wash. It's also sold in a larger size, which is great for big cats or a bonded pair who love to nap together. This bolster bed looks like a catcher's mitt, so cats that like to lean against their bedding get extra support from behind, and can rest their chin on the front with minimal neck strain (which is especially useful for arthritic and senior cats). It's lined with sherpa fleece—that poly-blend material that has a lofty texture to mimic real fleece—which some cats find instinctually comforting. The plush material is great no matter how a cat sleeps. Wirecutter's Lucy Butcher has a 14-year-old-cat Stella who "decided that she prefers to squish the whole thing down like a sandwich and sleep on top of it instead of curling up inside it." Of the four open-style cat beds we tested, this was the easiest to clean, and it bunched the least coming out of the wash because the mitt-style walls are bar-stitched to restrict padding movement.

Wirecutter, January 2022
The entirety of this cat bed can be tossed in the washing machine for easy cleaning.
Deep Dish Cuddler Cat & Dog Bed, 20×20
DESIGNED FOR ANIMALS LOVED BY PET PARENTS! Cozy warm and comfortable a pet bed is a must-have for your four-legged friend. While many models promote better sleep they become flat and uncomfortable the more your pet uses them. What s worse they hold odors and are impossible to clean. Show your pet some TLC with an OrthoComfort Deep Dish Cuddler from Best Friends by Sheri! Measuring 20″ long 20″ wide and…
Donut Cat and Dog Bed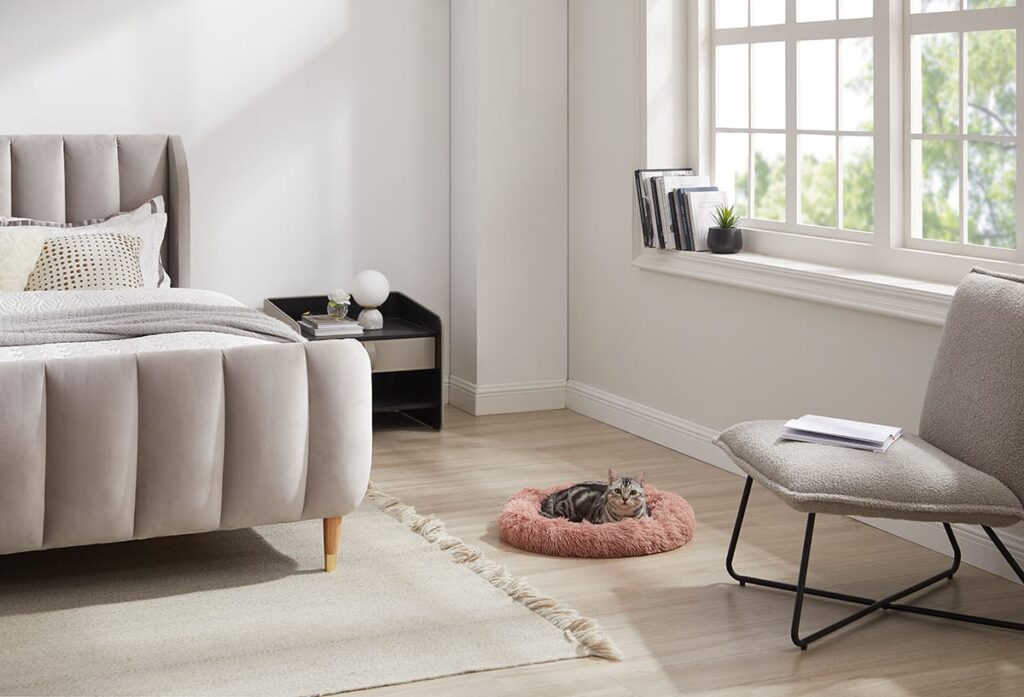 Thanks to its round shape, our high-quality Donut Cuddler cat and dog bed is ideal for pets who love to curl up. The super soft raised rim creates a sense of security and provides head and neck support. The polyfill filling offers joint and muscle pain relief. It's perfect for kitties who like to snuggle up and cuddle in their sleeping space.
The faux fur plush fabric uses your cat's body heat to create a naturally heated cat bed.
The bottom is dirt and water-resistant to help prevent messes from reaching your floor. Larger sizes come with removable covers and small-sized donut beds can be washed entirely. The larger sizes of these round cat beds are great for multi-cat households.
Another great option for your furry friend is a breathable cat bed mat/pad (pictured above). These are for cats who don't need too much cushion but have the option of an ultra-soft bolster to snuggle on. They make great window beds. Available in pinks, beiges, and more.
Calming Oval Cat Bed Pad, Dusty Rose, 21X19
The Best Friends by Sheri calming cat bed pad simulates that feeling of comfort and security kittens get from their mother. These donut cat beds are designed with a 1/4″ sleeping surface and deep crevices that envelope your pet in soft faux fur ideal for snuggling and burrowing. Perfect for pets that love to curl up, the raised rim provides head and neck support while the filling offers joint and muscle…
The Original Calming Donut Shag Cat & Dog Bed
Give your pet more than just a dog bed! Best Friend's by Sheri is the original creator of the most popular dog bed that has surfaced the internet in recent years: The Calming Donut Dog Bed. This innovative cuddler shag design provides better sleep, supports joints, and offers a calming, self-warming effect. The donut cuddler is carefully crafted with durable, vegan nylon and filled with AirLoft fibers,…
Cat Cave Beds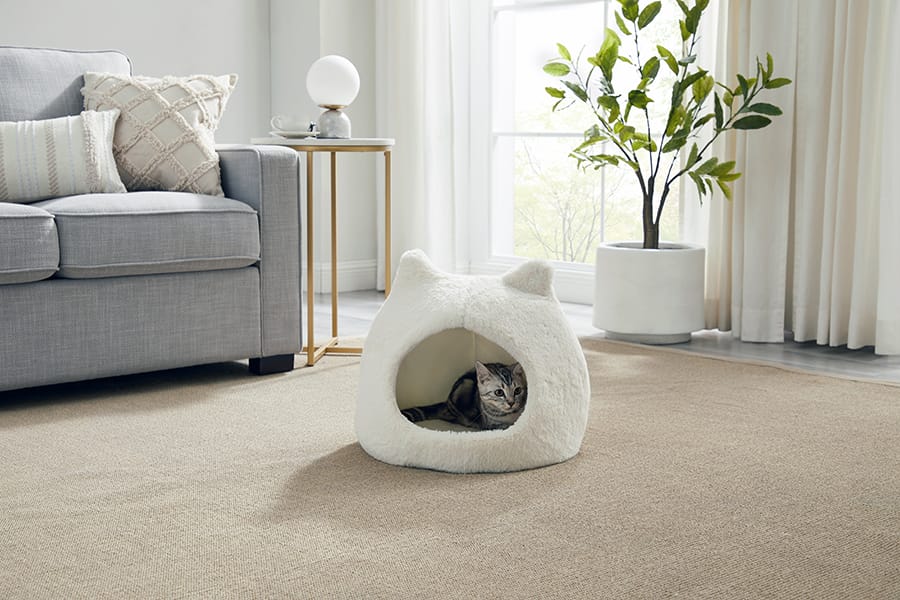 It's no secret that your pet cat LOVES an enclosed space. Almost as much as they love a chewy catnip toy or running their nails through a scratcher! How many times have you caught your cat snoozing in a laundry bin, the tunnel of its cat tree, or cat house?
Indoor cats need a hiding spot to retreat to in times of stress. Why not make that refuge its own bed? The cave shape of our Pet Huts is perfect for just that.
Pet house hideaways are available in standard and jumbo/large sizes. They come with a removable memory foam insert for easy cleaning.
Use as a doghouse for your small dog! Little canines love these, too.
Meow Hut Fur Cat Bed, 17×17
Meow Hut Covered Dog & Cat Bed: Made for the Ultimate Snuggling Experience. The Best Friends by Sheri Meow Hut in Fur for dogs & cats is designed to offer your pet a safe and secure place to rest enveloping them in calming comfort. The soft padded foam provides optimal support for joints and a comforting place for relaxation. The ultra-soft vegan fur material offers a cozy snuggle reminiscent of their…
Treat Them to a New Luxury Cat Bed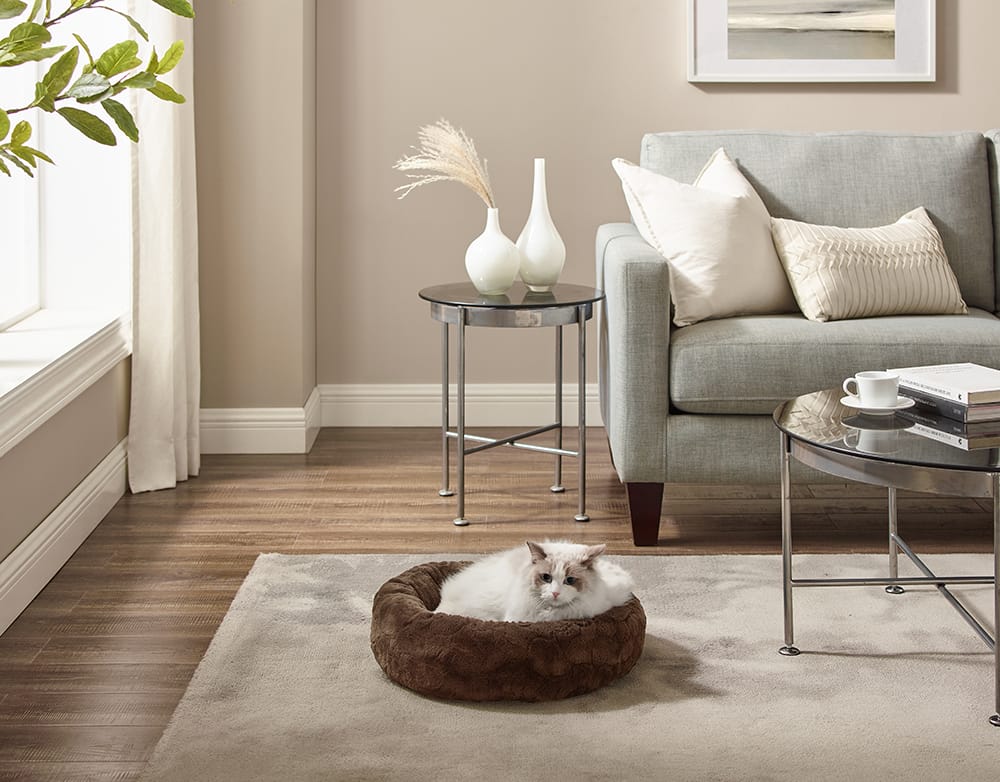 These soothing cat beds provide the plush comfort of a bed and the tight fit your cat likes. Our cat beds are round-shaped to give your cat the perfect place to snuggle. The material can help your cat release their stress and anxiety when they lie on the plush raised fabric.
Which piece of cat furniture or cat window perch will be your kitty's new favorite sleeping spot?
You can find our modern cat beds, scratching posts, feeders, and cat scratchers on BestFriendsbySheri.com, OutwardHound.com, Amazon, or wherever you get your pet products.