A Step-by-Step Guide to Fitting the Outward Hound Standley Sport Life Jacket
Here's how to seamlessly fit and secure the Standley dog life jacket to your dog for optimal fun in the water.
Un-Velcro tabs and unbuckle all buckles to fully extend straps.
With your dog standing, center the top of the life jacket on your dog's back. The jacket should sit close to the base of your dog's neck.
Step your dog's front right leg through the front right loop.
Insert chest panel slip pocket and secure buckle.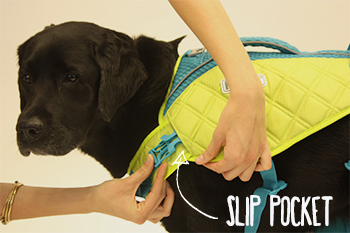 Wrap belly panel around belly and secure buckles.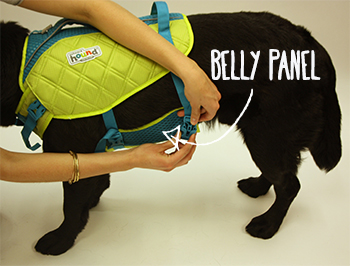 With your dog standing, keep the life jacket centered on your dog's back and belly and tighten straps on both sides to a secure fit. You can check this by slipping 2 fingers between your dog and the jacket.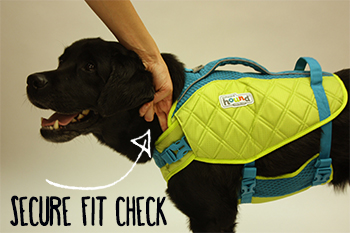 Roll loose strap ends towards the buckles and secure rolled ends to the straps using the Velcro tabs. You may need to adjust the straps during use to maintain the best fit for your dog wet or dry.
You're ready for fun! All straps are now fitted and will stay in place for future adventures!
About the Standley
Outward Hound's Standley Performance Dog Life Jacket is a high-performance dog flotation device for boating, water sport adventures and activities with dogs. Designed for experienced swimmers in mind yet suitable for all levels.
Sizes XS and small have one top handle for easy retrieval, while sizes medium-XL have a dual top handle design to accommodate larger, heavier breeds.
A front chest panel helps distribute the weight during retrieval and a D-ring clips provide an easy way to restrain or take your pup for a jaunt. Constructed from rugged ripstop nylon and quilted polyester material in a bright green and turquoise color for high visibility and longer-lasting fun in the sun. A large power mesh underbelly helps drain excess water while the adjustable straps ensure a snug fit.
Still having trouble with the fit? Please contact support@outwardhound.com for assistance.