Dog toys are usually pretty simple. You have a ball for fetch, a treat toy filled with peanut butter to keep your doggy busy for a few minutes, and a rope to play tug-of-war.
While these toys are certainly fun, they may not be providing the kind of mental stimulation your dog needs to grow and feel fulfilled. Instead, you need to invest in dog enrichment toys. Otherwise, he can turn to destructive behaviors when they're bored instead.
Here's the lowdown on dog enrichment toys, as well as some other interactive games you could try out on your pup.
What Are Dog Enrichment Toys?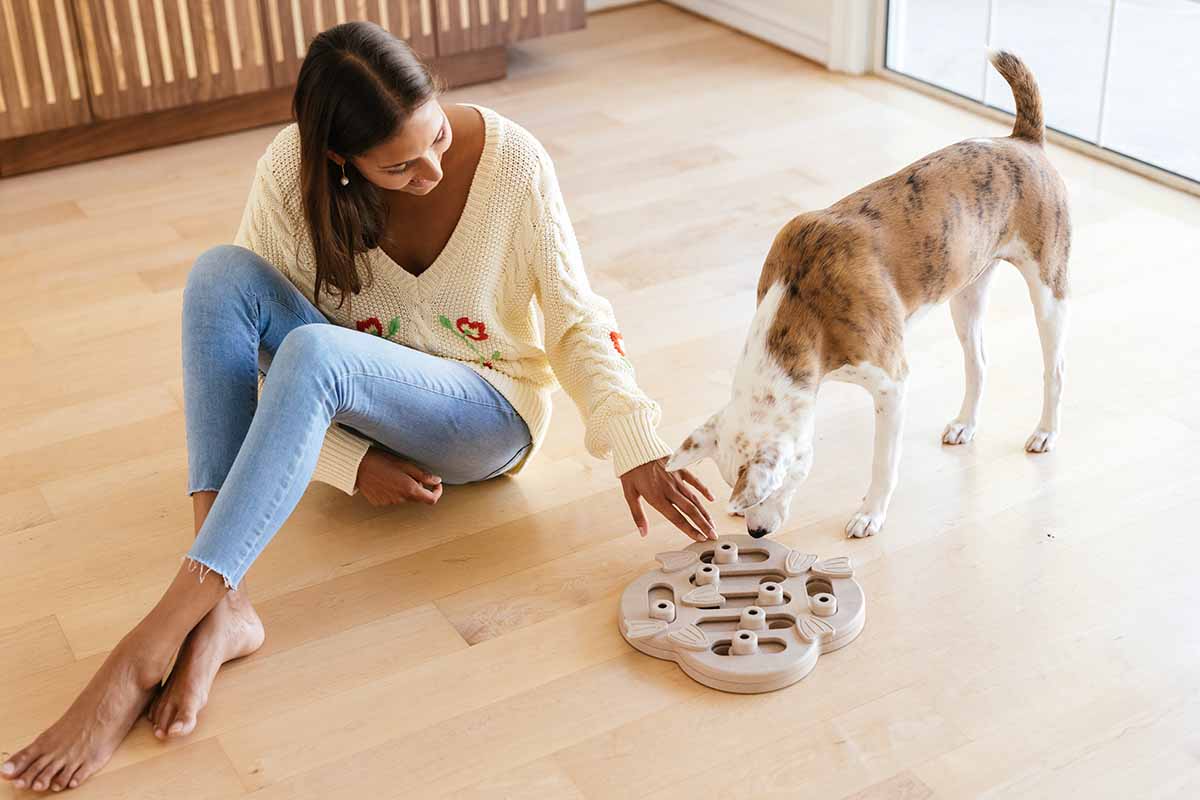 Essentially, dog enrichment toys are interactive dog toys that will challenge your pup, ensure he is having fun, and that he isn't bored. They will also help him feel physically, mentally, and emotionally satisfied.
Your dog needs different kinds of activities to keep him engaged, or he could become anxious or start doing things he thinks will entertain him.
Has your dog ever dug holes in your yard, destroyed your shoes, or scratched up your walls? He was likely either bored or anxious and just looking for something to do. If he had an enrichment toy to treat dispenser to play with, he may not have engaged in that kind of destructive behavior.
The best enrichment toys are the ones that empower your dog to embrace his innate behaviors like chasing, sniffing, scavenging, chewing, and playing. You can purchase enrichment dog toys or make your own using things like muffin tins, a ball, and dog food, as laid out below.
A Word of Caution About Enrichment Toys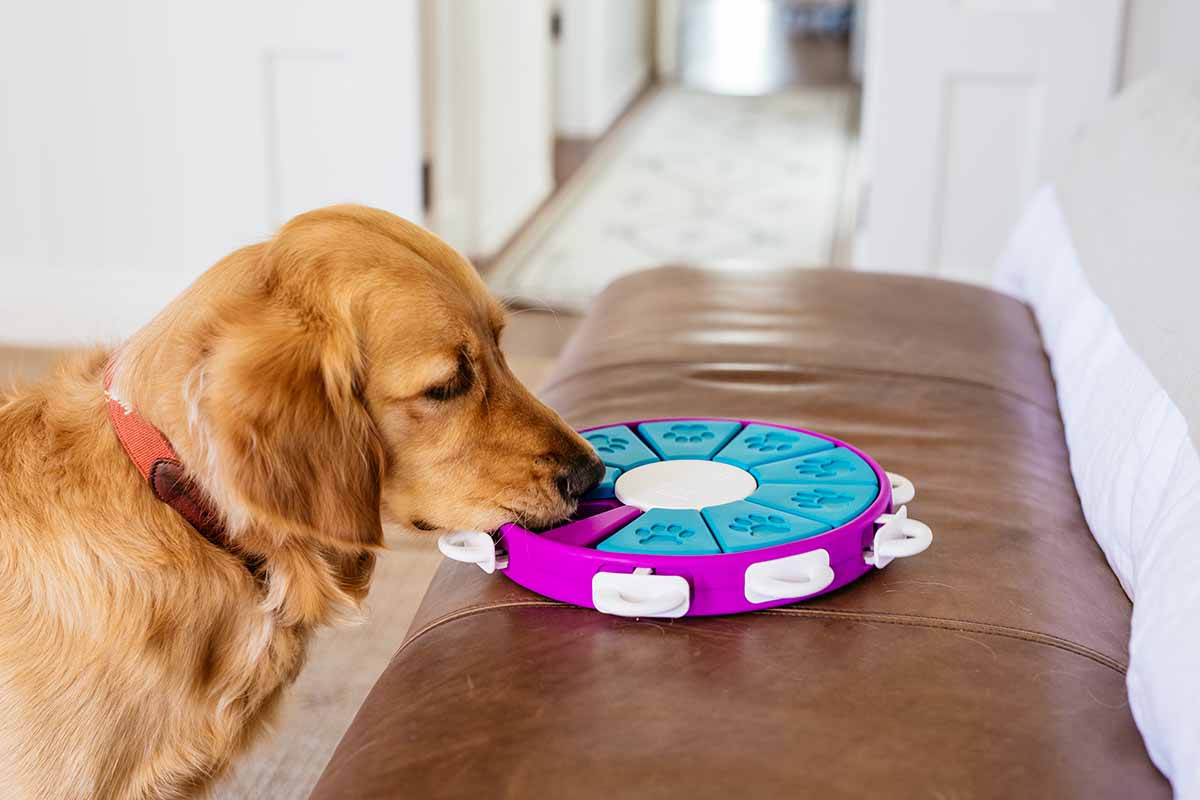 Before choosing an enrichment toy, treat dispensing dog toy, or creating one yourself, make sure that whatever toy you go with is suitable for your pup. For instance, if your dog is an inhaler, you need to ensure that he's not going to eat a toy.
Similarly, if your dog likes to chew and destroy things, try toys that are suitable for chewers. If there are any small pieces, watch your dog when he's playing with his toys so that he doesn't accidentally swallow something he shouldn't.
Additionally, the enrichment toy should be suitable depending on your dog's breed, age, and ability. For instance, your senior dog may not be able to move as well as he used to because he has arthritis, so you may not want to challenge him physically too much.
Nina Ottosson's tip for injured or arthritic dogs: Elevate puzzles on a chair or table that meets their level so it's easier on their joints.
If you have a flat-faced or Brachycephalic breed dog, then something like a food puzzle made out of tubes is going to be hard for him to use. If he has bulging eyes, they could get scratched on the tubes.
Monitor your dog the first time he engages with the enrichment toy so you can make sure he's happy and having fun. You can always ask your veterinarian or dog trainer for recommendations for toys to make and buy as well.
Now that you know about choosing appropriate enrichment toys, here are some you can purchase or DIY that your dog will enjoy.
The Best Dog Toys for Enrichment
Snuffle Mat
Hide a treat your dog loves in the activity mat and then watch him try to find them. When dogs forage for food and do nose work, it calms them down.
If you want to DIY it, you can make a snuffle mat with strips of fabric that you tie onto a base.
$29.99 $26.99
Outward Hound Activity Matz are fun to use, easy to clean, and perfect for both mental and physical exercise. The Garden Game activity mat comes with optional closures to level up the challenge! Once your dog has sniffed out the treats or kibble from the plush material, increase the challenge by placing food in the pockets and hiding them under an extra layer by stuffing in the carrot. For an even harder…
Interactive Dog Puzzle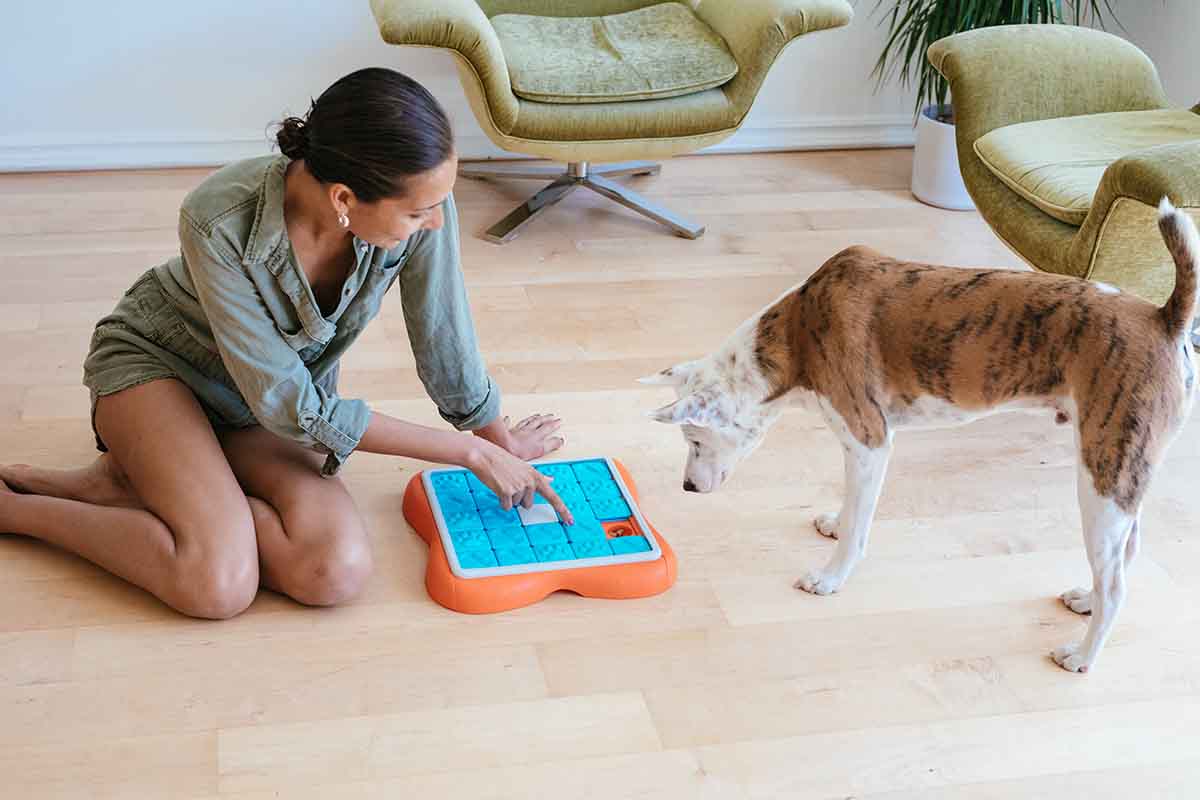 Outward Hound's Nina Ottosson dog puzzle, the Challenge Slider Dog Game, will get your dog nudging, sniffing, and pawing for hidden delicious treats.
There is a sliding tray underneath this food puzzle where you can find 24 compartments to hide the food. It can hold up to 1 cup of dog food and is perfect for your dog's favorite treats or kibble at mealtime. There are no removable parts and it is simple to clean, so your dog can play with it time and time again.
Plush Interactive Dog Toy: Hide A Hedgie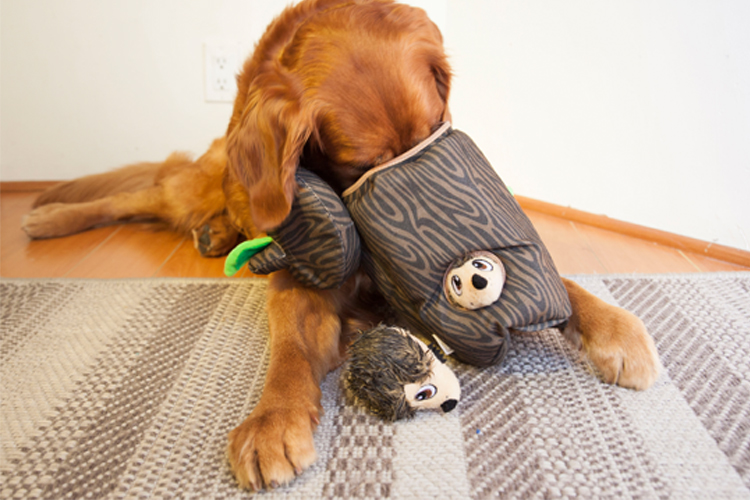 Another dog puzzle your pup will love is Outward Hound's Hide A Hedgie. This plush dog puzzle encourages positive play and taps into your dog's natural hunting instincts. The two-in-one interactive puzzle will allow you to play fetch or hide and seek so that your dog has plenty of mental enrichment.
There are stuffed hedgehog squeaky toys inside that will keep your dog busy. Trust us: The squeakers will make him go crazy and drive him to solve this puzzle. Plus, it's gentle on the teeth and gums, so it's perfect for puppies and adult dogs.
A similar dog toy you might have seen is the Hide-a-Squirrel or the Hide-A-Bee.
$27.49 $12.50
Outward Hound's Hide A line of hide and seek plush dog puzzles was designed specifically to eliminate boredom, encourage positive play, and feed your dog's natural hunting instincts. 2-in-1 interactive play means double the fun with options to play fetch or hide and seek to keep your dog mentally-stimulated. For dogs who can't get enough of these plushy animals, check out our replacement 3-packs! Bound to…
Dog Smart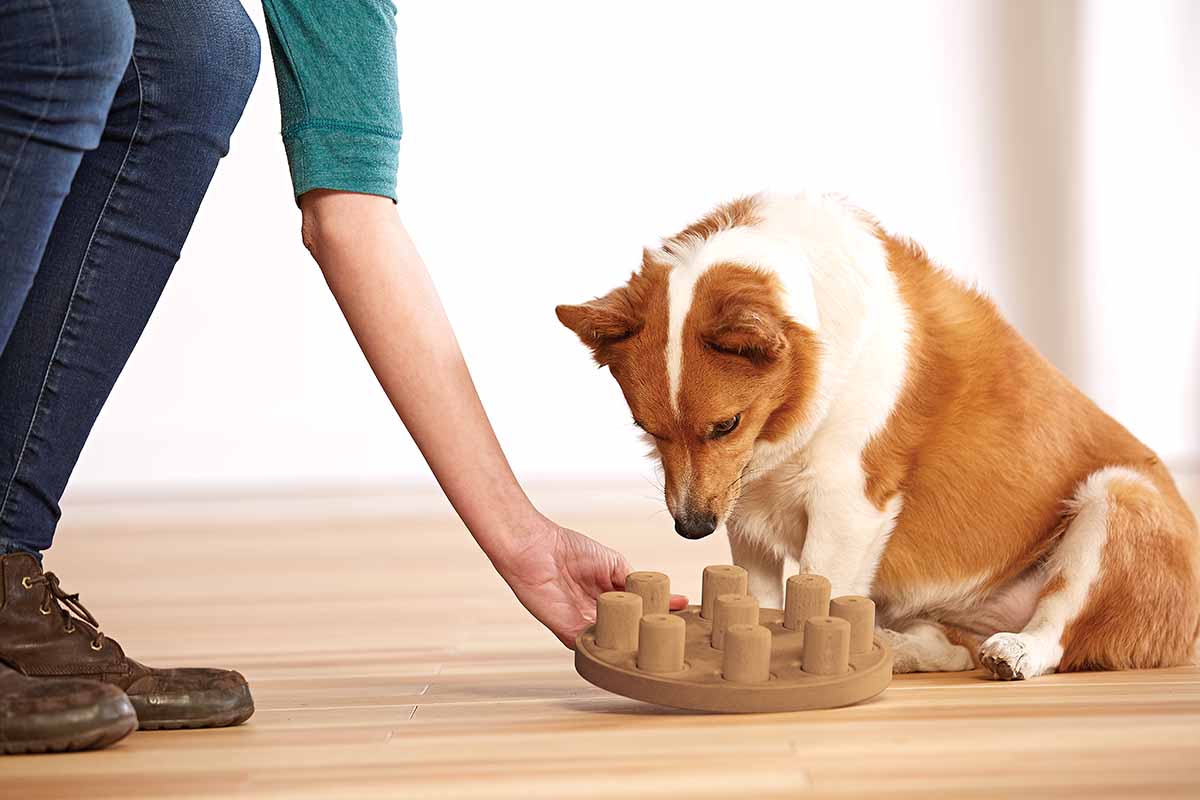 Nina Ottosson created the Dog Smart interactive puzzle to get your dog engaged in problem-solving. With this puzzle game, you can hide his favorite treats or dog food in the compartments, which are covered with nine cylindrical blocks that release the delicious scent of the goodies through the top hole, to drive your dog wild. Your busy buddy is going paw and nudge at the pegs to get his reward.
Tail Teaser Flirt Pole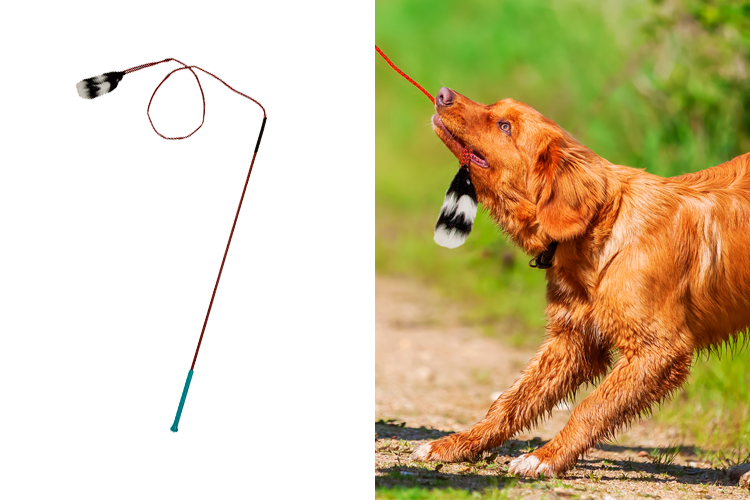 A Tail Teaser dog wand will really get your pup going. With a flirt pole, you can entice your pup to chase his favorite dog toy that's attached to a string. You can play tug of war with him, too.
You can either purchase a pre-made flirt pole or make one yourself out of a 1″ diameter broom handle or PVC pipe, a rope, and a dog toy. Make sure that if you have a small dog, the dog toy you put at the end of it is not too big for him to catch.
$18.49
Lure in the fun with Outward Hound Tail Teaser dog wand! Whether your existing lures are worn out or you're looking to switch up the style, this replacement piece keeps the fun going. Compatible with the Tail Teaser dog training wand, the replacement attaches easily by looping the two ropes together; no tools required! Squeaky sounds keep dogs interested, while the faux fur body triggers dogs' prey drive…
DIY Dog Enrichment Toys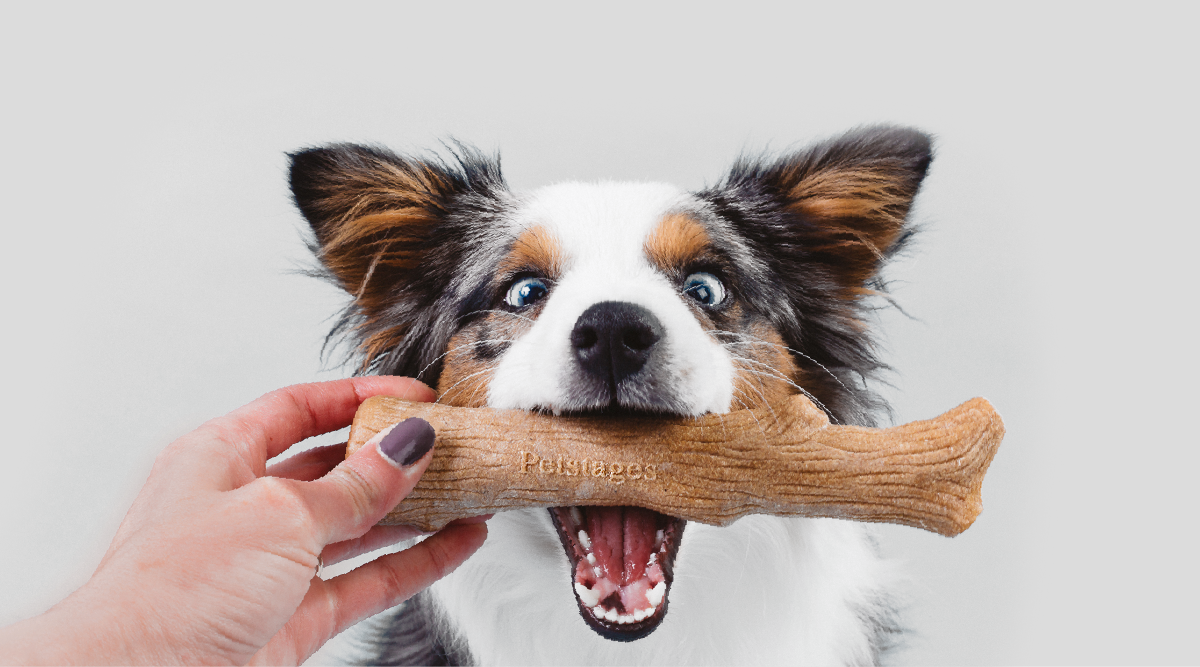 It's easy to create DIY enrichment games for your dog using basic household items!
Food Tube Puzzle
Another idea is to create a food puzzle out of toilet paper tubes. You can put them in a small box, like a shoebox, and then place kibble in them. This will help your fast eater slow down and give him mental stimulation at the same time.
Cardboard boxes with packing paper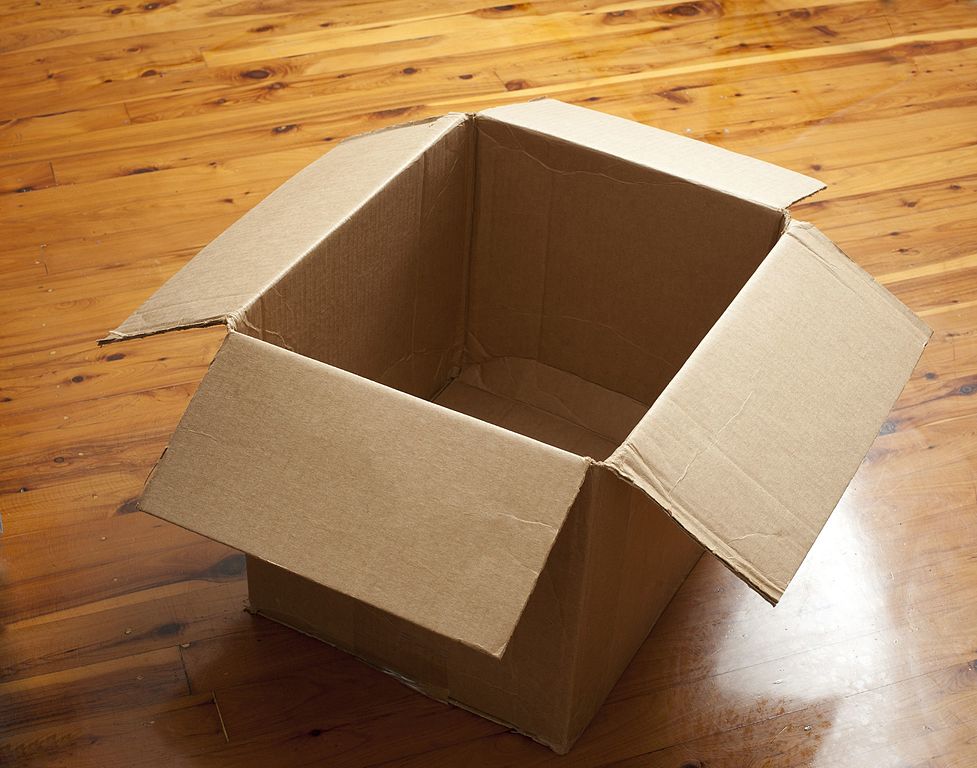 Do you have a lot of Amazon boxes lying around? Then keep them, and the packing paper that comes with them, and place some kibble, a chew toy, his favorite dog treats, or a stuffed treat ball inside of them. Your doggy will enjoy the texture and the sounds of the packing paper at playtime and he'll certainly love getting rewarded for his efforts.
Muffin Tin Puzzle
Another way to slow down a fast eater is to create a dog puzzle toy using muffin tins. Simply put kibble in each of the sections and then put tennis balls or dog toys on top of the kibble. Watch your pup go to town as this basic household item becomes a makeshift slow feeder!
Getting Started with Dog Enrichment Toys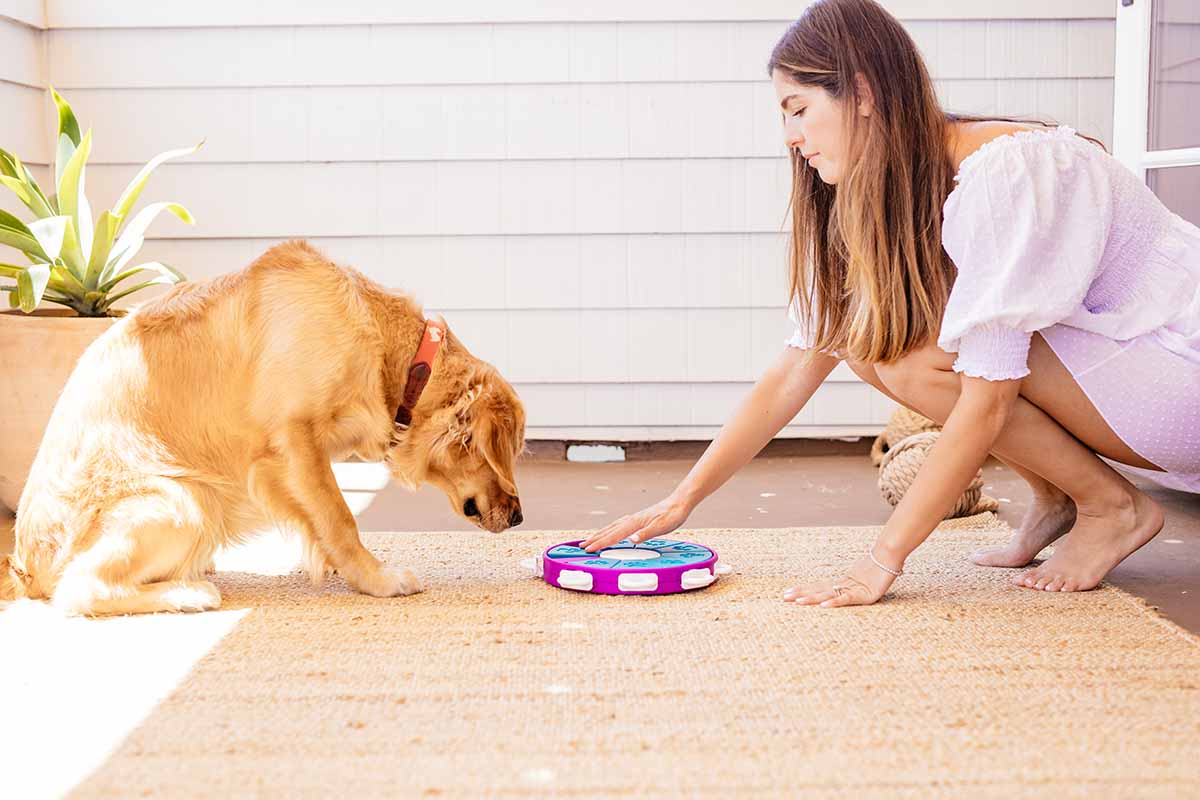 These DIY toys and ones you can purchase will provide your pooch with the mental enrichment they need. They will make mealtime more fun and you can do some dog training while you're at it!
Look for ones that are dishwasher safe and machine washable to make life a little easier. Also, remember to always use games that are suitable for your pup, guide them, and you'll be good to go!
To explore more dog enrichment toys and games, visit our website or check out one of the products below.
$34.99 $33.99
The Nina Ottosson by Outward Hound MultiPuzzle level 4 interactive dog puzzle toy will keep your dog entertained for hours as they use their natural hunting skills to seek out the hidden treats! Your pups' favorite dog treats or kibble can be hidden in the outer and central compartments by sliding the puzzle pieces and let the games begin! This puzzle is ideal for dogs who have already mastered levels 1-3…
$16.99 $11.99
The Nina Ottosson by Outward Hound Dog Smart Composite interactive dog puzzle is a fun way to get your dog excited about problem solving games! This mind-stimulating level 1 dog toy features nine treat hiding compartments that can be filled with your pup's favorite treats and covered with nine pegs that release the tasty scent of treats through the top hole. Place on the ground and watch your dog use his…
$18.49
Lure in the fun with Outward Hound Tail Teaser dog wand! Whether your existing lures are worn out or you're looking to switch up the style, this replacement piece keeps the fun going. Compatible with the Tail Teaser dog training wand, the replacement attaches easily by looping the two ropes together; no tools required! Squeaky sounds keep dogs interested, while the faux fur body triggers dogs' prey drive…