They need a French bulldog life jacket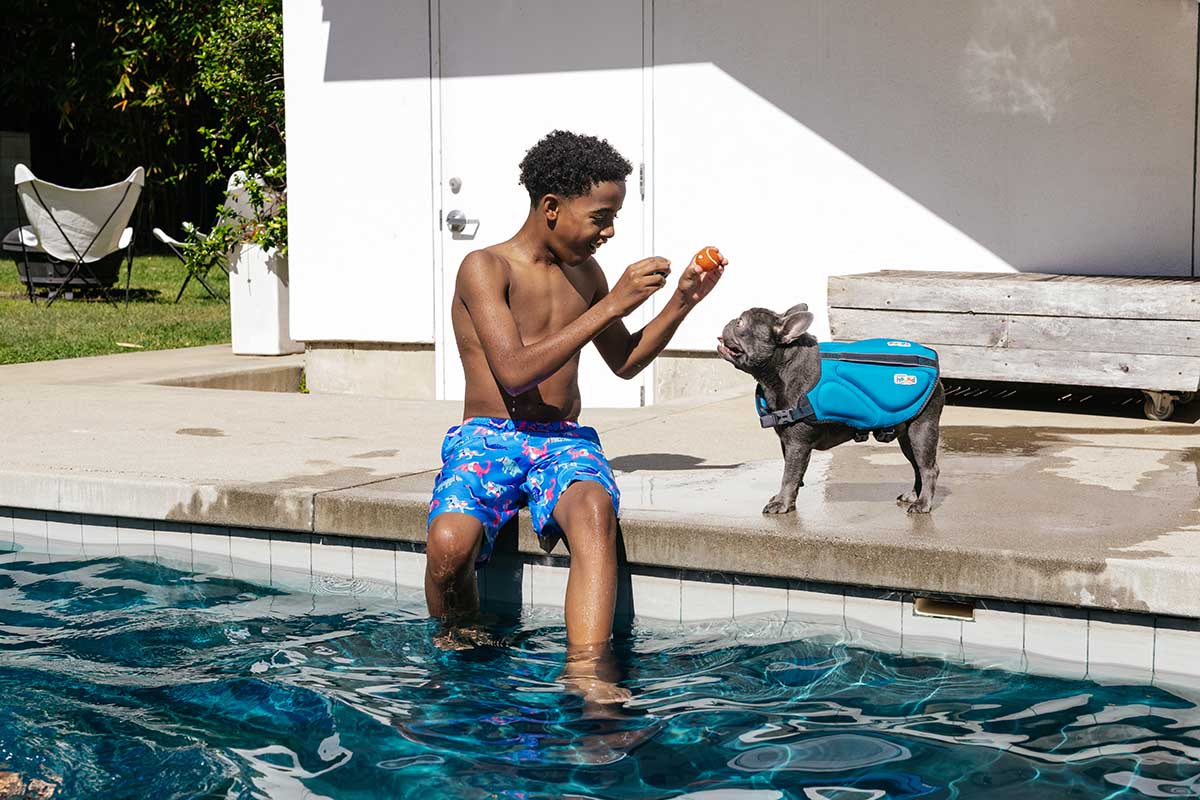 French bulldogs cannot swim. Unlike a labrador, top-heavy brachycephalic dog breeds like Frenchies and English bulldogs are not biologically built to swim at all. They can, however, enjoy a refeshing dip in the water if supervised and aided by wearing a dog life jacket.
The best way to protect your Frenchie or French bulldog puppy from drowning is to never bring your pooch near bodies of water without a doggy flotation device made of durable materials. They require superior buoyancy to keep them afloat since their little legs and breathing problems prevent them from doing it themselves.
Since bulldogs have such unique facial structures and bodies, it's important to find a dog life jacket that fits well. Read on to learn more about why Frenchies can't swim, what to look for in a dog life jacket, and how to keep them safe by the water.
What's a brachycephalic breed and why can't they swim?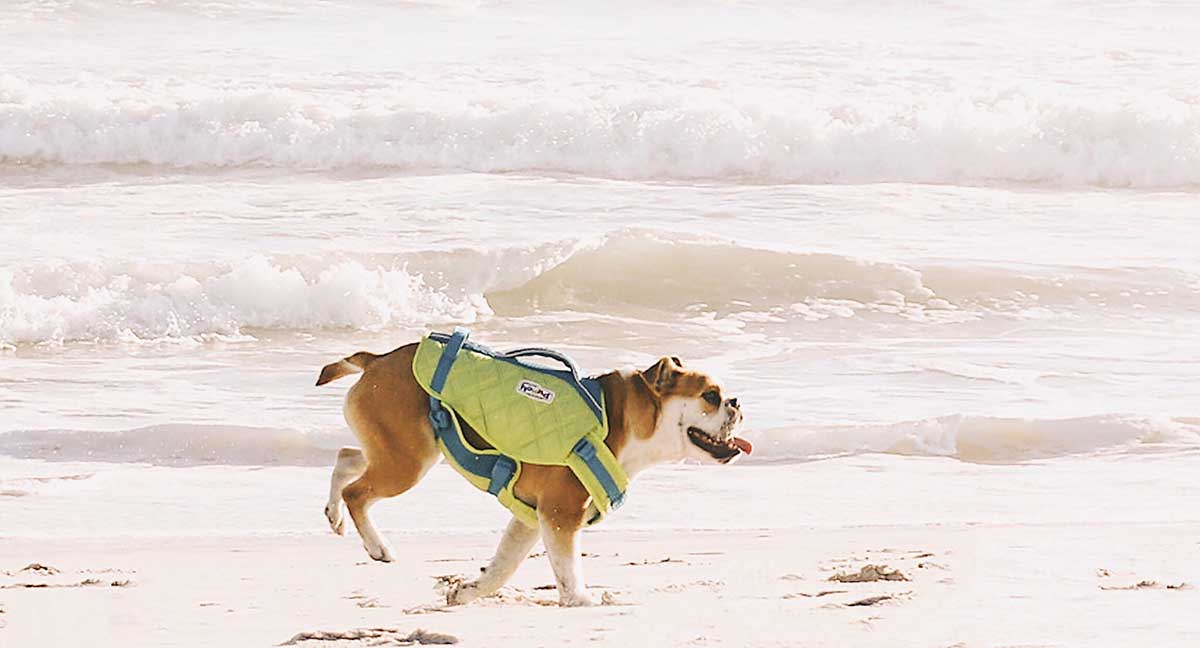 Dogs with brachycephalic airway syndrome (BAS) have shortened muzzles that result in their flat-faced appearance (and various health issues). In addition to French bulldogs and English bulldogs, other breeds with BAS include pugs and Boston terriers.
According to clinical researchers at Michigan State University's College of Veterinary Medicine, "…the nasal shortening seen in some can result in significant obstruction of airflow through the nose and may also result in other upper airway abnormalities that can impede the ability of the dog to pass air into the lungs."
This is why these dog breeds make adorable snorts (and snores) often. Unfortunately, this is also why they suffer from exercise intolerance, elongated soft palates that make it difficult to breathe, regurgitation and difficulty eating. In order to reduce the dog's discomfort and slightly increasing their breathing ability, surgery is required.
It's no secret that us humans are to blame. Over the past several decades humans have bred French and English bulldogs with increasingly shorter and shorter snouts. Why? Because it looks cute. They're not being bred to breathe properly. They're being bred to breathe just enough.
Combined with these breeds' short legs that aren't suited for doggie paddling, BAS physically prohibits these dogs from being able to keep themselves above water. If you put a French bulldog in water without a life vest they are going to sink like a brick.
What Dog Safety Features to Look for in a French Bulldog Life Vest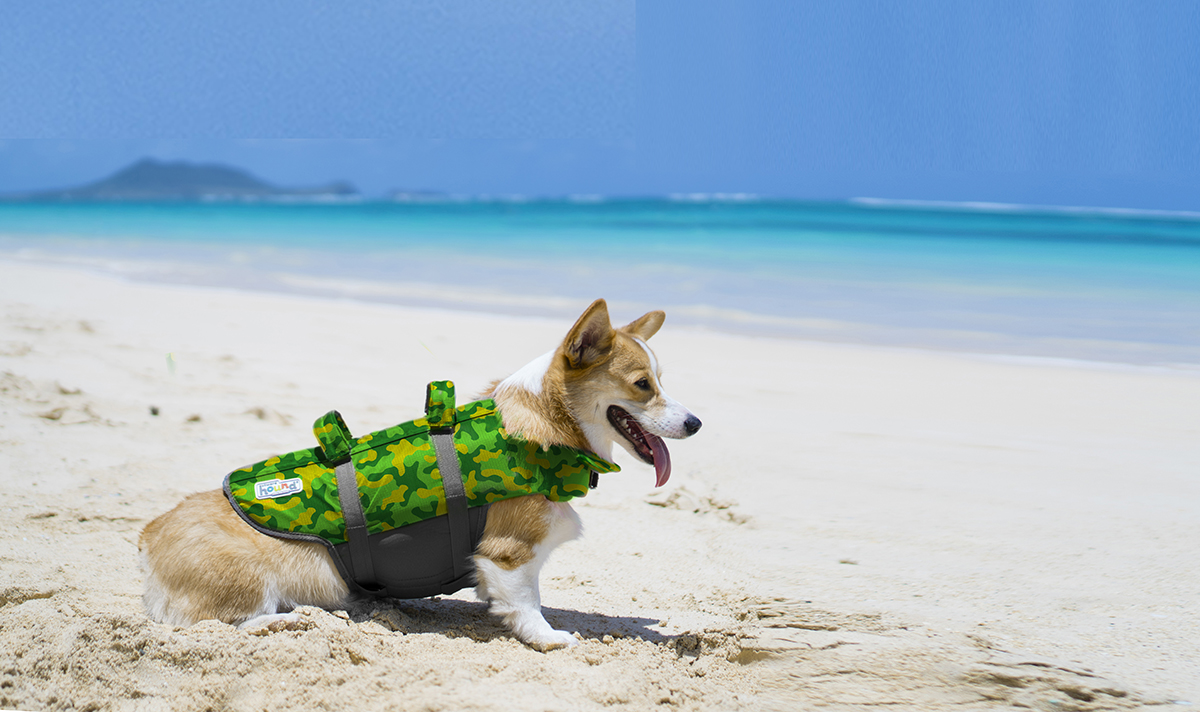 Since French bulldogs are exercise intolerant due to their breathing issues, a buoyant life vest will keep them from exhausting themselves too soon. In order for your Frenchie or other brachycephalic dog to enjoy splishing and splashing in the water with you, getting a proper swimming vest made of quality material is essential.
Here's what to look for in a dog life vest:
Adjustable straps to ensure a secure fit
High quality neoprene belly band for chest support
High visibility reflective trim
Grab handles for easy rescue
A neck float to keep their head above water
A heavy-duty d-ring for a leash attachment to keep them close
Choosing the right life jacket for your French bulldog is key to keeping them safe whether they join you on a kayaking or boating trip or if you're just relaxing poolside.
Since they can't swim, never, ever leave your Frenchie unattended near bodies of water — even if they are wearing a swimming vest.
The Best French Bulldog Life Jacket: The Granby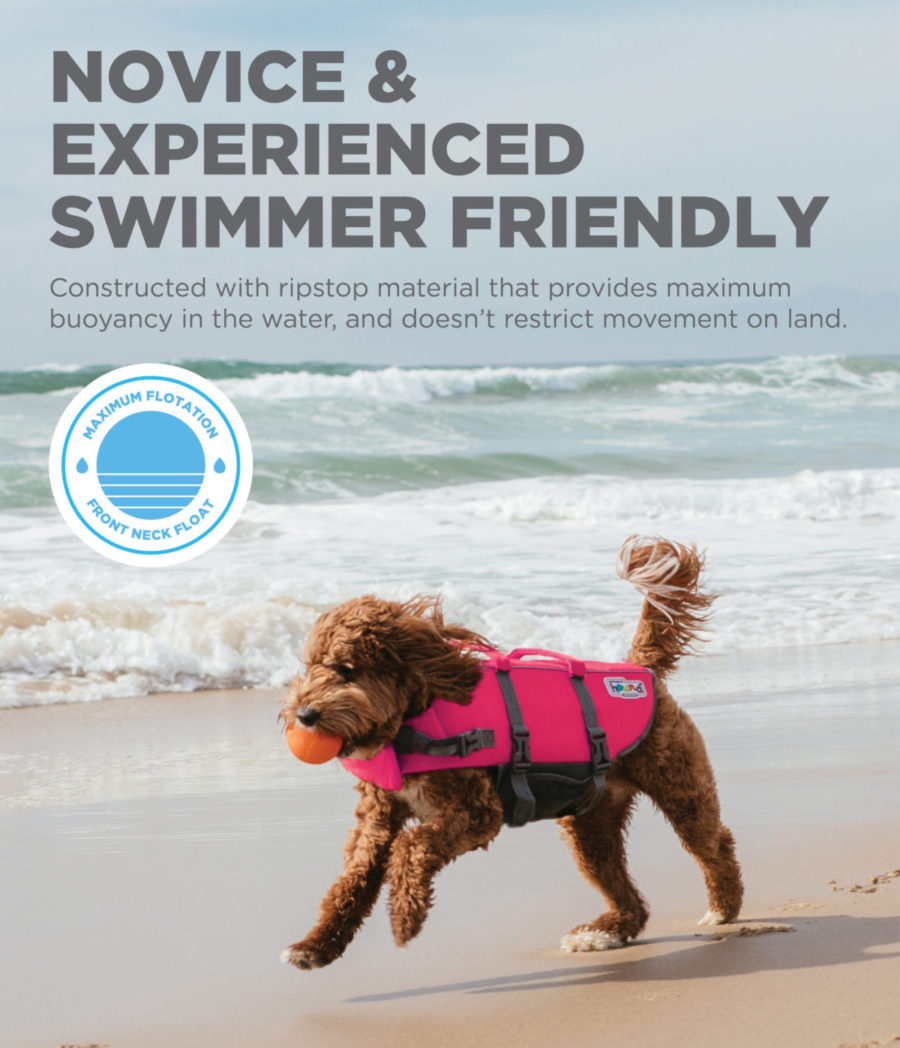 The Outward Hound Granby floatation device has all the right safety features and you need to take your brachycephalic dog swimming.
It's constructed with ripstop material that provides maximum buoyancy in the water yet doesn't restrict movement on land. This dog life preserver also features a rescue handle, adjustable side release buckles, reflective stripes, and front float for neck support. The straps can be rolled up and stowed away by securing them with velcro tabs. This way they can't get caught in unseen objects in the water.
The Granby comes in sizes that fit both large dogs and small dogs (XS-XL) and comes in five bright colorways. Since dogs come in various sizes and body shapes, be sure to select the appropriate life jacket size after taking the girth measurement or the widest part of your dog's rib cage.
Make sure to take any other unique traits (large shoulders, long torso, etc.) into consideration. Use our size chart and Granby fitting instructions as a guide.
Swimming Safely With Your Frenchie
Always remember to supervise your pup when swimming. Keep them in shallow water if you can. If your Frenchie has never been in water, test the waters first (pun intended) and give a kiddie pool a try. It's a great, safe way to introduce your pup to water sports while keeping them cool in the summer.
Not yet convinced your pup needs a dog life vest? Check out our post on 10 Reasons Why Your Dog Needs a Life Jacket.
Outward Hound dog life jackets can be found on our website, Amazon, Chewy and more.