Can dogs eat popsicles? It's safer to skip giving them popsicles for humans, but you can make your own dog popsicles! Or shall we say, pupsicles?
Before getting into making your dog his own summer treat, read on to learn why regular popsicles aren't so dog-friendly. But if you want to skip to the bottom of this page for the frozen dog treat recipe, be our guest!
Regular popsicles we all know and love can contain ingredients that are toxic to dogs like xylitol and other artificial sweeteners. Not to mention the choking hazard of popsicle sticks. Some contain dairy, which is not good for dogs with lactose sensitivity.
At the end of the day, it's best to feed your dog a frozen treat where you know exactly what the ingredients are and where they came from.
Nina's Dog Game Hack With Homemade Dog Popsicles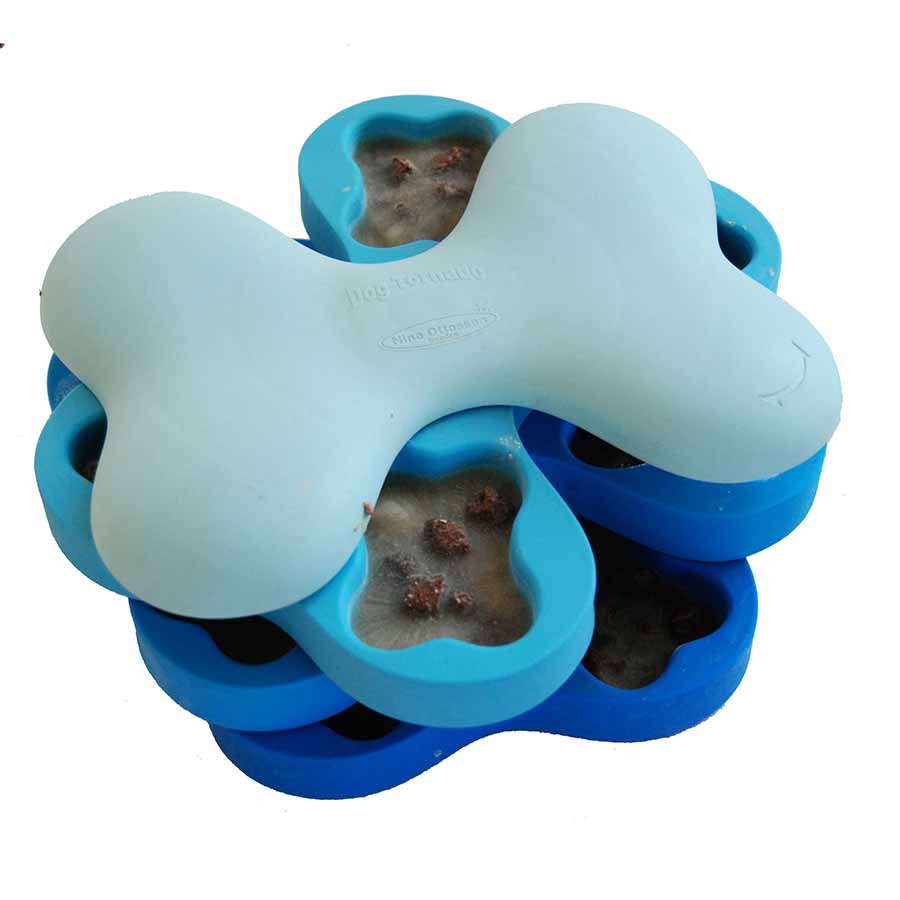 Now, what do DIY dog ice pops have to do with Nina Ottosson dog puzzles?
First of all, take a nice long look at the plastic dog games like the Dog Tornado, Dog Twister, Dog Casino, Dog Brick, or Dog Smart. Your popsicle mold is right there! There's no need to go out and buy a silicone mold or dirty your water ice cube tray. The treat compartments in the dog puzzles easily double as a frozen treat mold. Since they are made of plastic, they're also super easy to clean.
"Most of the plastic games can be used as a meat-flavored popsicle ice cream for dogs by mixing a little canned meat or sausage pieces with water," says Nina.
Simply fill all the hollow parts of the game with the mixture and freeze until it has solidified. (Tip: If you worry your dog isn't getting enough hydration, this is a perfect way to trick them into getting that H20.)
"The dog will then have a much appreciated, cold, and refreshing activity, perfect for hot summer days, and additional activation."
Dog Puzzle Hack 2.0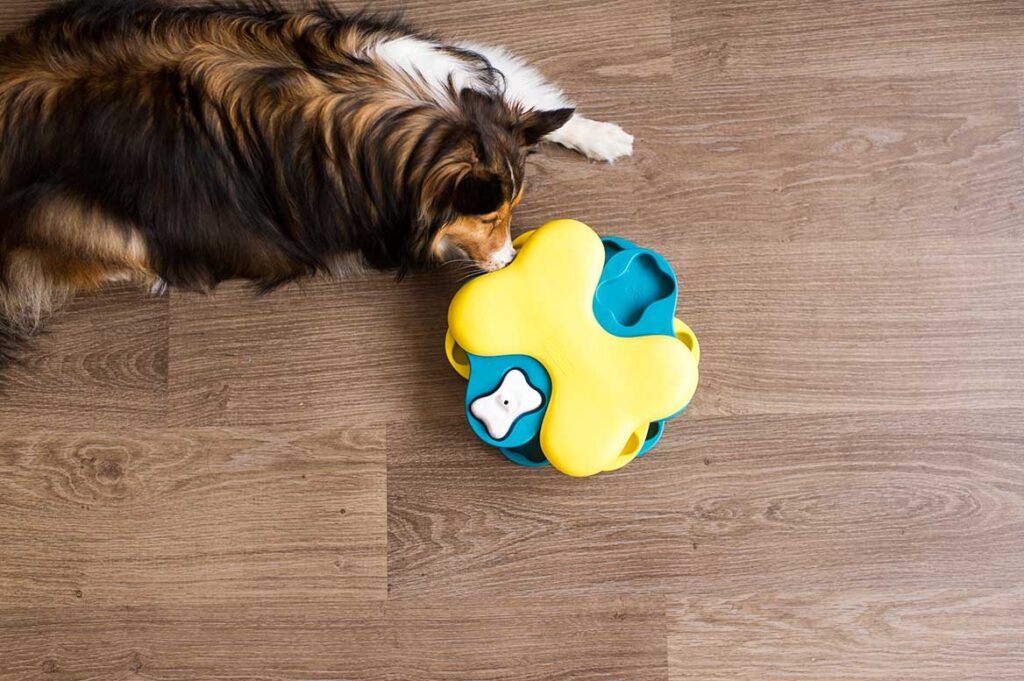 There's another layer of genius to using Nina Ottosson interactive dog puzzles as popsicle molds.
Sometimes we hear from dog owners who have dogs that become so advanced with our puzzles, it takes them only a couple of minutes to solve! When you need your dog to stay occupied, a couple of minutes certainly isn't long enough.
By freezing dog food, chicken broth, peanut butter, watermelon puree, or plain yogurt in the hollow parts of the dog games, your pup will spend much more time working on it. This is especially great for injured dogs or dogs recovering from surgery who can't be as mobile as they are used to.
Nina's tip: Only give this to your dog under strict supervision. Games perfect for use as dog-friendly popsicle molds include Dog Tornado, Dog Twister, Dog Casino, Dog Brick, and Dog Smart. (My dogs absolutely love this.)
Dog Popsicle Recipes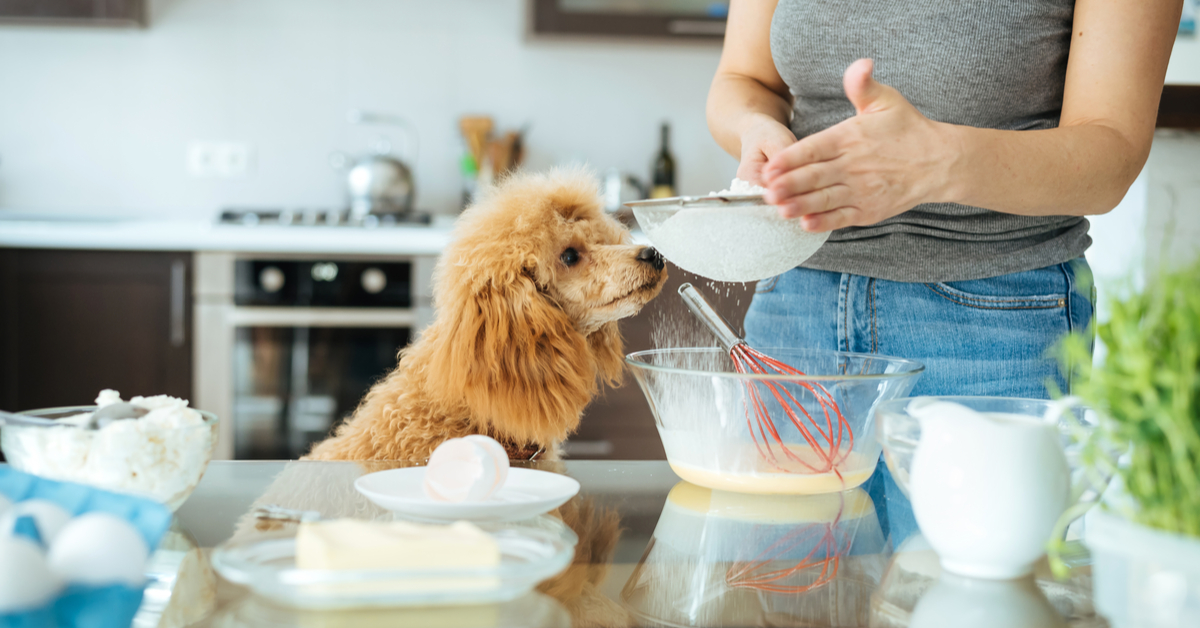 There's nothing like enjoying a refreshing cold treat on a hot day. Your pooch can partake in his very own doggie popsicle with these super easy (and sugar-free!) recipes. All of these dog-safe popsicle recipes take little to no prep time.
Peanut Butter Frozen Yogurt
This recipe is actually a very tasty special treat for humans, too. You will need:
Peanut butter
Plain or Greek yogurt
Blender
optional: banana
Blend Greek yogurt and peanut butter (feel free to add banana, if you like). Pour into mold and freeze!
Banana Popsicle Treats
Cut up a ripe banana and put pieces into a bowl. Add a splash of water and mash with a fork. Scoop into the mold and freeze!
Tip: Make it fancy by decorating it with Wholesome Pride banana dog treats right before freezing.
Meatsicle
Cut up your dog's favorite treats. Anything works well with this recipe and it doesn't even have to be meat-based. Great standbys include boiled chicken, turkey hot dogs, sausage, jerky dog treats, sweet potato, or blueberries.
Sprinkle the pieces into each mold compartment. Pour water or broth over them and freeze until solid.
Viola! Pupsicles.
Verdict: Dogs Can Have Homemade, Dog-Safe Pupsicles!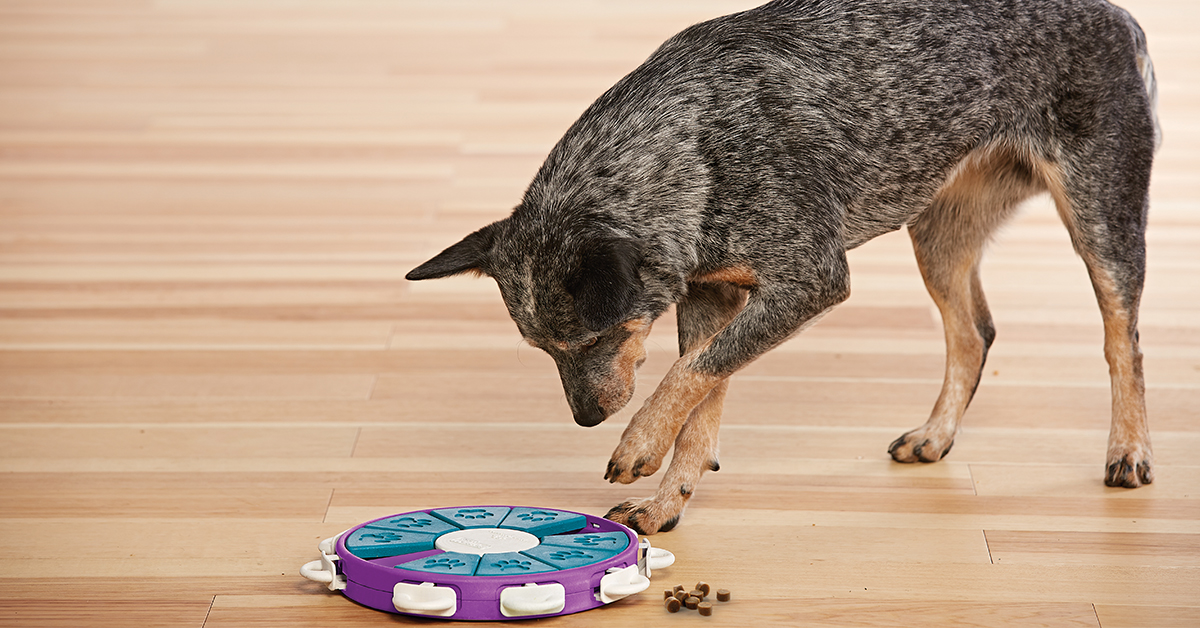 Making DIY pupsicles is so easy you could do it with your eyes closed. Have you tried using Nina Ottosson's dog enrichment games for frozen treats?
Let us know which homemade dog treat you end up making for your furry friend! And if you have your own dog puzzle hacks to share, tell us in the comments!
---
Shop dog games that can be used as popsicle or doggie ice cream molds
$19.99 $18.99
The Dog Tornado level 2 interactive dog puzzle from Nina Ottosson is the ideal toy for bored dogs and will keep them occupied for hours! This intermediate level toy features three tiers with twelve compartments for dog snacks or kibble. This mentally stimulating and entertaining dog game encourages your pup to spin the interactive puzzle tiers to reveal the rewards – three bone shaped covers can be used…
$24.99 $18.99
When you're looking for a toy for bored dogs who have mastered the simpler dog treat puzzles, this engaging level 3 advanced interactive treat puzzle from Nina Ottosson by Outward Hound is the perfect next step! The Dog Twister interactive dog puzzle toy features nine treat drawers for dog treats which are secured in place with nine white tabs. Just simply place the treats in the drawers, slide them in,…
$19.99 $16.99
The Nina Ottosson by Outward Hound Dog Brick level 2 puzzle dog game will keep your dog entertained for hours as they use their natural hunting skills to seek out the hidden treats! This toy comes with 3 easy-to-fill compartments to hide your dog's favorite treats and snacks in. Flip lid compartments open up to reveal the first compartment and can also slides to reveal a hidden second compartment…
$16.99 $10.99
The Nina Ottosson by Outward Hound Dog Smart interactive dog puzzle is a fun way to get your dog excited about problem solving games! This level 1 dog puzzle toy features nine treat hiding compartments that can be filled with your pup's favorite treats and covered with nine dog bones that release the tasty scent of treats through the top hole. Place on the ground and watch your dog use his noggin as he…