Whether you just got a new furry friend or you're dealing with issues with your current pet, you're wondering: what is the best pet-friendly furniture? Even if it's going to take an investment, you want to make sure that you, as well as your pet, are as comfortable in your home as possible.
By doing your research on living room furniture, along with pet-friendly sofas, recliners, upholstery, chairs, and other items around your home, you can ensure your belongings will be safe and your pet will be able to enjoy them, too.
Why You Need Pet-Friendly Furniture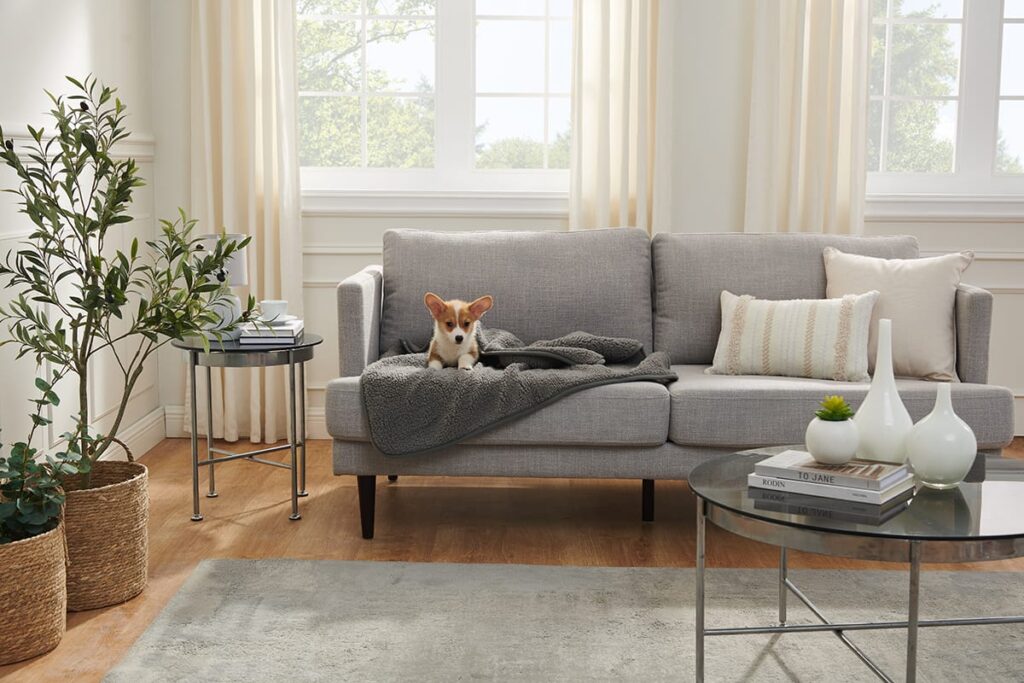 Pet owners need pet-friendly furniture and pet-friendly fabrics for a few reasons. If they have dogs or cats that shed, that pet hair is going to get all over the place and could stick to the furniture if it's not the right material. Additionally, pets leave stains, especially if they spend a lot of time outdoors. You'll need to get furniture that is stain-resistant.
Dog and cat claws can rip through certain furniture, and cats are eager to scratch specific types of furniture. If you let your pet on the furniture like couches and chairs, you'll want to find ones that promote accessibility – and ensure that it won't be dangerous if your pet falls off.
Now, here are the best types of indoor and outdoor furniture you should consider investing in.
Leather Couch
A leather couch made of genuine leather is not only easy to clean and wipe pet fur off of, but it repels odors as well. It's also too tough and thick for claws to snag or puncture.
Keep in mind that you may want to get faux leather for ethical or budgeting purposes, but it's not going to be as strong as genuine leather and could get punctured.
A leather sofa, chaise, chair, or recliner will last you a long time and be resistant to damage from your pets. If you want to get a genuine leather loveseat, sectional sofa, or another type of sofa, it will also be suitable for pets.
Whatever pet-friendly couch or chair you get, make sure it's not too high up; if it is, you may need to get pet stairs so your cat or dog can reach it.
Performance Fabrics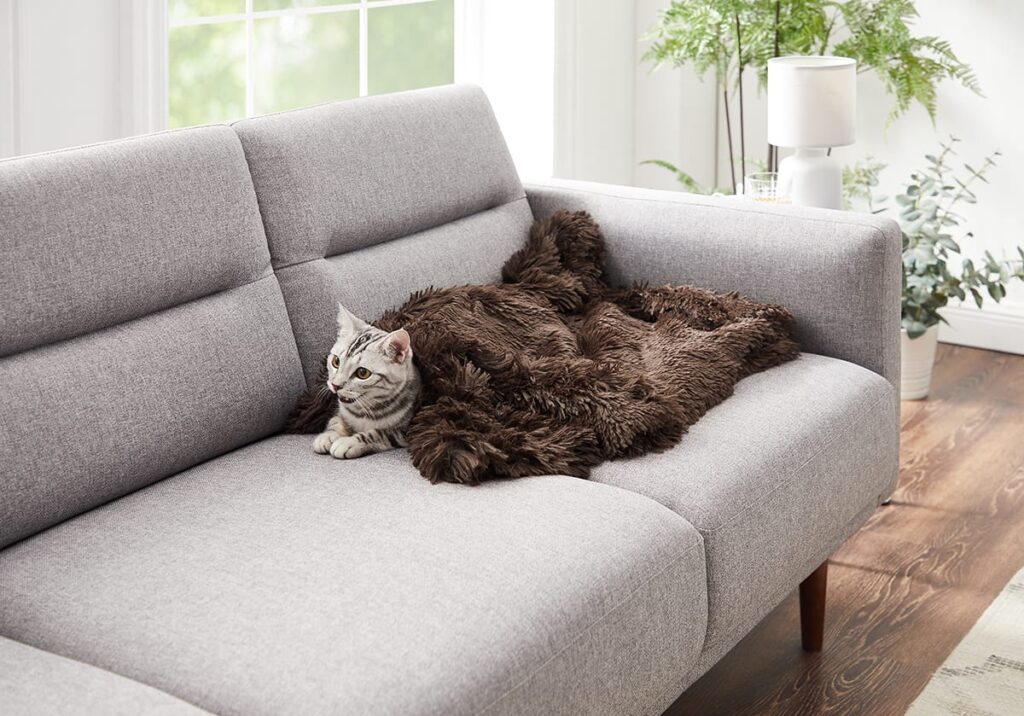 Performance fabrics are stain-resistant fabrics. They can usually be cleaned with bleach and are woven with fabric that is naturally stain-resistant.
Additionally, it may have stain-resistant moisture barriers in the fabric. Performance fabrics also include tight weaves, like microfibers, that will repel stains and liquids.
When it comes to performance fabrics, pet parents should search for tight woven fabrics that their pet's claws can't puncture.
Also, look for Revolution, Inside Out, or Sunbrella fabrics if you think your dog or cat will pee or poop on your furniture. The fabric won't completely repel the dirt, but you will be able to clean it off a lot more easily than you would with other fabrics.
And if you're putting new furniture outdoors, make sure you get a performance fabric that won't get destroyed if it's exposed to the elements.
Slipcovered Furniture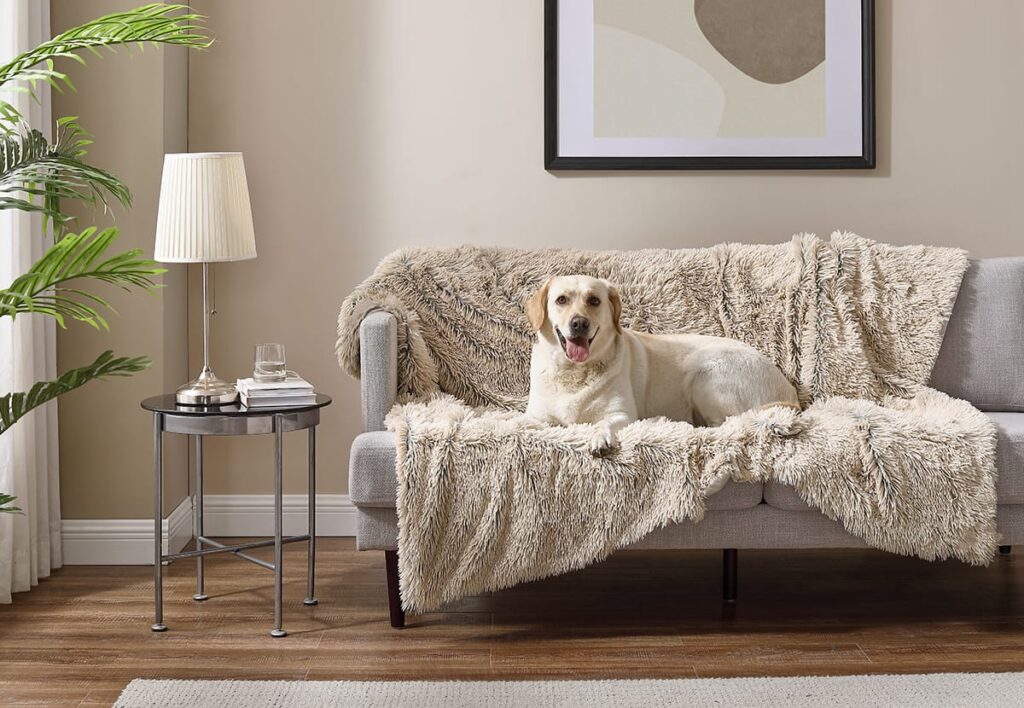 Instead of taking any chances with your furniture, you can get a removable cover for it. If your pet-proof slipcover ends up getting damaged, you can always buy a new one for relatively cheap compared to the price of a new couch or chair.
Search for a stain-resistant slipcover you can purchase online and ensure you can throw it into the washing machine when it gets dirty.
If you want to make the investment, you can also find slipcovered sofas online. Sites like Amazon, Wayfair, and Burrow offer pet-friendly options. Some of them will send you swatches for free so you can test colors and performance at home before making a decision.
Cover and protect with a stylish pet blanket
You could also consider getting a pet blanket that will protect your furniture. The options below are stylish, comfortable, and come in neutral color choices so they won't clash with your home decor.
$24.99
This luxury plush blanket that's perfect for your four-legged pals. The ultra-soft vegan fur is designed to reminisce a mother's fur coat aiding your pets in superior comfort and security. The medium-weight embossed fur provides warmth and comfort. An effortless way for your pets to cuddle up on the couch or on the go. This versatile blanket will also help protect your furniture, car seats, and floors…
$24.99 $24.99
This versatile dog blanket provides the comfiest snuggle for your furry pal! This lightweight throw blanket provides just the right amount of warmth for indoor use or on the go. The ultra-soft faux fur is designed to reminisce a mother's fur coat aiding your pet in superior comfort and security. Our neutral micro-fiber exterior is sure to blend seamlessly into any room. Use it on the couch, on your bed, or…
$19.99
This luxury shag blanket that's perfect for your four legged pals. The ultra-soft vegan fur is designed to reminisce a mother's fur coat aiding your pets in superior comfort and security. The light-weight allover shag provides just the right amount of warmth. An effortless way for your pets to cuddle up on the couch or on the go. This versatile blanket will also help protect your furniture car seats and…
Furniture With Metal Legs
If you have a dog or cat who loves to go after wood, such as the wood frame on your bed or wood legs on your coffee table, then invest in furniture with metal legs instead.
Cats especially love wood because it looks like small trees they can use to trim their claws. If you're bringing a cat home for the first time, you may want to buy a new sofa and other furniture with metal legs beforehand to avoid any issues.
Let's say you've invested in pet-friendly furniture, but you'd like to take additional steps to protect it. Here are some ideas.
Affordable Alternatives to Buying New Furniture
Furniture is not cheap. While you save up, here are some alternative solutions to keep your pets away from your nice home furnishings.
Get a Pet Bed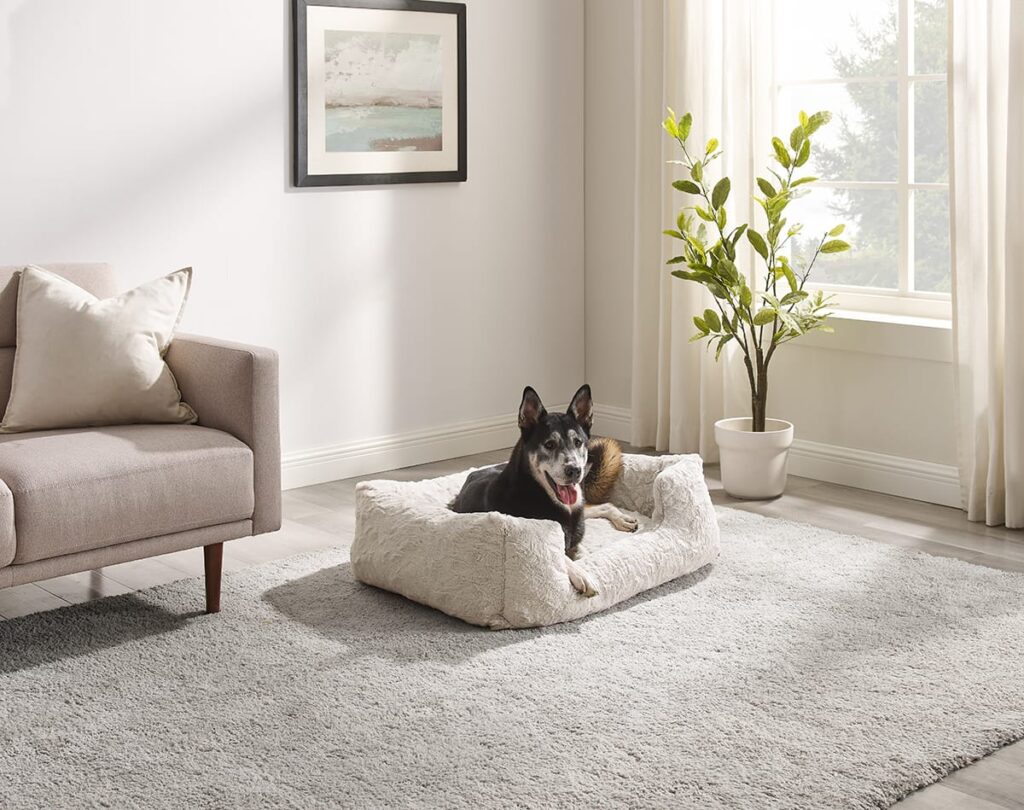 You should get your dog or cat a pet bed where they can cuddle up and get cozy, because they may be using your couch, bed, or comfy chair for this purpose right now. If they have a space of their own to relax, they will likely go there instead.
Outward Hound has many different options for pet beds. For example, the Ilan Throne Cat & Dog Bed is in the shape of a throne and made with ultra-soft and luxurious micro plush fabric. It's made for pets up to 20 pounds and offers luxurious comfort for burrowing and nesting, making your pet feel nice and cozy.
Another option is the Meow Hut Fur Cat Bed. The soft padded foam provides optimal support for joints, and the 360-degree coverage makes pets feel secure. It provides total coverage for dogs and cats that like to burrow, snuggle, and hide. It's machine-washable as well.
Use a Lint Roller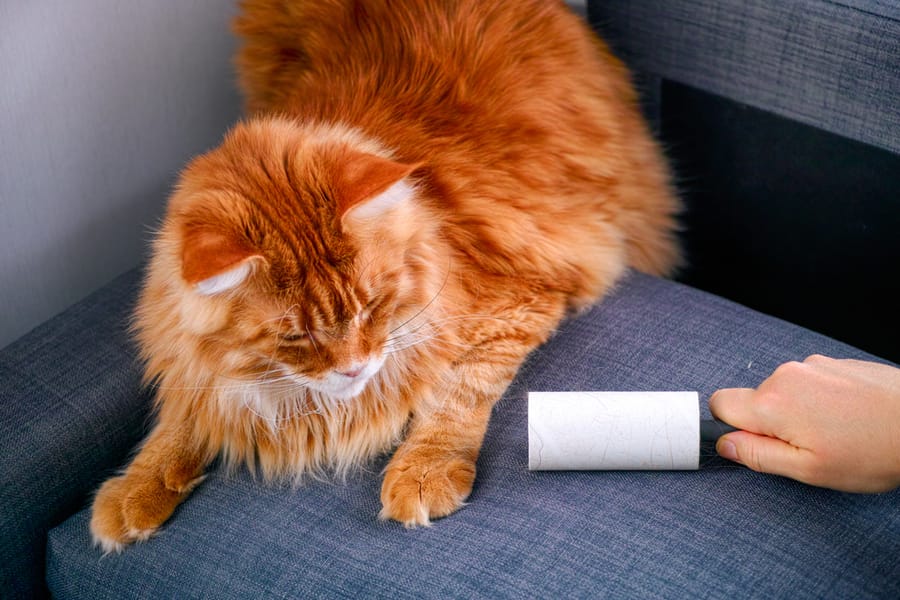 A lint roller will collect pet hair and other dirt that may be on your furniture. Keep one where you can easily access it and lint roll your furniture frequently. Additionally, vacuum your furniture and/or wipe it down as needed.
Teach Them Not to Go on the Furniture
When you first bring your pet home, don't let them jump up on the furniture. If you teach them this from the start, you can avoid it happening over and over again. But even if your pet already does this, with some positive reinforcement, you can change their behavior.
If your pet jumps up on the furniture, tell them "off" firmly. You can tell them to sit or lay when they jump to the floor so they don't instinctively jump back up again. Then, give them praise and/or a treat. They should eventually learn to not go on the furniture without the praise or treat.
Get Mentally-Stimulating Toys to Occupy Them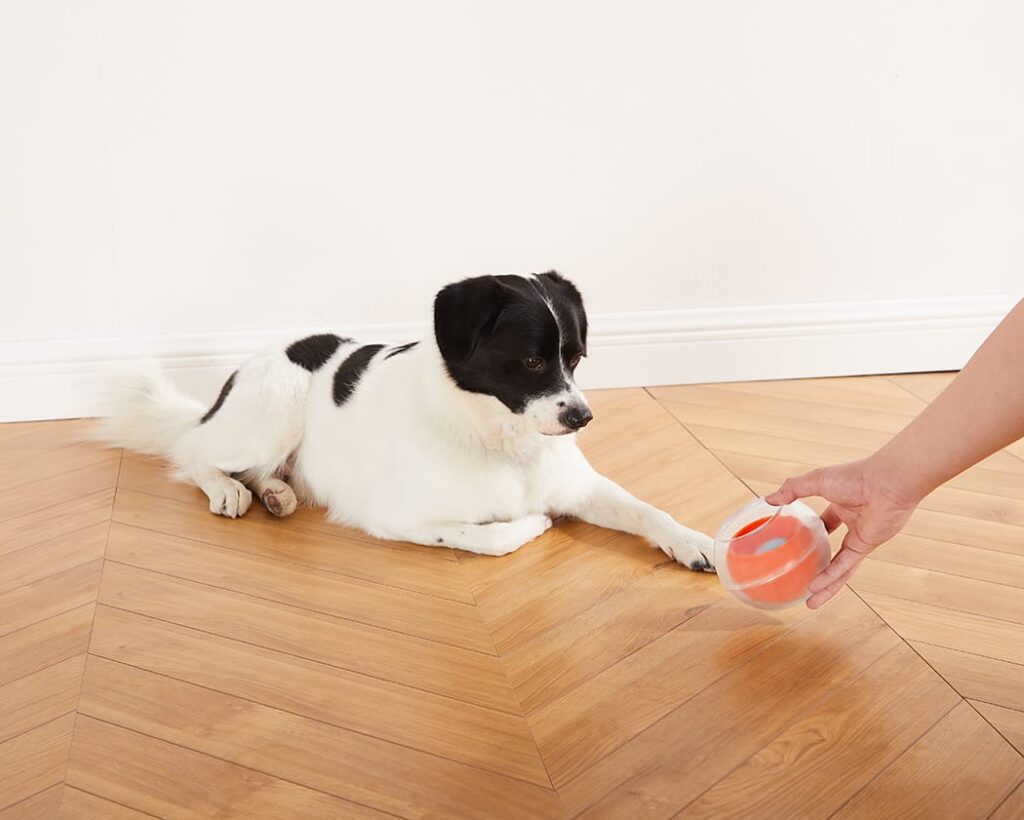 Pets need stimulation. If they are not physically and mentally stimulated, they're going to get bored and might destroy your furniture.
You can get your dog or cat puzzles that contain treats, along with toys to keep them occupied. Get your cat a cat tree so they can climb as well as a scratching post to keep them busy. Then, they will be less likely to touch your furniture.
Making a Comfortable Home
You want your pet to feel at home, but you also want to make sure that you have a nice interior design and nice furniture you can relax on. By getting pet-friendly furniture, you can achieve the best of both worlds for you and your dog or cat.