These Best Gifts for Dog People May Surprise You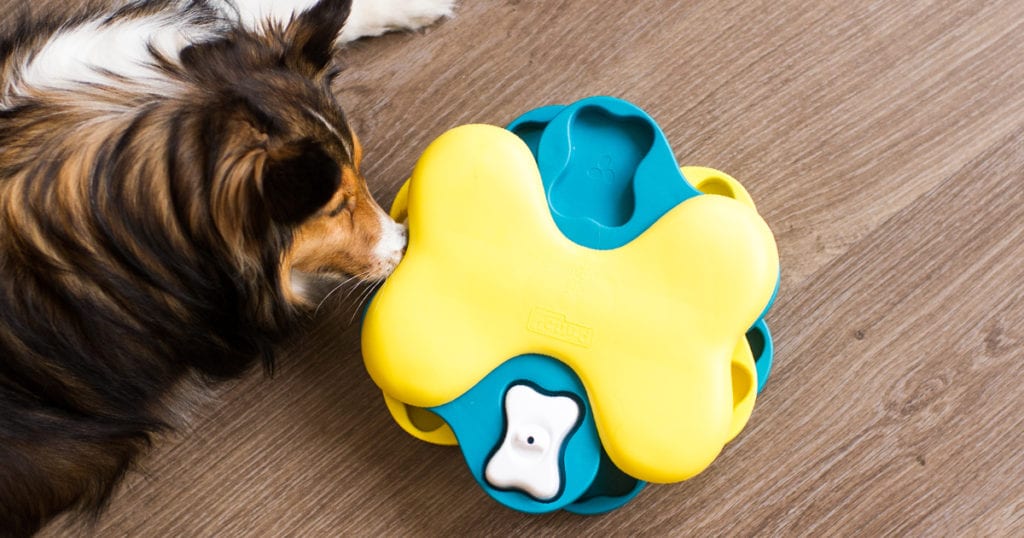 A lot of dog parents have to leave their dog at home for hours at a time while they are at work, probably worrying about them spending all that time alone. On the other hand, if they working from home these days, then pet parents might have to worry about seeing their dog right next to them, begging to play all day.
In either case, a dog lover like you doesn't want them to feel bored or neglected. So, what are some unique dog gift ideas for this holiday season? What kind of interactive dog toys will keep them entertained?
When picking out toys, it is important to understand that your best friend is driven by far more than the need to eat and chase tennis balls, and you should not underestimate their intelligence.
Some of the best toys that help dogs deal with alone time or solo-play time are those that engage their natural intelligence and stimulate them mentally. Interactive dog puzzle toys for your dog are great to sharpen their cognitive function and help keep them entertained while you are working. They are also a great dog bowl substitute for dogs that eat too fast.
So when your aggressive chewer has chewed through the last of the chew toys and squeaky plush dog toys, it's time to try something new! In this gift guide, you'll see a few of our favorite dog puzzle toys to get started with as well as suggestions for higher-level interactive toys as your furry friend becomes adept at solving these puzzles.
Level 1 Interactive Dog Toys
Level 1 toys are great gifts for newbies to food puzzles. These beginner toys require just a one-step process before your dog will be rewarded with a treat or a piece of kibble, making it easy for them to grasp the connection between their actions and the reward.
These level-one toys are the perfect place to get your pup started with interactive dog toys, as starting them out at a higher level may be frustrating for them and make it more challenging for them to understand how their actions lead to the reward.
If your dog is new to the world of interactive dog toys, here are some great Level 1 puzzles to help get them started:
1. Dog Smart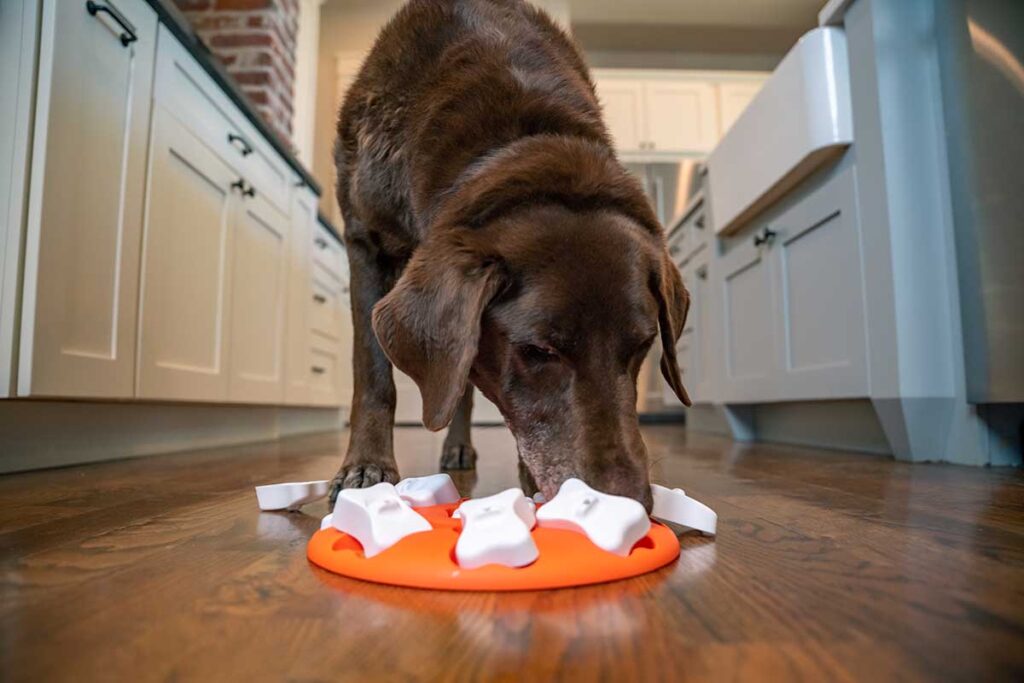 After using their nose to flip over a plastic bone, your dog will be rewarded with the treat you've hidden underneath! This puzzle is simple yet satisfying, and this skill is an essential building block for most interactive puzzle toys.
If you want your dog to progress through all four levels of dog puzzle toys, this is the perfect toy to start with.
Dog Smart Interactive Treat Puzzle Dog Toy, Orange
The Nina Ottosson by Outward Hound Dog Smart interactive dog puzzle is a fun way to get your dog excited about problem solving games! This level 1 dog puzzle toy features nine treat hiding compartments that can be filled with your pup's favorite treats and covered with nine dog bones that release the tasty scent of treats through the top hole. Place on the ground and watch your dog use his noggin as he…
2. Wobble Bowl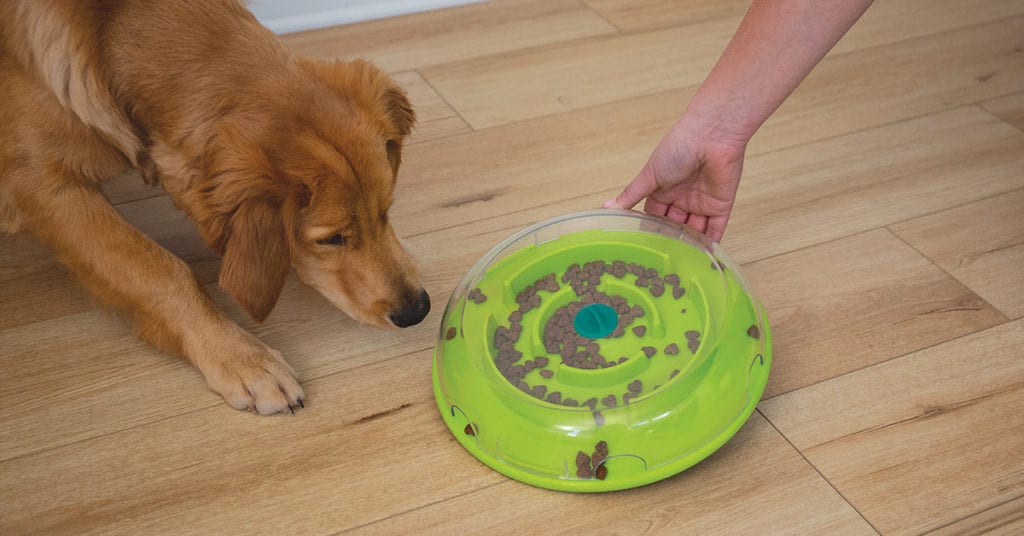 This puzzle is great for an extended mealtime (holding up to one cup of kibble) or for an afternoon snack with yummy dog treats. After showing your dog a few wobbles, they will quickly discover how to earn the rewards themselves (though they will not quickly empty this bowl no matter how fast they figure out the secret).
This treat dispenser is great for dogs who tend to eat too quickly as well as for those that need mental stimulation and self-guided play.
Wobble Bowl Interactive Treat Puzzle Dog Toy, Multi
It's fun. It feeds. It's a challenge your dog needs! Nina Ottosson Treat Puzzle Games fight boredom, help reduce destructive behaviors & exercise your dog's mind. Use the Wobble Bowl as a puzzle game to provide fun physical and mental stimulation. Or use the Wobble Bowl as a slow feeder to slow your dog's eating pace and prevent bloat and indigestion. The Wobble Bowl holds up to 1 cup of food…
Level 2 Dog Lover Gifts
When placing your first order for some new interactive dog toys, you might consider picking out and even ordering your next Level 2 toys as well.
Level 1 puzzles are designed to be figured out quickly, so it is very likely that your pup will get the hang of them after just a few days. Although they can and will continue to enjoy those level one puzzles for years to come, they will have the option to move up to a Level 2 treat dispensing toy rather quickly.
Level 2 toys require a combination of actions in order to earn the reward, so they will build upon the skills learned from a Level 1 puzzle toy. As you can tell from the toys listed here, there is a natural progression from certain types of Level 1 toys to the Level 2 toys that require similar actions.
1. Dog Brick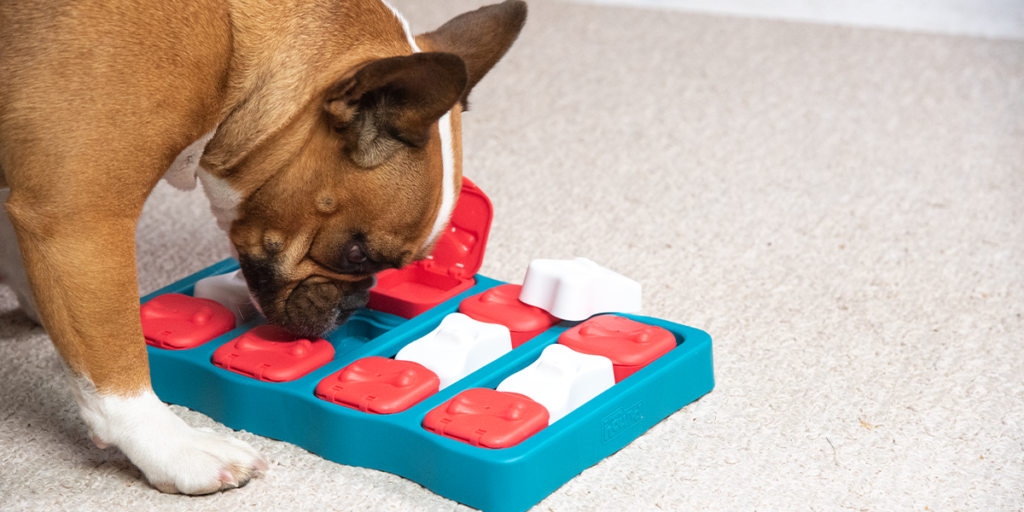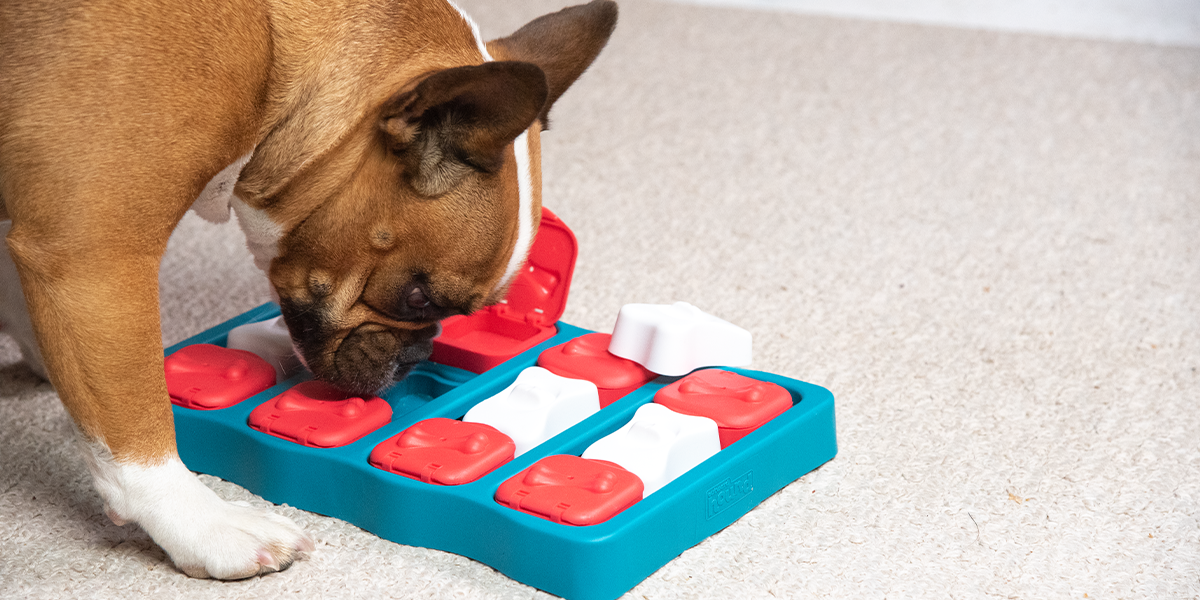 As you can see, the actions required to solve the Dog Brick are similar to that of the Dog Smart puzzle. So, although your dog might have mastered the Level 1 Wobble Toy, that won't necessarily prepare them for this particular Level 2 toy because the actions needed are so different; make sure that you are following a pattern of similar toys as you progress your pup through these levels to avoid frustration.
Flipping over the dog bones will not only reveal a treat you have hidden but also the option to slide open another compartment for yet another reward! This multi-step process will teach your dog the skills that they will need in order to progress to higher levels of toys in the future. Simply put your dog's favorite treat, dog food, or peanut butter in the compartments.
Dog Brick Interactive Treat Puzzle Dog Toy, Blue
The Nina Ottosson by Outward Hound Dog Brick level 2 puzzle dog game will keep your dog entertained for hours as they use their natural hunting skills to seek out the hidden treats! This toy comes with 3 easy-to-fill compartments to hide your dog's favorite treats and snacks in. Flip lid compartments open up to reveal the first compartment and can also slides to reveal a hidden second compartment…
2. Spin N Eat
After filling the barrel with dog treats or kibble, put the game in front of your dog. Your pup will learn to release the food by nudging or pawing the barrel to get it spinning.
$29.99 $15.00
Make mealtime fun and exercise your dog's mind by replacing your standard dog bowl with a puzzle feeder! The Dog Spin N' Eat dog puzzle holds up to 2 cups of food. It keeps dogs busy by encouraging your dog to work on their problem-solving skills. The mental workout from this level 2 dog food puzzle feeder fights boredom and extends mealtime, giving them the mental stimulation they crave. It's easy to use!…
3. Treat Maze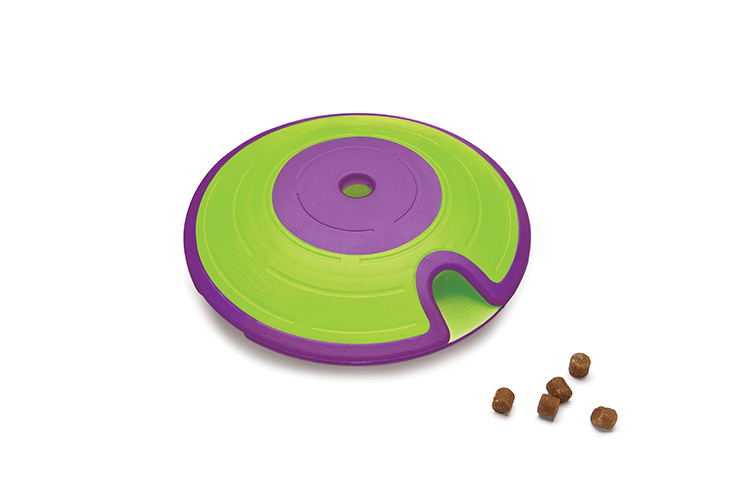 The natural progression from the Wobble Bowl is to tackle the interactive Treat Maze! While the wobble bowl has clear plastic sides that reveal the rewards within, this treat maze offers a slightly more mysterious yet similar challenge.
Great for snack time and delicious treats, your dog will enjoy the added challenge of this treat dispensing dog toy as they flip and roll it around similar to a treat ball.
Treat Maze Interactive Puzzle Dog Toy, Green
The Nina Ottosson by Outward Hound Treat Maze is a level 2 game perfect for pet owners needing an enticing solo game to reduce destructive behavior and boredom for their pups. Great for pups who have mastered level 1 games and are ready for an added challenge! This brightly colored dog puzzle game is easy to fill with treats and can be shaken to release the scent in case you pup hasn't already noticed! The…
Level 3 Interactive Dog Toys
Level 3 puzzle toys for dogs require sequential steps, further developing the logical connections between their actions and the results that they learned with some of their Level 2 interactive dog toys.
Once your dog has thoroughly mastered their Level 2 toys like the Dog Brick, you can consider offering them a more advanced challenge like one of these by Nina Ottosson:
1. Dog Twister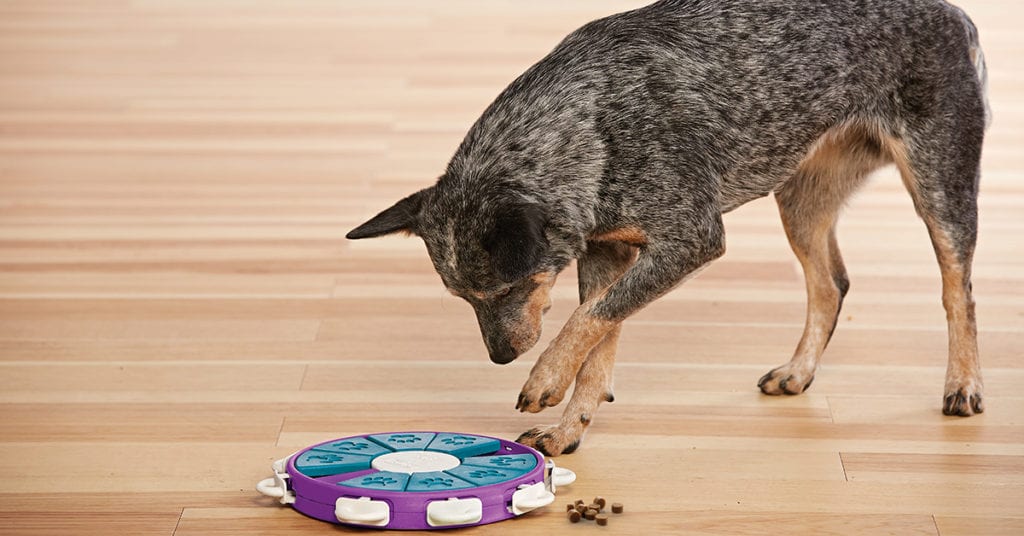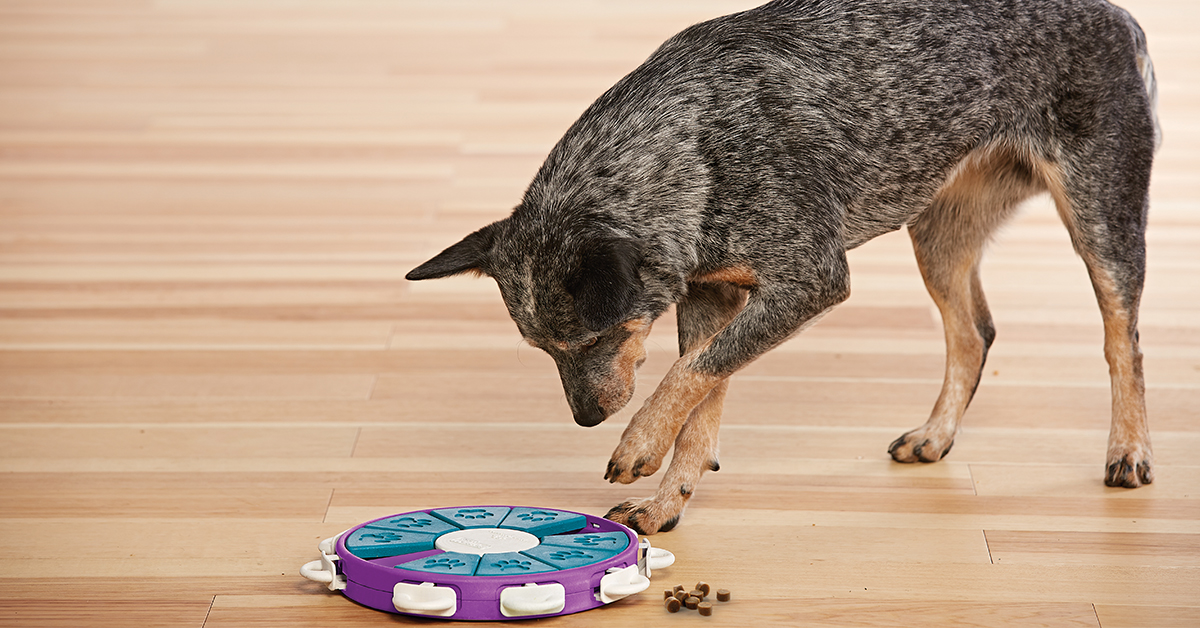 Before a dog paw print cover can be moved to reveal the reward, the tab on the side must be pulled out on the Dog Twister. Although an immediate reward is not received from the pulling of the tab, with their experience from Level 2 toys, your doggie will understand that a reward is still waiting for them after another step has been completed.
Nina's tip: If your dog has arthritic issues, try putting the puzzle on an elevated dog bed to lessen joint strain.
Dog Twister Interactive Treat Puzzle Dog Toy, Purple
When you're looking for a toy for bored dogs who have mastered the simpler dog treat puzzles, this engaging level 3 advanced interactive treat puzzle from Nina Ottosson by Outward Hound is the perfect next step! The Dog Twister interactive dog puzzle toy features nine treat drawers for dog treats which are secured in place with nine white tabs. Just simply place the treats in the drawers, slide them in,…
2. Challenge Slider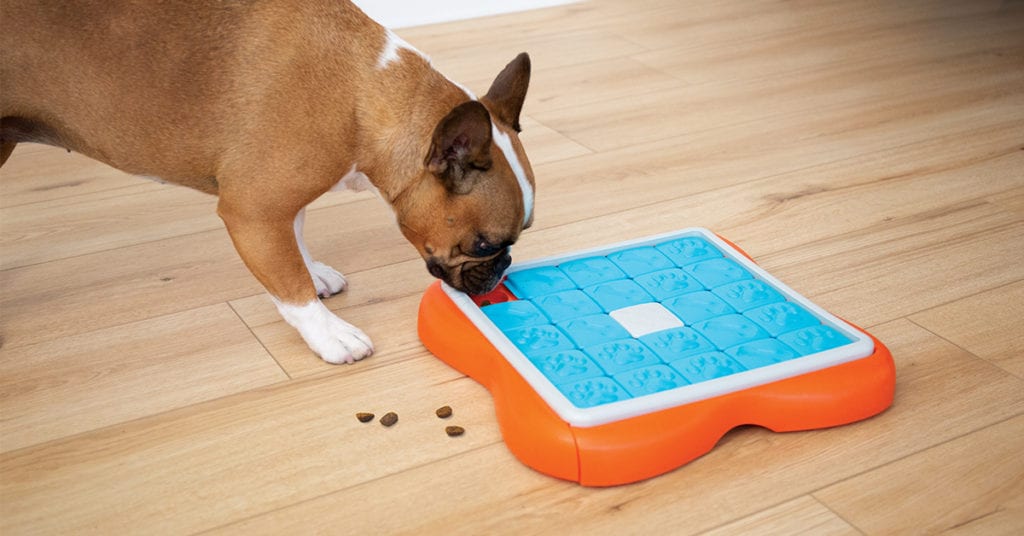 Instead of flipping pieces out of the way, this puzzle requires your busy buddy to slide pieces out of the way in order to uncover the treats. You can hide up to 24 dog treats inside of this toy, but it will likely take many more than just 24 slides for even the wittiest of dogs to uncover them all.
For easy setup, you are able to slide out drawers to fill the treat spaces all at once, instead of sliding each one yourself.
Challenge Slider Interactive Treat Puzzle Dog Toy, Multi
The Challenge Slider dog puzzle from Nina Ottosson by Outward Hound is an advanced level 3 game designed for pups who have mastered levels 1-2. This dog toy will promote the mental wellbeing of your dog by keeping them active and engaged while sniffing, nudging, and pawing for hidden treats! A sliding tray pulls out from underneath with 24 compartments that can hold up to 1 cup of food total…
Level 4 Interactive Dog Toys
If your dog seems to thoroughly enjoy their puzzle games and needs an even more extreme challenge, then chances are that they are ready for a Level 4 toy!
MultiPuzzle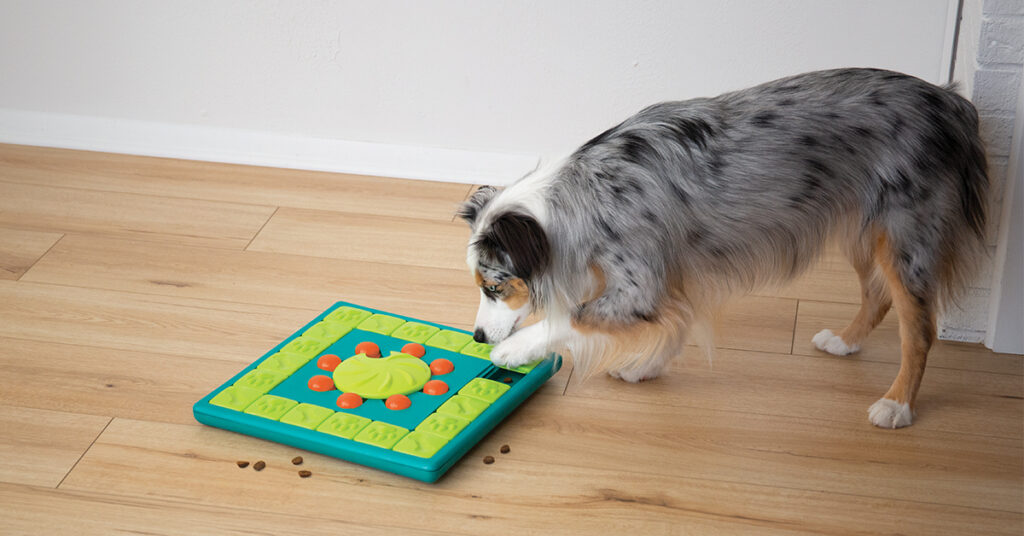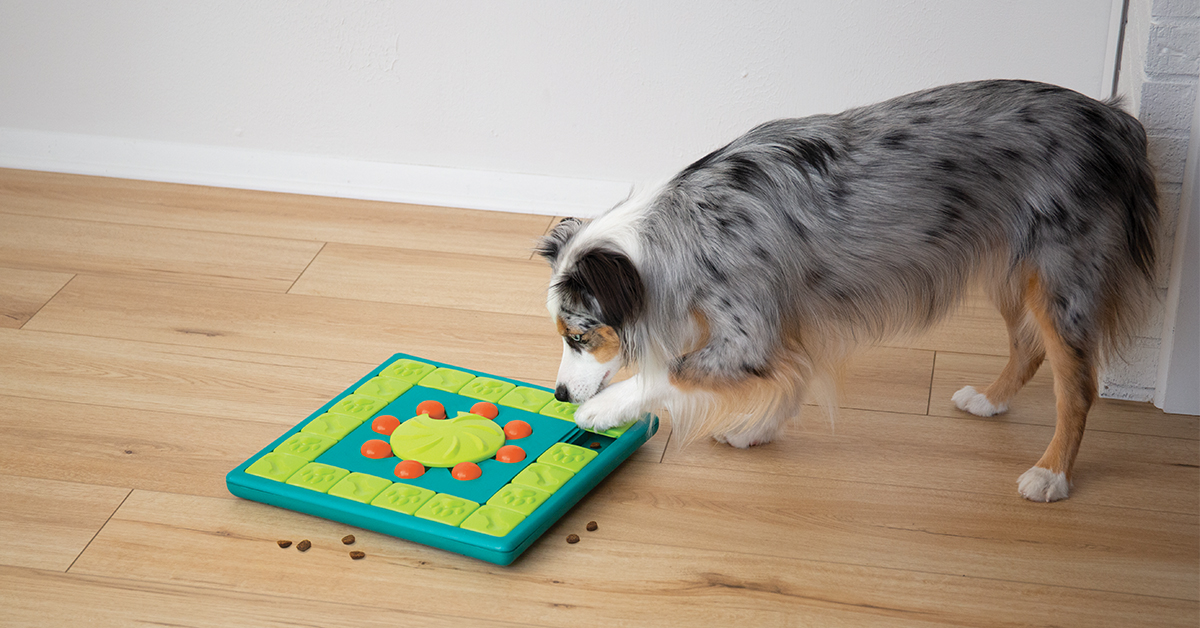 This Level 4 interactive dog toy requires a similar sliding motion to that of the Challenge Slider along with the added puzzle of the rotating disk in the center. Engineered for only the cleverest of dogs, will yours be up for the challenge? This is the best gift for super smart dogs like Border collies.
MultiPuzzle Interactive Dog Treat Puzzle Toy, Blue
The Nina Ottosson by Outward Hound MultiPuzzle level 4 interactive dog puzzle toy will keep your dog entertained for hours as they use their natural hunting skills to seek out the hidden treats! Your pups' favorite dog treats or kibble can be hidden in the outer and central compartments by sliding the puzzle pieces and let the games begin! This puzzle is ideal for dogs who have already mastered levels 1-3…
What About Interactive Plush Dog Toys?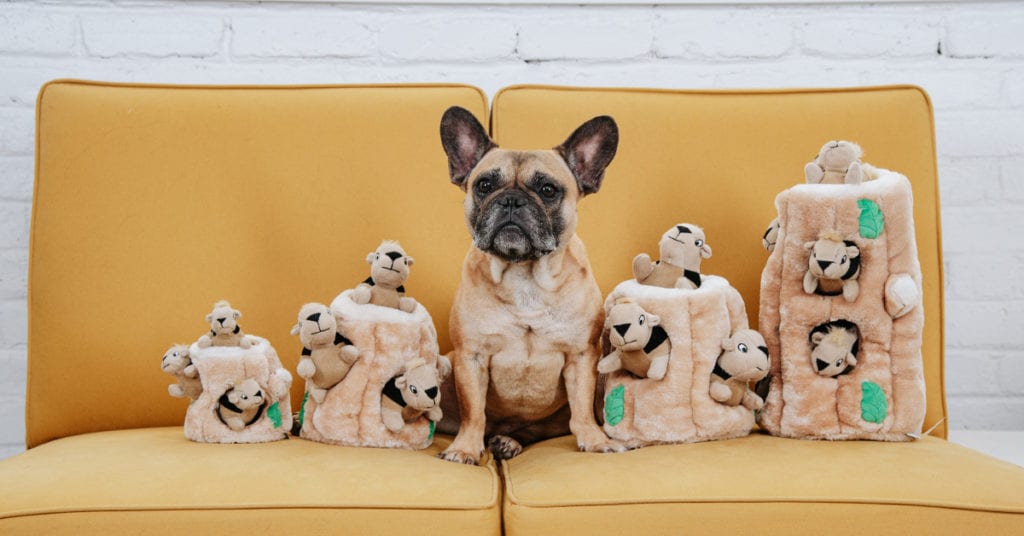 Made for dogs of all skill levels and sizes from small dogs to large dogs, the Outward Hound Hide a Squirrel is a plush dog puzzle designed specifically to eliminate boredom, encourage positive play, and feed your dog's natural hunting instincts.
The three squirrels have squeakers that will entice your dog to find and retrieve them out of the trunk holes like a game of hide and seek. Some dogs even engage with the trunk on its own for a game of tug of war! The individual squirrels are great for a game of fetch too.
Tip: Replacement squirrels make great stocking stuffers!
Hide A Toy Plush Puzzle Toy
Outward Hound's Hide A line of hide and seek plush dog puzzles was designed specifically to eliminate boredom, encourage positive play, and feed your dog's natural hunting instincts. 2-in-1 interactive play means double the fun with options to play fetch or hide and seek to keep your dog mentally-stimulated. For dogs who can't get enough of these plushy animals, check out our replacement 3-packs! Bound to…
What Makes Interactive Dog Toys the Perfect Gift?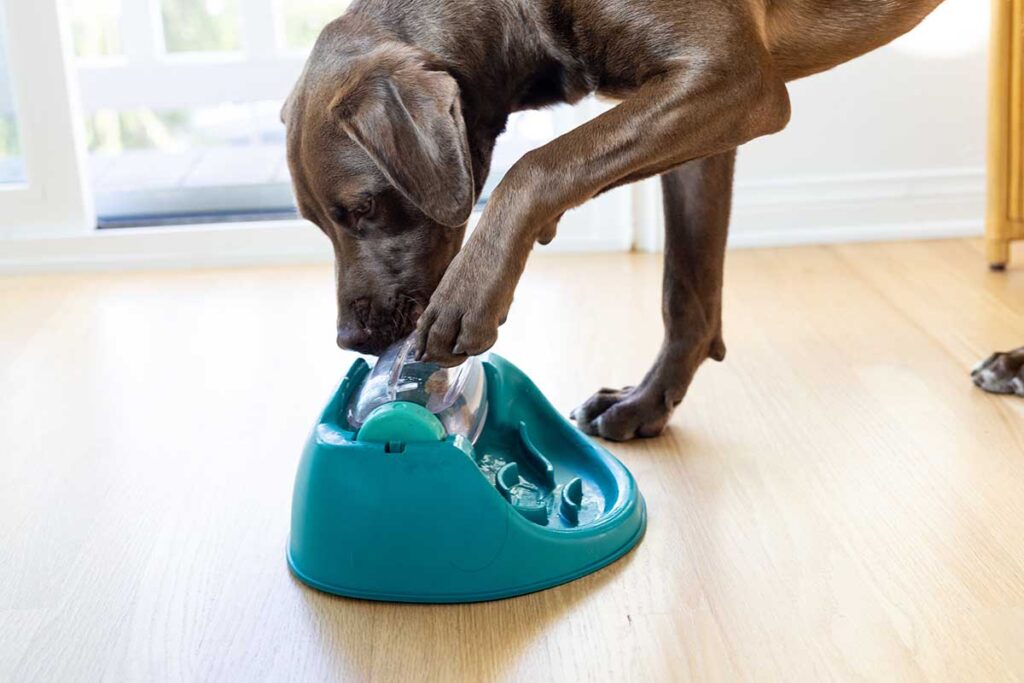 According to PetMD, a mentally stimulated dog is a happy dog. It is just as important to give our pets the correct amount of physical exercise as it is to play mentally stimulating games of interactive play with them.
As a loving pet owner, laying a puzzle game with your dog is a great way to fill this need for mental stimulation so your pooch is happy and healthy for years to come.
Bonus gift ideas
Here are some other unique gift ideas for the dog-loving human in your life:
Custom pet portrait
Personalized water bottle or coffee mug with the dog's face on it
Personalized dog collar or bandana with the dog's name (Etsy is a good place to look)
Dog DNA test
Compact water bowl for travel
Dog toy subscription box or gift set
Festive bandana
Dog owners can find these holiday gifts, interactive dog games, cute dog blankets, snuffle mats, slow feeders, tug toys, puppy toys, dog leashes, dog chew toys, and more on our Outward Hound website, Chewy, at Amazon, or your local pet store.
This post contains affiliate links. If you make a purchase after clicking one, Outward Hound may receive a small commission.