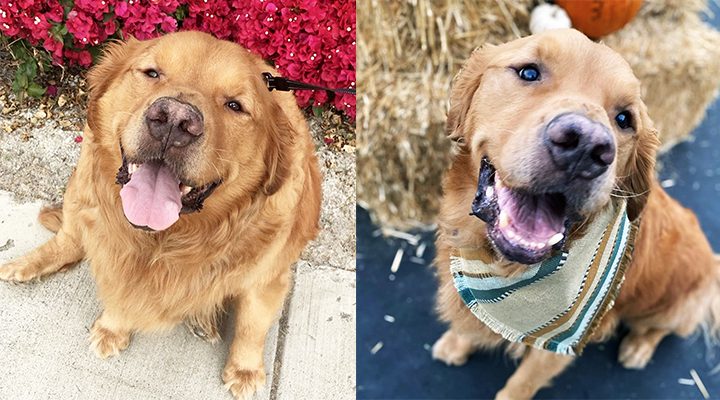 Kelsey didn't realize she'd be bringing home a 150-pound Golden Retriever when she started looking to adopt a furry companion at the beginning of 2019. She knew she wanted an extra-large dog when she began her search. Once she saw Phil and that big smile, she realized her extra-large dog was also going to be an overweight dog.
For reference, Phil, or Orange Boy Phil as he's called on Instagram, is a 6-year-old Golden Retriever. Male Golden Retrievers usually weigh between 60 and 80 lbs. Phil weighted as much as TWO male Golden Retrievers put together when he and Kelsey met.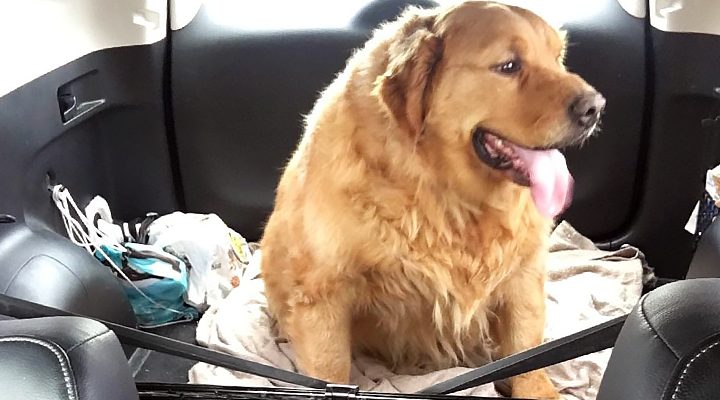 Days after bringing Phil home, Kelsey began to see just how much Phil's size affected so many elements of his life. "He was too overweight to walk up the stairs, and he couldn't walk on hardwoods without slipping." Unfortunately for him, Kelsey lived in a second-floor condo with all wood floors, causing Phil to endlessly slip and slide. "Our first few days together involved a lot of lifting up and down steps and covering the floor with blankets so he could walk."
In addition to the blankets, Kelsey made many other accommodations for Phil. He needed a pawrent like Kelsey to stop and reverse the unhealthy habits that had led to his extra weight. The minimal exercise and overeating had to stop. Besides the difficulty walking, Phil was also extremely prone to develop serious health conditions because of his weight. And Kelsey was ready to provide the tools Phil needed for a healthier life.
What Kind of Health Risks Do Overweight Dogs Face?
Did you know that over half of the dogs in the US are overweight? And yet 95% of dog owners don't realize it's their dogs that need to lose a few pounds. Chonkers and plump puppies may be adorable, but their extra weight puts them at risk.
Not only was Phil's mobility very limited, but his weight made him quickly out of breath. Just like with us humans, carrying around extra weight weakens our pup's immune systems. Overweight dogs are more likely to develop Type 2 Diabetes, high blood pressure, and other life-threatening conditions.
Phil had enough extra weight on him to substantiate a medium-sized child. If he went on unchecked, he would undoubtedly develop arthritis, heart and respiratory issues, and a shorter life expectancy.
Kelsey immediately fell in love with Phil (as we all have) and together they dove into a strict daily routine. She introduced walks into Phil's routine. At first, they just went around the block, then around the street. Soon, Phil and Kelsey were taking at least three walks a day and went over four miles!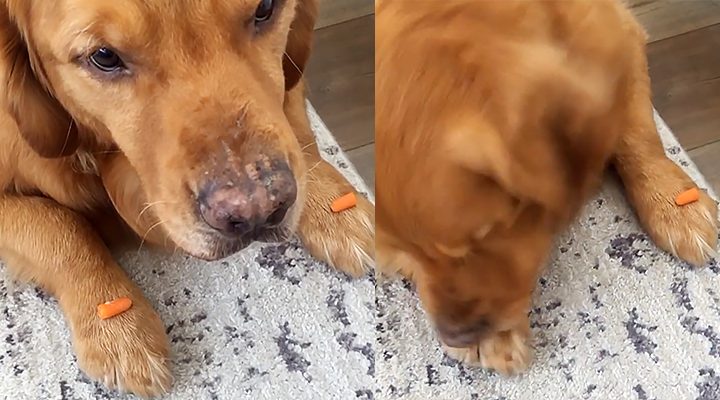 Carrots and apples became Phil's favorite rewards. By April of 2019, two months after coming home, Phil got a new collar from Kelsey. It was normal, size large dog collar, instead of the handmade, overstretched one he had to wear before.
How Can We Prevent Obesity in Dogs?
By upping his physical activity, Kelsey and Phil already won half the battle. Now Kelsey turned to Phil's eating habits. It's very important for dogs to eat their meals at a healthy pace, and Phil would scarf down.
It's very dangerous when dogs to eat too fast. When they wolf down their food in minutes flat, they swallow more air than normal. The extra air can lead to a serious medical condition called bloat.
Bloat expands their stomachs. A common side effect is that their stomachs twist within the abdomen. This is immediately life threatening and can cause your dog to go into shock.
The American Kennel Club's #1 recommendation for preventing bloat is to slow your dog's roll with a Slow Feeder Bowl. Our Outward Hound Fun Feeder Slo Bowl will make your dog eat 10 times slower than usual. This helps improve overall digestion and teaches them to eat a healthier pace – and it's what Kelsey used to help Phil, too.
Bloating, regurgitation and canine obesity and the most common issues associated with dogs who eat too fast. Our Fun Feeder Slo Bowls both challenge and engage your dog during mealtime to reduce this overeating behavior. The bowls have a non-slip base to keep it in one place, and they're always BPA, PVC, and phthalate free.
Phil Feels the Gift of Weight Loss
As Phil started to lose the weight, he began to express himself a little more. He would do more tippy-taps, wags, little hops, and all the playful things we love watching our dogs do. By November of 2019, Phil weighted in at 113.2 lbs. This was a whopping 37 pounds less than when Kelsey brought him home. "He's doing such an amazing job, and I'm so proud of him!" Kelsey wrote on her Instagram.
By establishing healthy habits and a routine for Phil, she was able to help him get down to the healthy weight of 85 pounds by October of 2020.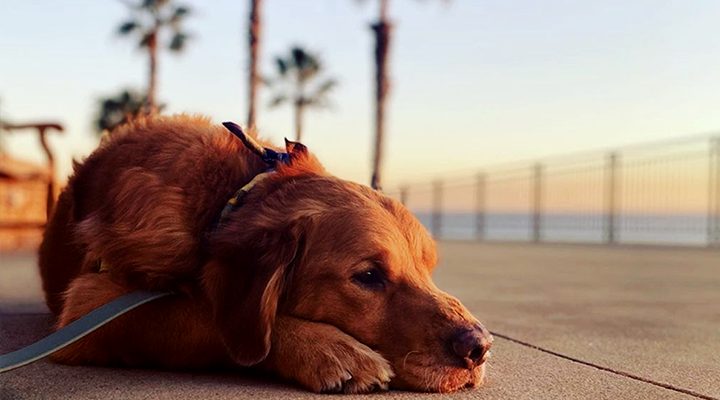 Are you concerned that your dog may be overweight? If you have difficulty feeling their ribs on their abdomen through the layer of fat, it's likely that your dog is overweight. Click here to learn more about how to tell if your dog is overweight. In addition to improving their eating habits, walking, fetch, swimming, agility training, and more are out there for you and your pup to enjoy while getting active at the same time.
Need a Fun Feeder Slo Bowl of your own? Click here.
Want to learn more about amazing dogs? Check out: