No matter what breed your dog is, they're individuals! One dog in a two-pittie household might live for games of fetch, whereas the other dog might simply prefer to laze about in a comfy spot with a chew toy most of the day. Whatever type of play your pit bull-type dog prefers, there's a fun and engaging toy for any kind of pooch.
Before jumping into some of the best dog toys for pit bulls, let's talk about some of their characteristics and specific needs.
Characteristics of Pit Bull-Type Dogs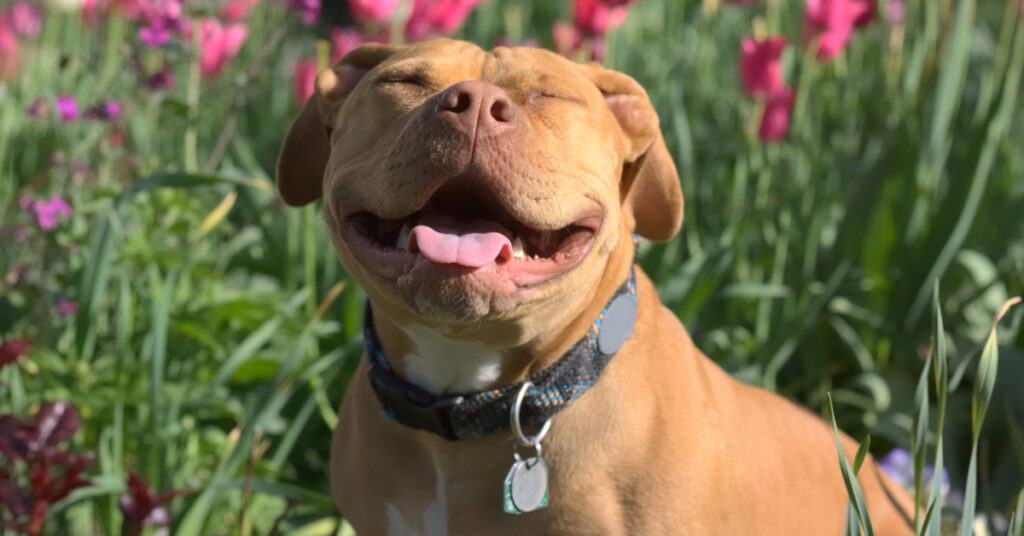 We say "pit bull-type" dogs because the majority of dogs identified as "pit bulls" aren't actually pit bulls. "Pit bull" is an umbrella term that describes any dog with certain physical characteristics: a big, blocky head, goofy grin, slim torso, and beefy chest. Breeds like the Amerian bully, American pit bull terrier, bull terrier, Staffordshire terrier, and American bulldog all go under this moniker.
As they say, never judge a book by its cover. Pitties may look tough at first glance, but they're really just big goofy lovebugs. My American bully rescue, for example, is a total goober who's afraid of his own farts.
For a full, in-depth look at pitties, common misconceptions, history, and scientific studies, check out Social Justice, Pit Bull Statistics, and Bully Myths vs. Facts by dog trainer and author Sassafras Lowrey.
Strong Plush Toys & Best Chew Toys for Pit Bulls
Without further ado, here are some of the best toys for pit bull-type dog breeds.
1. Pit Bull Parent Favorite: Planet Dog Orbee-Tuff Diamond Plate Ball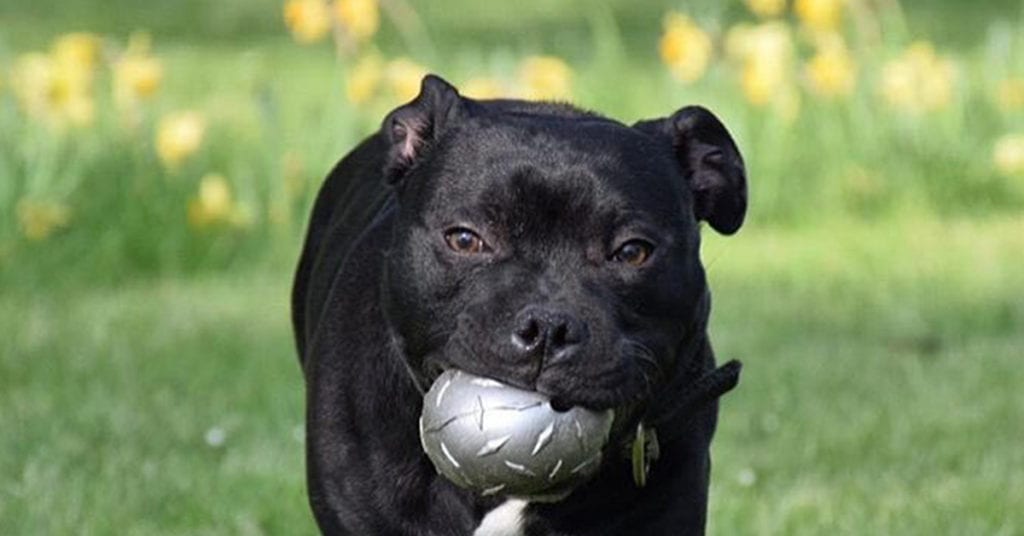 If you have a pittie who is an aggressive chewer, you know that there's no such thing as an indestructible dog toy. Lucky for you and pit bull owners everywhere, the Diamond Plate Ball by Planet Dog comes pretty close.
Designed with power chewers in mind, this heavy-duty dog ball can withstand hours and hours of chewing, chasing, catching, and fetching! Reward your pup for good behavior by adding some treats into the small opening in this durable toy and rolling it their way to encourage engagement.
Here's what one Amazon reviewer and pittie owner had to say about it:
"We have an 85-lb pit with an enormous head and extremely strong jaws. The only toys he can't destroy are the Extreme Kong toys and the GoughNuts products … We have even resorted to buying him toys meant for horses, but with no luck. It takes him less than 20 seconds to shred a tennis ball and well under a minute to start tearing apart the toys meant for heavy chewers. We bought him this ball with no hope, but it's been weeks now and he hasn't made a dent in it. We even took it to show his doggie daycare employees and they are now buying them for the large "clients". I think your dog will love them, too!"
And another:
"Holy Cow! It's still in one piece???? Miracles DO happen! My pair of lab/pit bull mixes have destroyed almost every toy we give them. Got the silver and the purple balls and they are still in perfect condition. The kids love them. We love them. They have enough elasticity to make them interesting but are firm enough to stand up to the toy-destroyers."
Orbee-Tuff Diamond Plate Ball Treat-Dispensing Dog Toy
Planet Dog's Orbee-Tuff Diamond Plate dog ball is the most durable Orbee-Tuff dog toy designed specifically for aggressive chewers! This treat-dispensing dog fetch toy is made in the USA with high-quality TPE rubber that's BPA, lead, and phthalate-free. Bouncy and buoyant, this dog toy can withstand hours and hours of chewing, chasing, catching, and fetching! Reward your pup for good behavior by adding…
2. Best Toy for Tug-of-War: Invincibles Snake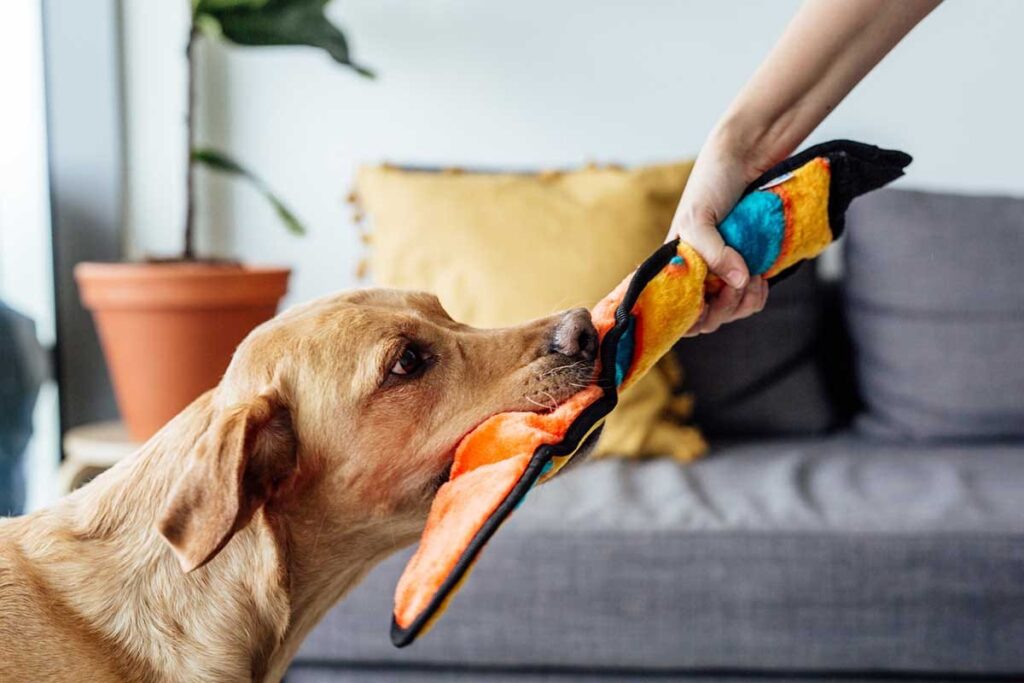 Perfect tug toys for a game of tug-of-war, the squeaky Invincibles Snakes are available in three different sizes so dog owners can choose the right fit for your dog's size and activity level: Large (3 squeakers) XL (6 squeakers) XXL for large dogs (12 squeakers).
"My pitbull Stella loves these! I've bought her two of the smaller snake toys in the past and she Absolutely loves them! The first one lasted about 6 months which is a lifetime compared to how long her other toys last lol and the second one lasted about the same."
Invincibles Green Snake Plush Dog Toy, Green, XXL
Outward Hound's line of Invincibles was specifically designed for dogs who like to play rough. While still cuddly and cute on the outside, these plush toys have a special Dura-Tuff inner lining and double-layered outer seams to keep your pup's new best friends intact longer. The stuff-free design reduces messiness and multiple squeakers will keep your dog entertained even after they've bitten through…
3. For Brainiacs: MultiPuzzle
This level 4 interactive dog puzzle toy will keep your dog entertained for hours as they use their natural hunting skills to seek out the hidden treats! If your pittie is a speedy eater, he can eat his dog food out of this as well. Smear some peanut butter in the compartments to keep them interested.
MultiPuzzle Interactive Dog Treat Puzzle Toy, Blue
The Nina Ottosson by Outward Hound MultiPuzzle level 4 interactive dog puzzle toy will keep your dog entertained for hours as they use their natural hunting skills to seek out the hidden treats! Your pups' favorite dog treats or kibble can be hidden in the outer and central compartments by sliding the puzzle pieces and let the games begin! This puzzle is ideal for dogs who have already mastered levels 1-3…
4. For Dogs New to Puzzle Games: Treat Tumble
The Treat Tumble is a level 1 treat-dispensing dog puzzle perfect for newbies to dog games. Your pittie or pitbull puppy will love sniffing and scooting this ball around the floor as the kibble falls out.
Chewy review: "Great for house hippos/pibble jaws. The first thing our pit girl wants to do is break things with those massive jaws. She is not able to get her mouth around this and has been bopping it around the house for 30 minutes! We are getting another one!"
Treat Tumble Interactive Puzzle Dog Toy, Red, Large
The Nina Ottosson by Outward Hound Treat Tumble is a perfect puzzle ball for any pup! A level 1 treat-dispensing dog puzzle, the Treat Tumbler will keep your dog intrigued as they roll the ball and sniff around to find ways to release the reward. Easy to fill with two treat-dispensing holes. Made with food safe BPA-free plastic that is easy to wipe clean for outdoor and indoor fun!BEGINNER'S PUZZLE…
5. For Rubber Ball Fanatics: Planet Ball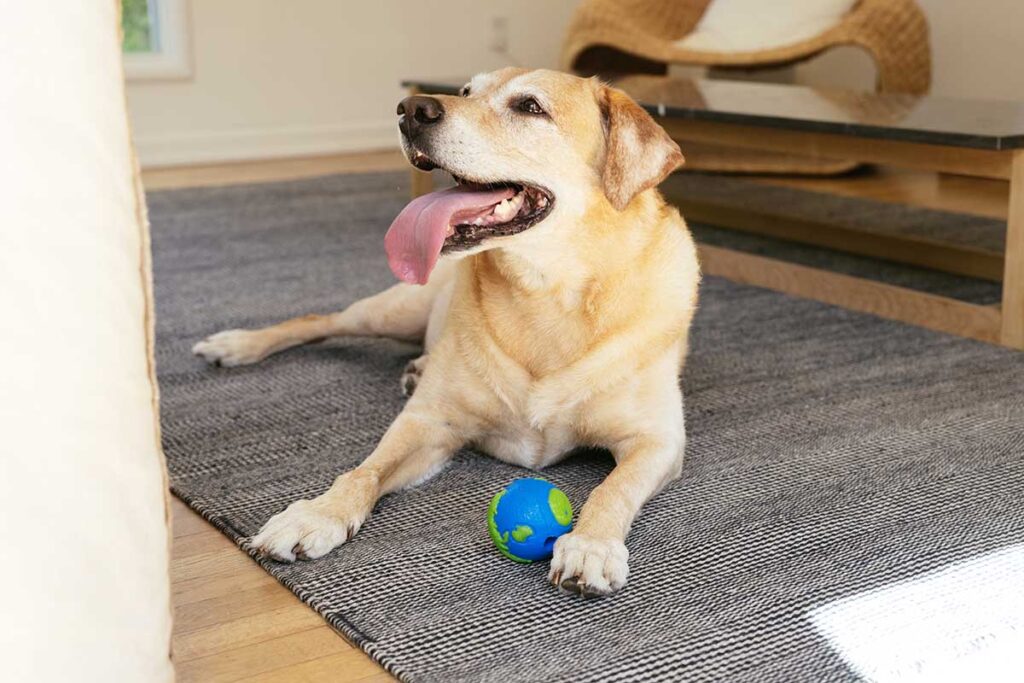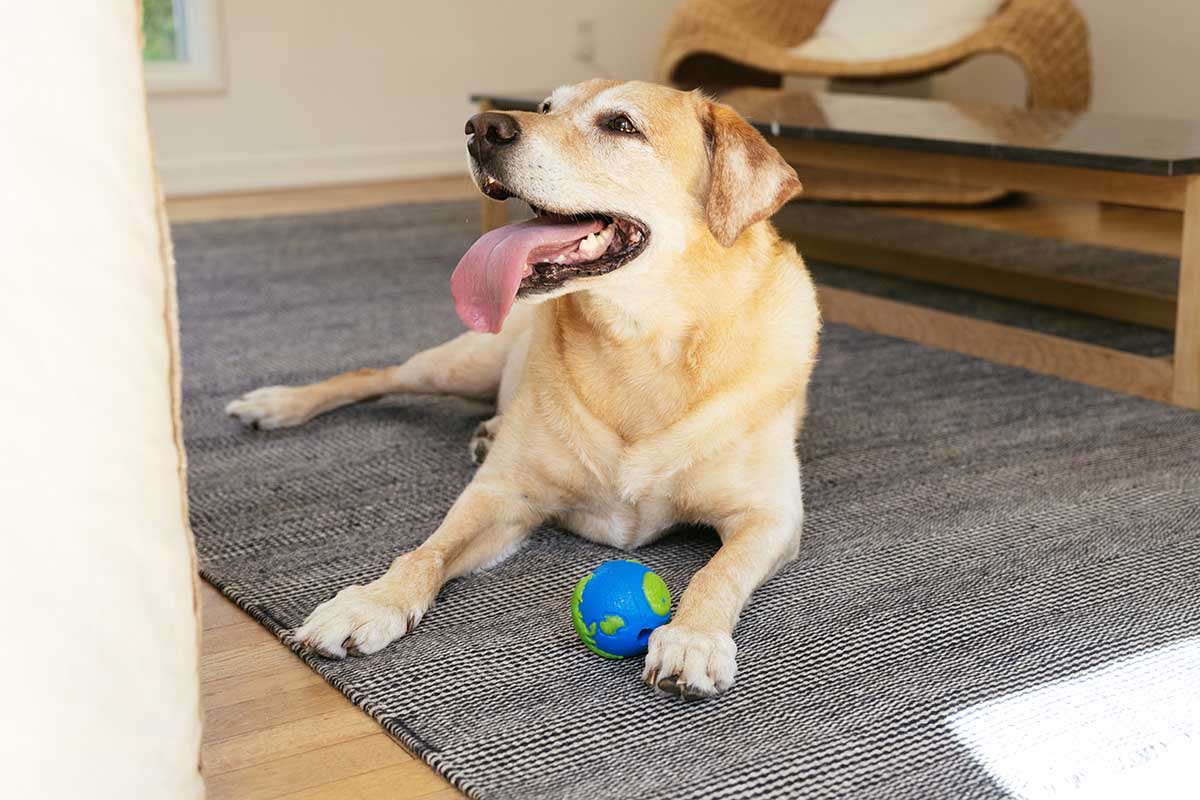 Rated a top fetch toy by magazines and called the "world's best dog ball" by industry experts, the Orbee-Tuff Ball is what put Planet Dog on the map! This durable and bouncy dog toy is made in the USA from high-quality BPA, lead, and phthalate-free materials that you can trust. In addition to being an ideal fetch and chew toy, it can be stuffed with your pup's favorite treats to keep them occupied. Available in multiple colors and sizes for small and large breeds. Note, the single color chewy rubber toy ball is made from one solid piece of rubber specifically with aggressive chewers in mind.
Chewy review: "DOES NOT BREAK. I love this ball our pit bulls go thru toys so fast and these are so worth the price as they're 4 months old and still good as new. Thank you so much."
Orbee-Tuff Planet Ball Treat-Dispensing Dog Toy, Medium
Rated a top product by numerous magazines and called the "world's best dog ball" by industry experts, the Orbee-Tuff Ball is what put Planet Dog on the map! This durable and bouncy dog toy is made in the USA from BPA, lead, and phthalate-free materials that you can trust. In addition to being an ideal fetch and chew toy, the Orbee-Tuff Planet Balls can be stuffed with your pup's favorite treats to keep…
6. Hide-a-Squirrel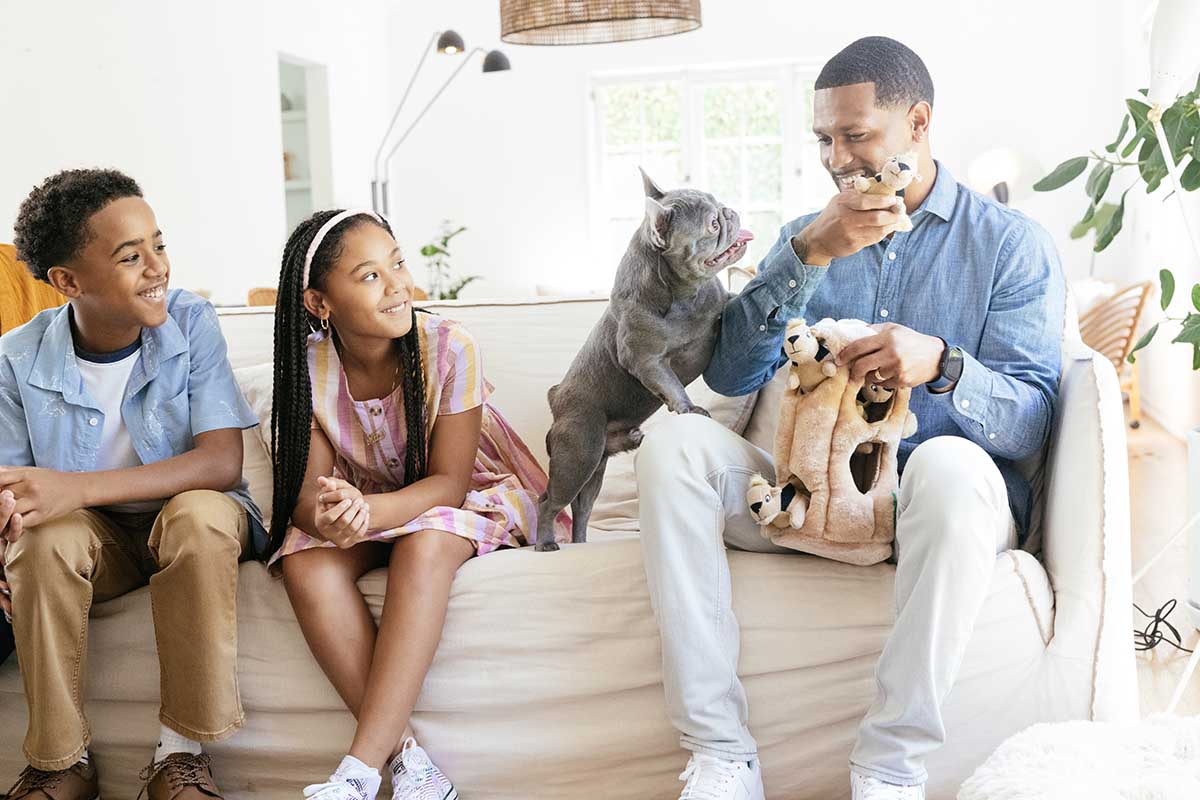 Review by a pittie parent with realistic expectations:
"By no means is this thing chew-proof BUT as long as you're not looking for that then this is PERFECT if you have 3 bored and too smart for their own good dogs! I have 3 pits that are just about sick of everything in their toy box (which is overflowing at this point) and they will play with this for hours! Plus it's hilarious to watch them! My one pup can't stand the squirrels being in the tree so no matter what she's doing when I put them back she has to come take them out. We've got a couple squirrels that look like chipmunks with mohawks now from the dogs ripping the tails off but hey whatever makes them happy! I'd say the only downfall of this toy is that I keep finding squirrels in my bed 😂"
Hide A Toy Plush Puzzle Toy
Outward Hound's Hide A line of hide and seek plush dog puzzles was designed specifically to eliminate boredom, encourage positive play, and feed your dog's natural hunting instincts. 2-in-1 interactive play means double the fun with options to play fetch or hide and seek to keep your dog mentally-stimulated. For dogs who can't get enough of these plushy animals, check out our replacement 3-packs! Bound to…
7. Dogwood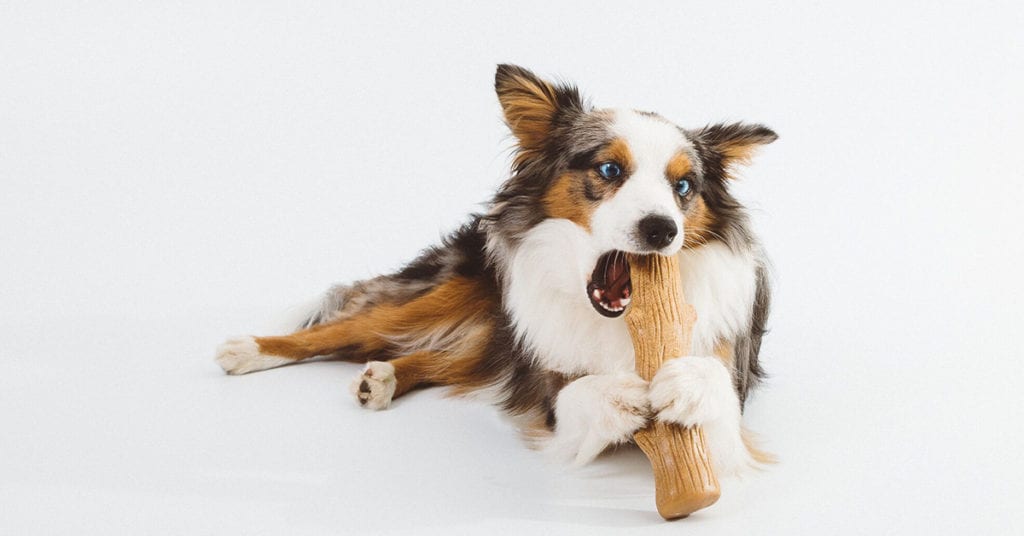 Chewing helps puppies deal with teething pain, and it helps your dog's teeth clean and exercises their jaw. Dog chew toys can also help relieve anxiety, boredom, and frustration.
"These bones LAST! I have a 50 lb hunting dog, a pit bull, a jack russell mix, and a Rottweiler! All of them chew on these and it's pretty much non-stop! This is the only bone that I've found that lasts more than two days in this house and it's reasonably priced!"
Dogwood Wood Alternative Dog Chew Toy, Original
A safe and long lasting alternative to chewing real wood sticks, Petstages Dogwood product line has all the taste and texture of a natural tree branch, but will last much longer and won't splinter and cause potential harm to your beloved pup. Made in the U.S.A. to ensure quality and care, Dogwood combines real wood with lead-free and phthalate-free synthetic strength, making it a chew toy favorite…
8. Our Toughest Plush: Xtreme Seamz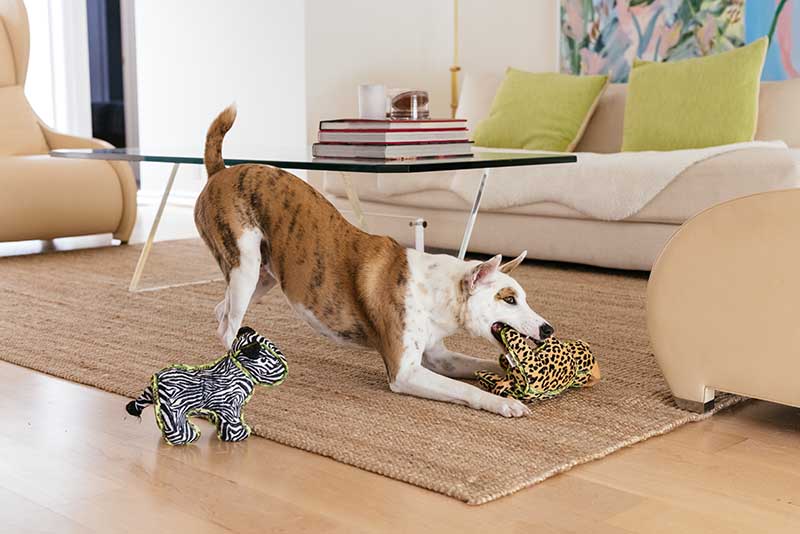 We know dogs play hard—that's what makes playtime fun! Xtreme Seamz were made with playtime in mind and designed with triple-stitched reinforced binding to cover seams and multiple layers to keep tails wagging.
Xtreme Seamz Gorilla Dog Toy, Brown, Medium
We've taken durability to the XTREME with our new Outward Hound Xtreme Seamz safari collection! The new animal shape designs have triple stitch binding covering the seams, tight quilting on the plush body with fused nylon rip-stop backing and super dense stuffing making this collection our toughest toy yet! We couldn't leave our Invincible Squeakers out that Keep Squeakin If Punctured, making this toy the…
9. Liver Branch
"Stands up to hardcore chewing! I have a 40+ lb Pit mix and a 60 lb Pit and we've had the bone for over 2 months (one of the dogs Xmas gifts). They have barely made a dent in it so far! My neighbor's dog comes over for play dates (smaller terrier mix) and he actively seeks out this bone over the other 6-7 bones we have. If you have a tough chewer this is a good choice. No splintering or chunks falling off. The only other bones I have found that stand up are Nylabone brand, I thought I would give this one a shot as it was on sale and I'm happy I did."
Liver Branch Dog Chew Toy
Petstages chew toys satisfy your dog's natural instinct to chew with a wide variety of innovative and durable toys that enhance their dental health and keep dogs occupied with appropriate chewing solutions. The ergonomic design and shape make it easy for dogs to hold between their paws as they gnaw away on the chew toy. Great for dogs that love to chew, the Liver Branch occupies dogs as much as it…
10. Tail Teaser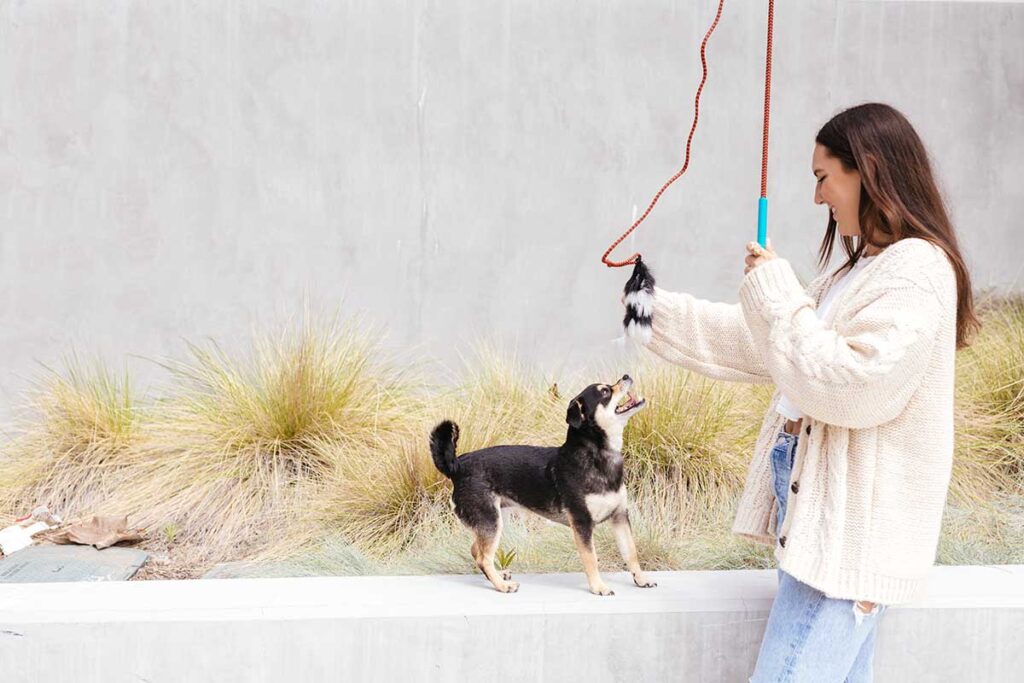 Last but not least: the Tail Teaser. My pittie has an unhealthy relationship with this toy. He is so obsessed with it that he never wants to stop playing. I have to hide it in a closet after use or else he will stand in front of it and bark and cry until someone picks it up to play again. He goes BANANAS for this thing.
Tail Teaser Dog Wand Lure Toy
Lure in the fun with Outward Hound Tail Teaser dog wand! Whether your existing lures are worn out or you're looking to switch up the style, this replacement piece keeps the fun going. Compatible with the Tail Teaser dog training wand, the replacement attaches easily by looping the two ropes together; no tools required! Squeaky sounds keep dogs interested, while the faux fur body triggers dogs' prey drive…
Safety First
Remember that there is no such thing as an indestructible toy. Tough toys can still break. Always supervise your pets with new toys and remove any broken parts in order to avoid choking hazards or intestinal blockage. 
This post contains affiliate links. If you make a purchase after clicking one, Outward Hound may receive a small commission.