The Spaniel is a very interesting dog breed. The American Kennel Club recognizes 24 different types of Spaniels, which vary slightly in weight, height, and personality. However, they have underlying characteristics in common, including the toys they enjoy.
Whether you have a puppy, an adult, or a senior Spaniel, you can find a toy that your dog loves. Learn more about Spaniels and the toys they typically like before heading to the pet shop.
All About Spaniels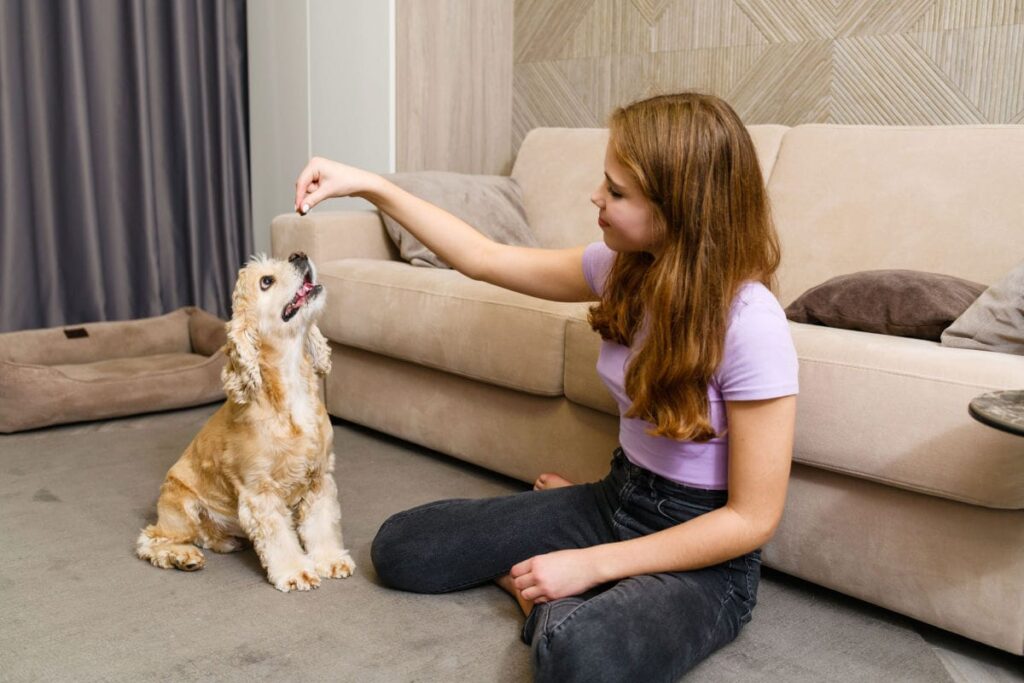 There are two-dozen types of Spaniels, including Cocker Spaniels, Cavalier King Charles Spaniels, English Toy Spaniels, Clumber Spaniels, American Water Spaniels, English Springer Spaniels, and Irish Water Spaniels. Experts on these dogs believe they originated in Spain in the 14th century, which is how they got the name Spaniel.
While Spaniels are usually just people's pets today, historically, they were used as companions for hunting and fishing, also known as gun dogs. Usually, they are medium size and have a wavy and silky coat and droopy ears. They are known as being highly intelligent, affectionate, and full of energy, requiring long walks and ample play.
Like all dogs, Spaniels can be aggressive chewers, especially when they are puppies and teething. All dogs are prone to destructive chewing when they are bored or anxious. By making sure that your Spaniel gets plenty of exercise, is properly trained, and has the best dog toys at his disposal, you can avoid this kind of behavior.
Now, here are some good options for dog toys when you're shopping for your Spaniel.
Dog Chew Toys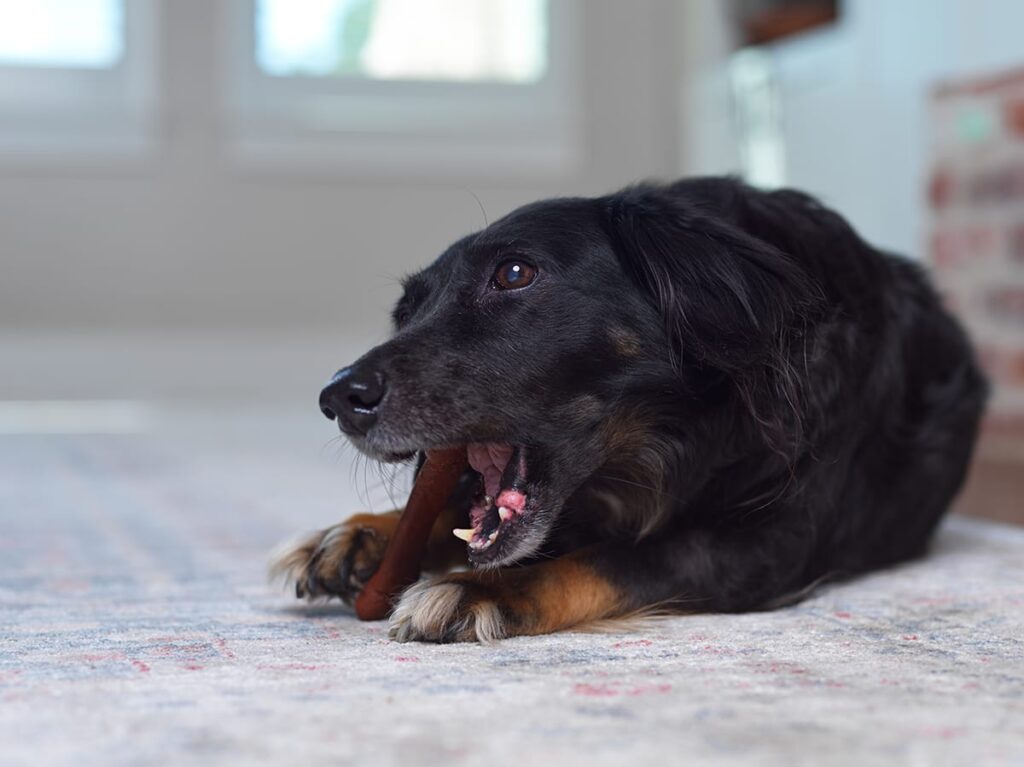 If you have a puppy, then chew toys are absolutely necessary. Chewing helps your dog relieve the pain of teething before they become an adult dog. It can also help with separation anxiety, which many puppies suffer from, and help you with dog training.
You can get your dog a chewy squeaky toy, but just be careful and watch him when he's playing with it since no toy is indestructible. You don't want him to accidentally swallow the squeaker. Teething rings that clean his teeth are another good option for puppy toys
Dogwood Wood Alternative Dog Chew Toy, Hemp
A safe and healthy alternative to chewing real wood sticks, Petstages Dogwood product line has all the taste and texture of a natural tree branch, but will last much longer and won't splinter and cause potential harm to your beloved pup. Made in the U.S.A. to ensure quality and care, Dogwood combines real wood with lead-free and phthalate-free synthetic strength, making it a chew toy favorite amongst…
Natural Rubber Toys
Another way you can address aggressive chewing is with an indestructible natural rubber toy, which is for puppies and adult Spaniels. You can find ones that are free from harmful chemicals and easy to clean. These types of toys will also help clean your dog's teeth by preventing the buildup of plaque – which is crucial.
Rope Toys
Ropiez Dragon Rope Dog Toy, Multi, Large
The Outward Hound Ropiez Dragon is guaranteed to keep your dog entertained. Featuring squeak and crinkle sounds dogs love, rope handle and ultra durable material, these plush toys stand up to tough tugging play.SUPER DURABLE: 1 continuous rope throughout toy for durable tugging fun.REINFORCED SEAMS: Made with reinforced seamz and nylon fused backing for longer-lasting play.GREAT FOR TUG OF WAR: Made for…
You can throw a rope toy as well as play tug-of-war with your Spaniel, which he is sure to enjoy. Get a tug toy that you can throw all around your home or yard when the weather is nice to give your dog hours of fun.
Doggy Tennis Balls
Squeaker Ballz Squeaky Tennis Balls, Medium
Outward Hound Squeaker Ballz are a new twist on the classic tennis ball! These brightly colored, multi-sized balls are made with premium rubber so that the bounce doesn't end before the games are done. Your pup will love fetching this squeaky tennis ball whether playing indoors or enjoying the great outdoors. Squeaker Ballz come in multi-packs of 2,4,6,& 8 making them a great addition to families with one…
One way to really wear your Spaniel out is to throw a doggy tennis ball for him. He can quickly chase it around the yard and use his hunting instincts to play games of fetch with you.
Just make sure that you purchase tennis balls specifically made for dogs as opposed to regular tennis balls, which can hurt your dog's mouth and digestive system. You can find doggy tennis balls that whistle to entice your Spaniel even more during playtime.
Ball Launcher
Launch A Ball Squeak Dog Ball Launcher, Turquoise
Outward Hound's Launch A Ball Squeak isn't your average dog ball launcher. We added an interactive element to traditional games of fetch with your dog by including a squeaker handle! Simply squeeze the squeaker in the handle to get your dog's attention during fetch fun. Let your pup go the distance! The Launch A Ball dog ball thrower launches 3x farther for long-distance fetch so you can maximize exercise…
Instead of throwing a doggy tennis ball, you can get a ball launcher for your dog. Outward Hound's ball launcher fetch toy allows you to pick up the ball with the launcher. It also features a squeaky handle. Simply squeeze the squeaker in the handle, and you'll get your Spaniel's attention right away. The squeaky dog ball thrower fits standard-sized 2.5″ doggy tennis balls.
Plush Toys
Xtreme Seamz Alligator Dog Toy, Green, Medium
We've taken durability to the XTREME with our new Outward Hound Xtreme Seamz safari collection! The new animal shape designs have triple stitch binding covering the seams, tight quilting on the plush body with fused nylon rip-stop backing and super dense stuffing making this collection our toughest toy yet! We couldn't leave our Invincible Squeakers out that Keep Squeakin If Punctured, making this toy the…
Plush toys that are shaped like animals are sure to entice your Spaniel, since these dogs were bred to help with hunts. You can purchase a plush toy that is suitable for your Spaniel's size, whether you have a small dog or a large dog. If you get one with a squeaker inside, that'll be sure to excite your pup.
Puzzle Toys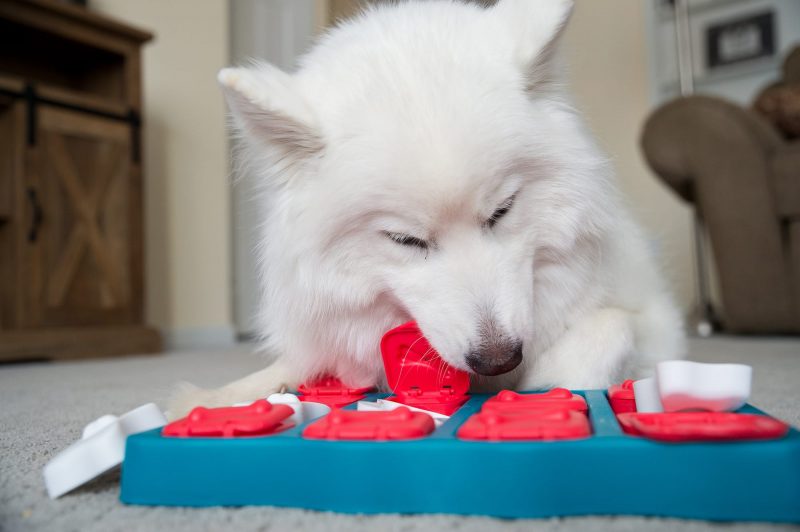 In addition to regular toys, which will provide physical stimulation for your pooch, you can purchase puzzle toys, which offer mental stimulation and enrichment.
Your Spaniel can play with one of Outward Hound's interactive puzzle toys, which come in varying levels of difficulty.
For example, the Dog Brick Interactive Treat Puzzle Dog Toy is a level two interactive toy that will keep your dog entertained for hours and encourage him to tap into his natural hunting instincts. Dog owners can fill the compartments with dog treats or peanut butter and watch as their Spaniel tries to solve the puzzle.
Another option is to put kibble into the puzzle toy if your dog is overweight. This will slow down how fast he eats while providing him with something to do at the same time. All you need to do is hand wash this toy with soap and water in between uses.
Dog Brick Interactive Treat Puzzle Dog Toy, Blue
The Nina Ottosson by Outward Hound Dog Brick level 2 puzzle dog game will keep your dog entertained for hours as they use their natural hunting skills to seek out the hidden treats! This toy comes with 3 easy-to-fill compartments to hide your dog's favorite treats and snacks in. Flip lid compartments open up to reveal the first compartment and can also slides to reveal a hidden second compartment…
If you want a soft toy that'll also provide mental stimulation for your dog, then get the Outward Hound Hide A Squirrel Plush Dog Toy Puzzle. Your Spaniel will love this soft toy, which features squirrels and is gentle on your dog's teeth and gums. This toy features six squirrels, which will keep your dog occupied as he tries to find them all.
Hide A Toy Plush Puzzle Toy
Outward Hound's Hide A line of hide and seek plush dog puzzles was designed specifically to eliminate boredom, encourage positive play, and feed your dog's natural hunting instincts. 2-in-1 interactive play means double the fun with options to play fetch or hide and seek to keep your dog mentally-stimulated. For dogs who can't get enough of these plushy animals, check out our replacement 3-packs! Bound to…
Keeping Your Spaniel Happy and Occupied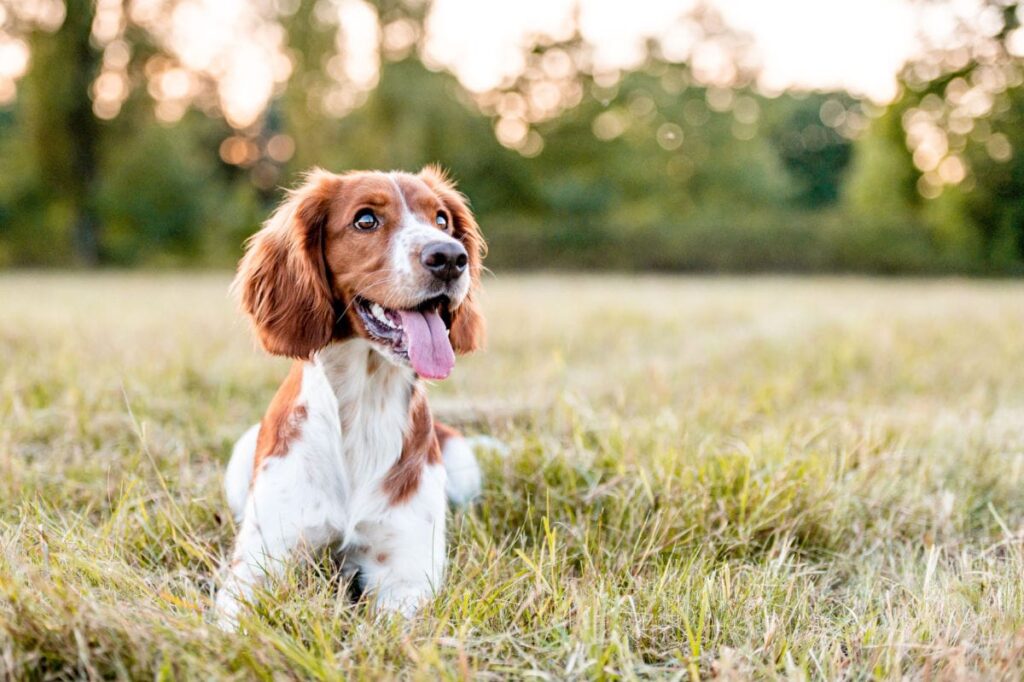 Getting the right toys for your Spaniel is essential. Along with making sure he gets lots of playtime every day, give him walks as frequently as possible, feed him high-quality dog food, brush his teeth often, and be in touch with your veterinarian if you notice that your dog is experiencing any health issues.
When training your dog with toys, only use positive reinforcement, send him to a doggy daycare and/or get him a dog trainer if necessary. Then, you'll be sure to keep your Spaniel occupied and happy.
You can find these toys and more on Amazon, Chewy, or your local pet shop.
This post contains affiliate links. If you make a purchase after clicking one, Outward Hound may receive a small commission.