If you are looking for a toy that will keep your cat entertained, activate its natural instincts, and provide enrichment, then you have come to the right place. A good cat toy ball track will provide all of the above.
In fact, University of Wisconsin-Madison veterinarians recommend ball track toys for independent play, especially when cats are active at night (when you want to sleep).
Here are some of the best track cat toys for interactive play.
Petstages Tower of Tracks & Chase Meowtain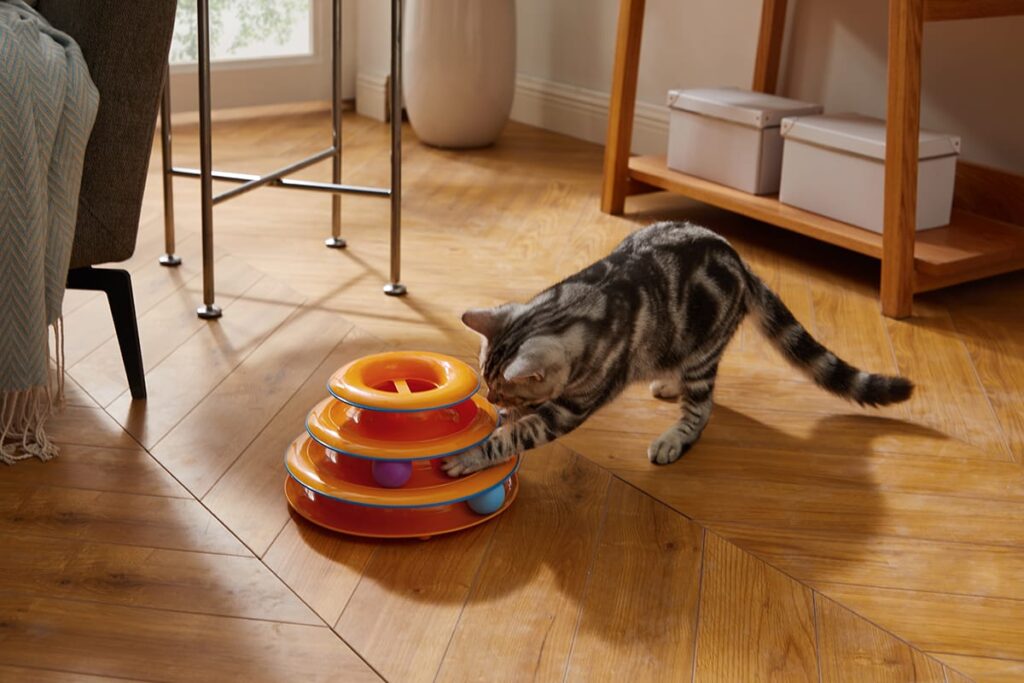 Editors at The Spruce Pets rated this the best toy for multiple-cat households in their list of 8 Best Interactive Cat Toys of 2022.
The Tower of Tracks by Petstages is the cream of the crop of ball track cat toys. It features three levels of tracks with colorful balls that will get your kitty's attention. The spinning balls with have your cat batting away in turbo mode!
For extra security, a small safety bar across the top central opening keeps overly curious kitties from getting stuck while playing with the moving balls.
By providing indoor cats with an outlet for their batting and hunting instincts, the Tower of Tracks cat toy provides a level of play that few toys can offer. Over 36,000+ 5-star ratings on Amazon.
Tower of Tracks Cat Toy, Multi
The Petstages Tower of Tracks is sure to have your kitty chasing, swatting, batting and catching the bright-colored balls as they race around the track! The Petstages Tower of Tracks ball track toy has three levels and three balls that spin and roll as your kitty plays. The non-slip base and sturdy construction make it ideal for vigorous play of households with one or more cat.MENTALLY ENGAGING TRACKS TOY:…
Chase Meowtain Cat Track Toy, Blue
The Petstages Chase Meowtain Interactive 4-Tier Cat Track Toy has four levels of ball rolling fun! Each track features a colored ball that spins and rolls as your kitty paws and swipes at it. The non-slip base and sturdy construction make it a great option for families with one or multiple cats. A closed top design keeps your kitty from getting stuck while curiously exploring.4-TIERS OF FUN: The Chase…
Lay N Play Track
The Lay N' Play Track cat toy combines the best of both worlds: a lounger and a track toy! When playtime is over, your kitty can rest on the soft sherpa cushion atop the ball track.
The cushion comes stuffed with catnip and crinkle material cats love to keep your furry friends engaged and excited!
Lay N' Play Track Cat Bed and Track Toy, Navy
The Lay N' Play Track cat toy combines the best of both worlds- a lounger and a track toy! The central cushion is stuffed with catnip and crinkle material that will delight your kitty and keep them engaged while they bat, and paw at the spinning ball on the track. The removable, double-sided cushion also features a soft sherpa fleece and patterned burlap for all lounge preferences. The non-slip base makes…
Cheese Chase
Cheese Chase by Petstages has three activities for three times the fun! The non-slip base design keeps the toy in one place while your kitty pounces, bats, and plays with the track ball, the hide-and-seek ball, or the catnip cat toy mouse. This multi-sensory cat track toy is the ultimate play station for households with one or more curious cats.
Catnip Chase Track Cat Toy, Green
Petstages Catnip Chase Track cat toy is designed to keep your kitty active and engaged while playing indoors. Great for one or more more cats! This fun, brightly colored toy features a spinning ball that your kitty will have a great time chasing along a circular track. Peek-a-boo openings provide glimpses of the ball as it races around enticing your cat to bat and paw! This toy also includes a refillable…
Kitty Roll Kicker Track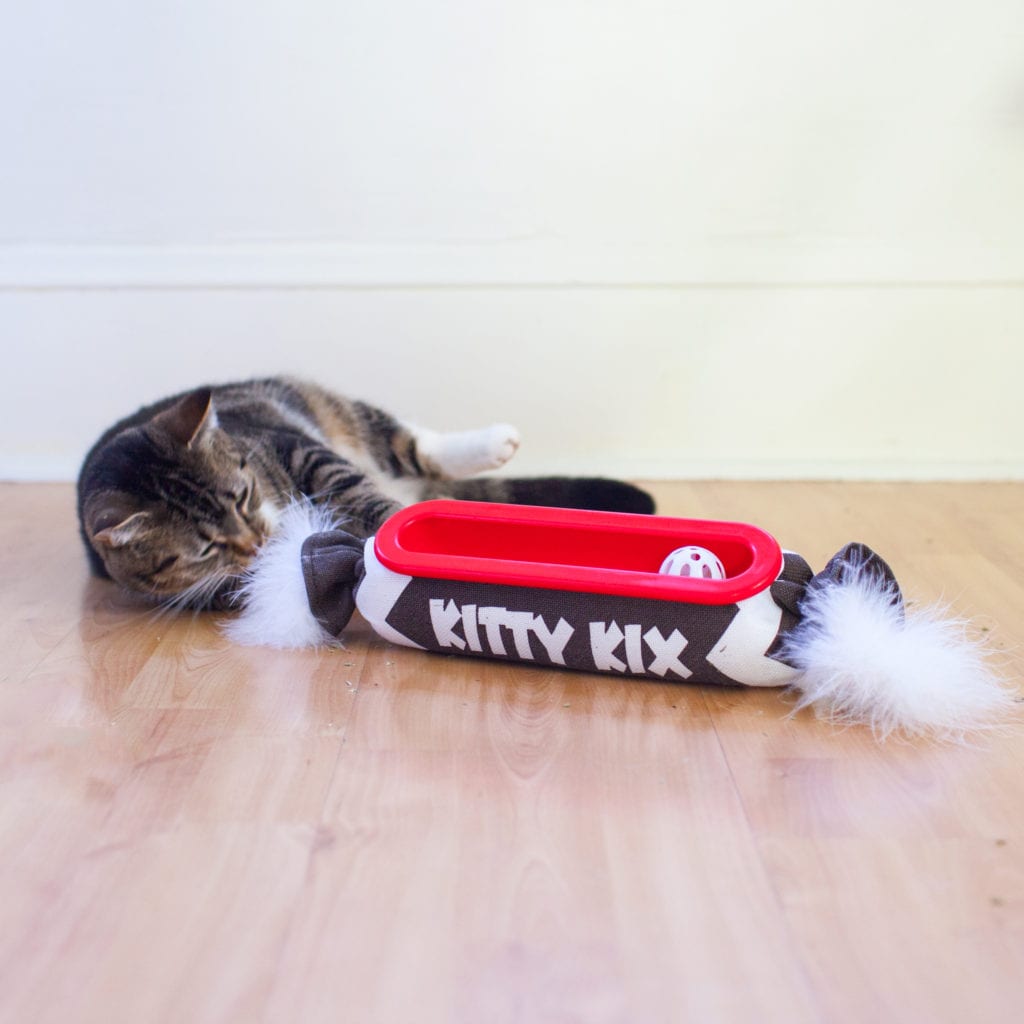 Great for active cats, the Kitty Kix Kicker cat toy is the ideal size for your small or large cat to hug, bunny kick, and wrestle with. The track ball rolls back and forth, encouraging batting exercise and positive play.
Kitty Roll Kicker Cat Toy, Brown
This cat toy ball track is a real treat! The Kitty Kix Kicker Track addresses your cat's urge to "bunny-kick," push and play. To keep the fun rolling, we added a ball track with catnip for even more playtime fun. This 2-in-1 cat toy is sure to please curious and energetic kitties.CONTAINS CATNIP: The Kitty Kix Kicker cat toy ball track by Petstages was made for fun! This combination cat toy and ball track…
Tip: To encourage interest in new toys, try putting some cat treats on and around it, or hover a laser pointer on the ball for them to bat.
Play your way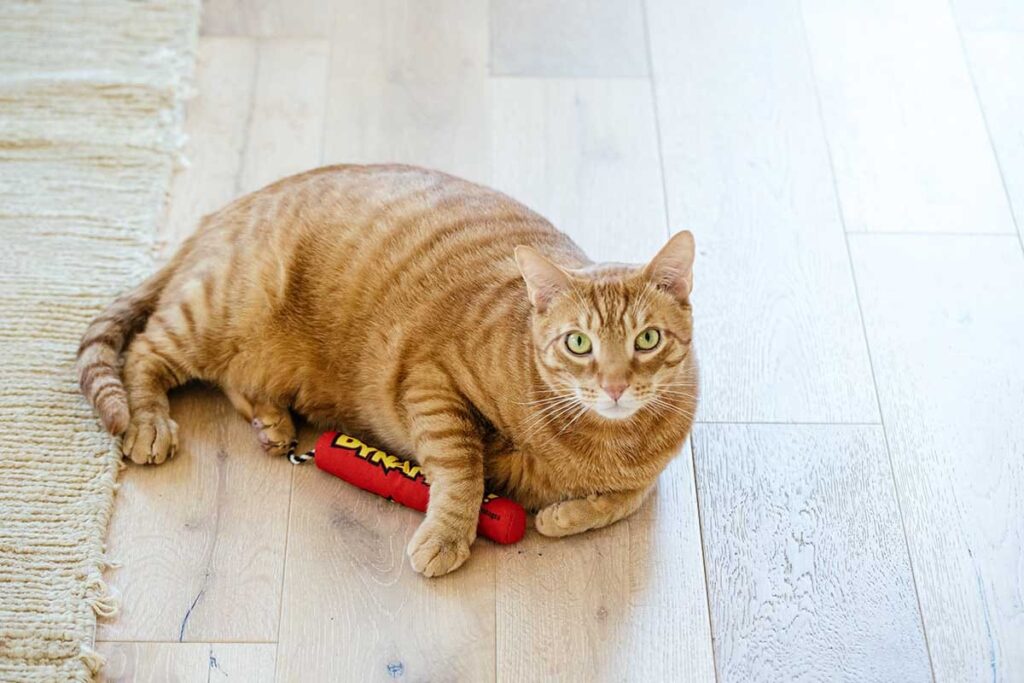 There are multiple ways to play with Petstages cat track toys.
Add one to your arsenal of cat supplies along with chewy dental cat chews, teaser wand cat toys, kitten toys, sisal scratching pads and cat scratching posts, and more scratcher cat toys from Outward Hound's family of brands.
Find these and more at Outwardhound.com or your nearest local pet supply store.