Summer is here, and what better way to enjoy the great outdoors than to spend some time in the water with your furry friend?
Whether at the beach, lake, river, or pool, swimming is a fantastic way to cool down when the sun is shining. And of course, it's also a chance for you and your pup to enjoy some quality playtime and exercise together!
Ready for some summer swimming with your four-legged friend? Don't forget to pack a dog life jacket!
That's right, even the strongest of canine swimmers needs a life jacket, and in today's post we'll share our top 10 reasons why.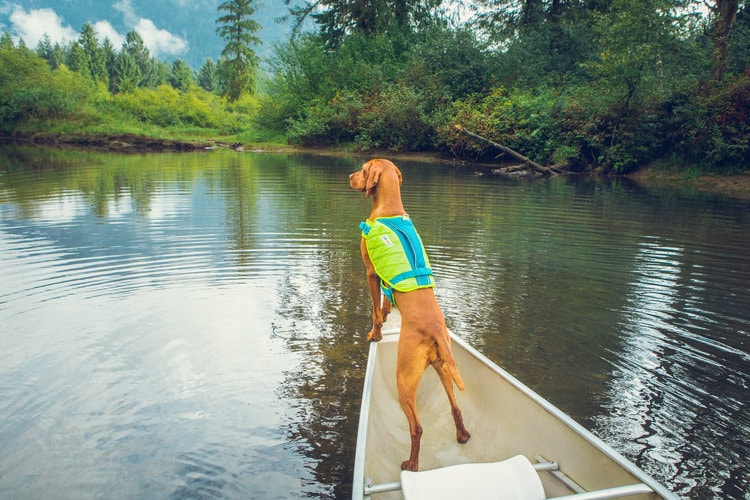 1. Some dogs just aren't built to swim!
You may think that all dogs are natural-born swimmers – we've all heard of the doggy paddle, right? But the truth is that some dogs have trouble staying afloat.
Breeds like Greyhounds have low body fat which means they aren't very buoyant. Others like Bulldogs and Pugs have large chests that make them top heavy in the water. And small breed dogs like Yorkshire Terriers or Shih Tzus often start out strong but get tired easily.
The solution? If your dog is a weak swimmer he needs a dog life jacket to help him stay safe in the water.
2. Even the best swimmers can get exhausted
Some breeds of dog are more suited to the water, like the Portuguese Water Dog with its webbed feet, or the Labrador Retriever which was bred to be a strong swimmer.
But let's face it, most dogs just don't know when to take a break. And even the strongest of swimmers can tire easily in the water and quickly run into trouble if they aren't wearing a dog life jacket.
If your dog is a strong swimmer, the Standley Sport Experienced Swimmer Life Jacket for Dogs is just the ticket. Its open design is perfect for a wide range of motion and top performance in the water.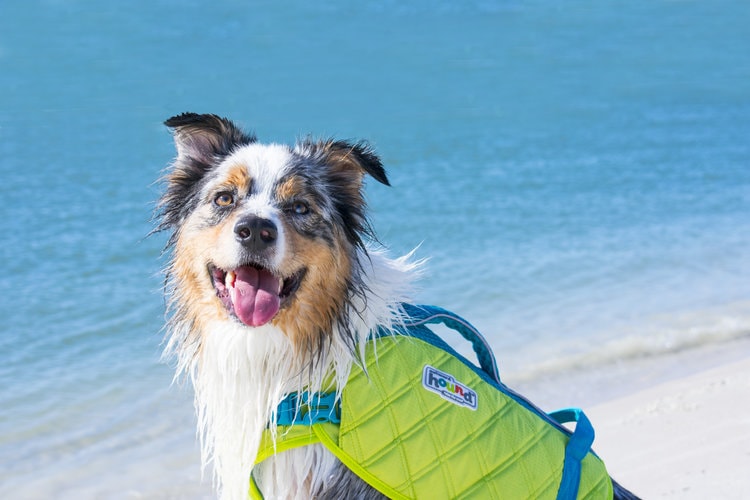 3. Accidents and emergencies happen
Recently, we shared a story on the blog that serves as an important reminder to always be prepared in the water. Tyler had a seizure while swimming, but was saved from disaster because she was wearing a dog life jacket.
Accidents and emergencies can happen at any time, and they are especially dangerous when deep water is involved. Thankfully, a high-quality life jacket will keep your dog's head afloat even if the worst happens and he becomes unconscious in the water.
4. There may be unseen hazards in the water
Even though it may seem safe for your dog to go swimming, there could be unseen hazards in the water. While swimming pools are relatively safe, lakes may contain underwater debris like branches and foliage that your dog can get caught up in. And swimming against the current in a stream or river can quickly lead to exhaustion.
If your dog is swimming in the ocean, strong currents can cause him to be pushed out to sea. In all these situations, a life jacket can keep your dog's head above water and potentially save their life.
5. Life jackets keep your dog warm
Even dogs with thick coats can suffer hypothermia in cold water. According to the American Kennel Club (AKC), a dog's normal body temperature is 101 to 102.5 degrees Fahrenheit (38.3 to 39.2 degrees Celsius). If their body temperature falls below 99 degrees Fahrenheit (37.2 degrees Celsius) bodily functions will become impaired and hypothermia can set in.
The Dawson Dog Life Jacket is a great choice for keeping your dog safe and warm on cold swims. It features foam neoprene side panels that offer maximum buoyancy while naturally insulating your dog.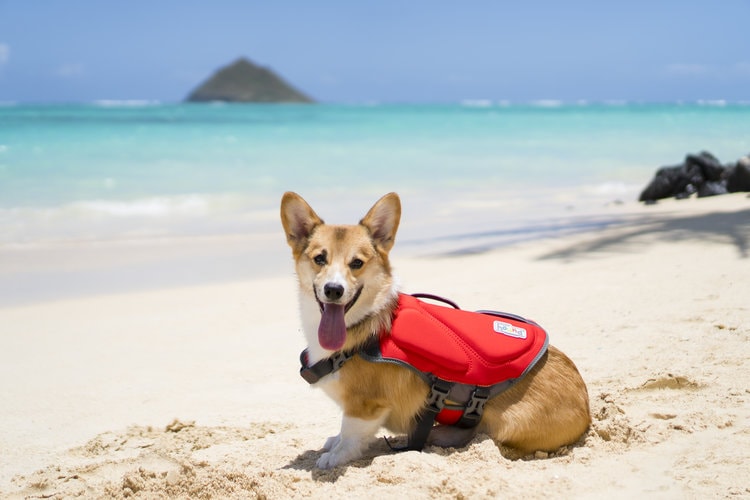 6. You'll be able to spot your dog in the water more easily
Dogs have a low profile when they're swimming, and it's easy to lose sight of your pooch in the water. But not if they're wearing a life jacket!
There's a very good reason dog life jackets are brightly colored; they allow you to locate your dog quickly and easily, even from a distance. If there's an accident and your dog falls into the water or gets swept away by strong currents, you'll be glad he's wearing a life jacket so you can spot him easily!
7. Life jackets have convenient handles
Dog life jackets come equipped with a handle on top that makes it much easier to haul your dog to safety. This feature is great for assisting your dog when swimming and can be a real lifesaver if he gets into trouble in the water.
If you're on a boat and your dog slips overboard, grab the handle and keep him close to the boat until you're able to lift him to safety.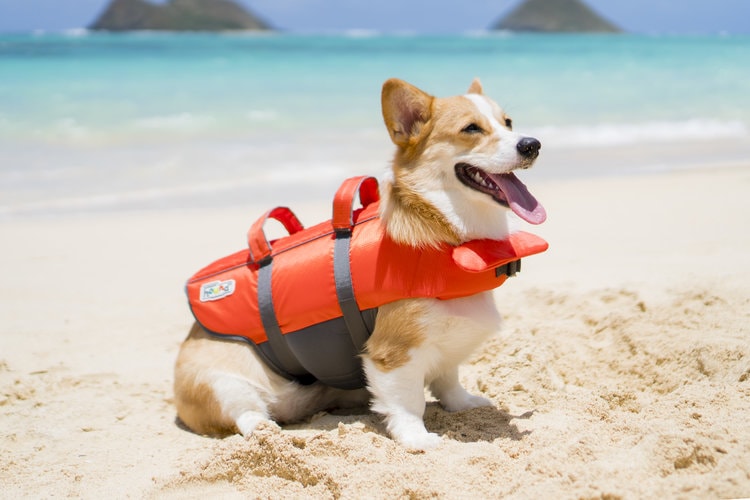 8. It's easier to teach your dog to swim when he's wearing a life jacket
A life jacket can boost the confidence of dogs that are weak swimmers and help them have more fun in the water. Dog life jackets also make great tools for teaching your dog to swim.
Dogs often use only their front legs to swim when they're unsure in the water, causing them to tire out easily. Life jackets help keep dogs buoyant on the surface of the water and encourage the use of all four legs when swimming.
9. A dog life jacket gives you peace of mind
A day out on the water should be fun for all the family, but it's difficult to kick back and relax if you're worried about your dog's safety!
Having a life jacket on your dog will give you peace of mind that he'll stay afloat, even if he does get into trouble while swimming. It's a great feeling knowing your furry family member is safe to enjoy himself in the water!
10. Dogs look super cute wearing a life jacket!
Yep, there's just no denying it. Dogs look super cute when they're wearing a life jacket!
For extra cuteness, we recommend the Fun Fish Life Jacket. Featuring safety orange high-visibility colors, reflective accents, adjustable side release buckles, and dual grab handles, it's designed to keep your pup safe in the water – and lookin' cute to boot!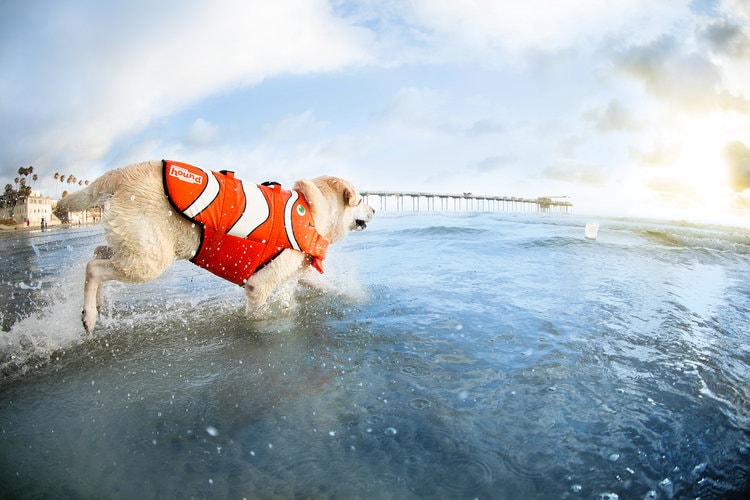 Ready to choose the perfect life jacket for your fun-loving pup? Shop all of the life jackets featured in this post here!