How To Choose the Best Interactive Dog Toy for Your Pup
Did you know?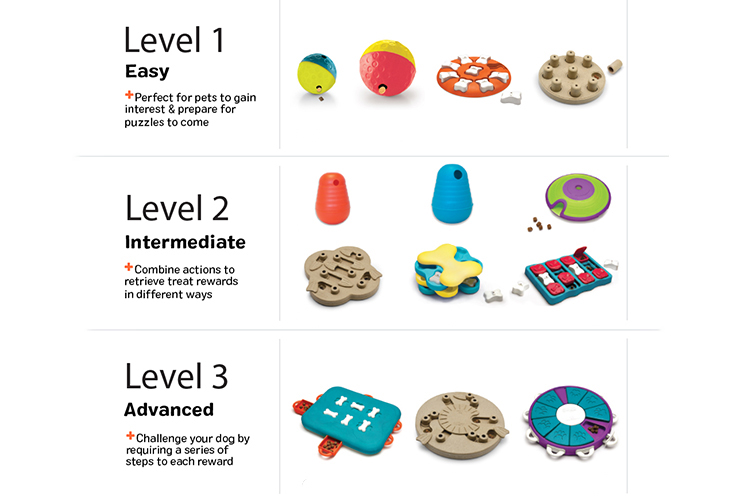 On a scale of Easy to Advanced, Level 1 Nina Ottosson treat dispensing dog games and puzzles are considered, "Easy." Level 1 dog games are the perfect way for pets to gain interest in dog games and prepare for more challenging puzzles to come.
Level 1 games are also made with a simple, 1-step play action that your dog will use to help uncover treats that you've hidden inside the game. Level 1 Nina Ottosson Games Include:
The Nina Ottosson Treat Tumble is great for treating and training your dog. Simply fill this treat ball with your dog's favorite treats and give the ball to your dog to watch them play as they figure out how to release the treats.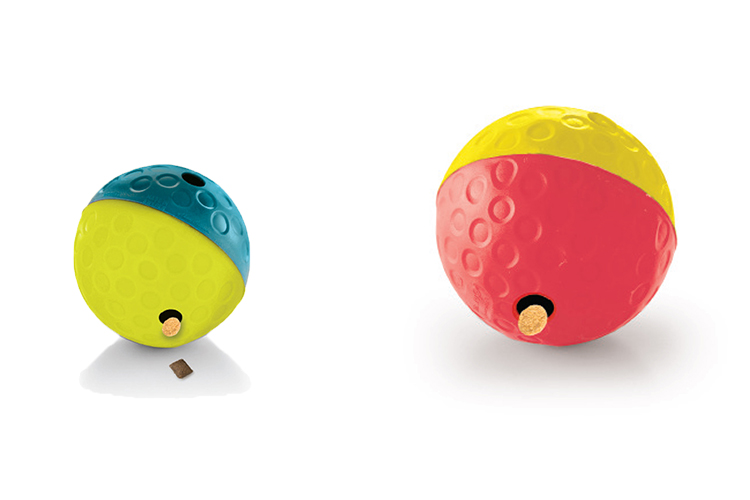 The Dog Smart- Available in Plastic and Composite Styles.
Great for introducing your dog to treat training games, Level 1 dog games get your pup interested in games and prepares them for more exciting and challenging puzzles to come. The Dog Smart is also ideal for treating and feeding your dog because it holds wet or dry kibble.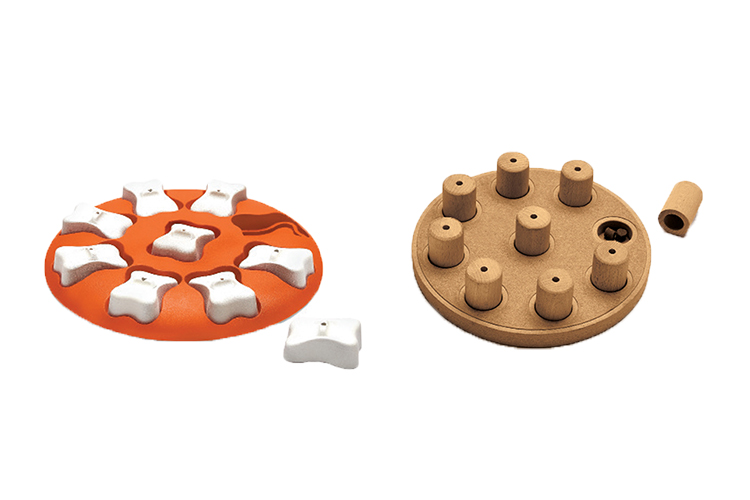 Shop 2 Styles
Watch the video below to learn more about the Dog Smart.

Dog Smart Composite by Nina Ottosson from Outward Hound on Vimeo.
On a scale of Easy to Advanced, Nina Ottosson Level 2 Treat Games are considered, "Intermediate." These treat feeding dog games combine 1 and 2 step play actions to help your dog retrieve rewards in different ways.
Level 2 Nina Ottosson Treat Games include:
To begin play with the Dog Pyramid, simply fill with dry kibble and treats through the top entry hole. A step up from the Level 1 Nina Ottosson dog puzzles, this moderately challenging dog game entertains and excites your dog by releasing treats through nuzzling and pawing actions your dog makes with this interactive dog toy.
This treat dispensing dog puzzle releases treats from 2 entry points: one on each side of the saucer. Put treats or kibble in both sides of the top center hole, and watch as your dog puts it in motion to release them.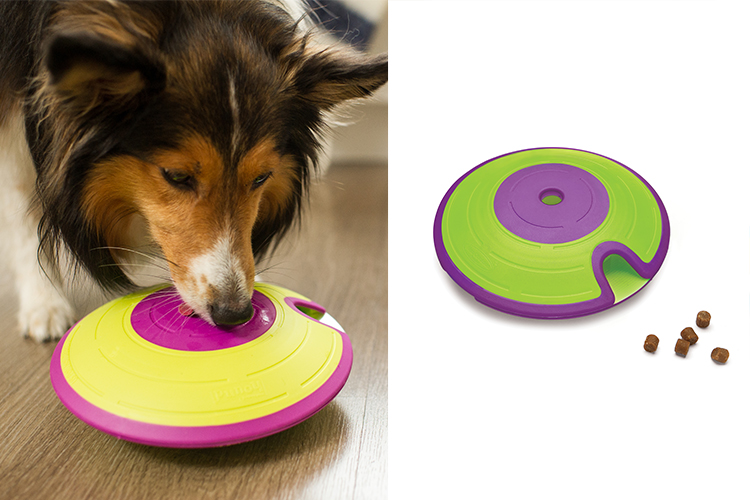 The Hide N' Slide is a dog treat game has built in play pieces that don't come out when your dog plays with it. Durable construction also helps to keep this dog toy intact, making it your new go-to dog game time after time. Unique elevated play pieces in the Hide N' Slide help dogs access treats and move pieces more easily keeping them entertained and engaged.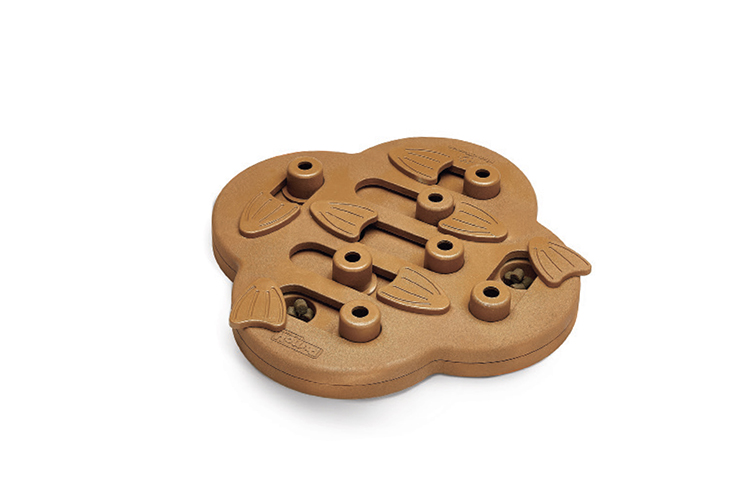 With 12 treat compartments in this interactive dog toy, The Dog Tornado is smart and fun choice for mealtime as it holds your dog's favorite wet or dry kibble. Each level of the Nina Ottosson Dog Tornado spins as your dog searches for treats hiding inside. The spinning movement keeps your dog engaged and presents them with a fun and challenging way to play.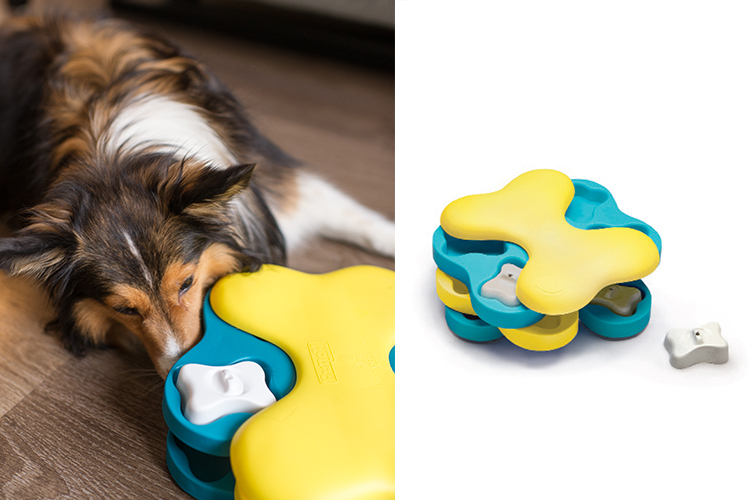 Now complete with 3 different treat feeding features, the Nina Ottosson Dog Brick is made with easy open-close flip compartments to hide treats in, and comes with removable bone puzzle pieces that offer an even more interesting challenge to seeking and eating treats!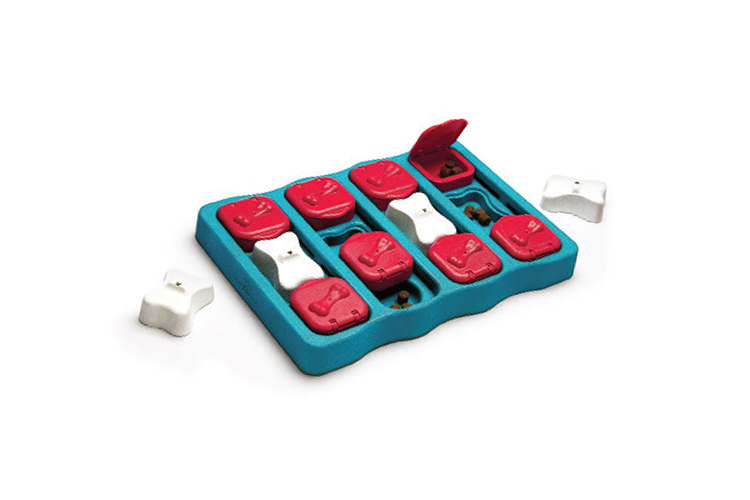 Watch the video below to learn more about the Dog Brick.

Dog Brick by Nina Ottosson from Outward Hound on Vimeo.
Lastly, Level 3 treat games would be considered our "Advanced" games. Level 3 dog games challenge your pup by requiring a series of steps to each treat reward hidden within the puzzle. Most of the play actions required to release the treats are 2-steps and must be made in a sequence in order to release the tasty rewards.
Level 3 Nina Ottosson Treat Games include:
One of  our first level 3 dog games is the Dog Worker. If your dog has mastered introductory puzzles, Level 3 interactive dog games are a smart choice! Simply place treats in circular blocks and compartments in the base. Swivel flippers to cover tracks and lock spinning top.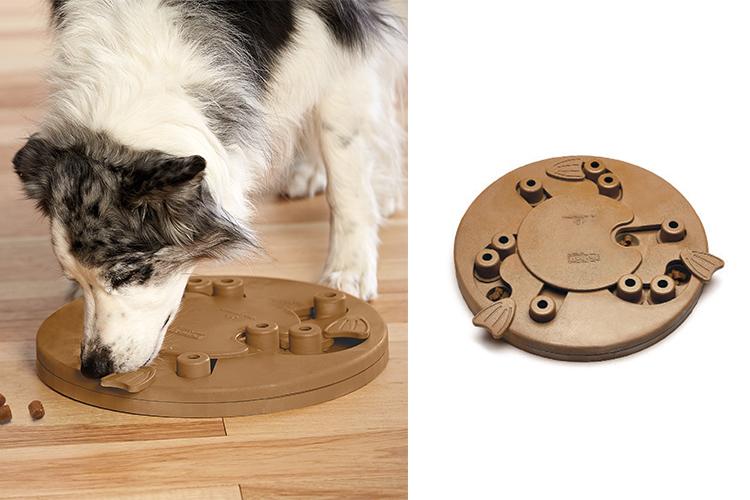 Next, the Dog Twister is also great for dogs that are looking for more challenging interactive dog toy. To play with The Dog Twister, pull handles out to unlocked position to slide paw panels. Place treats or kibble in compartments. Line up sliding paw panels and lock them in place by pushing handles in.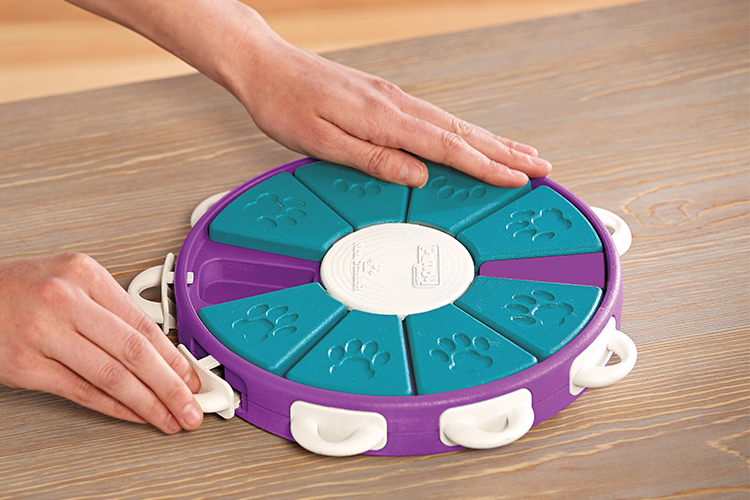 Fun, and unique to the Nina Ottosson Dog Casino interactive dog game is the locking bone pieces. If your dog excels at solving puzzles, introduce them to a new challenge by simply twisting the bones on top to lock the drawers. The Dog Casino is especially recommended for more challenging play, but can be used with dogs of all play levels.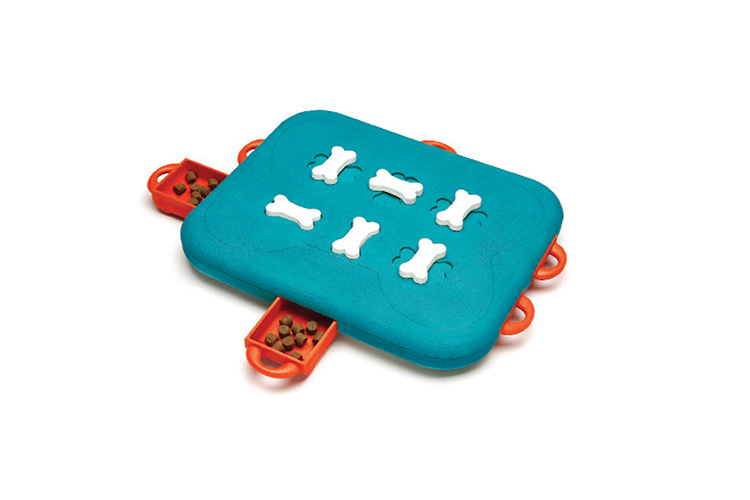 Watch the video below to learn more about the Dog Casino
Dog Casino by Nina Ottosson from Outward Hound on Vimeo.
Still have questions about our dog games? We're happy to lend a paw! Please be send your questions to support@outwardhound.com.