Our Top 6 Winter Care Tips for Dogs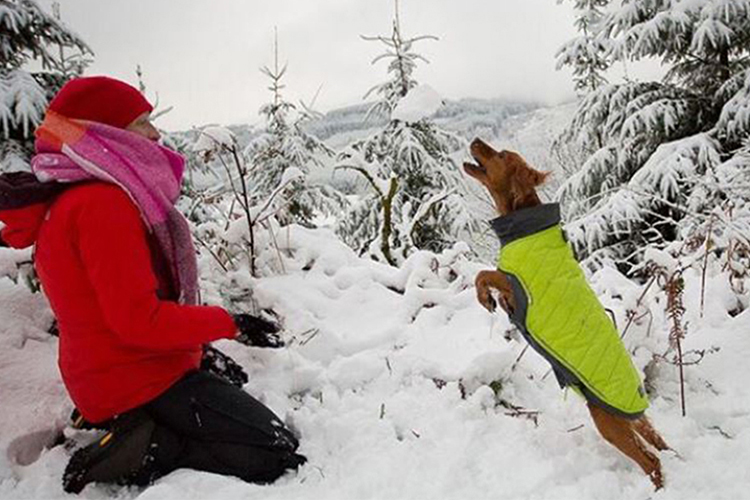 Fight frostbite and avoid ice accidents with our most popular winter care tips for dogs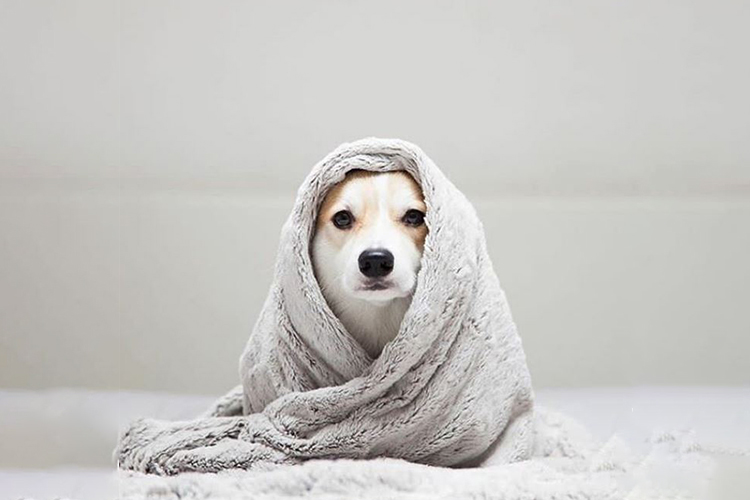 Cold weather brings out some of the coolest outdoor activities of the season (no pun intended). From playing in the snow to eating it as it falls from the sky- there's no doubt that dogs LOVE this time of year.

But don't be fooled by their fur! Dogs need help staying warm and healthy in the winter too! Make sure they're suited up for the snow and keep these tips in your bag of tricks when it comes to helping you and your dog have the best winter yet!
Tip #1: Invest in a Warm Dog Coat
If you're on the fence about whether or not your dog needs a coat, it might be useful to consider your dog's attitude toward cold weather. According to PetMD, "A sweater or jacket can be helpful during the cold seasons, especially if your dog is reluctant to go outside in the snow to relieve himself."
In order to find the best size and style of coat for your dog, check out our dog coat sizing guide below!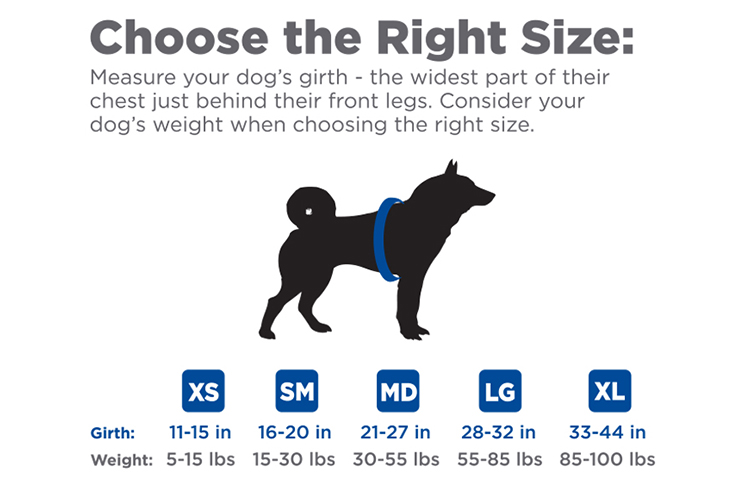 Tip #2: Time Your Walks
Not only do we lose daylight in the winter seasons, we lose the warmth of the sun! Keeping your winter walks brief, and restricted to mid-morning and early-afternoon hours when the temperatures are the warmest and the sun is the strongest, will help keep you and your dog on a regimented yet warm walking routine.
Don't forget to pack your dog's backpack with a few necessities! Consider packing a portable water and food bowl. Our dog's bodies work harder in the cold weather to stay hydrated and use more energy to stay warm. Packing some extra treats can go a long way!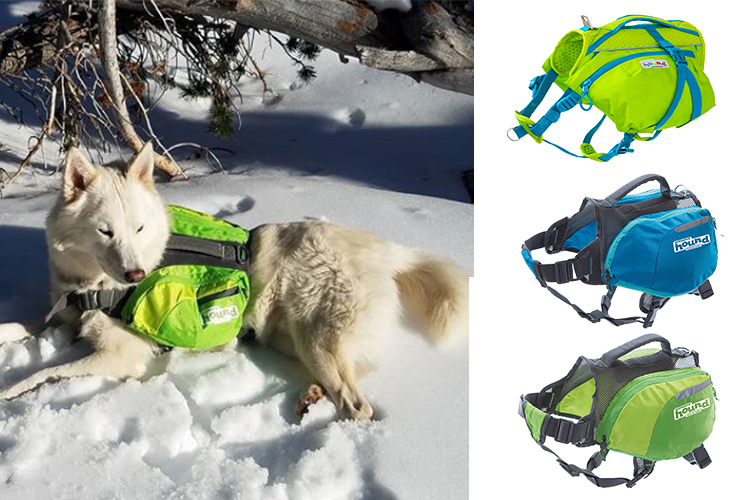 Tip #3 Protect Those Paws!
Tip #3 on our list of winter care tips for dogs is one of our most important. To help protect your dog's paws this winter, make sure their foot fuzz is trimmed and cleaned regularly to keep ice balls from forming between their pads and toes.
And let's be honest… no one likes ice balls.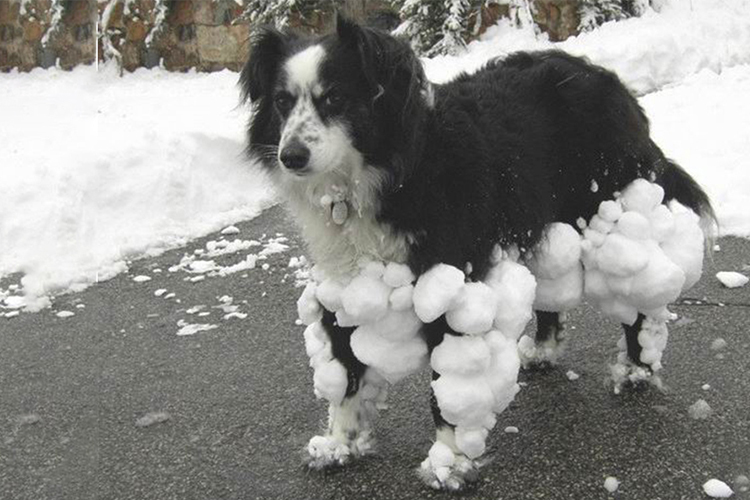 Tip #4 Keep Dogs Away from Antifreeze
Antifreeze can often leak from cars and dogs may want to lick it because of it's sweet taste, but even a small dose can be fatal to your dog. Avoid antifreeze accidents altogether by walking away from parked cars on the street and making sure your floors are clean and dry.
Tip #5 Seek out Snow-Friendly Toys
Twigs and sticks, especially during the wintertime can present a lot of problems for your dog, including blisters. Opt for a fetch toy or ball that you can easily spot in the snow and can stand up to wet weather. See some of our favorites by clicking on the image below!
Tip #6 Watch Out for Ice
There's no such thing as being "too careful" when it comes to ice safety. Help keep your dog, and your neighbors dog safe by being prepared and informed on what to do if you witness a dog fall though ice.
Step 1: Call 911

Witnessing a dog, pet or person fall through ice is an emergency that you should not try to handle by yourself and requires the assistance of our emergency response and rescue teams. If you see something, say something!

Step 2: Stay Off the Ice

"We know people are going to want to go after them," Poudre Fire Authority Captain Matt Housley said. "But if the ice breaks once, chances are it will break again and you don't want to end up in the water, too."
"If the ice isn't strong enough to hold a dog, it's not going to be strong enough to hold a person," added Poudre Fire Authority Capt. Jon McKeon in response to a fatal ice accident involving a dog last year.

Step 3: Keep Calm

"Dogs do a pretty good job of holding themselves tight until we can get to them," says McKeon. Follow their lead and remain calm. Panicking with only educe more stress in your dog.

Step 4: Avoid Repeat Rescue

Always keep your dog on a leash and maintain a firm grip.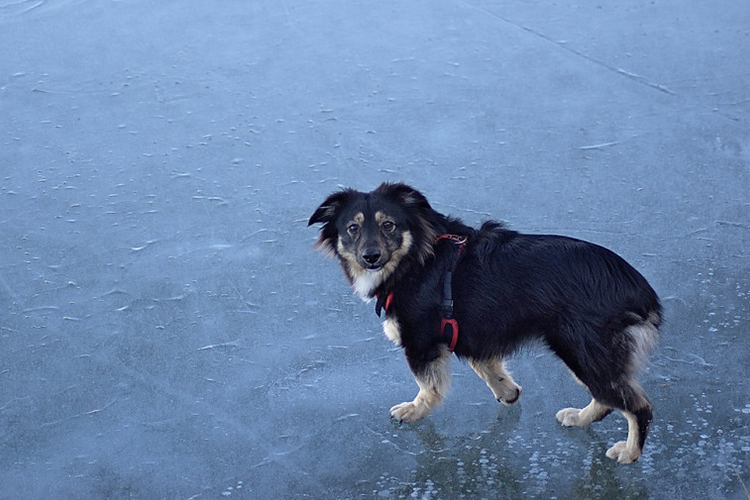 Read more winter care tips for dogs, including how to avoid ice accidents by clicking here.