What Are Interactive Dog Toys?
Interactive dog toys challenge your dog's problem-solving skills and enhance mental stimulation through play. These toys are like puzzles or games designed to keep dogs interested and having fun.
Short on time for a long walk? While nothing really replaces daily exercise, these fun puzzles can tire out a dog mentally if physical exercise isn't an option. Another benefit of interactive toys is that a busy dog, engaged in play, is less likely to turn to potentially destructive behaviors as a way to cure their boredom. Dog puzzles are a great way to focus your pup's excess energy on something positive, playful, and fun. Puzzle toys are also great for older dogs or dogs recovering from surgery or an injury who may be limited physically but still need healthy mental enrichment.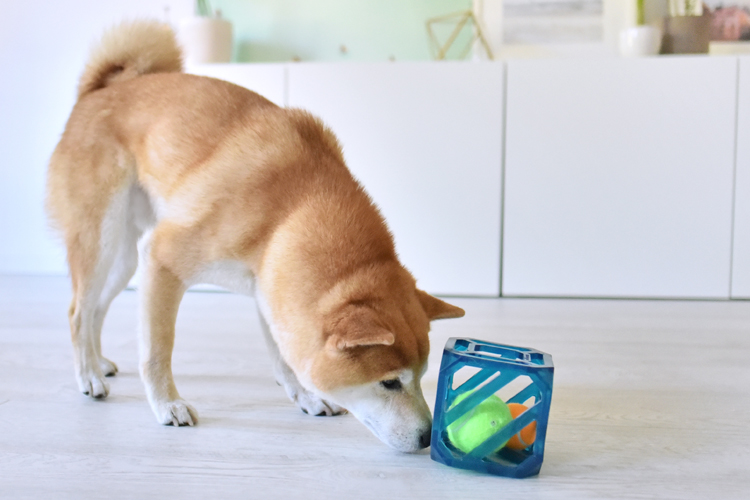 Dogs benefit from both mental and physical exercise.
The brain is like a fifth leg for your dog and needs to be exercised to tire out a playful, active pup. Fifteen minutes of mental exercise and enrichment is the equivalent of twice that time of running and a great way to calm a rowdy Rover. Interactive dog toys can be a great way to burn off some mental energy and there are a number of kinds to choose from.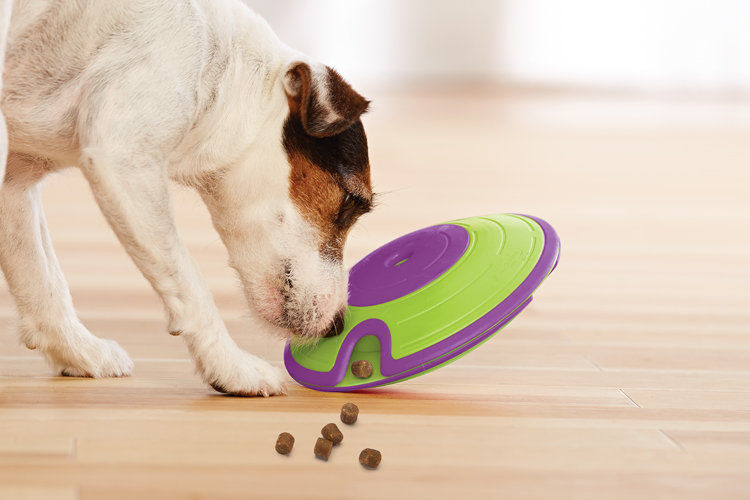 Picking The Right Interactive Dog Toy:
Is Your Dog A Fan Of Plush Toys?
This soft dog toy doubles as an interactive dog game that you can play with your dog. Stuff the Hide A Squirrel trunk with squirrels and place on the floor for your dog to sniff and scrounge. Hunting for the squeaky squirrels hidden inside the plush truck gives dogs extra mental exercise beyond regular plush toys. The fun doesn't stop after puzzling out the squirrels from the stump. The little squeaky squirrels are perfect for toss and fetch. This fun interactive dog toy comes in 4 sizes so dogs of every size can enjoy the fun. Also available with different characters: Hide A Bee & Hide A Bird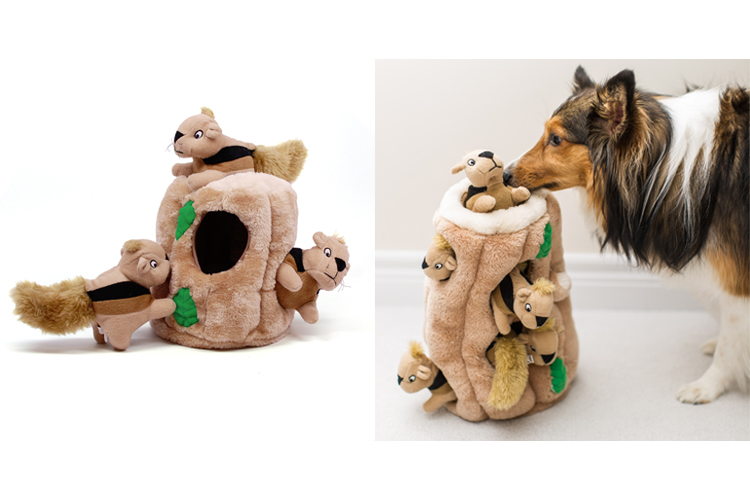 Need something a little more challenging for your smart pup? Similar to Hide A Squirrel, the Hide A Hedgie has two squeakin' hedgiez and one plush trunk for fun hiding games. An attached top to the trunk challenges your pup to discover new ways to remove these Squeakin' Hedgiez from their home. Watch as your playful pup learns to nuzzle their way in and play with the squeaky fun hidden inside.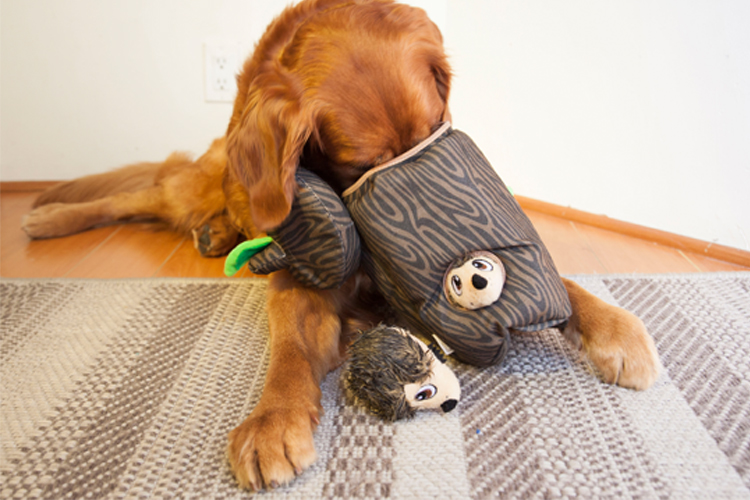 This fun interactive plush toy has three squeaky rings and a durable plush hedgehog body. Watch as your pup pulls off each tough plush, squeaky ring for pulling and fetching fun. Keep the game going by placing them back on the Hedgehog for non-stop brain game fun!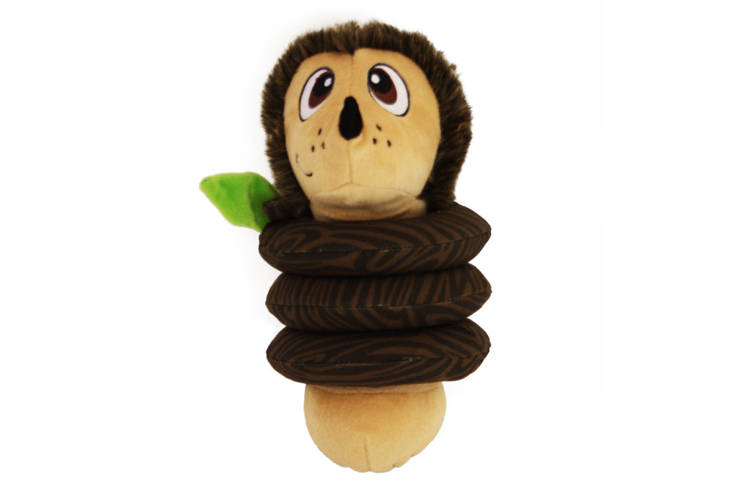 Is Your Dog Bonkers For Balls?
Try engaging and entertaining your pup with the Puzzle Cube. Built with 2 squeaker balls, your dog will enjoy the challenge of releasing the balls from the rubber cube. The uniquely shaped holes and passage points of the cube keep playful pups interested and playing to free the balls. Once the balls are free, they can be used for a fun game of fetch or popped back inside the cube for another round of puzzle play.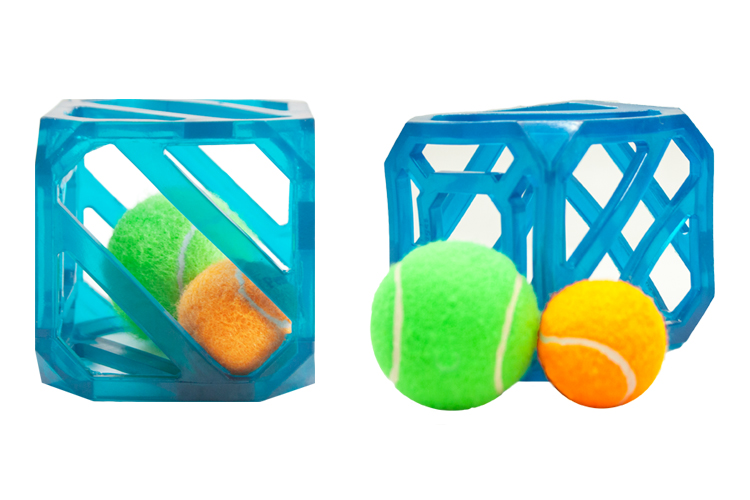 Is Your Dog Motivated By Food?
Treat dispensing games can be great interactive dog toys. Kibble, treats, peanut butter, or wet dog food can be hidden within these toys to spark interest and keep pups engaged in play as they work to free the tasty treats. These treat hiding toys can also be used when feeding meals to slow down speed eaters or make mealtime more fun. Dog treat games and puzzles help to eliminate boredom and prevent destructive behaviors.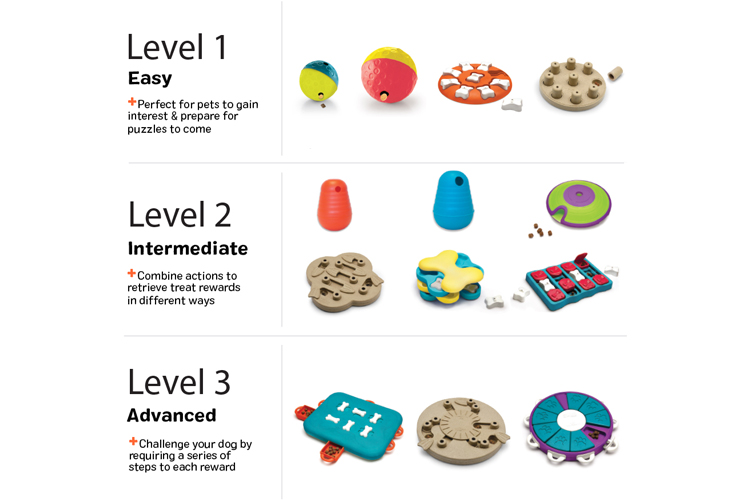 Nina Ottosson dog games come in three levels of difficulty. Starting at Level 1 can help pups engage and build confidence. Continue your pup's learning and fun by challenging them with more difficult Level 2 and Level 3 games as they outsmart introduction puzzles. Interested in a treat dispensing toy for your pup? Find out more about selecting the right one here: A Guide To Nina Ottosson Dog Treat Games.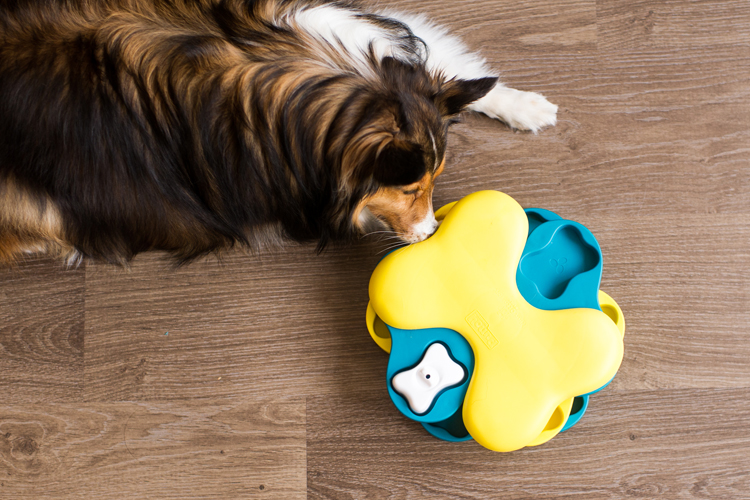 Have questions about our interactive dog toys & games? We're happy to lend a paw! Please be send your questions to support@outwardhound.com.