OUTWARD HOUND SIZE CHART INSTRUCTIONS
We've all been there. Franklin needs a Life Jacket for next weekend's trip to the lake house, but we don't know what size to order because he is long and skinny. Charlie needs a Backpack for morning hikes through the woods, but he is broad and barrel-chested, so how do we make sure we get a big enough size?
Fear not, pup parents! We've created Outward Hound size chart infographics to help you measure your pup and ensure you get him the right gear to keep him safe, happy & having fun!
WHAT DO I NEED?
Use tailor's tape (as opposed to a heavy duty construction tape measure) for your measurements. Tailor's tape is designed to measure circumferences, which is exactly what you'll be doing when you measure your pup.
Have a notepad handy, too, so you can write down your pup's measurements and save them for later.
Have your pup stand for all the measurements. It usually helps if you have a friend around to hold a treat above your dog's nose. That way your pup will stand as tall as possible while you measure him.
WHAT EXACTLY AM I MEASURING?
The three common types of measurements are length, neck, and girth. The length of your pup is the distance between the base of his neck and the base of his tail. The neck is the circumference of your pup's neck at its widest point. The girth is the circumference of your pup's chest. For the Life Jacket, Crest Stone Pack, Denver Urban Pack and the DayPak, we will be focusing on girth which is discussed in detail in the infographics below.

Life Jackets are designed to keep your pup safe in the water—and lookin' cute to boot! Perfect for pool parties, trips to the beach or on the boat, the adjustable straps ensure the perfect pup fit while the dual grab handles make it easy to pull your dog out of the water in an emergency.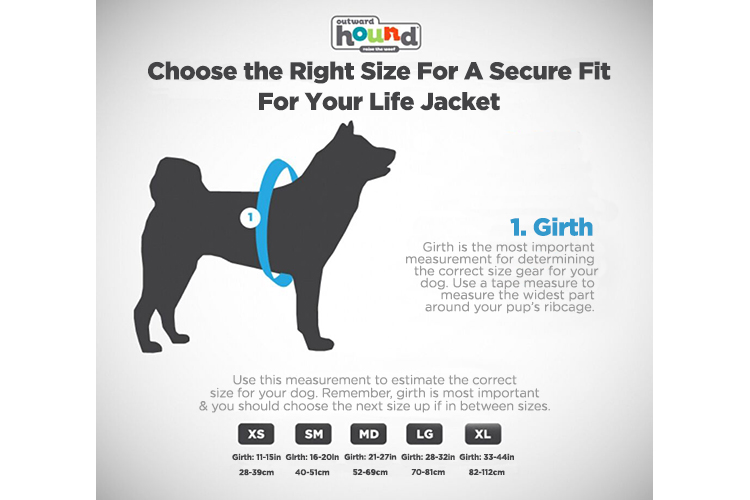 BACKPACKS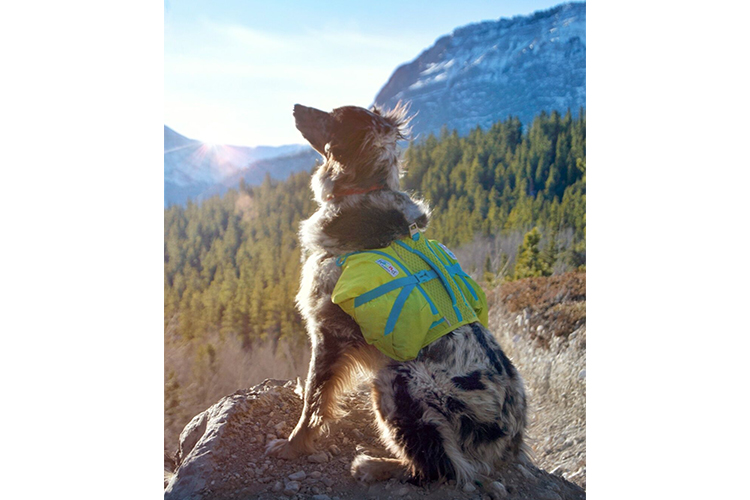 Explore new ground with the Outward Hound Crest Stone Explore Pack. This compression saddle bag works great for humans and their dogs that love to hike! A mesh top keeps dogs comfortably cool and a high visibility green color allows them to be easily spotted on the trail. Large pockets on the dog pack help hold all of the important treats, potty bags, and water needed for the trip. Meanwhile, compression webbing helps to balance the load. Dual D-Rings also assist with leading or following while keeping a secure handle on your pup while exploring new trails.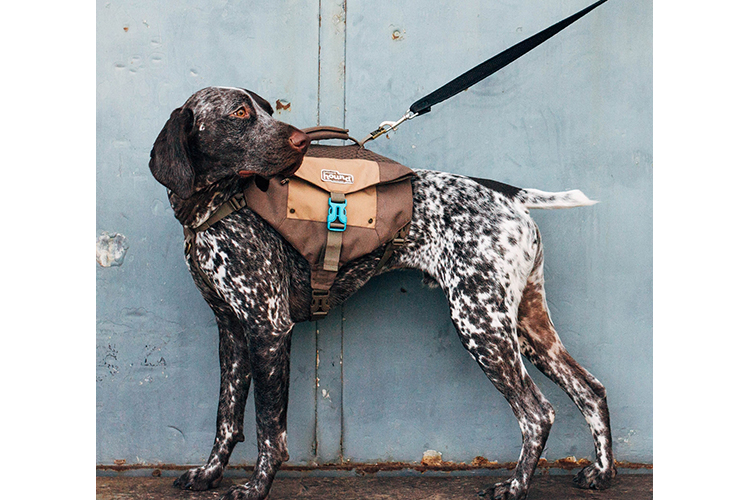 Explore new ground with the Outward Hound Denver Urban Pack. This hip, lightweight dog pack knows no boundaries and is as perfect for urban city outings as it is for traversing through the wilderness on hiking trails with your pup. Two large storage pockets are great for carrying keys, treats, water, waste bags and other walking essentials. A durable D-ring clip allows the pack to be clipped to a leash for easy following or leading while walking. No worries either, because comfort was not compromised for style in this dog pack, with easily accessible and adjustable belly straps to maximize fit and balance.
Both of these backpacks can be easily fitted to your pup with the size guide below!
Remember to choose the next size up if you're in between sizes.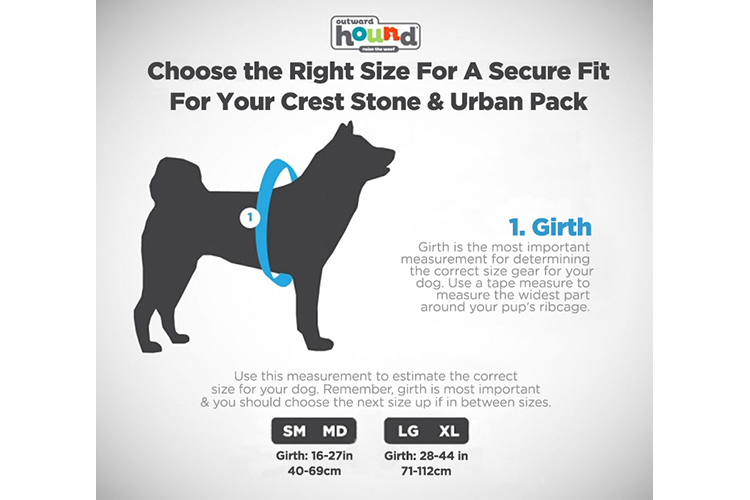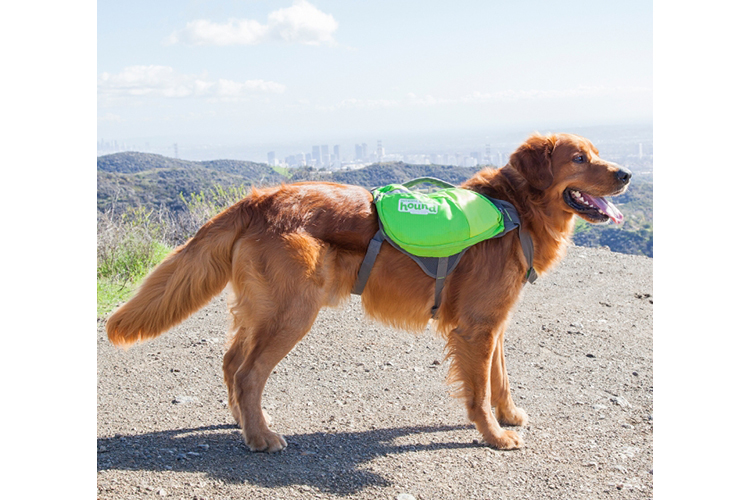 The DayPak is a day-tripping delight for dog lovers that allows your dog to comfortably carry extra treats and gear! A light-capacity pack featuring saddlebag-style design, it's ideal for both speedy quick getaways and casual errands with your dog. Enjoy the convenience and storage space of 4 expandable pockets!
This backpack can be easily fitted to your pup with the size guide below!
Remember to choose the next size up if you're in between sizes.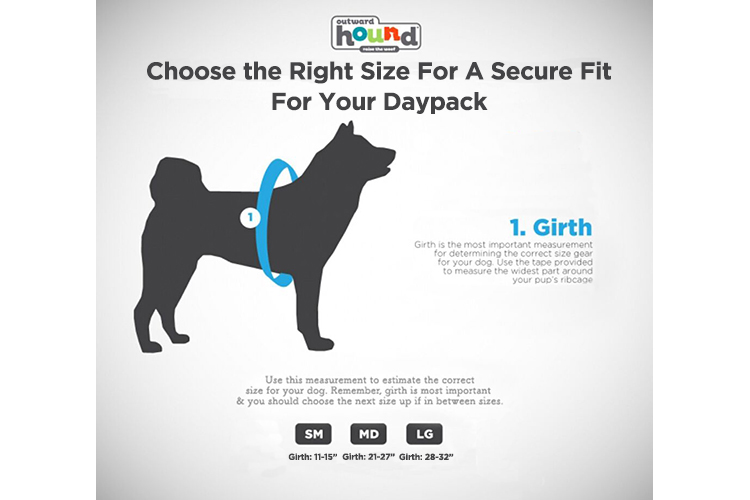 The bottom of the Outward Hound size chart infographic features approximate sizing for Outward Hound products. Please note, though, that all dogs are different and that the sizes in our size chart may not accurately reflect your unique and wonderful pup. Keep in mind, though, that Outward Hound is happy to exchange any products ordered from our website!
As pup parents ourselves, we know how hard it can be to get the right sized products for our fur kids. We hope this helps you out, and invite you to always reach out to us with any questions!
Last Updated: 4/2018