Best Selling Dog And Cat Toys Of 2017
The fan favorites are in from 2017! Whether you missed something on your fur friends Woofmas Wishlist or just looking to spread a little post-holiday cheer, your pet will love these toys that have earned the title Best Dog And Cat Toys Of 2017.
#1: Hide A Squirrel
BYE, BYE BORED PUPS: The Outward Hound Hide A Squirrel is a soft plush that doubles as an interactive toy. Dogs can play with solo or you can join in the fun! Stuff the Hide A Squirrel trunk with squirrels & place on the floor for your dog to sniff and seek out those squeaky squirrels. Available in 4 sizes allows for dogs of all sizes to have squirrel hunting fun. The removable squirrels are perfect for toss and fetch fun with your playful pup.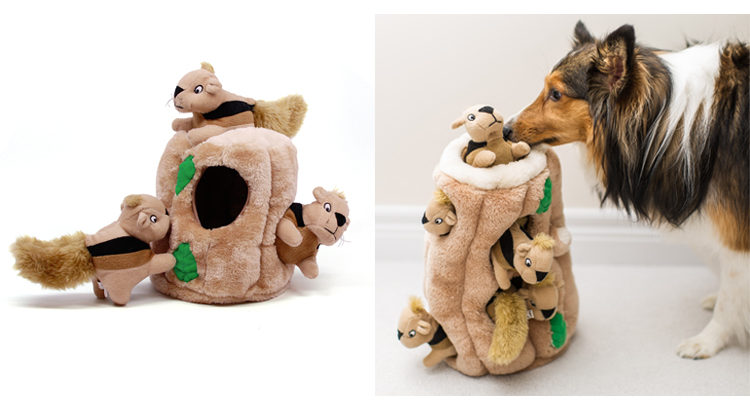 Best Dog And Cat Toys Amazon Review
⭐⭐⭐⭐⭐  5 Stars From watsooiebadooie:
"After hearing from my sister and 2 friends, I decided to get this, and they were right – my dog loves it. What is it about squirrels in a log that dogs go crazy for? I don't get it, but I know 4 dogs now that love it."
Click Here To Get Your Squeak On!
#2: Dogwood
A CHEW TIME CHAMP: A natural bestseller, Petstages Dogwood dog chew occupies as much as it satisfies and is great for busy chewers and anxious chewing habits. Dogwood contains the natural wood flavor and texture that dogs love. Dogwood is also lead and phthalate free making chew time also worry-free. Available in 4 sizes for dogs big & small.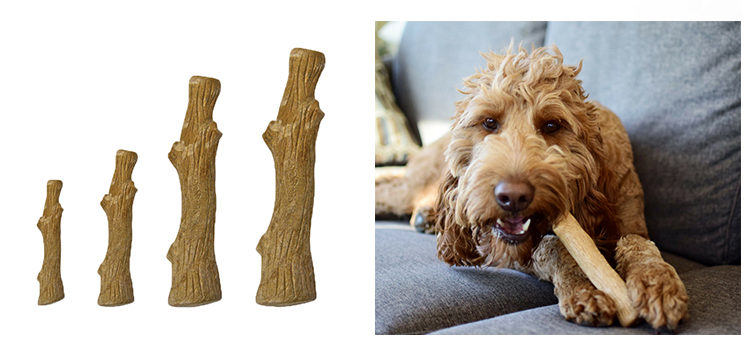 Best Dog And Cat Toys Amazon Review
⭐⭐⭐⭐⭐  5 Stars From C. Doubrava:
"Great bone, she has worked and worked on it, has one end chewed but not destroyed, and nothing gets swallowed Will probably buy another and recommend for dogs who love to chew, not rubber or plastic like the ones I've thrown out."
Shop Here For This Chomping Chew!
#3: Fun Feeder Slo-Bowls
PRODUCTS WITH PURPOSE: Bloat & canine obesity are both real issues that affect doggie digestion. That's why Outward Hound created the Fun Feeder Slo-Bowl with puzzles that challenge your dog while helping them digest their food. Combine two of your dog's favorite things: FOOD & FUN! Your dog will love maneuvering around this mealtime maze to munch on their favorite foods. Easy to clean by placing on the top rack of your dishwasher, these bowls are great for kibble, treats, wet food, and raw diets.
Best Dog And Cat Toys Amazon Review
⭐⭐⭐⭐⭐  5 Stars From Diane: 
"Not only is this bowl super cute… it works!!! My 4 month old golden retriever/great pyrenees puppy would inhale her food. She would eat roughly 2 cups of kibble in about 5 seconds. I tried only giving her small amounts at a time but it never stopped her from inhaling it. Which always resulted in her throwing it up whole. She wouldn't even chew it. Now with this new bowl, it forces her to slow down to get her food in between the grooves. We love it!! It's taken her about 10 minutes."
Click Here To Pick Your Fur Kids Favorite Feeder!
#4: Tower Of Tracks
FOLLOWING NATURAL INSTINCTS: Petstages Tower of Tracks is the purrfect way for your curious kitty to get the mental and physical exercise they need to stay healthy. While channeling their hunting instincts, cats chase down the 3 brightly colored, fast-moving balls within the 3 levels of tracks. With its 3 levels of fun, Tower of Tracks allows you to play with your cat and let your cat to share the fun with their other feline friends.
Best Dog And Cat Toys Amazon Review
⭐⭐⭐⭐⭐  5 Stars From Fussy New Yorker:
"This is by far the best investment in a toy that I have ever made for my cat. He loves the interaction with it and did not like other ball chasers in the past. I did a YouTube review on it and highly recommend it. Balls glide around smoothly. Cats paws don't get stuck in the tracks."
Shop Here For Purrfect Play Time Fun!
#5: Invincibles Snakes
FETCH & TUG FUN: Outward Hound's Invincibles Snakes feature Chew Shield Technology construction with strong seams that let you and your pup tug and play longer. The lightweight structure also works great for toss & fetch indoors and out! These silly snakes are also packed with Outward Hound Invincibles Squeakers, the squeaker that Keeps Squeakin' If Punctured. With over 5 million sold these popular squeaking snakes keep playful pups coming back for more!
Best Dog And Cat Toys Amazon Review
⭐⭐⭐⭐⭐  5 Stars From Hollie H.:
"Omg my corgi pup LOVES it and so do I! great quality and the squeakers sound different which is cool and a good way to mix it up. He wasn't sure what to think at first but now it might be one of his favorite toys. Sometimes he just likes to chew on the snakes face lol EDIT: bought July 7th 2017, it's now January 9th 2018- He still love this toy and I love playing with him with it."
Click Here To Shop For Silly Snake Fun!